Photography for Everyone
John Haber
in New York City
Julia Margaret Cameron and Charles Marville
Everyone is a photographer now, but when did photography become for everyone? Was it when an "art photographer" like Walker Evans started collecting postcards—or when he made a penny photographer's studio an image of America? Was it when cell phones and social media made it easy or when the Kodak Instamatic, like the Brownie half a century before it, made it affordable?
Or how about in 1863, when a mother of six received her first camera for Christmas? If the Met is right, Julia Margaret Cameron became "one of photography's early masters," but only by defying a common idea of what counted as halfway decent photography. "Not from the Life," as she wrote in her notebooks, "but to the Life." She was speaking of her wish to make photography more vivid than ever before—and her need to do it by mediating reality through fine art. And that same decade a thorough professional had something else on his mind than high style, although he prided himself on his art. In 1862, Charles Marville became the official photographer of a great city coming to be, with a mission—not to celebrate the new, but to chronicle what was passing away.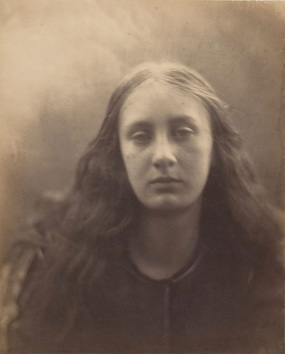 He had precious little time to lose. Paris had opened the first of its grand arteries, on the way to the most sweeping reinvention of a city since ancient Rome. Twenty thousand houses were destroyed, and construction of such landmarks as the Paris Opera, the Salon Carré of the Louvre, and a new museum of antiquities had begun. Marville had already documented the first of Baron Haussmann's great reforms, the Bois de Boulogne, starting in 1858. Now, though, he was concerned not for the future, but for the vanishing present. We'll always have Paris, but not the way Marville found it.
Ennobling photography
With a woman's face, enlarged on the wall by the exhibition entrance for Julia Margaret Cameron, one might wonder if one has caught a glimpse of the photographer herself. It shows a young woman, that much more real and more ethereal thanks to her mute expression and the light that bathes her cheeks, picks out her eyelids, softens the wall behind her, and leaves the rest a shadowy blur. Actually, it is Cameron's niece posed as "the lovely lady Christabel," out of the poem by Samuel Taylor Coleridge. ("Is the night chilly and dark? The night is chilly, but not dark.") The photographer turned forty-eight the year of her Christmas present, and she was known as the plain sister in a family of beauties.
The temptation to see her there is telling all the same, long before Walker Evans, his postcards, and his penny photographer's studio. It speaks to a still-new medium's promise to capture the present moment and to freeze its immediacy forever, as past. It also speaks to Cameron's wishes, in that unforgettable quote. The Met divides her work into three groups, with portraits of genius, women as subjects from literature and legend made "great through love," and staged scenes. In practice, the groups are not so easy to tell apart. Her subjects all belong to much the same world, the world of Victorian poetry and art.
She photographs the Tennyson family at home on the Isle of Wight, right down (the poet complained) to the bags under his eyes, and then illustrates an edition of Tennyson's Idylls of the King. She portrays John Herschel, the astronomer who coined the term photography, without literary "properties," but with the same deep highlights and loose hair as for her Christabel, Sappho, or Circe. She presents her husband, a jurist, as King Lear, while framing a seemingly frank female portrait in dark hair and a circular frame, like the Medusa. She turns two young women into an early Renaissance Annunciation, with Perugino's angel as a badly behaved child. When she photographs Alice Liddell at age twenty, she takes the woman that Lewis Carroll immortalized as a child and returns her to the course of time, but as a goddess. And the imagery, the upturned and downcast eyes, and the light all have their roots in a single movement in English painting, the Pre-Raphaelites.
So do David Wilkie Wynfield's photographs of William Holman Hunt and George Frederick Watts, the painters, and William Frederick Lake Price's posed image of Don Quixote in His Study, all also on view at the Met. With Price, a living man has become a character out of Miguel Cervantes who aspired to a myth—and, in turn, the character has become an artist. A dashing young couple as photographed by Oscar Gustav Rejlander would look quite at home half a century later, in the silent movies. What Cameron adds is her own way of bringing living subjects alive and into high relief, through overexposures. She is mediating between the present and literary time by a further adaptation of oil on canvas, in a softer focus and a deeper light.
Cameron's accounts of technique's discovery conflict, as a lucky accident or a deliberate effect. Maybe she herself was conflicted about her amateur status and her artistry, much like Alice Austen in America. She did not keep a portrait studio, in the sense of welcoming sitters, but she did have a studio in which to work, and she upgraded to a larger camera in just three years, in 1866. Her "out-of-focus . . . celebrities" won her sales, but also some nasty criticism. They marked her work as somehow both too artsy and just plain sloppy, but the trap was not hers alone. In bridging the conventions of painting and photography, Cameron found herself caught in raging battles over both.
The Met restricts itself to some three dozen prints, all from its collection, and anyway Cameron worked for barely a decade. Born in Calcutta, she returned to Ceylon in 1879, when her husband had property—and the window in time is revealing. British painting was trapped between realism and Romantic longings, until Claude Monet and John Singer Sargent brought "the Impressionist line" to England, where Sargent's portraits ruled. And meanwhile photography, thanks to Herschel and Henry Fox Talbot, could only recently boast of a deep focus even in exposures under ten minutes, in contrast to streets in earlier French daguerreotypes that appear empty, because moving traffic has vanished into long exposures and the light. At a time when reports from the battlefield in Civil War photography were shockingly new, Cameron's washed-out details must have seemed both a throwback and a deliberate affront. Long before Alfred Stieglitz in America insisted on the products of a black box as fine art, she must have reminded photographers of something they wished to forget—their debts to both.
Boulevards of broken dreams
His task must sound strange to American ears, all the stranger in that the French government set several other photographers to the task as well. One may think of the city of lights as the old world's unchanging perfection, or one may think of the future as reinventing itself every day. Not the French. As emperor, Louis Napoleon appointed Georges-Eugène Haussmann prefect of the Seine, with the aim of sweeping away the remnants of a medieval city, to make his reign a vanguard for Europe. Those new boulevards also served, literally, to move the troops. And yet that vision of a nation and its character also depended on deep roots in the past.
Besides, a scientific world-view and an empire alike required thorough documentation, and Marville seemed perfect for the task. He had shown his skill with cloud studies, at a time when photography struggled to deal with the evanescent and with the full range of frequencies of natural light. He also showed the requisite lack of imagination. He was nearing forty when he took up photography in the early 1850s, and he went straight for the beloved bridges across the Seine, columnar statues in their niches, and portraits of an assistant brooding Romantically for the occasion. Now he had special access to work in progress, as well as to the angels and gargoyles on the roof of Notre Dame. His most striking composition shows the cathedral spire in towering close-up, with an entire city in sunlight stretched out far below.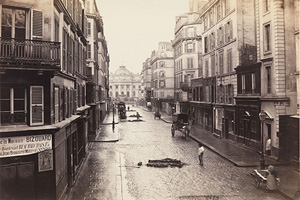 He went to construction sites, with rubble everywhere in evidence, and to shantytowns. He went to quarries with the stones to replace them, often in newly incorporated districts on the outskirts of the city. He went from curbstone to curbstone, for an emerging sidewalk infrastructure of street signs, lampposts, kiosks, and public urinals. Yet his favorite shot aims straight down a narrow street, with a burst of light at the end. Does that make its dark beauty all the more confining—and the rivulets of sewage water all the more glistening? All the better, for they were fated for destruction.
Great changes rarely come singly. In its artifice of a natural wonder, the Bois de Boulogne has a striking parallel in Central Park, another Romantic garden opened in 1857. Within Paris, the grand boulevards came about alongside the grands magasins, or department stores—and the Met made the case barely a year ago for the importance of both to art, with "Impressionism, Fashion, and Modernity." Now it exhibits Marville in context of forty additional photographs. "Paris as Muse" shows not just the architecture of a changing city, from 1834 to the 1920s, but also a changing politics, a changing medium, and a changing art. Marville had remade himself as well, discarding a birth name, Bossu, that means hunchback, but that was only the beginning.
The changing political landscape included the failed rebellion of the Paris Commune in 1871, as well as war. One photo shows scaffolding for the Pantheon after Prussian shelling. Changes in the medium run from paper positives and negatives, in the experiments of William Fox Talbot, through the silvery daguerreotypes of their namesake, Louis Jacque Mandé Daguerre, all the way to a portable Leica in the hands of André Kertész. They also include the emergence of photography as an art form, from Nadar to Henri Cartier-Bresson. The smaller show gives a full wall to Eugène Atget, with his unsettling contrasts between fog or reflections off a shop window and the row after row of products within. That show also ends with photography's role in Surrealism, with Brassaï and May Ray.
Paris had a changing role in art as well—from the site of the official Salon to a gathering place for the avant-garde. Edward Steichen and Alfred Stieglitz both found their way from America. Their photographs capture artist studios for Piet Mondrian and Constantin Brancusi, but not the artists. But then streets, too, are empty unless someone posed, at least in the long exposure time of earlier photographs. In contrast to all these, Marville's work seems clear, precise, artless, and a little dull. But then for an official photographer the devil is in the details, and his sympathies lay with the devil.

Julia Margaret Cameron ran at The Metropolitan Museum of Art through January 5, 2014, Charles Marville and "Paris as Muse" through May 4. Related reviews look at Cameron through a group show, "Visions of Childhood," and in comparison to other visions of childhood by Lewis Carroll.