The Pebbled Garden
John Haber
in New York City
Monica Bonvicini, In Practice, and Jannis Kounellis
Installations have all but taken over. They appear everywhere, daring traditional and new media alike to survive. A painting, a photograph, a video, the gallery wall, the viewer—more and more, artists ask one to see any of these as at once image, object, and part of an experience in time.
It may demonstrate the creativity of artists, at once erecting, decorating, and breaking barriers. It may attest to the art market, which makes any gallery weekend like a mall visit. It may point to the role of galleries and museums as institutions that will not so easily step aside for the work.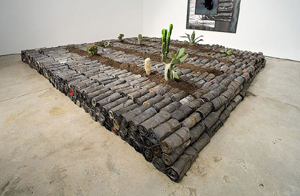 It can also make those institutions stubborn, dry facts. Can any sculpture garden bother with real plants? Can art tolerate signs of life? I started to wonder on my last visit to Long Island City, where SculptureCenter and its pebbled garden play host to Monica Bonvicini and "In Practice," a group show. Meanwhile in Chelsea, Jannis Kounellis allows grass to grow, but with chilling results.
A winning formula
SculptureCenter has a formula—and a winning formula at that. Like any formula, of course, it sits uncomfortably with the very notion of art, more than ever in the last half century. First formalism put rules to the test. Then Minimalism pushed rules to the point of an organic process. And now? Art these days, many think, could stand to find a direction before it adopts a rule for getting there.
SculptureCenter has been proving those doubts wrong. The institution lacks an obvious mission, much less a direction. Its location, on a blind alley in Long Island City, can make it invisible to Manhattan. Some treat it as a footnote to P.S. 1, a quarter mile away. Yet its independence, its ability to offer visitors an all but private encounter with art, and a healthy dose of intelligence have allowed it to write its own formulas. So does the space itself, as renovated by Maya Lin, and so does art's continued pleasure in playing against and breaking the rules.
In fact, the architecture largely accounts for the formula. True, the main room, with its gabled skylight, has the feel of the world's largest two-car garage. It can accommodate a single artist or a range of site-specific responses. The equivalent of the garage door and a mechanical contraption along the roof help accommodate large work, and at least one artist has incorporated their motion into her work. A tiny room off to the side supplies a contrasting scale, and sometimes small work has played against that intimacy.
Downstairs three tunnels, two of them divided, immerse one in confining quarters, in near darkness, and in the building's industrial past. Curators also get use of a dispiriting pebbled "garden" out front, occasionally the bathroom next to the front desk, and perhaps the billboard on the roof. You can easily see the formula: start with a solo or focused group show upstairs. Then set others free to penetrate below. Some may also struggle with the less than great outdoors.
For all that, can the garden promise an entrance to the feelings and ideas ahead? Can it offer more than rather than an afterthought to the exhibition to be reconsidered on one's way out? Can the new art within burst the formula? Monica Bonvicini and a small group show give it a try.
Bonvicini updates Bruce Nauman for today's art and information overload. He made banal text into neon circles and Minimalist sculpture into confining spaces. Her text overpowers even the main hall, and its appendage in the garden lures one in. From there, other artists lead one through the walls and tunnels.
Practice, practice
Bonvicini supplies the ominous words Built for Crime—or rather, BUILTFORCRIME. They look far more indecipherable than here as they cross the large hall, in an imposing wall of incandescent bulbs. The bulbs light up for a moment, blink intensely and often, and then shut off. At least they do as a teasing respite, before the whole cycle begins again.
A single word by the museum entrance appears more welcoming, the word DESIRE. Its mirrored surface add to its allure as well. As one approaches, the pebbled sculpture garden and its walls break up the mirror in changing patterns of white and brown.
Bonvicini seems to be commenting on something, but what? Her art could offer a mirror onto a sterile nature, a desirable commodity, or one's desire as only a mirror. Something—the work of art, the museum, the city—could bode any number of crimes, with responsibility still unknown. Tradition, Karl Marx, Jacques Lacan, and the Queens district attorney will have to battle it out.
Shall I call Bonvicini's art vague or ambiguous, escapist or ambitious? I suspect that the Italian artist, who lives in Berlin, prefers visceral impact to serious critique, and I can handle that. Perhaps she even embraces the charge of criminal or self-involved. Lacan referred to the discovery of desires as the mirror stage, but she seems happy to settle for the mirror and the stage. Call the work an obscure object of desire and leave it at that.
The rest of SculptureCenter gives itself over as in 2003 to "In Practice," projects by emerging artists. Gardar Eide Einarsson calls his installation in the side room I Am the Master of My Fate, I Am the Captain of My Soul, after a poem one may have tried to forget. It may sound either encouraging or demonic, but it looks much like a respectable Sol LeWitt wall drawing. Interlocking white diagonals weave across four walls, interrupted by thicker horizontals and verticals in the same gray as the background.
However, the diagonals depict a wire fence, and the thicker lines define confining cells. A metal bench—or perhaps low table—extends the blankness. At the same time, the bench invites one to rest and think, and the soft white and gray open up the room. The overlay suggests that the fence lies behind the actual walls, in an imagined outdoors. I have no clue why Einarsson throws in a photo of a mosque. Still, I found the wall drawing as quiet and vibrant as LeWitt's after all.
A shiny future and a rocky past
Downstairs Alex Arcadia creates emblems of America's Bright Shiny Future. They resemble something out of the Hitler Youth Core, down to a kind of double swastika of the artist's own devising. Amy O'Neill turns her memories of a petting zoo into freestanding fences in cartoon colors. However, I preferred work that truly engages the museum's old basement, with its parallel walls, low ceilings, and remnants of its former industrial life.
Karen Yasinsky reinvents her half tunnel as a shadowy puppet theater. She recreates a night scene from Jean Vigo's film L'Atalante, although a visitor may not trouble to recognize it. Fia Backstrom assembles documents, art objects, and an ax into an elusive natural-history museum. Meanwhile, three others deal more directly with confinement, discovery, the site, and its history.
Karin Schneider likes French film, too. Her title, Two or Three Things You Should, chops the last two words off one of my favorite Jean-Luc Godard movies—About Her. Perhaps it leaves Godard's multiplicity intact, while pointing toward that demanding should. It also permits a woman artist to reserve what you should know about her. In fact, the work makes one curiously at home in her absence.
One first sees white pebbles. They cover the floor, and it takes a moment to realize that they come from Lin's austere "garden" above. One can hardly resist entering just to walk on them. Schneider also includes a strobe light, illuminating the old storage area and playing on its former privacy. However, I most appreciated the empty room. It offers the paradox of going further outdoors the further one penetrates. It also offers an invitation to begin one's journey.
Garrett Ricciardi and Ross Cisneros allude to one former role for the building, trolley repair. They fit the tunnel perfectly, with a homemade wooden trestle over the top. From there, a very funny projection extends the far end into elevated tracks. They curve and descend scarily into a vast canyon. At a given moment, one might observe men out of the Wild West at work on the project, in the sepia tints of old photographs. Mostly, however, one just goes along for the roller-coaster ride.
Best of all, Lucy Raven's Rock Collection plays on another part of the building's life, as a power station. Raven has the longest hall, where the architecture retains pits from the old fixtures. She interrupts it for rocks, wires, light bulbs, and museum labels documenting more of America's industrial revolution. From there, one is on one's own, on a threefold excavation of Long Island City, western expansion, and a rocky landscape.
Bracing for winter
Like that pebbled garden, art often seems determined to root out any trace of growth, corruption, or life. A conservator must guard against dry air or moisture. Walter de Maria outdoes Minimalist geometries in uprooting weeds from The New York Earth Room. Jannis Kounellis allows plants to thrive and a goldfish to swim, albeit in a surgical bowl. He also makes one guess at the cost, in lives left behind.
The plants happen to include some rather dry species, such as cactus, and they rest amid rolled-up iron sheets. They could almost have sprung up by themselves, as at a graveyard or refuse dump—or on Robert Smithson's Floating Island. A dark, woolen coat hangs on the far wall, against more metal sheets. The coat evokes poverty and cold nights, but the work resists easy sentiment. One might think of it as a breakdown of representation or a willed amnesia, like a memorial without an inscription, a refugee with a forgotten history. The rolled iron scrolls suggest an ancient library with the words effaced or hidden.
The bowl stands well within arms length on one of seventeen mismatched wooden tables, all very much the worse for wear. Kounellis has shoved them together, into a corner of the gallery's largest room. They have made room for something, but what? Maybe an ominous meat cleaver in the bowl supplies a hint. Maybe a collection of shoes and a bedspring up on the wall supply another.
More cots take up the opposite side of the room, wrapped in pale red leather, almost the color of flesh and blood. One can see the strips as holding together old bedding for an emergency or as the material from more abandoned clothing. One can see it, too, as the means to strap someone down for electrotherapy or torture. The Italian artist, born in Greece, could be recalling any number of holocausts, but politics makes it easy to think first of Guantánamo and Iraq. From Amy Wilson to Fernando Botero, with plenty of artists in between, reference to Abu Ghraib has evolved from shocking to accepted—maybe even necessary or, at times, almost titillating. It alone, however, cannot account for still more empty coats and their overtones of winter.
Kounellis offers few clues where one work leaves off and another begins. Like Joseph Beuys or, in her less-demanding way, Bonvicini, he implies a hermeneutic obvious only to the artist but traumatic to everyone else as well. The coats and metal sheets indeed echo Beuys's repertoire of felt and iron. However, where Beuys is more than happy to give out his war stories and the aura of a shaman, Kounellis seems less insistent that one buy into his private mythology. His installation depends on what it refuses to say. The plants and fish even allow a sense of irony—and a mundane side to survival, like literally watching grass grow.
Arte Povera often suffers from an overdose of personal mythos, as when an artist elevates himself to the corporate entity Alighiero e Boetti. For a movement that attests to poverty, it also succumbs to Italian elegance. Even when Lucio Fontana takes a knife to canvas, it appears museum ready. His gallery's stature and stone front alone add a curious irony to second-hand clothing. However, like his reserve, Kounellis's instinct for beauty makes his show that much more terrifying. The conundrum of politics, art, text, and representation looks good in leather.

Monica Bonvicini's "Never Missing a Line" and "In Practice" ran at SculptureCenter through March 25, 2007, Jannis Kounellis at Cheim & Read through January 6.