The Unfinished Breuer
John Haber
in New York City
The Met Breuer and Unfinished
Is the Met finished with the Met Breuer? With "Unfinished: Thoughts Left Visible," opening the museum's presence on Madison Avenue, it wants you to know that it has only just begun. It also sees art itself as a work in progress—and not just the "process art" of the last century and today.
Just as much, it wants to have you asking when a work is finished—and to remind you that you can never be too sure of your answer. The show includes abandoned works alongside work that succeeds by giving the impression of the artist's first thoughts. With roughly two hundred examples from the Renaissance to today, many from its holdings, it argues that viewers ever since have often disagreed about which applies. It may also leave you confused about when you are finished. In passing from floor to floor, you may find an unexpected new beginning, to the point of a whole new show. You may even wonder about what counts as permanent in a permanent collection.
Finishing unfinished
All these ideas were on the table from the moment the Met took over the former Whitney Museum, before the Whitney found a new home at the base of the High Line. It was looking, among other things, for more space to display its own permanent collection. Meanwhile the Met was looking for more room, too, so that it could close its modern and contemporary wing for renovation, to provide a more suitable home for its art. Now it wants to stake its claim to the Met Breuer, to show that its vast resources can put anyone to shame. To rub in the irony, it has moved the bookstore and cafeteria to the fifth floor, where the Whitney's collection had hung. If all that has you confused, just wait till you enter the show.
The focus of your confusion depends on where you enter. Maybe you know that the museum has reopened with a retrospective of Nasreen Mohamedi on the second floor (and I review her and the museum's opening separately). And maybe you will take the tried and true approach of working a museum from the top down. Right off the elevator, New Yorkers will encounter one of the city's most familiar examples of modern painting, by Picasso in black and white. Fair enough, you may think. The Met must already be showing that it will use the building for both shows of contemporary art and its collection.
Good try. The Charnel House belongs to MoMA, and it is flanked by two more from Pablo Picasso. The Met can indeed throw its weight around. Then, too, the work at its left looks familiar enough, as the colorful Woman in an Armchair, but with the woman herself largely missing. And the work at its right, presents a compendium of styles in horizontal bands, from meticulous drawing to a more polished realism. Looking back at The Charnel House, you can start to notice swirls of black that Picasso either meant to paint over or added as a final thought.
So which counts as unfinished, and what counts as the artist's thoughts? The rest of the floor walks gracefully through the last century or so with that question in mind. Again depending on where you start, it begins or ends with an artist known for his obsessive reworking. Paul Cézanne kept returning to that same mountain in painting after painting, but also within a painting. His obsessions leave patches of bare canvas in completed works while reducing his wife almost to abstraction, all because he loved his subject and his art so much that he could not tear himself away. His example influenced Cubism and art after since. No wonder Picasso illustrated Le Chef d'Oeuvre Inconnu ("The Unknown Masterpiece"), the story by Honoré de Balzac in which a painter's wish to capture not a likeness but life produces only chaos.
The theme resonates in earthworks by Robert Smithson, who preferred the term entropy to chaos, and the show has one of his piles of rubble interrupted by mirrors. Not that he considered it incomplete, give or take the future motions of the earth. The theme resonates in a different way for Robert Ryman, who has obsessed over white paint for as long as Cézanne with his mountain. It applies, too, to Jasper Johns, whose theme of the artist in his studio often means quoting himself. He even titled the work at hand Voice. Only who, the work asks, is talking?
Suppose, though, that you begin on the third floor—or that you feel ready to leave the fourth floor and to see what comes next. So much for coherence and finish. Here you encounter late works from the Renaissance in Venice, one darker than the next and each shot through with light. Titian may have been thinking of his impending death when he began The Flaying of Marsyas, with musicians crowding in and King Midas (a likely self-portrait) sunk in thought beside the man that the gods are having skinned alive. Titian's Agony in the Garden picks out only the face of Jesus and the lamps of those who have come for him, while a Baptism by Jacopo Bassano shows little more than a layering of oil and hints of the sea. What are they doing in a museum of contemporary art?
Chaos and palette scrapings
That is not a rhetorical question. The curators, Andrea and Bayer Kelly Baum with Sheena Wagstaff, want you to keep questioning, and their own answers revel in the open-ended. Wall labels speak of "the infinite" and of painting "out of bounds." The very word unfinished takes on more aspects than any one show can handle. The third floor slips back to the origins of Modernism in Edgar Degas, Degas prints, Vincent van Gogh, John Singer Sargent, and Henri Matisse, for yet another beginning. Claude Monet, too, stood accused of "chaos" and "palette scrapings."
Even my account thus far is highly selective. Johns and Ryman revisit work without leaving it unfinished, but others did quit, and another of the show's questions is why. Some abandoned work in frustration, like Gustave Klimt, but Alice Neel had to quit because a sitter walked out and never came back—and Jacques-Louis David because a sitter turned his efforts down. Picasso executed The Charnel House near the end of World War II, when restrictions on his movements had him turning more to sculpture. Auguste Rodin quit only in the sense that he could always make an identical cast. Critics have taken that as a critique of the "originality of the avant-garde."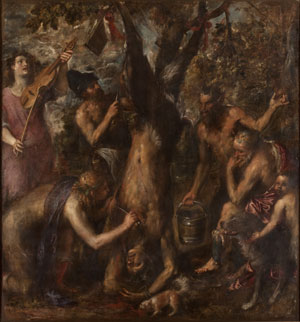 Other work looks incomplete because artists wanted it that way. James McNeill Whistler makes a garden party look ghostly, because he saw it that way, while John Kensett pares back his Hudson River School landscape to little more than a line separating sea and deep orange sky. Jackson Pollock and Willem de Kooning had their "action painting," and Jean-Michel Basquiat played the celebrity street artist to the end. Maria Lassnig sought the rawness of paint splotches, not least because she is aiming a gun at her head. Andy Warhol takes painting by numbers as his subject, and then Kerry James Marshall puns on just that with a black woman ready at the easel. She looks totally self-assured.
Still others did not abandon a work, but rather prepared for it. While many have relied on preliminary drawing, but Théodore Géricault preferred oil sketches in developing Romanticism. His sketch of horses without riders has the muscular force of Thomas Hart Benton more than a century later. Piet Mondrian worked out a composition with tape in place of paint, while Robert Rauschenberg, ever on the hunt for new materials, threw in everything but the kitchen sink. Camille Corot improvised right on canvas, and van Gogh had no trouble changing his mind. Speaking of work in progress, Daumier sketched a house-painter.
Much of the show looks to the unfinished canvas for clues to how they prepared. One can know that Juan Gris started a work with underdrawing, because that is all one sees. What comes next? The question arises often with portraiture. For some, it might be the face, as for Neel. For others, it might be hands, with the face left for last.
Yet even those clues can be deceptive. A show of Anthony van Dyck at the Frick makes clear that he often painted a face first, as the locus of attention, leaving clothing and background to later, as counterpoints and flourishes. On paper, though, he had already worked out the overall composition and the pose, with the face only a trace. He could pull that part off when he got to the canvas. An erasure left everything in Anton Raphael Mengs with its neoclassical polish except a seeming gas cloud in place of a sitter's head. It must be his only portrait with a touch of humor or Surrealism.
Which came first?
At this point, any sane person would be crying for help. How many themes does this show have—and how many endings? How can anyone keep all this straight? And no one can, which is yet another theme. Sometimes not even the experts can tell the unfinished work from a work that merely looks unfinished, and here, too, the enigma does not begin with Cézanne. If Titian had lived longer, would those paintings (his Marsyas already signed) have changed, and how?
The show takes the question back further still, to the early Renaissance. Jan van Eyck drew in silverpoint, a demanding medium with little room for corrections. It meant that every sketch counts as a finished work, even if it is preliminary to a painting. With Saint Barbara, he even worked on panel, adding touches of oil to the trees and sky. Did he mean it to become a painting? When Donatello left the background to a low relief empty, did he mean simply to mount it on another sheet of bronze? Your guess, the Met suggests, is as good as anyone's.
Sometimes artists, too, change their tune. J. M. W. Turner, for one, could declare a painting unfinished and then exhibit it, while Rembrandt could produce a print and then completely rework the plate. No one stands for the power of paint to engulf its subject as much as Turner, who gets a room to himself, and no one stands for the handling of the artist's tools as much as Rembrandt. Turner's fiery skies still have the power to evoke more than can see, and Rembrandt's late portraits still reveal new colors, new forms, and new depths of feeling with every layered brushstroke. Yet even an artist as composed as Nicolas Poussin could leave two versions of a painting, with few clues to which came first. It could be a case of the chicken and the egg.
And that poses another problem for the show: do its questions even matter? Are they anything more than an excuse to trot out all this work? Almost anything could belong. It does not take a genius to know that artists spend time on their art and sometimes give up entirely. Michelangelo did not complete his muscular Libyan Sibyl or Leonardo his head of a woman with delicate flesh and hair like wild tendrils, but then they did not complete a lot of things.
Nor is the show's premise all that original. New York has already seen "The Unfinished Print" in 2004 and "Left Unfinished by Albrecht Dürer" at the Met in 2005. Dürer was quite a virtuoso, with a self-portrait to beat all self-portraits at age thirteen. Yet he could leave Jesus as savior of the world unfinished, and here it is again. And the premise is popular with good reason: people want to believe that art is a window onto not just the visible world, but also the artist's thoughts.
The examples may go back to the Renaissance, and restorers need to study them carefully to know what to strip away, but the idea is very much a legacy of Romanticism and Modernism. People want to believe in "action painting," as the expression of violent impulses and raw feeling. They want to believe in genius—and in "thoughts left visible." A better show might be not just more focused, but also more skeptical, raising other questions. For now, though, the Met Breuer succeeds with what it wants, and that is to overwhelm anyone with its reach and its scholarship. If you cannot decide what everything is doing here, it may not mind one bit.

"Unfinished: Thoughts Left Visible" ran at The Met Breuer through September 4, 2016. A separate review takes up the museum's rebirth and the remaining opening shows, of Nasreen Mohamedi and Vijay Iyer.