Wait Until Next Year
John Haber
in New York City
Rembrandt's Birthday
How should New Yorkers have celebrated Rembrandt's four hundredth birthday? We could have gathered round his self-portrait at the Frick on July 15 to blow out the candles. Then again, would I dare leave the shabby but majestic old man even further in darkness?
The Met could have staged a major loan show for 2006, but I was never exactly holding my breath. An innovative curator could have staged it as a party, bringing together just a painting apiece by artists who passed through Rembrandt's workshop. They alone could supply a compact history of Dutch painting.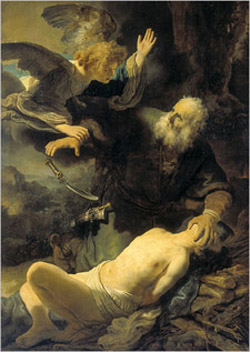 Instead, one has the more modest but intense pleasures of Rembrandt prints and drawings already in New York. The Morgan Library displays roughly forty prints from its permanent collection, in the same room as sketches by Rembrandt and other Dutch artists, right down through Vincent van Gogh. What other museum has the luxury of celebrating this birthday by celebrating its own remarkable holdings? The Met's similar efforts feel less like a party than the morning after, although they plan a blockbuster of "The Age of Rembrandt" next year. It deposits its selections in a busy corridor and in no particular order, as if daring anyone to notice.
These exhibitions have much in common, however, besides some of the same classic works. They show Rembrandt's art as constant experimentation, with prints the ideal medium for experiment. And in Amsterdam not long before, paintings by Rembrandt and Caravaggio show the experiment just getting underway.
Value judgments
I am not making a terribly original observation, and the Morgan makes it from the very start. In some of the earliest prints, little larger than postage stamps and displayed as if on a single sketch pad, Rembrandt tries on a few faces. They recall Leonardo caricatures, like a scientist's attempts to catalog human nature. However, Rembrandt is performing his experiment on himself. He is not above experimenting on his loved ones either. A drawing at the Met, possibly of his first wife asleep or on her deathbed, acquires its humanity from an uncanny blend of detachment and love.
He certainly experiments with technique. A single print can incorporate engraving, etching, and drypoint. This museum can show them all, even before adding loan exhibitions to the Morgan's private world. In a portrait of Jan Six, each mark contributes to the varied textures of skin, hair, clothing, and interior. So, as the Morgan points out, does the color of the paper. Rembrandt's needle can dart lightly across a plate, but he can also work a scene over and over until it all but disappears into shadow. Deciphering it becomes one's own experiment in vision.
These experiments take time, and his prints often trace the history of their own making. Like most artists, he pulled prints often, as a reality check before continuing to work on the metal plate. As with perhaps no other artist, however, each such state functions as a distinct artwork. So, for that matter, can different impressions made from the same state, as Rembrandt decides not to wipe the plate entirely clean, leaving ink to swell from around the grooves. Each state may function, too, as a distinct stage between art and life. Saskia, his first wife, starts as a sensual portrait before taking on the attributes of Esther.
With Ecce Homo, one sees a progression from something resembling casual pen strokes on paper to firmer architecture, denser crowds, and encroaching darkness. However, Rembrandt effaces other details entirely by polishing the plate, replacing the foreground figures with stone vaulting above deep pits. By the end, Pilate demands judgment on Jesus directly from the viewer. Shadowy, iconic figures also come and go from states of The Three Crosses, echoing their own depicted motion, as they huddle together or make off as fast as they can. The changes lend particular mystery to a turbaned man in profile on horseback. He could have ridden in from an Italian Renaissance painting, a Vision of Saint Eustace by Antonio Pisanello, giving the Roman soldier the gravity and indifference of a saint.
Any black-and-white medium has to rely on light and dark as a representational device, but here they belong to the subject matter as well. One really can make out the gradations of darkness belonging to figures and to the night. The bare plate casts a circle of light above a seated nude, and it seems to define her as much as her outline. In all the stages of The Three Crosses, light pours down from the heavens as if opening a vast prison. One remembers that artists refer to gradations of light as values.
Obviously along with technical and spatial experiment come studies in ethical values, too. Rembrandt juggles his attachment to New Testament and Old, humility and learning, spirit and flesh. A man giving alms seems hemmed in physically and psychologically by the doorway in which he stands. Not even his act of kindness can give him the grace afforded beggars. In a series of nudes, the women appear tense or languorous, classical or swathed in atmosphere, aging or still young. Rembrandt gives the goddess Diana a notably sagging belly, as if to insist that her humanity is itself the most enduring myth.
North and south
If I wondered where the experiment began, I could have had further clues a few months before. I sometimes wish art writers earned serious money, especially right after April 15 tax deadlines, so that I could justify a trip to Europe as a business deduction. It happened again in April 2006, when I read about Caravaggio and Rembrandt, paired at the van Gogh Museum. Not that one needs an excuse to catch either artist, Amsterdam, or yet another intriguing show that has skipped New York. However, I could have justified a visit for another reason as well. I missed a fresh look at north versus south—not for the Northern and Italian Renaissance, but for another great age.
The exhibition considers more than personal influence. It places Dutch painting along a new axis, not as simply part of a singular culture in opposition to the Flemish. And one has every evidence that artists saw things this way, too. As a dealer, Jan Vermeer had to know the entirety of European painting and decorative art, including the art of Italy. Yet so did Rembrandt—as an active artist and also a consumer. He had a collector's taste that, increasingly, did not sit well with his financial well-being.
Not that the connection speaks for itself. Yes, the northern Baroque took on much of its distinctive nature thanks to artists form Utrecht, known as the Dutch Caravaggisti. These genre painters and portraitists, who apparently open the exhibition, adopted early Caravaggio with his early bright colors and bold shadows—along with his mix of religious and low-life subjects. In the process, they created a newly secular, middle-class art. However, Rembrandt's ambitions and inspirations ranged far more widely, looking back, too, to the scale and luxuriant surfaces of Peter Paul Rubens. One could consider his career as ongoing confrontation between visible display and inner crisis.
Besides, all Baroque painting begins with Caravaggio, so again, I hear Rembrandt asking, why me? Until my transatlantic ship comes in, I shall look for answers to a single subject, The Sacrifice of Isaac. Both artists were at an age to identify with both Isaac and Abraham, and both artists choose the moment at which an angel stays the knife.
Caravaggio still has the daylight scenes of his youth, not the dark nights of his later souls. He still treats his image as a singular moment of moral challenge, like the ones that his basket of fruit or oversexed young men present to the viewer. He has not yet sunk into a world in gradations of dark, with the artist's self-representation as one more victim and perpetrator among many.
Rembrandt, too, still paints with exceptional brightness, glorying in the play of sunlight across fancy costumes, like an outdoor theater with the sun as its stage lighting. His time scale as well belongs very much to the visible drama of Rembrandt's early years, not the contemplative scale of his later saints and self-portraits. The knife has fallen from Abraham's hand and hovers frighteningly in midair.
Neither submission nor deliverance
For both artists, the diagonals and extravagant gestures emphasize the hand over the eye, the potential deed rather than the moment of vision. Caravaggio even has Abraham turn away from the ram that God has delivered at right—unless the angel points as well to God's presence in the landscape or the evidence of things unseen.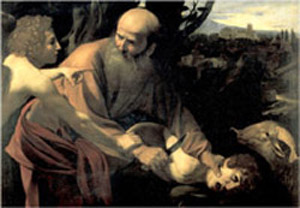 Abraham's stark, leftward gaze, meeting the angel's descent, could parody an Annunciation. The diagonal of their joined arms repeats in reverse that of Jesus, in his Calling of Saint Matthew.
Rembrandt matures more slowly. He still comes off more as a theater manager than as a student of character. His Abraham hardly interacts with the angel or his son. Lost in his fancy wardrobe, he expresses at most perplexity. Birthday or not, he suggests, do not celebrate too soon.
However, the Dutch artist already takes human perplexity as a given, and the parallels to Caravaggio emphasize that theme. The knife, perilously close to Isaac's crotch, threatens not just Isaac but God's will. In fact, it threatens the viewer's certainty of a Judeo-Christian heritage. It may echo Paul's nasty attack in Galatians, upon advocates of circumcision for all who trust in salvation: let their knife slip so that they mutilate themselves.
In Caravaggio's painting, Abraham shows even less fatherly love and obedience to God. His angry glare refuses the redemption granted him and his descendants. The warm landscape and the angel's gesture, pressed closely to the picture plane, humanize the scene for the viewer. They do nothing, however, to humanize the authority on which the viewer rests.
The artists portray neither an Old Testament drama nor a New Testament promise. They speak neither of moral perplexity, nor of patient submission to a dark, inscrutable God, nor of timely deliverance. At the very birth of an art to suit the Protestant reformation, Caravaggio has shown a religious father and an individual as a fanatic. Rembrandt has implicated Abraham—and his own art—as concerned for mere ritual and appearance.
As they age, the painters deal more thoroughly and acutely with the certainty of death. Already, however, one can see how human weakness rests at the core of both belief and self-doubt. It makes for a rather hushed birthday party, but Rembrandt would surely have loved to attend. Then again, the documents of his life contradict one another, so he could well have his four hundredth birthday in 2007. That gives me another year to get there.

Rembrandt prints and Dutch landscape drawings ran at The Morgan Library through October 1, 2006. Prints and drawings by Rembrandt and his circle ran at The Metropolitan Museum of Art through October 15. Rembrandt and Caravaggio got together at the van Gogh Museum in Amsterdam through June 18—and, no, they did not invite me, and I did not attend. A related review looks at Caravaggio's last paintings.