Rebuilding Minimalism
John Haber
in New York City
Susana Solano, Jeff Landman, and Martha Clippinger
Minimalism is back, but with a difference. If it ever looked like classy but highly dysfunctional furniture, Susana Solano tempts one to see a lead hammock, while Jeff Landman offers actual seating to chat about the architecture. If it always needed visitors to complete it, Martha Clippinger cuts art down to size to give them room.
They have not discarded repetition and geometry. For Solano, the bilateral symmetry of a bridge will not suffice, not when it could be running four ways. Somehow, they see Modernism as at once a work in progress and a relic of the past. Landman even calls his show "Working on a Building," and his practice extends to archaeology. They do not, however, shy away from associations with the everyday. Now that anything goes, when painters and photographers are working in the space between conceptual art and abstraction, sculpture can, too. Yet it can also locate firmer ground and a place to play.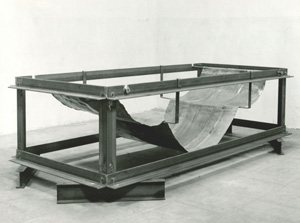 Heavyweights
Who says a woman cannot keep up with the heavyweights? When Susana Solano drapes a faded white sheet across a steel frame, one may recognize it as lead. One may also recognize it—or her well-weathered steel—from Richard Serra, as the material for some of his most recalcitrant and assertive sculpture. Like Serra's early work, too, Solano does nothing to disguise her art's construction. The lead hangs down as if of its own weight, the frame and its bolts turned outward for all to see, and the whole rests on four more I-beams of steel. It will need them to keep from crushing the floor.
The 1987 work might be a study in mass, volume, and symmetry. It might also be a study in geometry and physics, with the lead as a catenary as for Jasper Johns—the curve of anything under its own weight. By the same token, it might be a study in pliancy, with the lead ever so comforting, like a hammock, or ever so Procrustean. As with Serra, Solano can be at once sensual and forbidding. Unlike his work, though, hers acquires that sensuality by lingering on the edge of representation. And it becomes imagery by inviting one in while keeping one out.
Solano's play with mass and materials, symmetry and imagery, outside and in keeps surprising. A taller and narrower construction in draped lead resembles a trash bag in its receptacle. Crossed steel on the floor looks almost like a suspension bridge, except that it runs four ways without an on-ramp. Talk about a bridge to nowhere. Peer over a massive steel box, and it contains a carpeting of thick mesh over gravel, like a Moroccan garden. Metal can also provide the frame for wickerwork, in a giant shuttlecock or Moorish vase.
Born in 1946 in Barcelona, Solano is entitled to both European and Mediterranean points of reference. The show's title, "A Meitat de Camí," means halfway there in Catalan. It speaks to distances in the viewer's space, but also an imagined one. Her very exoticism may explain why I took her work as a largely forgotten Minimalism, like the splendid rediscoveries of Sheila Hicks, Bill Bollinger, and Phyllida Barlow just within the last few years. Hicks had her weaving, too, although with linen, rope, and corn husks rather than rattan. Yet Solano has exhibited regularly in New York, as well as nearly twenty-five years ago at the Hirshhorn, and much of this show is thoroughly up to date.
Serra is back, too, with what could well be his weightiest. Rounded solids rest on one another, as if on their own pedestal, while angled steel walls recall his early corner piece, but as independent architecture. Smaller staggered walls map the gallery as an extended field, of unconstrained movements and imposing barriers. Each has its own height, so that different people can peer over different ones. His sculpture's ongoing relationship with the viewer becomes more dramatic still with a double curve, in which compressed passages open onto circular chambers. I could not have sketched its outlines, not even after three visits.
Solano also tackles another of the big boys, with burnished steel out of David Smith. She sets its fragmented ovals against each other at right angles. More silvery ovals cross the wall on the way in, like the transient reflections of passing clouds. Just when one expects secrets, she offers sculpture. Does that make Solano more a modernist than a Minimalist after all, or was Minimalism always more visually deceptive than one remembers? Maybe it depends on how one enters the space of the art—and whether one's imagination can ever leave.
Minimalist archaeology
When future generations unearth the ruins of western civilization, will they notice contemporary art? Jeff Landman stages his own archaeological dig, spanning millennia—and it turns out to look strikingly modern. It started with his discovery of the remains of a barn in Pennsylvania. From its timbers, he packs a gallery tightly with constructions in blond wood. They both shape and populate the space, as installation and as human habitation. They tempt one alternately to admire them and to make them one's own.
One notices the change coming off the elevator, where a partition presents an obstacle to movement and to vision, and it is not the last. Within, a white curtain defines a chamber for just a few small beams low to the ground. Could they be all that is left from bedroom furniture or from a room itself? Outside this architecture within the architecture, the room becomes more spacious and familiar. Even opening crowds could move freely among smooth tables, freestanding columns, and stiff-back chairs arranged neatly in rows. For once, too, they had a place to sit, and they did not hesitate to take advantage.
Maybe no one dared leave a wine glass on either table, but they did throw backpacks in a corner on the floor. They may not have noticed the regimentation of paired and unpaired chairs, only rarely face to face. The work loses its strangeness as furniture only by becoming Minimalist sculpture. Twentieth-century geometry also helps govern the symmetrical cuts into beams stacked in pairs in the smaller room by the window, but then so do ancient cultures.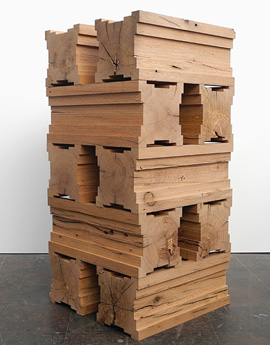 Landman cites as influences Mesopotamian and early Christian architecture, along with the Viennese school. Others might think, too, of Neolithic monuments in his native England, along perhaps with Dan Graham, Isamu Noguchi, and Ursula Von Rydingsvard.
Maybe future archaeologists will have other things on their mind, as at the end of Planet of the Apes. In Chelsea alone, they might care more about the wine bar on the High Line. In turn, artists have fabricated their own cultural debris, like Liz Glynn with a heavy hand, in papier-mâché clothing, "antiquities," and an anchor. Liz Magic Laser, too, has played with the politics of art openings as social events, and Andrea Zittel has staged her Post-Minimalist fallout shelters. They all see contemporary culture as inherently recycled, and they are not always sure whether to celebrate it or destroy it. From that point of view, Landman could be settling for cleaning it up.
He seeks "the construction of a lightness, a special cleanliness," along with a corresponding weight, and the results can look a little too clean. Merely to move so freely among cultures and millennia washes away differences. Landman thinks of uncovering not just civilizations, but a transcendent experience. If that stack by the window could better serve as a funeral pyre or for human sacrifice, he is not saying. Still he has room for loose ends. A single timber stands at an unsteady angle, still rough, as another layer of time—and a long table has a single chair, like a conference for one.
Landman derives a heightened awareness and even comedy from the conflict of cultures. He also works on a human scale—and not just with home furnishings almost ready for Ikea. The beams beg to be described as the length of a forearm and the width of an outstretched hand. The pyre is just about waist high. More and more artists are working between Minimalism and the present, as well as between art and architecture. From the smooth outlines of his sculpture, Landman finds a less cynical deconstructive architecture, with space for visitors.
Modernism for beginners
For once, I knew I had to attend a winter group show when I saw the image on the invitation, a color wheel. No, not one that Isaac Newton would have recognized, but then psychologists, graphic designers, and conceptual artists have had their share of those. All the same, it was a wheel of color—wedges of color and, along the rim, quite another hue for each wedge. All but filling the email window, the thick circle had the weight and geometry of classic Minimalism, give or take the seemingly random pattern. In person, the wheel had almost a room to itself, except for one thing: hanging near the ceiling, it was so small that I could have missed it outright or nestled it in my hands.
Martha Clippinger plainly works with her hands. She works in wood, like shop class in place of Minimalism's hardware store, and she works in solid color by a process of addition. Put a few slats together, and you never know what will result. I could swear that her small constructions include a bird, a fence, a few boats, and a loudspeaker, but that makes them no less abstract. Rather, it attests to their playfulness—what John Yau, the gallery notes, compared to kindergarten. One could call "flipside," her solo show a month later, Modernism for beginners.
She also works the room. One piece nestles into a corner on the floor, like tiling abandoned the moment it was begun. Others hang high on the wall or, in one case, under a ceiling beam. Even with up to ten on a gallery wall, they have a way of withdrawing. A slim vertical stack in another corner may recall Cordy Ryman, who shared in that group show. Yet it never reaches to the floor. Taken together, the pieces suggest endless permutations on a theme.
While Clippinger gains from that lack of closure, but within the old-fashioned space of sculpture. Unlike Ryman or, for that matter, Minimalism, she does not engage the architecture on its own terms. Her colored stacks may also recall André Cadere, who carried his poles with him in the 1970s, but she seems determined not to stick out. (Not that Cadere left all that much of a mark beyond France in the first place.) That can leave the work suspended between object, installation, and a game, which may not be such a bad thing after all. Her solo exhibition catalog takes the form of a deck of cards, ready for play no doubt, but only after shuffling.
Another ring hangs suspended between floor and ceiling as part of another group show, this time by wires. Thanks to Stephen Lichty, it also hangs suspended between a rare object and a personal item awaiting use. So does a polished bronze cane nested in the wall, somewhere between a familiar resting place and a sculptural niche. They both play against their spare presence in the room—the state, as the show's title puts it, of "Objects & Thin Air." The show also allows Michael Wang to set off a cascade of black and red, art and commerce, beauty and bodily function from a shelf alternating Old Spice Classic and Axe deodorants. Sam Anderson makes a dozen spare meals of fine wood plates on napkins and tiny tables topped with pills, flowers, or nothing at all.
One can take these shows as sculpture or site, work or play, form or fragile function. One can close in on the work, like that jpeg, or watch as it withdraws. One can see Clippinger's tiling as a kind of layering in two dimensions, to which she sometimes adds a layering in depth, with fabric or leather on the wood. Or one can see all these artists as preservers and scavengers, like Isa Genzken, Ted Larsen, Maureen Kelleher, or a young Robert Indiana with scrap wood from the docks of the city. Come to think of it, that group show in which I first saw Clippinger was called "Drifter," and her circle of driftwood does look as if a buoy had fallen off the back of a pleasure ship. These artists could be circling the remains of others, but they also know the pleasure of the game.

Susana Solano ran at Jack Shainman through January 11, 2013, Richard Serra at Gagosian through February 8 (on West 21st) and March 15 (on West 24th), Jeff Landman at Tracy Williams, Ltd., through February 22, Liz Glynn at Paula Cooper through February 8, "Drifter" at Hionas through January 11, Martha Clippinger at Elizabeth Harris through February 8, and "Objects & Thin Air" at Foxy Production through February 15.