Cleaning House
John Haber
in New York City
What more did I want? Rivets. To get on with the work—to stop the hole.
— Joseph Conrad, Heart of Darkness
Ted Larsen, Lisa Kirk, and Sylvan Lionni
Pello Irazu, Paul Gabrielli, and Eugenio Espinoza
Conrad's Marlow had it right. Hanging in there as an artist is like that, but it keeps getting harder to work steadily, small, and spare.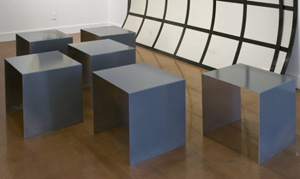 Some, though, have the tools. Ted Larsen does it with scrap metal and, yes, rivets, while Lisa Kirk gives castoffs a fresh shine. Sylvan Lionni creates the ruler to measure out his own handful of dust. Pello Irazu similarly measures out the changes to his studio, while Paul Gabrielli leaves a Lower East Side gallery so bare except for bathroom fixtures that one could mistake it for an abandoned tenement, and Eugenio Espinoza uses spare materials to break Minimalism's symmetry. Are they contributing to the vogue for clutter or cleaning up after it? Either way, they have found new ways to work between abstraction and the everyday.
Assembly required
Abstraction is not dead, but it has taken a beating. Faced with Ted Larsen, one may wonder how it has survived at all. And with Lisa Kirk, one may wonder at what has survived. Minimalism, too, worked with the materials at hand, with the gallery at once stage set, hardware store, and construction site. These artists just dispense with the formalism and add a touch of craft, modesty, and humor. They get on with a sometimes sinister job—in Larsen's case, with rivets.
Larsen's plain materials, hard-edged geometries, and recursive logic conform well enough to Minimalism if, as one work has it, with Some Assembly Required. He also leaves open who will do the assembly—and whether in reality or the imagination. Colored triangles fit neatly enough into squares. These in turn fill a welded-steel frame more than three inches deep, but with a few tiles missing from the grid at upper left. What remains has suffered, too, from stains and dozens of pock marks. Like Margaret Evangeline, Maria Epes, or Niki de Saint Phalle, he might have used his own sculpture for target practice and called the results painting.
Larsen, though, is not a destroyer but a preserver. He has scavenged the urban landscape, for the scraps and the rivets to hold things together—in what might have seemed at first like bullet holes. He has not even repainted the metal, which explains the stains. Like Isa Genzken, he has scavenged another landscape, too, that of art. To Minimalism's post-industrial base, Larsen adds craft from his own hand, enough that one could almost speak of outsider art. After all, he does live in New Mexico.
Like Robert Ryman, Larsen treasures the means of support as elements for his art—at once tactile, visual, and under construction. Small steel boxes, like badly arranged bookshelves, could be on their way up or tumbling down. (He calls the show "Do Not Stack!") He also recalls the two-plus dimensions of shaped canvas for early Elizabeth Murray or Charles Hinman. A three-part work hangs high and almost flat on the wall, with the leanest, angled slats could pass for drawing in perspective.
Of course, plenty of artists are rummaging through the garbage. Metal provides the finish for Kirk as well, but as a patina. It discolors a broken umbrella on the floor, which could just as easily be cast as cast off, and it enhances abstract paintings as well. Kirk's objects engage the surrounding space simply by seeming lost within it, although a few years back she turned the gallery into a real-estate office (illustrated here). Like Gabrielli the month before at the same gallery, she finds a dysfunctional spareness in the everyday. Her black sphere open at bottom mimes awnings in and around Chinatown, and some visitors stand under it, as if entering Maxwell Smart's Cone of Silence.
In big-money installations, the trash heaps just get larger and larger. "Instead of rivets," Marlow found soon enough, "there came an invasion, an infliction, a visitation." Some, though, are fighting back. Kirk might well find Larsen conceptually lacking, while he might find her glib and barren, but no matter. They know that scrap can retain or reinvent its history. Whatever it takes to stop the hole.
A handful of dust
Sylvan Lionni has two ways of playing, clean and dirty. Like most con artists, he also makes it difficult to tell them apart, and you may not mind one bit being taken in. On the dirty side, his nearly bare rectangles began life as dust on aluminum. He then photographed the panels, so that they could become screen prints on newly primed aluminum. On the clean side, his other wall hangings purport to supply the tools to tidy things up. They consist of L-shaped rulers, marking the space down to a fraction of an inch.
Naturally they, too, play dirty tricks. Like the "dirt paintings," as Lionni calls his first series, the "ruler paintings" are not paintings at all, but rather screen prints on steel. They are also not any tools I know, although one wants ever so much to find them at the hardware store, perhaps along with T-squares—or to take them off the wall and put them to use, much like the joyous and colorful pretend rags in layers of oil by another housecleaner, Leslie Wayne. I cannot even swear to their unit of measure. They vary in length as well, enabling black and color rulers to nestle into larger compositions that gently break the symmetry. Where the dirt paintings can almost blend into the wall, they pop out.
The two series have more common than their medium and their trickery. Like Minimalism, they both reference and use industrial materials. Both series also approach abstraction, in the same territory as huge inkjet prints for Wade Guyton. Ryman might have created the nearly white dirt paintings, except that Ryman would have stopped at the priming. And both, for all their impersonality, also point to the artistic process, whether in the incomplete brushwork of one series or the measuring of a work in the other. One might not hire Lionni as either a painter or a handyman, but he leaves his dirty prints everywhere.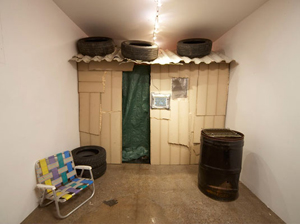 Pello Irazu, too, adapts photography to Minimalism, conceptualism, and abstraction. At his best, he is also at his most colorful and clean. The Basque artist sees himself in a "dialogue" with his studio, where his sculptures begin. They indulge in artifice as well, like aluminum cast in the shape of wood blocks and painted with the illusion of wood grain. Given the history of veneer and wallpaper in art, starting with Cubism, these tricks orient the work simultaneously toward household materials and fine art, much as with Lionni. Other sculpture refers more directly to the studio, with painted cardboard that might have served as shipping materials or the crossed wooden legs of a worktable.
So far so good, but also the most derivative. A small block sculpture looks like a static rehash of art from Constantin Brancusi to Joel Shapiro, redeemed by the comedy of its awkward presence on the floor. Irazu comes most to life with his relatively recent turn to photography and rephotography. It allows him to squeeze a sculptural presence into the two dimensions of a print—or to project prints onto the surface of bigger and brighter sculpture. It also allows the glimpses of his studio to enter the gallery. As with Lionni, those glimpses can include real or simulated masking tape, as another step in the artistic process.
Better yet, photography allows large planes of color, most notably red, to get along with the glimpses. In the end, the photographs merely on the wall come closest to conceptual art and collage. They are also the most visually alive. Like Guyton and far too much contemporary art, both Lionni and Irazu can become too smart and knowing, if also enticing. Still, I appreciate both the clean edges and dirty tricks. Neither has the depth to show you fear in a handful of dust, but they can share its simple pleasures.
A cold shower
Paul Gabrielli empties a gallery of practically everything but what he might have used to clean it. "Daily Chores" contains a bath mat, some sponges, a shower curtain, and little more. The sculpture sticks close to the walls, accentuating the emptiness, even as its casual placement undermines its claims to routine. Every one of the found objects is the worse for wear to the point of ugliness, maybe especially the blue mat on the floor. They are also not going anywhere fast. Clean or dirty, it will not be so easy to erase what remains.
A flimsy chain connects each sponge to a metal rail, while much heavier links connect the mat to the wall, and a thick lock interrupts the shower curtain. Not that any of them is responsible for holding the object in place. The sponges look as if one could slide them along the rail, maybe after a cold shower, and the shower curtain could probably close the rest of the way. I, for one, was sorely tempted to find out. Every one of the objects is thoroughly dysfunctional, but then so is art. Form may still follow function, but it might feel like a household chore.
Minimalism kept art's old emphasis on looking, although the window on the world became a window onto the space around one. Here, too, the hints of bodily confinement, from chains to a shower stall, may also point to a larger world. The mat could be a welcome mat and the curtain a window curtain. To confuse matters further, an apparent window ledge with the chains for blinds leads only to a narrow recess cut into the wall. Gabrielli contributed before to "Furniture," a group show that treated everyday materials as something between Neo-Minimalism and a threat—and one could write off "Daily Chores" as yet another trash-filled installation. This artist, though, is opening vistas by cleaning house.
Eugenio Espinoza gets along just fine with clutter. He has to, confined to a small gallery, with his most impressive work in an expected corner. Yet he needs all the space that he can get, in order to disturb its symmetry. Six open cubes take over the floor, all formed from two folds of sheet metal. They might have fallen that way, except that each has its own orientation. As a poet said, a throw of the dice cannot eliminate chance.
Nearby, black grids against yellow lie limply against the wall and floor. And here, too, Espinoza displaces the pattern a second or third time, in that the large sheets do not line up. As with the cubes, though, he also slowly reveals structure, for how else could one view all three? Busier constructions line the walls, but they have a point of stability as well. They rest on ordinary shelf brackets. The sheets are more stable then they look, too, on aluminum rather than paper.
Physics explains the universe by symmetry breaking, but a limp or broken symmetry has to recall Arte Povera. Born in Venezuela in 1950, Espinoza has in fact exhibited often outside the United States—and his most formidable displacement amounts to a tear, much as for Lucio Fontana. A black square on a white square seems to have undergone a seismic shift, but its top is just additional canvas folded over. By now Minimalism as a gallery's deconstructive architecture has become a cliché. One ought to welcome, though, cleaning up after the clutter. Just do not expect a clean sponge.

Ted Larsen ran at Lesley Heller and Lisa Kirk at Invisible-Exports, both through January 26, 2014, Sylvan Lionni at Kansas through April 19, Leslie Wayne at Jack Shainman through March 22, and Pello Irazu at Yancey Richardson through March 29. Paul Gabrielli ran at Invisible-Exports through December 1, 2013, Eugenio Espinoza at Blackston through December 22. Related reviews look at the earlier exhibition by Kirk with that real-estate office, at cluttered installations, and at the art of everyday materials.