Abstract Architecture
John Haber
in New York City
Cordy Ryman and Claire Seidl
David Ersser and Christoph Morlinghaus
Sometimes artists get to play at once abstract painter, architect, and voyeur. Two even indulge in similar titles, like Porch and Door. Lumber never had it so good. It might seem less strange were one not nominally a sculptor, another not peering over rooftops, and another not sharing her family photos.
Cordy Ryman has a comforting plainness, until one tries to figure out how to look at it. Corner pieces slip easily into place, from the floor to never quite the ceiling, without sticking out too far. Something approaching a row of sticks might ascend the wall. Small squares may stack tightly or nestle in parallel to the floor, evenly spaced. One cannot always walk around the results like a sculpture, view it head on like a painting, or picture it within one's head like architecture. Yet it looks so handmade and never quite sits still.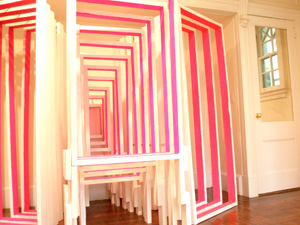 Laura Newman hovers more actively between genres, not unlike her subject—the restless gaze of a New Yorker at night. Claire Seidl hovers more restlessly yet, between photography and abstract art and between moments in time. Not that everyone is turning oversized gallery spaces into pigsties. Thomas Lendvai and David Ersser use their own woodwork to bridge the white cube and the A-frame, while Christoph Morlinghaus photographs architecture as a hymn to absent dimensions. He makes me want to make up for the absence—by seeing buildings this alive in person. Raise high the roof beam, carpenters.
Cornering painting
Cordy Ryman may seem hardly to touch his found scraps of wood, like the components of an early Studio Sweepings, except for their geometry. Well, maybe not too neat a geometry. If only, he might protest, he were a better craftsman. Perhaps he knows that geometry will take care of itself, by sheer accretion. It makes the work impossible to trip over but also impossible to miss. I first spotted one in a packed National Academy Annual, like a smart commentary on the narrow but elegantly fashioned winding stairs.
The paint helps make it so. Ryman covers the wood in white and bright enamel, sometimes one color to a unit. Naturally neither the colors nor their application come anything close to a norm. Adjacent close hues never quite match, and the paint runs rather than drips. This is not Abstract Expressionism. No, it has more in common with artists of the 1960s and 1970s, like Ron Gorchov or Richard Tuttle, before geometric abstraction became Neo-Geo and when Minimalism at times still looked handmade. Painting seems to have gotten up by itself and walked into the corner.
Far from formalism, this painting fosters illusion. In one corner piece for his 2007 gallery show, each small white square has a large red dot at its center. Somehow the squares grow slightly smaller as they near a natural vanishing point, in the ceiling. Again a physical object encourages visual access, without losing its physical clarity. Yet even its semblance of geometry remains imperfect. At least one square is missing its dot.
Ryman's work does not sit in the corner like a child in need of discipline. He makes painting into architecture and back again. He also locates a place between painting and sculpture. Two painted rectangles hang on the wall, but in one a succession of angled wood fragments suggests a magnetic field. Another has swirls of paint but the thick support of a formalist's painting as object. The paint's brightness interrupts white and unpainted areas, adding to the sense of a shifting visual center.
Is sculpture trying too hard to be painting? Maybe, but much of the best work heads right back to the floor. In one piece, three sets of wood frames stand back to back, growing smaller as they converge toward the wall. They may allude to three-part mirrors in a fitting room or to a painting's stretcher. They also look at first like public sculpture—until they, too, find their specificity in the site. One can walk around them or enter them, but only in the mind's eye.
Where could Ryman go after this? For a while, he pursued his gallery's meanderings through smaller spaces and art fairs. Still, that could entail certain compromises, especially for an artist who leaves one so unsure when to call a work site specific. At the very least, he had to dismantle a ten-foot triangle over the desk when one gallery departed the Bowery. Not to worry. He may well have taken some of it with him in 2013 to a museum in New Jersey, to help piece together some of his largest work yet.
Scrapping abstraction
Windowboxing expands on a triangle, with a bit of a plateau on top, to cover much of a museum wall. It must have burst apart here and there in the process. The wood tiling has become open squares of varying sizes, like stretchers or picture frames in search of canvas—or like his earlier Door. Many nestle within others, upright or diagonally, as if in storage, while two by fours tilted up and out to hold up the rest. I should hate to call it a system of support. The brightly colored inside edges, in yellow and red, and ample surrounding space add to the work's lightness and resemblance to plain old painting.
Others with him at the museum obsess way too much over painting without actually doing it. In Katie Armstrong's hand-drawn animation, the male narrator fantasizes about meeting Frida Kahlo on a train, before she morphs into a force of nature—running deer, to be precise. Less charmingly, Jordan Eagles pours real blood from a slaughterhouse into Plexiglas and resin. Just in case any of his Red Giants does not glow suitably enough or reek enough of death, he backs some with copper. At least Andres Serrano and Chris Ofili came by their precious bodily fluids the old-fashioned way, with a Catholic upbringing. Here the only "Sensation" is kitsch.
As Windowboxing suggests, Ryman is sparring with the architecture, just as in his corner pieces. He is also playing with the old metaphor of a painting as a window onto the world—here with multiple windows looking every which way and none. One might think, too, of Allan McCollum's "surrogate paintings," those frames and matte surrounding only black, but without the hectoring, dismissive irony. Ryman always leaves open the possibility for painting, geometry, the handmade, and art as object, very much like his father, Robert Ryman. He just has to start again from their scraps. And that includes the scraps of his past.
In the next largest piece, scraps of art and other debris compete on an equal footing. One of four rectangular fields recycles wood from an older work, while the other three settle for whatever he can find. Each imperfect tiling has its own color scheme. The differences suggest the logic of theme and variations in older hard-edged abstraction, another kind of recycling, but without a fixed vocabulary of primary colors. The pattern could even serve Ryman as his flag painting, after you know who. Then again, the changes could simply point out how much room is left to play around.
Smaller panels might almost be paintings rescued from the garbage and still in need of repair. Oreo Velcro refers to its creamy black and white, not to actual cookies, but then not much here derives from an art supply store. One can see mitred wood here and there beneath the plywood, sawdust, cardboard, and paint. What one cannot see is a stretcher—or anything to stretch. If these small panels do less to engage the architecture and sometimes elude me as well, still they insist that, all along, the scraps are of painting. In fact, back on the Lower East Side just weeks later, for what a show calls "Adaptive Radiation," Ryman puts both painting and two-by-fours through even more paces.
They can disrupt the image or the picture plane, collide again with their frames and the corners of a room, or cluster with so little paint that one might not even notice how their varying lengths reshape the rectangle. One variation on his early corner pieces looks like little more than a branch blown in from the street, except for its bands of color. Again the two largest paintings play off the gallery most effectively. One set of slim beams angles off the floor, slides up, and arcs past the stairs, only to return across from where they began. His Rafterweb Scrapwall comes almost to the top of the two-tiered space beyond, as well as out onto the floor, like a majestic Islamic carpet. If all that starts with squares, each square distinguished by the disarray of smaller blocks within it, they are building and scrapping abstraction.
Friendly spirits
Maybe no one else has quite Ryman's combination of painter, architect, and voyeur. His paintings do have that habit of climbing into the corners of a room, leaving their brightly colored stretchers stacked now and then on the floor. Laura Newman, however, does paint, and her geometries evoke night views onto distant rooftops. Other materials may underlie paint, giving tar beach an almost natural texture. However, surprisingly bright blues substitute for the night sky, crossed by paint-streaked lines and trapezoids that take on patterns of their own.
They look like abstractions at first, and they avoid the curves of water towers or the jazzy lettering of Stuart Davis. They do not, however, altogether dismiss Ryman's urban rhythms. Nor does Judith Page, who has her gallery's project room back once more in 2007. Her buck-tooth portraits come too close for my taste to Roz Chast cartoons without the jokes. Elizabeth Peyton might have moved from the celebrity circuit to a park bench on the Upper West Side.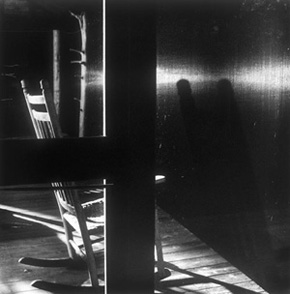 Claire Seidl, also a painter, has quite another time frame from a weekly magazine. Her photographs of a rural home have the strangeness of photograms, with intense light sources that produce shadows alternately brooding and crisp. I thought of other personal landscapes in black-and-white, by Eileen Brady Nelson. However, Seidl accumulates architectural and human detail. Sunlight through the imperfections in worn windows traces a rainy night. Spheres of light hover as in the staged spirit world of nineteenth-century photography.
Those spheres turn out to be older family members and friends seated at dinner. The more one looks, the more they take on recognizable shapes and personalities. The artist says that they enjoyed recognizing themselves. The coalescing blobs let others join, too, in the humor and animation. To add to the sense of realism, the course of a meal necessarily constrains and defines the long exposure. However, that again sounds too much like metaphysics for a party.
Seidl's photographs suggest multiple points of view even when they do not play tricks. The most abstract do not need long exposures. None involve special processing later. The grayest emphasize layered rectangles of windows and wood frame. Once abstraction both incorporated and rebelled against the idea of a picture as a window onto nature. Here one can watch the encroaching darkness.
At the dinner table, the multiple time scales become particularly explicit. One has the shot, the original scene, the gap between generations observing and observed, and the deep history of New England, as preserved in the aging wood of the ceiling. The five years of work in the show, the endurance of a photograph, and the viewer's commitment all have scales of their own. The elderly move that much closer still to a longer view, perhaps the eternity of those glowing spheres. In another photograph, an empty chair faces the brightest glow of all, seemingly apart from the light source. There light must have reflected off something in the night sky, but even the artist had to wonder at its reality.
The last lath
Chelsea has no shortage of windows and timbered ceilings, along with Sheetrock walls and steel steps. For a moment, though, the white cube gives way to some old-fashioned woodwork. One gallery extended its summer group show, "The Lath Picture Show." Elsewhere Thomas Lendvai seems to have brought his summer time-share back to the city. His blond wood slats span one room and protrude into the next, just above eye level, as if the rafters had descended and thrust right through the walls.
Lendvai calls his A-frame memories Between Pain and Boredom. It achieves considerably less than the first and more than the second. It also proves that spare art can still fill a gallery. Chelsea is still poised between car washes and condos, not to mention several hundred galleries. And much of the art represents a changing middle America to a select audience that can afford the coasts. All this turmoil may explain the renewed interest in Gordon Matta-Clark and his "building cuts"—or "The Building Show" this past spring.
David Ersser supplies not just another paean to wood, but the tools to make it all possible. He has crafted an entire workshop in balsa wood. His finely sanded, unstained surfaces have the rawness and polish of their title, Nothing but Heavy Duty. A wooden power saw slices across a broad wood sheet, its wooden electrical cables wind smoothly along the floor, and the whole rests behind, naturally enough, a wooden partition. They convey an impressive illusion, heightened by the cheap material associated with toy airplanes. Sawdust adds to the comic self-reference.
Wood here speaks to more than Chelsea. Ersser recalls a time when craft mattered, to artists and as a way a life. With its echoes of rural America, it does not seem too much of a stretch to speak of spiritual values. At the same time, his work is a modern act of self-construction. In the same gallery's main space, Christoph Morlinghaus pursues the same themes, through actual modern architecture. He calls his photographs "Form/Faith," as if unsure whether to alternate or equate the two.
I first encountered Morlinghaus's work in Brooklyn. There he had photographed the TWA terminal at JFK airport by Eero Saarinen. Then abandoned, it may yet become active. Ironically, Williamsburg art is now on the reverse course. Morlinghaus, who also does commercial photography, found beauty in Modernism's form and empty spaces. Like Andreas Gursky, he clearly wants more, in a tribute to the recent past and a heightened spiritualism.
His new photographs capture church interiors, all by well-known architects, Saarinen included. Where before he showed clearly the terminal's walls and interior, here Morlinghaus frames his shots more closely, so that the walls and, especially, church ceilings press against the picture's edge. Where the terminal's beauty depended, too, on muted artificial light, cast shadows, and austerity, here he plays up sunlight passing through colored glass. Where the terminal came by its lack of human traffic naturally, here churchgoers are conspicuous by their absence. The buildings look larger than life but also abstracted from life. Modernism, he seems to say, would have liked it that way.

Cordy Ryman, Laura Newman, and Claire Seidl ran at Lesley Heller through October 27, 2007, "The Lath Picture Show" at Friedrich Petzel through September 22, Thomas Lendvai at Winkleman through October 6, and David Ersser and Christoph Morlinghaus at Roebling Hall through October 6. Ryman, Katie Armstrong, and Jordan Eagles ran at the Visual Art Center of New Jersey through March 24, 2013, and Ryman also ran at Dodge through May 12 of that year. I also refer to his meanderings before 2013 with another gallery, DCKT. Portions of the earliest section on Cordy Ryman first appeared in Artillery magazine.