The Shape of Things to Come
John Haber
in New York City
Charles Hinman and Shaped Canvas
Phyllida Barlow, Al Loving, and Artie Vierkant
"For flatness alone was unique and exclusive to pictorial art." Clement Greenberg declared that in 1960, two years after Jasper Johns had broken through the picture plane with Three Flags—three canvases, one right in front of another. If Greenberg did not quite get the message, though, in his Voice of America Forum Lectures in Washington, Charles Hinman sure did. The strange part is how slowly others got his.
Hinman offers all by himself a fuller history of shaped canvas. Consider, too, three artists that depart almost entirely from painting. For Phyllida Barlow, the surface provides an "awning." For Al Loving, it tears apart and comes together, without a stretcher. For a younger artist, Artie Vierkant, it sticks closer to tradition—until one discovers his true process and materials. Together they shape the alternatives.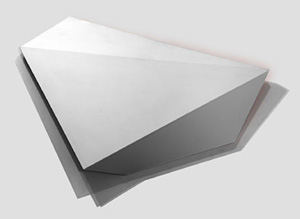 Taking shape
When Clement Greenberg revised "Modernist Painting" for publication in 1965, it was already a classic—and perhaps the most influential statement of modern art ever. (I have underlined and annotated to death my photocopy, a reprint from the Spring 1963 issue of Art & Literature, and I am definitely not alone.) That was a banner year for Charles Hinman as well. He had appeared the spring before in "Seven New Artists" at Sidney Janis and had his first solo show at Richard Feigen. Henry Geldzahler and Frank Stella included him in "Shape and Structure," at Tibor de Nagy, on the cusp of Stella's first Irregular Polygons, along with Donald Judd, Will Insley, and eight others. One can almost imagine Judd's metal boxes running up a wall as painting. Hinman was forging much the same combination of shape, structure, and color in shaped canvas.
His work has changed remarkably little since then. If anything, a burst of activity as he turns eighty clarifies things. He still uses curves, like Stella's Protractors or the ovals of Ed Clark, an African American often credited with the first shaped canvases in the 1950s. He still stretches fabric over multiple frames, like the molded form of an automobile. He has had leaf-like arrangements of canvas alone, mostly in the 1980s, and public commissions that reach for scale and color, at the risk of becoming more static and heavy. The dominant line, though, is a hard, straight edge, and the dominant shades are of white.
Irregular polyhedra build on oblique triangles and trapezoids. Simpler rectangles lean against or stand one in front of another, as for Jasper Johns, but with a noticeable gap between them—or between them and the wall. A single facet or canvas may have its own color, or the shadow across it may serve as color, an effect even more obvious in reproduction. Sometimes a color belongs solely to the edge of a work, or so it seems, until one notices that Hinman has painted the back. In all these ways, he is working with light as much as with a brush and a miter. In these ways, too, he is not just shaping an object, but also taking it out from the wall.
In fact, he appeared in a show called "Out from the Wall," at the Des Moines Art Center in 1968, with David Novros, Insley again, and others. And again the strange part is how little shaped canvas, including theirs, has stood out from the wall. Almost invariably, as with Stella, Ellsworth Kelly, Richard Tuttle, or even the saddle shapes of Ron Gorchov, it has meant shaping the picture plane and the color fields within. In time, Stella's relentless logic and sheer madness for Judy Pfaff brought them closer to sculpture, but that took changes in materials from canvas to metal or plastic—and Stella's logic would still do Greenberg proud. For them, shaped canvas arose naturally from composition within the rectangle, just as it would for Elizabeth Murray. If she ended up exploding painting, not to mention Greenberg's dignity, you were warned.
Hinman shaped canvas, but not the shape of things to come. Even now, he may seem to be spending a lot of time making boxes, but there, too, he has his reasons. Once an instructor in shop and mechanical drawing who learned by teaching and doing, he aspires to neither the rigor of late Modernism or its betrayal. He refuses his polyhedra the intricate symmetry of mathematical models or Buckminster Fuller, because he has not so much a vision as a structure. No wonder he almost dropped off the map in New York after his years at Feigen, although he has had his periodic and essential rediscovery. And one has every right to be wary of rediscoveries in this art market, even one as remarkable as that of another in the Minimalist tradition, Susana Solano.
In truth, though, shaped canvas never had just one invention. Think of a Renaissance tondo, or circular painting—or a medieval Crucifix. Think of such less direct influences as collage like Revolving from Kurt Schwitters, a painting's relation to its support for Robert Ryman, or Lyubov Popova, who called her entirely rectilinear Russian revolutionary art Constructions. As usual, typical histories tend to slight women, and I have watched Judy Rifka give one of her painted solids a hug. Hinman may indeed have his closest parallels in the white folds and layered rectangles of Dorothea Rockburne. He obliges one to rediscover shaped canvas not as drawing in the plane, but as painting in 3D.
What blew in
Look what blew in with the storm. On the Upper East Side, already visible from the street, a colorful but decrepit shed tilts well off its base. It might have been boarded up in haste—or abandoned to the winds. Extending almost to the ceiling, it presses in on one from the moment one walks in the door. Further inside, black and gray spheres of polyurethane, polystyrene, paint, and cement have textures from caked rope to craters. They might have washed in with Hurricane Sandy or fallen as meteorites from the sky.
Upstairs, pillars with cross beams angled on top suggest totems of a civilization that never did weather the storm, while neater columns in the back room depart on a closer look from circles in cross-section. Phyllida Barlow has cut and stacked cardboard, plywood, felt, and foam, with a touch of steel as an armature taller than life. In each case, scale matters—the scale of both the gallery and the gallery-goer. So, too, do color and texture. An admirer might see formidable sculpture, while a skeptic might see yet another bossy installation, but Barlow is also painting—in crude material with an equally crude life. She speaks of "the fragility of existence."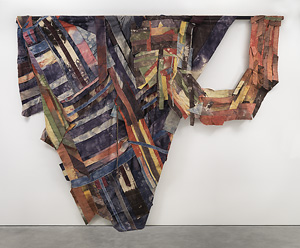 Barlow's small survey this past spring at the New Museum seemed less fragile. It relied on single colors, weighty objects, just as weighty narratives, and a nod to Minimalism, but with limbs. The monstrous outlines seemed more settled and more literal. In part, she fell victim to the New Museum architecture, with its even more monstrous boxes, because everyone does. In part, too, I may have closed my eyes way too soon. This time, there is no getting around marveling at the work and how it grew.
The geometry of steles, spheres, and lattices helps. So do the humble materials, as with a wall-size Awning that connects her to Rosemarie Trockel, Noa Eshkol, and other believers in craft and textiles. Still, this ruined tent cannot match the shed downstairs, for all its sprawling irregularity. For a take on shaped canvas, although a canvas shaped not by a stretcher, but by bare hands and its own weight, one might turn instead to Al Loving. Loving's torn canvas seems both extravagant and modest, pointing both to the studio and to the everyday. Backed by ample studies and other works on torn paper, one can see his art as somehow so crafted and so thrown away.
In his first show since his death in 2005, he has five large pieces from the 1970s and 1980s, slightly faded, three reaching down to the floor as explicitly as Barlow's. They are mostly horizontal in format but vertical in orientation, owing less to actual dimensions than to their ability to command the wall and their component canvas strips. These hang loose, their folds as part of a work's surface and volume, more even than for Ann Shostrom in fabric and wax. They present less tapestry as art or as cultural tradition than a painting. In reproduction, the colors jump off the wall. In life, they rely less on brightness than intensity—and the raw edge of torn canvas.
Five big works are only the start of a career overview. For now, one has to settle for questions. How much, say, do the choices belong to African American art or a specifically black Abstract Expressionism rather than late Modernism? Probably not much, any more than for neglected abstraction by the late Eugene Martin working in Washington, D.C., and then Louisiana, but fabric does have a folk history, too. Loving calls at least one assemblage a self-portrait, while allowing it to run ragged. So soon after the storm, one can appreciate an art of damage and survival.
Cut and dried
Artie Vierkant works with shaped canvas, except that it is not shaped and not canvas. He makes color-field painting, only without paint, and the colors make gradual but striking changes as they cross the field. It is geometric abstraction, but with unexpected gaps in the geometry and translucent layering of its outlines. It is digital art, but in a strikingly physical space, and it does not look anywhere the same on computer. For all that, it is quite literally cut and dried. Oh, and I everything I just said is, at least a little, wrong.
So pardon me if I start over. Vierkant follows a late modern tradition, in which abstraction is not necessarily the spiritual, as it was for Wassily Kandinsky, but exactly what it is—a literalism that invites words while defying one to use them. He is showing at a gallery founded to recover the history and significance of photography, and these are color prints. They are inkjet prints, though, and there was no lens and no camera. And he prints them on Sintra, a hard foam board akin to PVC, slightly skewed from the vertical and under six feet tall. Two with curves face each other, in an artful hanging, while the one square has a gaping hole in the middle.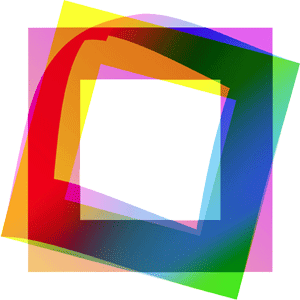 Shaped canvas has generally meant angling wood piece by piece, as for Hinman, before stretching canvas. Vierkant still machine cuts his materials, and his color fields derive logically from the work's outlines, just as for an early Frank Stella. However, he composes on computer, with stern titles that date each Image Object right down to the minute. He intends additional work as purely virtual, although this show seems designed to prove him wrong. Stella's generation already pushed the impersonality of the machine quite hard enough, thank you, but now the logic is taking on a life of its own. Think of it as the space between the mechanical, the personal, and the visual.
In fact, only color allows one to imagine the outlines as part of a rectangular geometry. The work sure looks like overlapping rectangles, likes panes of colored glass. These in turn create new colors, but even then I cannot promise to account to them. They also show gradations within a field, and if the overlap accounts for them, fine. If not, maybe that, too, is the point. Color has become a mark of transparency.
For an added touch of logic and sheer happenstance, the artist's name means four corners in Dutch, but he is a New Yorker under thirty. No wonder he is attached to the computer. And sure, in trying to pigeonhole the work, I could mention new media. Color becomes fused with materials, almost as for industrial design in plastics now. Throw in an older concern for art and optics, color charts, and color wheels as well. Breaking the boundaries between media, between geometry and gesture, and between abstraction and symbolism has helped to revive them all.
Vierkant just makes it harder to describe them. Color fields extend to the work's edge, just as with Stella in the 1970s or Gerhard Richter now. They also have a little of the same "pop," but without trying to blow one away. Instead, they draw one in. There may yet be a gleam or a shadow that one had missed. There may yet be a curve.

Charles Hinman ran at Marc Straus through October 5, 2012, Phyllida Barlow at Hauser & Wirth through December 22, Al Loving at Gary Snyder through December 29, and Artie Vierkant at Higher Pictures through October 27. Hinman returned impressively through December 21, 2013, in a show covering forty years. A related review looks at Phyllida Barlow earlier at the New Museum.