High Times II
John Haber
in New York City
The High Line: Stages One and Two
From its inception, the High Line struck through the heart of the Chelsea gallery scene. On an abandoned elevated railway, it sought to preserve the past and let wildflowers grow. But does it mark a break with Modernism's dystopias or yet another prescription for failure?
As the second part of a two-part review, I pick up from a context in battles over urban preservation and renewal. Were plans for the High Line an extension of Le Corbusier's ideal city or something more? Were photographs of its abandoned state by Joel Sternfeld? This time, I start with the excitement of the newly opened first stage in 2009. Surprises are still in store with its second stage in 2011. Postmodern real estate may still win out over nature and human needs, but New Yorkers are enjoying every moment.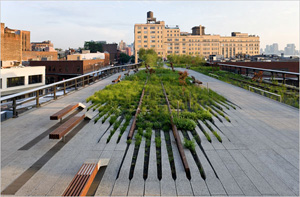 I cannot review definitively a work that I may never see completed, at least for years. (Funding for the final stages remains up in the air.) It is evolving to contain art installations—like the chimes of Stephen Vitiello, glass panes by Spencer Finch taking their color from changing traffic along the Hudson, and a crazed birdhouse by Sara Sze. I am allowing this review, too, to evolve in stages and to efface its past traces. As one can see, my thoughts have changed, up to a point. The tension between preservation and development lingers, and so does the tension between parkland and straight lines. But the real thing increasingly rises to the occasion.
The high life
My first sight from the High Line was a glowing red W, atop a hotel in Jersey City. Could the entire project pay tribute to the Bush era? No, but the park belongs very much to a high-flying city. A new home for the Whitney will open near its base, designed by Renzo Piano, and perhaps even a "floating park" beside a pier, designed by Thomas Heatherwick. The weekday opening of its second half mile was a closely guarded secret, but gossip traveled instantly. As a gift to the Great Recession, it still asks for New Yorkers burning on all cylinders—from seven in the morning until eleven at night.
Joshua David and Robert Hammond, a writer and a painter, have pushed for this for ten years. (The second half mile opened only a little late, in 2011, and the last leg still lacks approval.) They fell in love with the elevated rail line, which arcs along the far west side of Manhattan, from the Meatpacking District to 34th Street. Once vital to New York's industry, the trestle now cuts off views of the waterfront and casts a heavy shadow over the gallery action. In the photographs by Joel Sternfeld, it has the disturbing allure of weeds and wildflowers amid rusted tracks. It promises a park detached from the grid and the life of the street.
For all these reasons, I at first expressed dismay at plans to save the High Line. The architects have done everything they can to prove me wrong. Thanks to creative design, a walk thirty feet in the air outweighs the dark hulk as seen from below. James Corner, the landscape architect, has given wildflowers the lusher scale of a formal garden. His Field Operations, in collaboration with Diller Scofidio + Renfro, then set bright but not antiseptic concrete paths to either side over Cor-Ten steel. Narrower concrete strips dart into the flower beds, as an enlivening echo of the rail bed. The freight-line viaduct once connected factories and warehouses on the far west side of Manhattan.
It feels roomy and colorful, if not exactly varied, all within the space of a railway bed. Benches and other wooden surfaces darken to a deep red in the rain. As the one point of drama, a small amphitheater leads down to a glass wall facing Tenth Avenue, like a theater for a performance that never needs to come. Its tiered seating tilts alternately left and right, no doubt for wheelchair access but also for fun. The metal stairs and elevator to the street do not call attention to themselves, and one stairwell hides behind a billboard. Ironically, one might never notice the remaining old steel tracks.
Anyone who has walked the West Side Highway or jogged in Hudson River Park will recognize the sights—from the Chelsea piers to the barest hint of the old Central Railroad terminal in Liberty State Park. Still, the ascent brings with it some interesting selections. The High Line starts abruptly in midair, over Little West 12th Street. It cuts through a brand-new luxury hotel, runs past the marquee for a Mario Batali restaurant, and ends its first segment just beyond New York's first Frank Gehry building. It brushes against a co-op, no doubt built in hopes of access to New York's fanciest terrace. Its second stage nestles under another's bulging glass on 23rd Street, built for just that encounter.
Elizabeth Diller and Ricardo Scofidio have a way of telling visitors where to go. A rail line can hardly help it, and repeated signs to stay on the path insist on it. The paired walkways, like a road with two-way traffic, encourage uniformity that much more. The developers at first even asked that one enter from the south, to control summer crowds even without summer sculpture to come, although the crowds taught them better. A week later the guards had left, and people ascended. Like weeds and wildflowers, this lovely park needed time to blend into the fabric of the city, and each stage is a learning experience for all parties.
North of Chelsea
Two years later, I approached the High Line extension past the imposing post office behind Penn Station (its destruction another impetus to preservation, thanks in no small part to Ada Louise Huxtable) and an equally imposing sign promoting the Hudson Yards. From the north end on 30th Street, one looks sharply west—over the rail yards to an unfinished third segment that I had never seen. Walking south, one can almost count the galleries and, more than once, look within. Where the first segment begins in the fashionable Meatpacking District and crosses the awkward space between the Chelsea Market and the art scene, now one can walk from unfamiliar vistas to an uncannily familiar one, only as seen from above. In doubling in size, the High Line has accomplished something. It is both more full of life and more strange.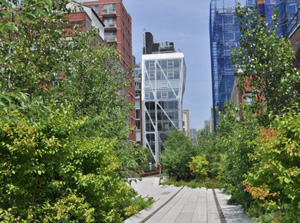 Where the elevated park once dared to cut off the city's edge, it may yet blend by reshaping the city, much as Stephen Vitiello draws on the sound of bells from all over New York. Almost all its elements are already familiar, like the light gray flooring, staggered like the wood of a backyard porch. Thanks to Piet Oudolf, the horticultural designer, wildflowers still poke out from beneath its concrete planks, and benches still angle down at one end to merge with it. Other elements play off the original, like the framed opening facing east toward bleak loading docks for mail trucks. It picks up the billboards that still line the line. It could well parody the larger view to nowhere from the tiered arena ten blocks south.
Other elements are new, but the uncertain boundary between old and new is the point. It is the point of the High Line as well. A row of ordinary benches comes closer to the needs of a park, as does a block-long swatch of grass. The Friday after the unannounced June opening, the news had not even made the papers, and a workday had not ended, but the park was packed and the lawn was full. Another block or so elevates ever so slightly as the flooring turns to a metal grate, for a look down at growth in the old rail bed, as if nothing there had changed. Changes extend to the older segment, bathing part of it in a gentle flood, for children and grownups alike to take off their shoes.
Art has extended as well, with Sarah Sze (although I should also mention some annoying audio advice from the drinking fountains, thanks to Julianne Swartz). Still Life with Landscape (Model for a Habitat) lays out fruit and seeds on spikes and on metal and wood huts, spaced out along wires. It takes a moment to realize that the birds are real, making full use of the occasion. Their tree houses distort Minimalism's geometry, converging to a single point on either side of the pedestrian path. The reverse perspective functions as a metaphor for both actual vision and imagined dispersal. It looks outward toward the larger city so that one can wade in.
What has changed most, though, is simply the length. People still march in a maddening single dimension up and down the narrow park, like a fund-raising event for slackers. They know exactly what they will encounter, or they will soon find out. The High Line is still more a destination or a parade route than a park, surrounded by luxury and apart from the grid of Manhattan, now two centuries old. Visitors can gawk even more at new glass condos a foot or two away, and gallery-goers can gawk at the traffic and the light show above their heads. Still, as they say, size matters.
At roughly a mile, the march now may or may not end before one turns back or descends by another stair. Between the lawn, the broader covered passages with art, and a well-judged dead end here and there, it feels wider, too—approaching the temptations of parks, terrain, and experience. On that first Friday, amid condos and attractive people, I could still distrust the project's vision; and on a return trip in October, walking almost elbow to elbow, I distrusted it even more. Urban preservation and urban renewal had preserved and renewed my right to stare, where even a posh gallery opening focuses more on art. Still, the very tensions that gave rise to the High Line had almost melted into the hot summer air.
Beyond utopia
Modernism never did live up to its utopias, even with prefabricated home designs by Le Corbusier himself, which may explain why even it keeps outlasting its critics. The dates of my architectural revolutions, 1917 and 1972, resonate with the Postmodern paradox: artists so love to hate Modernism that it drives their work. Minimalism and earthworks exceed a tidy narrative of utopia and failure. Heizer's ego and scale make Le Corbusier's vision of a common good look downright modest and altruistic. Yet he abandons any pretence of transforming humanity. He has even derided other landscape artists of his generation, such as Smithson and Walter de Maria, as New Yorkers who thought that they could descend upon the American West and shape the planet.
Nor did Le Corbusier lead simply to desecration. Donald Trump did not need him to show how to reach for tawdry materials and a show of luxury, especially not when postmodernists were already talking of "learning from Miami Beach." Moreover, if New York housing projects enshrine danger and despair, similar architecture gave the middle-class residents of Stuyvesant Town and Peter Cooper Village safe places to congregate and to live. Seniors today are forced to scramble for affordable housing, with the expiration of twenty years of Mitchell-Lama rent protection in too many such high rises. Conversely, lovely brownstones, sidewalk access, and an integration of the residential and commercial did not keep Harlem and much of Brooklyn from danger. The weeds, cracks, and crack in the pavement testify to a difficult history, and it will take more than a memorial to give that history a context for understanding and change now.
Abandoning the tower will work only if it does not reinstate another myth, common even in digital art—America's identification with the landscape. To this day, one cannot detach that identification from the promise of expansion and dominion. In practice, the horizontal plane has helped to further suburban sprawl and a more savage human "footprint" on the planet. Neither the tower nor the plan are enough. A real context in past and present has to recover a third dimension. It has to find a human, social, esthetic, and economic context that goes beyond the given—whether the given of nature of the given of the wrought-iron facts on the ground.
When Jane Jacobs invests so much hope in architecture, she may be perpetuating the same myth as Le Corbusier after all, like architects today who say, "Change the dream and you change the city." Apparently, such minor factors as racism and class do matter. Her cherished West Village suffers from among the city's highest rents, plus the incursion of Richard Meier's waterfront high rises and the downward spread of Chelsea cool. The artists and dealers have long left, and each Saturday night the bridge-and-tunnel crowd descends. Jacobs herself has moved to Toronto. Meanwhile a leading pragmatist among philosophers, Richard Rorty, invokes utopias to defend feminism.
The High Line could easily have brought one more horizontal tower, one more dream of the garden, and one more memorial to isolation, like the America of Lee Friedlander. Small lots for community gardens in the East Village and Williamsburg long did the same, holding out pockets of needed hope and pleasure, without making a dent in a larger community scarred by greater forces. They pleased mostly those who tended them. And, eventually, East Village art and Williamsburg galleries moved elsewhere, while the gentrifiers moved in. The gentrifiers are moving in here, too, only they attract others with them. The High Line reflects the tug of war in the city as a whole, but for now that will have to do.
Sure, the High Line repeats the dreams of the past in the interest of preservation. It idealizes ruin over other alterations, as well as wildflowers over grass and other species, because it approaches the city with an abstraction of the natural. A truly new architecture can recover the city natural and historical contexts for the present, but only by first learning a context for the past as well. Attractive as it is, the High Line is only one step toward that new architecture. And it depends on architectural innovation in costly condos to take that step along with it. But it is an elevated step all the same.

Plans for the High Line, by James Corner Field Operations and Diller Scofidio + Renfro (in collaboration with Piet Oudolf, the horticultural designer) with photographs by Joel Sternfeld, ran through October 31, 2005, at the Museum of Modern Art. Gossip about the Whitney's plans for the Meatpacking District surfaced in late October 2006, and it broke ground for a new home in May 2011. I review separately the completion of the Whitney's new home in May 2015. The High Line opened its first stage to the public on June 9, 2009, and its second stage June 7, 2011. The third and last stage, reaching north around Hudson Yards to 34th Street, opened well after this review, on September 21, 2014. I return for summer sculpture 2016.