Who would not have wanted to be there at the Louvre on an afternoon in 1910, with Amedeo Modigliani and Anna Akhmatova? Modigliani, an Italian as fluent in French as in the very latest literature and art, had brought his favorite model, a young Russian poet. And they came to a citadel of western culture to look at Egyptian art.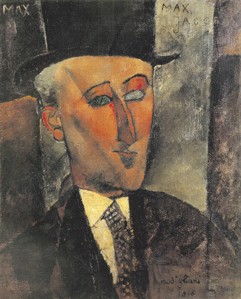 Modigliani arrived in Paris in 1906, determined to modernize himself and to expand his world. He had to set aside painting for the most part, merely to keep up with everyone he met and everything he saw. Besides, he was too ill and too proud to do the dirty work of seeking commissions. For the Jewish Museum, he was nonetheless at a creative peak, on his way to a renewal as painter and sculptor in limestone. It focuses on his drawings before World War I as "Modigliani Unmasked," through February 4. It might just as well say that he had too many guises and too many masks—and it is the subject of a longer review in my latest upload.
Few artists were as cosmopolitan as Amedeo Modigliani. Born in 1884 to an Italian father and French mother, he begged her to take him to see the Italian masters, and she did. The child of Sephardic Jews, he admired Friedrich Nietzsche, who wrote that God is dead. He survived pleurisy, typhoid, and the collapse of his father's business. Ever after, he determined to see the world before he died, and he came to the right place. He found Paris in turmoil.
Modernism was then not quite a movement but very much a community. He found a studio in Montmartre, in a building that Max Jacob, a poet, called Le Batteau-Lavoir (or the boat-laundry)—along, it must have seemed, with everyone who mattered. It held Jacob and Gertrude Stein, but also Pablo Picasso, Georges Braque, and Henri Matisse. Other painters were pouring into the community, including Gino Severini from Italy and Juan Gris from Spain. Jacob Epstein helped turn Modigliani's attention to Greek antiquities and to sculpture. They planned a shared studio as a temple to beauty.
It was a rough-and-tumble temple and a rough-and-tumble beauty. He struggled, the museum notes, with poverty and tuberculosis, which cost him his life at age thirty-five. It does not note that he made the odds far worse with drinking. He went wild one night, his daughter recalled, and set fire to the work of others. After a brief return to Italy, he found another studio but continued a life on the edge. Besides, he had to know suffering, too, as a Jew in France (as the longer review takes more time to explain).
When Modigliani looks at another culture, he always finds another mask—whether at the Commedia dell'Arte in the present or in Egypt, West Africa, Tibet, and Thailand in the distant past. Ancient Greece supplies the idea of a caryatid, or kneeling figure supporting a column. Yet the caryatids here quote practically anything that Modigliani saw. Even the change from Greece's kneeling women to a mix of genders attests to ambiguity and eclecticism. Where Picasso looked to African art for "the primitive," he goes out of his way to deny a single human essence. Even if he found one, it would lie behind the mask.
While he came to think of himself as a sculptor, the postwar portraits come as a delightful payoff. They are flatter than his early paintings, but also more painterly. The same person may look, to quote the museum, youthful or moody—and the same painting can look polished or unfinished. A smear of color enlivens the bridge of a nose. The green of an eye can suggest a jewel or the character behind the mask. The tension of near abstract brushwork, figure painting, and archetype looks ahead to art today.
Read more, now in a feature-length article on this site.