Sugar and Spice
John Haber
in New York City
Kara Walker: A Subtlety
No Longer Empty: If You Build It
Only Kara Walker could call a sculpture more than seventy-five feet long and thirty-five feet tall a subtlety. Little about A Subtlety, or the Marvelous Sugar Baby is exactly subtle, starting with Walker's exhilarating irony, and yet everything is a marvel.
Gallery exhibitions three years earlier show how she got there. Already Walker was answering critics, who have seen her past silhouettes as obvious plantation stereotypes out of Gone with the Wind. A separate review covers her 2008 Whitney retrospective. It already displayed her quiet comedy and indignation. It also showed her easy command of real history as well as the popular imagination of race in America—very much as today in Brooklyn. A postscript picks up the summer's more hopeful take on New York's African American community, "If You Build It" in (yes) Sugar Hill.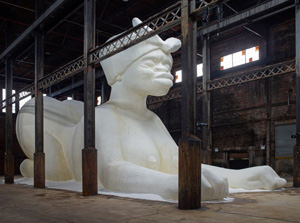 One first catches a glimpse of A Subtlety at the far end of the Domino Sugar Refining Plant, where it rises to fill the space between two iron rows of supporting pillars. That abandoned interior is itself a marvel, dating to 1882 but already with a history: it replaced a complex that by 1870 was processing more than half the sugar in the United States. Turn left on entering at last after a good two-block wait, and the work glows in sunlight. Its distance and the cavernous space make its size both improbable and real. Approach, slowly, and its whiteness and mass loom that much larger than life.
Anything but subtle
Call A Subtlety anything but subtle, but do not call it shallow, although the sphinx's coat of refined sugar is only skin-deep. It has to be, or else the work could collapse before the end of its. As it is, sweat and drips streak the surface, returning the white of refined sugar to gray and brown, and sugar spreads all around on the floor. Three of the thirteen life-size boys leading up to it are unrefined sugar all the way through, assuming they have not melted down by the time you read this, the rest only resin coated with molasses. Either way, they bear the broken fragments of their own ruin, and brown liquid runs beside them like blood at the scene of a crime. Look back up at the factory walls, and their tarnished yellows, reds, and browns become part of the work as well.
Nothing is exactly subtle either about the riddle of this sphinx. She has the bandana of Aunt Jemima, the breasts of "your mamma," and the lips and blank eyes of every other African American stereotype. Around the back comes another surprise, as her butt rises up in an erotic dance, and Walker's online litany of outrages and inspirations includes a matching fashion photo. Does a rear view shape neatly into a heart? Maybe, and is that the woman's vulva plainly visible? Most definitely.
The woman's left hand, its thumb between fingers, is just as in your face. One must take the artist's word for it that the gesture also serves as a good-luck or fertility symbol. As for the boys with their baskets, they could be toilers in the sugar fields holding the fruits of their labor up to visitors. Not even lawn jockeys from Willie Cole offer half so blistering a welcome. (Walker says that she has copied souvenirs on sale on Amazon, where apparently the joys of human bondage are alive and well.) Do not touch these sugar babies, a sign warns—and, no doubt, do not lick.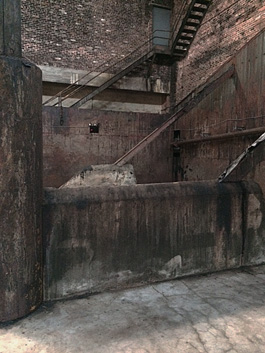 Kara Walker refuses a proud display of glamour or identity, like that of Mickalene Thomas, Barkley L. Hendricks, or Kehinde Wiley. She refuses, too, to tackle mainstream art on its own terms, with the creativity and diversity of black abstraction. She does not, though, refuse outrage—and her full title has the explicitness of a nineteenth-century novel or a scandal: an Homage to the unpaid and overworked Artisans who have refined / our Sweet tastes from the cane fields to the Kitchens of the New World / on the Occasion of the demolition of the Domino Sugar Refining Plant. As for a "subtlety," the term refers to sugar sculptures at banquets in the Middle Ages, when sugar was a luxury. In the words of the curator, Nato Thompson of Creative Time (the arts nonprofit that commissioned the project), a subtlety was to be "admired, then eaten."
Walker's sly disdain of subtlety has got her into trouble early and often before. Twenty years after her breakthrough exhibition at the Drawing Center and more than five years after a Whitney retrospective, her black paper silhouettes and their white masters can still anger black artists and black audiences along with unwitting whites. The impulse to control art in order to reclaim one's history is only natural, as with protests against a white male artist's fiction of a black woman in the 2014 Whitney Biennial. Yet art should know when to refuse control, and so should those who oppose racism. Surely someone has to show the violence beneath the stereotypes and the passionate reality of the victims. And surely someone should draw connections from history to the complex north of the Williamsburg Bridge—which will soon enough be a park, as an amenity to luxury housing.
Does Walker still think too much in black and white? Maybe, but now those hues are touched by a crystalline brown and white, and now, too, there is ambition large enough to compete with myth. Where her plantation sagas have stuck to broad outlines, the allusions in A Subtlety are rich in particulars, from ancient Egypt and Caribbean sugar cane to factory labor and Brooklyn gentrification. I can only offer hints. Experience them for yourself—and then, she urges, contribute photos to what will become Digital Sugar Baby. Given what gets posted online, I am not expecting much in the way of subtlety.
Black and blue
Critics will always accuse Walker of crudity. And she had only grown cruder in 2011, with her funniest and most incisive work to date. Exhibitions then described at least a century of African American history, with precisely the male imagery that her early work might have ignored as too crude. They described the migration north, across half of America, from rural poverty and servitude. They also took the form of another migration, to the scene of urban riots. They also reached to two galleries and two media.
The work from the early 1990s that brought her attention has a largely female cast. And the subject of Fall frum Grace, Miss Pipi's Blue Tale "left her turbulent life behind her" at age 39. She is also a puppet, a stage figure for the entertainment of others. Downtown, however, an animation left her behind. It included the struggle between a black man and a white, along with aggressive displays of male desire, in one case from a woman's two sides at once. It also included the beating of a rural laborer, on a whim and for the entertainment of a white woman, who eggs the white man on.
It remains personal and yet self-effacing. In Walker's earliest videos, one can see her hand moving the puppets, but now the puppet strings keep getting in the way. She appears in person in a shorter video, playing the blues, only with cuts that reduce her to a kind of stop-action animation. Works on paper bear the subtitle "Drawings Submitted Ruefully by Dr. Kara E. Walker." Her modesty itself is now part of the joke. It is a pointed joke all the same, in which a plea for love is also a plea for help.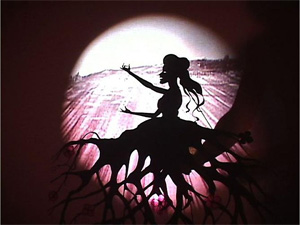 Walker's different media take on distinct lives, befitting the daughter of a painter, Larry Walker. On screen, projected background colors play an active part in the landscape. When a character is set on fire, the flames dance in colors all their own, making one that much more aware of the flammable paper construction. Meanwhile the drawings stick to black and white. One can hardly watch a black paper cutout trying to suck another's prick without laughing. Still, the silhouettes have started to vanish.
Walker draws more freely now, in curves that can at a given moment seem at home in a graphic novel or in Guernica. They also upend expectations about black and white. Blackness may exaggerate Pipi's lips and lower jaw, like those of the white sphinx in Brooklyn today, or it may submerge a crouched man in a pool of darkness on a city street. A white wall may open onto an urban riot or a man in shadow stealing (or demanding) a kiss. Conversely, whiteness becomes a mark of dignity, as it picks out jazz musicians in spotlight. Pipi confuses things further—by fleeing with a guitar out of a minstrel show and by hiding in a white sheet, like a ghost or an honorary member of the KKK.
Blue, too, is a pun—on the blues, on the video's blatant eroticism, and on the woman's sad trajectory. Says another drawing, "You are a remarkable woman," but then in smaller letters "Now hurry up and die." Letters on separate squares allow Walker to shuffle titles into place, but on paper they recall a good old-fashioned letter press. On screen the word Intermission functions literally, but as part of one work among many. Here history is black comedy, and confession is only an act. Yet nothing quite prepares one for 2014 and the Brooklyn waterfront.
Will they come?
Just when Walker is tackling gentrification in Williamsburg, Harlem is asking art to help build a community. The Sugar Hill complex at 155th Street will contain not just thirteen stories of affordable housing, but as many stories as can unfold in a new children's museum by the entrance. For now, too, it holds art, in common spaces and apartments under construction. The third floor has collectives with ties to the community and students from around the city. Out back, Raúl Ayala's mural commemorates three women writers (Gwendolyn Bennett, Ethel Caution-Davis, and Mary Church Terrell). And the ninth floor has the black and Latino artists of "If You Build It," through August 10.
Up there, art spills out onto a terrace, with views from the Hudson to the Bronx. It will reorient locals and visitors alike. Downstairs, too, one can feel a part of something. On a weekend afternoon, a jazz trio was playing, while people lingered and explored. Families were looking at art and maybe the kitchens. They were talking, too—and not the way one shows off one's expertise in Chelsea or flatters old acquaintances at open studios, but the way one makes new friends.
The group behind it all, No Longer Empty, has taken over abandoned buildings before, but here its name takes on instead a sense of promise, for people and for art. The architect, David Adjaye, has an eclectic style with room for glass and, already in New York, a carriage house. His Sugar Hill apartments duly avoid a cookie-cutter layout, even without luxury fixtures, and two dozen are set aside for the homeless. The façade's ornamented gray slab may end up deadening, with a cantilevered set-back that some have compared to prison architecture, or a welcome relief from public housing of the Robert Moses era. It will at least conform better to New York streets. Yet it may never look this hopeful again.
The art, too, is virtuous and dutiful. Shani Peters has her red carpet topped with gold crowns, Elan a Sugar Hill Tapestry, Carlos Mare (aka Mare139) his silvery weave of street signs, Freddy Rodríguez his favorite Dominican baseball players, and Bayeté Ross Smith his Harlem portraits with audio of their lives. Nari Ward stopped people and begged them to smile. The result is literally canned smiles—for sale at $10 a can. Radcliffe Bailey casts a more famous local, W. E. B. DuBois, as The Thinker. Think less, though, of Auguste Rodin than the bronze kitsch of J. Seward Johnson.
Life on the streets is not nearly as tidy. Dread Scott asks black men from East New York and Liverpool how often police have stopped them. A lot. Airport baggage tags convert Scherezade Garcia's gold inner tubes into life preservers for a dangerous journey. Iliana Emilia Garcia's chairs are crumpling into abstraction, and the still grander towers of Aziz+Cucher are tumbling into dust. Even Bailey does better, with a black head half buried in a carpet of piano keys.
Not that dark is always best. Hank Willis Thomas has a biting slogan in neon, like one from Glenn Ligon, but also a prism-like geometry of colored glass that transmutes views of Harlem beyond. Still, art so determined to be welcoming often pays a price. The explicit wall labels might already belong in a children's museum. For a while, though, adults and children can find common ground. If you build it, we can hope, they will come.

Kara Walker ran at the Domino Sugar Refining Plant through July 6, 2014, with an "Afterword" at Sikkema Jenkins through January 17, 2015. She previously appeared at that gallery and at Lehmann Maupin through June 4, 2011. Related reviews cover earlier exhibitions, including her 2006 Whitney retrospective, and 2017 in the gallery. "If You Build It" ran through August 10, 2014.