My Racialized Fantasy
John Haber
in New York City
Kara Walker at the Whitney
For so congenial an artist, Kara Walker sure stirs up a lot of emotion. Black artists tend to do that, but not often her way. She showed it barely a year before, as a guest curator at the Met. There she charted a history from slavery and popular culture to the devastation of Katrina.
In a retrospective at the Whitney, she gets to incorporate the anger of others into her art. A follow-up review considers Walker's recent drawings, video, and the sphinx in white sugar of A Subtlety.
An historical romance
Kara Walker does not always oblige one to look at lives lost to poverty and violence. She does not always shine a harsh spotlight on cities in decay or on people displaced by cities on the rise.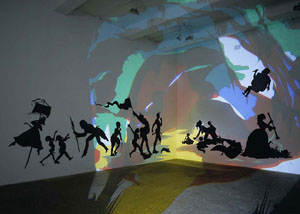 She does not often represent blacks as mere victims, whether of racism or—for my readers on the Supreme Court—of racial preferences. Nor does she challenge the mythic great white male artist on his own terms, as might black abstract artists or Gary Simmons. Even when she works large, and most often she does, she works from simple drawings and cut-paper silhouettes. Yet her characters take action, even if just to strangle a chicken or to poop on the floor.
No, she has something very much her own in mind. As recently as retrospective, she does not linger over big lips, big pricks, or other discomforting stereotypes of race and masculinity. At the Whitney, black men get only supporting roles, if that, and for once the white male is the invisible man. Her images come from a safely distant past and a safe geographical distance from New York galleries, in plantation life. Even then, they come filtered through such tried-and-true sources as Walt Disney, Margaret Mitchell, and Uncle Tom's Cabin. I really ought to read that classic one day.
All this is precisely what gets her acclaim and precisely what gets on people's nerves. The first work in her retrospective covers a wall in, literally, black and white. Neatly framed by trees at either side, it might appear painted on the wall, like the installations of a younger black woman artist, Julie Mehretu. It already hints that Walker is not just recycling the good or bad old days. It should connect her in one's mind to contemporary artists and their incessant demands for attention. So should the actual paper medium, with its echoes of old-fashioned cameos and the decorative arts, further asserting the status of a woman artist.
In between, the characters look familiar enough, at least in their dress. After that, they get raunchy very quickly indeed. Besides the chicken and the poop, Walker supplies more than enough sex and violence. And yet these, too, lean heavily on well-known racial stereotypes. Her overblown titles similarly cross first from quotation to parody and then to a troubled revaluation of nasty old roles after all. Try reading all the way to the end of Gone, An Historical Romance of a Civil War as It Occurred Between the Dusky Thighs of One Negress and Her Heart.
One can see why her accessible style and message drew high praise as early as 1994, not least from white critics, but also why it stirred up feelings. Perhaps her critics hardly knew whether to complain that she is keeping alive the worst put-downs of black Americans or that, in making fun of them, she is adding too many of her own. Should one call the fixation on the past a kind of escapism, a refusal to keep up with "post-black identity" along with Kori Newkirk and Demetrius Oliver, or something else entirely? She might take some wrongful heat as well for a comforting childhood in California, a proper art-school education, or marrying a white. She must appreciate the irony of accusations of playing Uncle Tom, almost the only prominent black male in her work. No doubt they hurt all the same.
Besides, the whole point of Kara Walker is to link the remote past to the least-nuanced present. Somehow, race still tears at America, as its "haunted files," and somehow art still agonizes over "the primitive." Somehow, slavery as brute historical fact, so vivid a subject for Carrie Mae Weems as well, threatens to outlast original sin—although in reality one might have to consider images from Reconstruction on to explain why. It comes down to a different kind of familiar quotation, from William Faulkner: "The past is never dead. It's not even past."
Mucking around with art
Her show at the Met helps introduce the issues and contradictions that also appear in her retrospective. Walker acts as curator, as she has since for her father, Larry Walker—producing a history of black and white that happens to include herself, and it looks almost too traditional for the Met's modern wing. Work on paper and canvas hangs in proper groupings, on the walls and in old-fashioned display cabinets. Much dates to the nineteenth century. Yet one experiences it by fits and starts. Whenever I tried to pin it down, her curatorial approach became reductive and shrill. And then I would catch an entirely different medium, with its own associations, or a leap ahead in time, and off she would take me in fresh directions.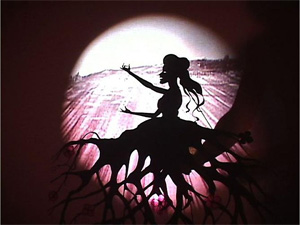 Walker's own work holds just that dilemma. Her trademark black silhouettes all but boast of how much they leave out. The cutouts announce the art's literal flatness, learning from Henri Matisse, but the images speak metaphorically of flatness as well. They beg to speak for blackness. They also pick up one stereotype after another of plantation life, from southern belles and minstrel shows to slave drivers and violent "Negroes." Her playing-card figures throw in one's face how a white culture has shaped images of blackness—not to mention its harsh reality—but has she stacked the deck?
She has, but like Willie Cole she keeps shuffling the deck, too. Her flat, black shapes erase the distinction between black and white actors. Her images depict both oppression and the myths that obscure black history, and nothing obviously marks one from the other. Then, too, instead of a static cartoon, silhouettes can serve as in a magic lantern—a changing show full of light. Her most recent drawings have become larger, too, with shading and movement that play against central, simpler forms.
Moreover, Walker is not just presenting herself, past and present, and here she truly is confronting inequality in contemporary America as well, as vividly as Arthur Jafa in film. As a guest curator, she imposes her vision on a selection of her own work and works from the permanent collection. At the Met she packs a range of mostly American sources into barely more than one room, and it has the same dialectic of simple-mindedness and ambiguity, flatness and luminosity, as in her art. She calls the show "After the Deluge," with reference to Katrina. Like the hurricane's aftermath, it turns on race and class as well as polluted waters. As she puts it, the show concerns muck.
Like her solo shows, it looks entirely predictable until one tries to turn away. Naturally she feels drawn to the history of silhouettes, and she finds examples that resemble her own. At other moments, she digs into portrayals of blackness in mostly forgotten American art. Then, of course, come the floods, an archetypical Romantic theme brought up to date by politics and nature. After leaving the walls for new perspectives in display cases, the exhibition ends somewhere in the next room, with the Met's contemporary collection, but I could not say where. Surely that painting by Anselm Kiefer extends Walker's apocalypse, in context of postwar Germany—or does it?
Walker often begins with seemingly reductive choices, but she rarely ends with them. At the Met, a wall label notes that Winslow Homer means well in depicting black life, with the clear implication that a white man has diminished black people by speaking for them yet again. The good news is that speaking for others also describes her own artistic strategy. None of the past images in her curatorial effort comes anywhere close to the lame stereotypes cited in her own art, and her art is never lame. For all the apparent condescension, she has chosen work from the past close to her heart, and she, too, knows the risks of appropriation. And then the associations begin anew, and I realized that she wants you and me there to continue the argument.
The art of repression
What, then, does a retrospective add? On the one hand, more of the same, much of it produced in only a few of the years since 1994. One gets a few more room-size wall pieces, drawings not unlike her past characters, and animations based on both. She does not easily cross the line to humor directed against the viewer, like David Hammons. She never returns to the present, not even as in the Met's rather indirect allusion to Katrina. She does not complicate the parallels between a woman's life before the Civil War and today, as in videos by Lorna Simpson.
For all that, it adds quite a bit. For one thing, more of the same really means something when the theme is an inescapable past—"or rather," as she puts it in the text of one drawing, "the art of repression." Walker got her taste of the South as a girl, when her family moved to Atlanta. However, when she presents southern prejudice and the South in art as channeled through Hollywood and high-school reading lists, she is asking how the past propagates itself. It resembles the rehash of gender stereotypes in other appropriation artists, such as Richard Prince, but with greater political relevance. Besides, her stereotypes mean something to someone other than herself, which is why they sometimes upset people.
The retrospective also shows the increasingly visceral side of her art, seen to a less extent in the rough textures and shadowy colors of some drawings in a concurrent gallery show. When she first changes from flat walls to curved ones, she is evoking still another quaint form, the diorama. However, it also allows the work to press closer and to become an environment. So do her full-color projections and, even more, the deliberately bare, stop-motion animations—the second adding sound and the latest with multiple screens vying for attention. As black history proceeds Along a Watery Road, the figures could be descending the alimentary canal. The slow, jagged movement of a paper silhouette into a noose becomes downright scary.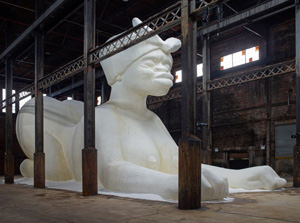 The Whitney retrospective also makes clearer the presence of the artist in her work. Her hand intrudes in a video, moving the silhouettes. Cutting the paper feels like another kind of violence. In a later drawing, the silhouette of a woman appears to have her wrists slit. It implies not just despair but the artist's scissors. It also testifies to her skill with such simple, awkward means, as evident in fluid, sepia-toned drawings that update John Steuart Curry to place blacks on a scale with John Brown at Harper's Ferry.
Her personal side also appears in drawings in response to her critics. Their crude outlines, text, and simple notebook sheets in rows along the wall suggest a diary, and her usual informality lets her humor communicate a bit more. One can excuse or embrace even some heavy irony, as in "uppity nigger" and "dis mus be heabin'." One can start to see, too, why she gives black and white men so little space: she is describing her personal investment in images that she, too, might wish to disown, as in the repeated word in the exhibition title—"My Complement, My Enemy, My Oppressor, My Love." When another sheet refers to "my first racialized sex fantasy," she is taking responsibility for the crudeness that one might love or hate. Her own hand slips that noose around the paper neck of plantation owner, mixing tales of a slave uprising with present desiring.
"Why," asks another drawing, "substitute one set of stereotypes for another?" She is not out for an exhaustive examination of how the Civil War could possibly loom over America today, despite a superb installation by the artist herself together with Philippe Vergne and Yasmil Raymond of the Walker Art Center, where the retrospective originated. Sure, she runs the risk of a black history largely about her feelings. No wonder men seem conspicuous by their absence—or their absence of power. However, she, too, is questioning her feelings. I may find other artists more demanding or intimidating, but I do not often feel so strongly a human being alongside me amid so much culture and so much history.

"Kara Walker at the Met: After the Deluge" ran at The Metropolitan Museum of Art through July 30, 2006, and "Kara Walker: My Complement, My Enemy, My Oppressor, My Love" at The Whitney Museum of American Art through February 3, 2008, with a further exhibition of new work at Sikkema Jenkins through November 21. Related reviews carry her to "A Subtlety" at the Domino Sugar Refining Plant in Brooklyn and to 2017 in the gallery.