Freight Cars and Flowers
John Haber
in New York City
The Painting of Modern Life
American Impressionism and Realism
Art students will love this show's subtitle—or hate it passionately. At least they can hardly help recognizing it. T. J. Clark used it just ten years ago for his thought-provoking history of French Impressionism. If you suspect that the Met's new show will be a little too much like an illustrated book itself, you are right. Until someone brings out the CD-ROM version, though, it will have to do. Lower your expectations and give it a try.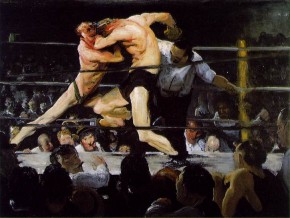 Clark showed that Impressionists documented an urban world coming into being. Like Manet himself, he evoked with bitter affection the café society that the painter knew so well. The Met has something of the same agenda. It wishes to restore Impressionism to the past.
Of course, several museums have reinstalled their galleries to place nineteenth-century art in its time. Once the French Impressionists were juxtaposed with their modernist successors, like John the Baptist announcing the new era. Now we are more than likely to see them in context of the Salon painters they rivaled, derided, and sometimes ignored with gusto.
The trouble is that the public still prefers Monet's pretty flowers, Manet's scathing but overtly polite air of rebellion, and the bravura of turn-of-the-century avant-garde, while older scholars miss the kinds of connections they had made. They miss relating realists to such tough minds as Thomas Eakins. Worse, those crying out to have their history heard are again overlooked. Women artists and blacks had even less entry to the Salons than to the avant-garde.
So Realism and Impressionism still sit uneasily together. The revisionists had better find a whole new country. Somewhere, surely, American Realism was the avant-garde, and Impressionists were the big shots who could afford Europe. With this show, the Met has its new-found land. It has discovered America.
Whose realism. . .?
A comprehensive exhibition of turn-of-the-century American art makes plenty of sense. (The Whitney will stage its own "American century" before I know it, the Met's American wing will be renovated, and the Met will look back to "Americans in Paris.") The history books like to take us from the last really fun stuff, Thomas Cole and the Hudson River School, right to the Armory Show and the arrival of Modernism in America. One would hardly dream of handling the art of France like that. It would be leaping across a whole generation, from Corot to Cubism.
Besides, in America the opposing styles, Realism and Impressionism, were closer, in part because they were both so timid. Is it that Impressionism cannot capture the special light and air of the New World? Was New York's timing off and its social structure too rigid? Or did William Merritt Chase rule from his 10th Street studio with too iron a hand? Probably a little of all three.
So why is this show so unconvincing? It certainly finds some nice works. Chase shows a fascinating influence from orientalism, and Mary Cassatt created portraits that seem to brush their subject across a scene like fine ink. Dennis Miller Bunker's blue flowers cross an open field like a lightning bolt. Only his early death has left him little known outside Boston. I enjoyed learning, too, that William Glackens, the "Ash-Can" painter, also worked as an Impressionist.
Still, timidity is not that great a premise for a show. One has to face workmanlike painting all too often, and the heavy-handed thesis only makes things worse. It has made the Met exclude some of the best American Impressionism.
Some painters vanish, because they worked in France's interiors rather than on American city streets. So does Thomas Anschutz—who taught modernists like Robert Henri, John Sloan, and George Luks. So does Thomas Eakins, who suggests that Realists really do have a heritage all their own, more recently celebrated in the remodeled Whitney Museum.
The installation hurts, too. Chronology gets shuffled to force parallels, and rooms look like an obstacle course. I could almost hurdle the partitions, if I did not have to stop to read yard-long paragraphs of text.
. . .and whose modernity?
In the end, the thesis fails more than the art. With a painting at last in front of me, I never managed to believe the half of it. Maybe a sunny church front, barely hidden by trees, by Childe Hassam roundly affirms American values. Then again, I had better ditch old postcards of European cathedrals and the Rothko Chapel (or indeed Rothko's black paintings) before my biographers get a chance to reveal my religious leanings.
More seriously still, I grew tired of the show's straw man. To promote Modernism, did scholars ever really oppose Impressionist formalism to gritty Realism? Did America, even in a Whitney Biennial, really exclude more than it begged to fit in? Can a Whitney Biennial in turn shun America?
Maybe the show has a point its own curators cannot see. The Impressionists, who cared deeply about appearances, are surely realists. Realists, committed to broad brushstrokes, had an impact on modern American art worth remembering. Maybe so, but that means a sort of realism and modernity that the new labels exclude.
Most of all, the show affirmed exactly what it wanted to disprove. George Bellows avoids the worst side of things, as a true-blue American must. Yet his blood-stained boxers and smoke-obscured boxcars look downright frightening beside older Impressionism. John Singer Sargent in portraiture, with his elegant interiors and designer fabrics, made the better art, but younger painters were ready at last to air America's dirty linen in public.

"American Impressionism and Realism: The Painting of Modern Life" ran through July 24, 1994, at The Metropolitan Museum of Art.