The Image of a Nation
John Haber
in New York City
Thomas Cole: Atlantic Crossings
The founder of the most important art movement in American history was born in Europe. That should go without saying in a nation of immigrants, but it has especial relevance for the Hudson River School.
The Met speaks of "Thomas Cole's Journey," but his journeys did not end with his move to the Catskills. Subtitled "Atlantic Crossings," in the plural, the exhibition shows him grappling all his life with memories of industrial England. It has him learning from British Romanticism and classical art in Rome. It has him in turn championing a new American art abroad—while fearing that America was succumbing to the course he so hated in Europe. It builds on the artist's showpieces from its American wing with wide-ranging loans by others. The Met may miss the full import of his work, but then so at times might he.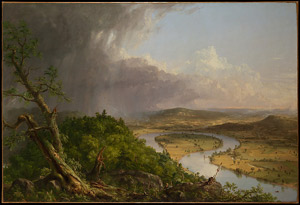 Double crossing
To be honest, I have no idea what counts as the most important American art movement, but no matter. Whichever you choose, the same lesson applies. Hans Hoffman from Germany and Arshile Gorky from Armenia, the elder statesmen of Abstract Expressionism, had to bring European Modernism to New York in order to make it new. Others before them brought the Bauhaus to South America. An earlier American art arose in a British colony, and both Benjamin West and John Singleton Copley died in London. Speaking of crossings, the painter of Washington Crossing the Delaware, Emanuel Leutze, was German.
Thomas Cole, too, was creating an image of a nation, but he did not always like what he saw. He felt more at home in European art, but it made him America's champion. The contradictions drove his most innovative paintings, but they emerged well before his maturity. One can see them not just along the Hudson River, but on a grand tour of Europe. In London in 1829, he exhibited at the Royal Academy, in deference to tradition, although to little notice. And he chose as his subjects the tomb of a Revolutionary War general who defended Canada against the United States and the sheer power of Niagara Falls.
The contradictions grew more pointed still on his next stop, in Italy. He joined the Academy in Florence and took up figure drawing from life. He admired the landscapes of Claude Lorrain, the French artist of classical myth in Baroque Italy. He visited the Pantheon and the Vatican, and he painted the Colosseum in Rome and the Roman aqueduct crossing the Campagna. Yet he saw a stern lesson in the sunlight and ruins. His most ambitious series, The Course of Empire, could represent Europe's past or America's future.
The contradictions go back to his first experience of the course of an empire. By the time of his first Atlantic crossing, at age seventeen, his adopted nation already had a history, and so did he. Born in 1801, he grew up near Manchester, and he found sustenance in the English countryside. It would be a mistake, though, to locate his art in the contrast between an idyllic childhood and an urban explosion. That city was not yet the horrific working class Manchester of Friedrich Engels. And Cole in turn could not sit comfortably apart from its changes.
His hometown, Bolton le Moor, was falling to the textile industry, in which Cole apprenticed. It put an end to his father's employment as a more traditional craftsman—and a Freudian might see the roots of Cole's anxieties not in economics, but in a father's loss of authority and status. The family moved first to Liverpool and then to Ohio, with middling success. Yet Cole escaped at twenty-two not further into the wilderness, but to America's most prominent city, Philadelphia, where he found work engraving. He also found inspiration in the Pennsylvania Academy, where he could see one of the first independent American landscape paintings, by Thomas Doughty. He saw in it what painting could be.
Even in England, his hope and fears were wrapped up in art. He could have seen the early work of J. M. W. Turner, where sunlight vied with the bustle of seaport and railroads—and truth to nature with a Romantic vision. He could have known a fiery night scene by Philippe Jacques de Loutherbourg, of encroaching industry as a living hell. They are just the first examples in a show all about context. In a typical retrospective, the Met might have rounded out work by Cole with a handful of contemporaries from its collection. Here, with barely twenty paintings, he may himself seem like an afterthought, but a formidable one.
The emergence of landscape
Cole emerges from their midst only slowly, but then so did landscape. The Met includes a few early cases, including one from 1791 by John Trumbull, better known as the "painter of the American revolution." A seated girl sets the scale but also identifies the country with innocence and promise, in contrast to the masculine business of leadership and war. Others, like John Martin in England, used landscape as a setting for a biblical deluge and the book of Daniel. For that generation, landscape was most often mere backdrop—and a moralized landscape at that. Hopeful or despairing, Cole learned from them all.
He picks up on both the small figures and the moralizing. They appear indirectly in an early drawing, from 1823, of gnarly roots and branches. He would use crossing trees often as scale markers, but they also struggle against one another and between life and death. The devices appear more overtly in scenes of Eden and after The Last of the Mohicans, the novel by James Fennimore Cooper. To Cole as to many back then, Native Americans were closer to a world just before and after the fall. Their massacre was only just getting underway, but they could still stand as a beacon to the world, and so for him could the nation.
They are dwarfed anyway by their improbable setting, a broad promontory set between a rock, a hill, and a chasm. So are Adam and Eve in paradise. The eye comes upon them in a series of sudden leaps. Cole's early paintings separate foreground, middle ground, and background heights with deep valleys and still deeper contrasts of darkness and light. Mists rise from or cling to them, like the smoke of factories but redemptive. Landscape here is literally larger than life.
Cole never does bring landscape altogether down to earth. His legacy includes both the drama and independence of landscape, and the curators are not always up to it. Elizabeth Kornhauser of the Met and Yale's Tim Barringer, with Chris Riopelle of London's National Gallery, are more in pursuit of the crossings, and they have plenty from which to choose. The next comes with his grand tour. As already noted, it had him struggling for credibility while distancing himself from Europe's past. It also had him catching up with art in the present.
He visited Turner's London gallery, put off by the Brit's stubborn personality and experiments. Still, Turner's apocalyptic skies must have resonated with his own imagined allegories. In Italy, Cole painted Florence from the surrounding hills, and it helped him adopt a more gentle sunlight and consistent point of view. He was starting to get over the inhuman leaps and looming darkness. He could even take pride in himself as the "American Claude." Just as important, he encountered John Constable, the English landscape artist.
Compared to Turner, Constable painted more recognizable scenes, without the approach to disaster or abstraction. He also worked up to them from studies, while Turner showed off now and then by turning up on "varnishing day" with only bare canvas and completing the work on the spot. The Met includes some of Constable's largest and most heavily encrusted paintings, of largely dark backgrounds dappled with white. Cole must have found comfort in their mix of solidity and innovation. He also discovered Constable's cloud studies. He did not have an eye for the particulars of weather, but they encouraged his brush to move more freely across canvas or paper.
The course of the Hudson
Back in the States, Cole finally found himself at home. He became a citizen in 1834 and called one painting The Hunter's Return. He had had a studio in Catskill, New York, since 1827, but now he painted the view in autumn and in summer, with distant mountains dissolving in sunlight. In place of the early chasms, the Hudson River holds the center, along with reflected sunlight. The eye can move from tree to tree and from grassland to grassland as if exploring the scene on foot. He called a later painting, from around 1847, Home in the Woods.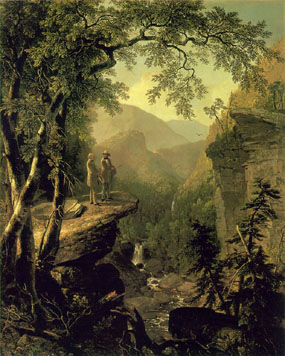 He also traveled up the Connecticut River in 1836 for another showpiece, The Oxbow. It brings together in one painting his entire bag of tricks to date. As the full title spells out, it has a recognizable vantage point, from Mount Holyoke in Massachusetts, and moment, after a thunderstorm. It shows the clouds pushed aside by clearing skies. It retains the earlier twisted trees, rocky ledge, and small foreground figure, but now that figure is he. Cole looks out at the viewer, so that the painting itself makes eye contact, but no more brazenly than the dog at his feet.
First, though, he had to finish off the moral. Planned during his months in Italy, The Course of Empire took its course from 1834 to 1836, carrying a more or less Roman civilization from The Savage State and Pastoral to Consummation, Destruction, and Desolation. Each has its grandeur, and one is hokier than the next, but here, too, Cole has learned his lessons. The foreground gives access, water again anchors the center, and the curve of hills frames the sky. The vantage point shifts slightly from scene to scene, so that the staging is neither mechanical nor arbitrary. The series also undercuts its own moral.
Cole's ideal was still the Romantic garden, with neither textile mills nor Roman decadence. If one has any doubts, he also painted The Dream of Arcadia. Yet nothing privileges the second scene in the course of empire, the pastoral, and the Met indeed calls the exhibition's final section "Consummation," like the central canvas. All five scenes show an appreciation for natural and human growth. Desolation merely returns things to the lushness of the savage state, so that the never-ending pageant can begin again. Besides, the Hudson River School quickly turned on the moral.
The show ends with one last context, Cole's influence. If he never quite brings landscape down to earth, neither does his greatest student. Frederic Edwin Church relishes the superhuman point of view, although he naturalizes it with warmer colors, softer outlines, greater depths, and painstaking observation of vegetation, clouds, and sunlight. Another close friend, Asher B. Durand, happily brought a railroad into the pastoral, as Advance of Civilization. He helped make the Hudson River School unabashedly the image of a nation. Durand also painted an enduring tribute to his fellow artist in 1849, with Kindred Spirits (back in New York for the first time since its sale to the Crystal Bridges Museum in Arkansas in 2005).
It shows Cole beside William Cullen Bryant, pointing with his brush to the opposing cliff and distant falls. Its kindred spirits might be the poet and painter, the artist and nature, or those familiar crossing trees. Cole could have understood by then that there was more to the wilderness than a moral—not even a patriotic one. He had some responsibility for creating the lesson and the devastation all along. "I have been engaged," he wrote Durand, "in burning and sacking a city," and he was eager to move on. He was back to the Catskills from his public theater and ready for another crossing.

"Thomas Cole's Journey" ran at The Metropolitan Museum of Art through May 13, 2018.