Countercultures
John Haber
in New York City
Day for Night: The 2006 Whitney Biennial
Among other firsts for the Whitney, the 2006 Biennial has a title. This being an exhibition of contemporary art, the title is of course an appropriation.
François Truffaut's Day for Night already looks back. The 1973 film followed fifteen years of movies that helped to define the French New Wave, but it offers his tribute to a entire medium. Truffaut himself plays the director of an utterly conventional movie with a shallow, unstable American starlet. As Truffaut the real (real?) director follows the lives on and off camera, all with their own illusions, he takes as his subject the illusion that he is creating. The very title, La Nuit Americaine in French, refers to techniques for shooting night scenes in daytime and artificial light.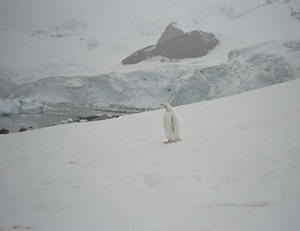 Will, then, the Biennial offer a European filter on America, as itself an illusion? Will it take place in a pretend nighttime carnival? Will it prefer materials from old mass culture to the latest new wave? Will it have a heavy nostalgia for the cultural tensions of more than thirty years ago, like a Swift Boater still nursing betrayal in Vietnam? Will it deliberately underexpose emerging artists, in more ways than one?
Make it all of the above, which adds up to a show by turns entertaining, provocative, and just plain infuriating. Thanks to a strong point of view and a very fine installation, it adds up to a good deal more than the sum of its parts. Unfortunately, it had better.
Peace, love, and misunderstanding
And so the camera rolls, and the big event is on. Even by the usual standards, the 2006 Biennial runs loud and long, almost as packed as the conservative National Academy Museum Annual coming up. If the Whitney has made a movie with just over one hundred auteurs, it still has a cast of thousands. The tiny fifth-floor mezzanine, a show within a show curated by a trendy New York gallery, alone packs over fifty artists. It already runs the gamut of long-past provocations, from David Wojnarowicz and Robert Mapplethorpe to Piss Christ. One can understand why they call their operation the Wrong Gallery.
For yet more voices, the Biennial includes collectives, starting with a Peace Tower in the sculpture court, assembled by Mark di Suvero and Rirkrit Tiravanija. di Suvero, whose own timbers so often reach for the sky, also played a part in the original tower, erected in Los Angeles as a protest against the Vietnam War. Tiravanija, a much younger artist, has often treated his own installations as open gatherings. Together, they suggest the Biennial's aspirations to break out of the museum mold, at the risk of yet one more tower of Babel in the art world's daunting "battle for Babylon."
Nearly two hundred artists participate in the 2006 Peace Tower, some but not all present at the creation in 1966. Its small panels range from awkward cartoons to blandly obvious antiwar slogans and a quotation from Mallarmé. Either way, peace is at hand. At a preview, the bar even served the Peace label, but the gathering definitely did sound peaceful or look organic.
Other collectives include the Critical Art Ensemble, which outlines the economics of filmmaking, and the Deep Dish Television Network, which ever so patiently explains media bias in the run-up to the Iraq war. Ironically, both seem dated given blogs on much the same topics. A group with the more personable name Reena Spaulings alludes to Biennial funding from Emily Fisher Landau, but on a pretend Chinatown shop awning that cuts off the donor's last letters.
If collectives do not lend enough anonymity, a character known only as Momus promises to appear as a tour guide at unpredictable intervals, in order to supply disinformation. I proposed my own fake docent tours years ago. A wall label helps him out, too, identifying a painting as the work of Miles Davis. It bears the jazz musician's life dates, and it does not appear in the catalog. It also looks like a rehash of Jean-Michel Basquiat. As Jerry Saltz speculates in The Village Voice, David Hammons may have created another of his elusive meditations on black identity and forced exclusion.
Do not, however, dismiss this Biennial as another strident selection of political art. Note the very restlessness with which it seeks a target. Note, too, the cultural collisions hiding under that awning. As with the simple signs on Peace Tower, art here is expressive of a counterculture rather than directly engaged with the impact of politics on art now. The Whitney is not reviving the wild controversy of the politicized 1993 Biennial. Rather, the artists are carrying on the culture wars.
Night trippers
Ironically, while the Whitney eyes a branch near Chelsea or wholly new Whitney Museum, the Biennial looks to the past. A proper counterculture needs loud music, bad sex, and cinema to encompass both. Sure enough, Anthony Burdin began making music videos while living in a 1973 Chevy Nova, and Daniel Johnston has an outsider reputation as a musician as well as an impulsive cartoon artist in the Raymond Pettibon mode. Many other contributors incorporate a sound track. When they cannot, they can always paint, badly, an actual musician—as with Spencer Sweeney's oddly unmotivated memorial to Leon Russell.
Dark rooms hardly stop with videos. A homage to Marcel Duchamp by Sturtevant turns a historic display of his readymades into night-club decor, a reminder of the sadly clubby art scene lying downtown today. The ghostly stool from a Duchamp painting appears as a limp, bright projection on the silvery black wall. "My work has nothing to do with appropriation," she goes so far as to say—a curiously uninquisitive claim for one dabbling in Duchamp. Rodney Graham's projection of a slowly rotating chandelier, too, suggests a glittering night-time sensibility, as well as still another exemplar of art as a fetish. To quote Sturtevant again, "It involves the power and autonomy of originality and the focus and pervasiveness of art."
Quite as much as Peace Tower, the glitter suggests a counterculture, and I mean the one from decades ago, much as it may influence darker, private visions in galleries now. Even older painters appear less as towering presences for galleries now than as travelers on an LSD trip from the "summer of love." Richard Serra and di Suvero sneak in, but not for their titanic sculpture. Ed Paschke returns with his psychedelic faces, but newer artists, too, pay ample homage to LA painting. They range from a huge collage of canvas strips by Mark Bradford to Mark Grotjan's abstraction, Billy Sullivan's sketches in the style of David Hockney, and Chris Vaseli's direct take-off on Paschke himself.
Artists get explicit about another element of past club scenes as well, sex. Sullivan's color slide show owes a heavy debt to Nan Goldin, while Ira Cohen plays tribute to Jack Smith. Monica Majoli plays off Richard Serra and his nearby image of torture at Abu Ghraib, Stop Bush, but with paintings of domestic fetish. Nari Ward means to criticize an American empire, using oil drums to imagine the Stars and Stripes searing into human flesh. In practice, however, the work recalls a high-price tanning salon.
Others resurrect icons of alternative cinema, if perhaps ones more pertinent or familiar on the West Coast than in New York. Kenneth Anger gets a mini-retrospective of his own, not unlike film posters for a Disney Studios entry into the porn industry. Francesco Vezzoli offers a pretend trailer to Gore Vidal's 1979 Caligula, the only big-budget epic with more flagrant sex than Brad Pitt and Angelina Jolie. As a corrective, Adam McEwen parodies celebrity culture with fake New York Times obits for Rod Stewart, Nicole Kidman, Bill Clinton, and Jeff Koons. This Biennial dares one to imagine them in the same room, if only a mortuary.
Real politics seems almost beside the point, except as an act of self-expression. Although this stands as the first Biennial curated by a man and a woman, they choose relatively few women artists. Only Marilyn Minter tackles the male gaze, as in startlingly sexy eyes in enamel on metal. Kelley Walker paints his lively chocolate abstractions over a famous 1960s photograph, similar to one borrowed earlier by Andy Warhol, of attacks on a civil-rights worker in Birmingham Race Riots. Walker parodies his own gestures, with layered references to consumption, reproduction, and tokens of blackness, but one enjoys just as much his hiding the message. Otherwise, black artists concentrate in and around one room curiously akin to a ghetto.
The French connection
When Dylan's music accompanies urban kids jumping rope on one video, art seems to want to take it to the streets or, perhaps, to the movies, like Day for Night. And speaking of the movies, much of the advance publicity went to the French connection. The curators, both originally from Europe, work at major American museums—Chrissie Iles at the Whitney, Philippe Vergne as deputy director of the Walker in Minneapolis. Now they have broadened the very definition of American art. Artists from abroad working here take up a good quarter of the Biennial. Americans living elsewhere add more.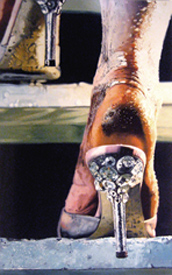 Nothing should raise an eyebrow quite yet. One can hardly explain American art without such immigrants as Willem de Kooning, Arshile Gorky, Hans Hoffman, and Janet Sobel—or, before them, Oscar Bluemner. Joan Mitchell and Man Ray, to name just two, have traveled in the opposite direction. The 2000 Biennial already showcased issues of national identity, thanks to Shirin Neshat, Ghada Amer, and others. Besides, Europe gave birth to my two favorite 2006 contributions, and I shall end with the good news.
However, Iles and Vergne mean something provocative by their inclusions. They mean to question the very presupposition of past Biennials. Perhaps they must, now that a successful artist can set up temporary shop almost anywhere in the world. Perhaps they must, too, now that a survey of American art joins a seemingly unbroken global art fair. Is this American art, European-American art, Asian-American art, or an even greater hybrid? But can even a strong point of view save that conclusion from self-defeating irony?
Well, it can try. For once, the show does not make a claim for the state of the art, as in the user-friendly 2004 Biennial, the more or less traditional 2002 Biennial, or the bland 1997 Biennial. Rather, the curators want to redefine contemporary American art. No doubt the 2008 Biennial or 2014 Biennial will have to commission it as well.
For one thing, they have a little trouble with the words art, as opposed to music and film, and contemporary. The culture wars linger on, but the counterculture on display here seems largely a thing of the past. Even the music belongs to another time. A video by T. Kelley Mason and Diana Thater takes as its soundtrack Subterranean Homesick Blues. When Bob Dylan held up its lyrics to introduce the documentary Don't Look Back, he may have made the first music video, but that was 1967. A collective protest by Tony Oursler and others even calls for Dylan for president.
Clearly the curators have trouble with the word American as well. It extends to the art's frequent critique of America. It extends to the tone of Jutta Koether's cryptic What Does the Other Want from Me? One may have to consider feminism as a term in a handbook of French existentialism. It extends, too, to a Biennial that puts the whole notion of a Biennial in question.
Crossing continents
A good question makes for an intelligent show. So does the installation, as in the pairing of Serra and Majoli. On the fourth floor, several nearby pieces play with the idea of debris. Gedi Sibony, for example, evokes the chance fall of objects along museum walls. Now if only the show had better work and lived truly in the present. After all, if it cannot represent contemporary American art or contemporary mass-media creations, what can it represent?
The Biennial reflects one last sad aspect of the club scene, its exclusivity. Word has it that, as a marketing stunt, a purveyor of luxury goods joined with prankster artists to sneak into the press preview an image of Kate Moss doing coke. I can neither confirm nor deny the report, which for all I know may itself amount to product hype and a hoax, but it does suggest the Biennial's world suitable for supermodels. Rather than scour Brooklyn or even Chelsea, much less the whole of America, the curators fall back on a handful of hot spots in Los Angeles, Chicago, and New York. Downtown spots have a special edge—often, naturally enough, dealers known for throwing good parties. Ironically, neither the broader public nor many gallery-goers will recognize the choices or come away with a renewed sense of promise in contemporary art.
The noise of the club scene all but drowns out the quiet moments, along with any serious political engagement. One can miss entirely the small monitors from Michael Snow. Painting comes off particularly badly, and a burgeoning interest in prints and drawing appears hardly at all. Troy Brantauch's nearly monochrome Conté crayon nurtures an all-too-rare care for two-dimensional surfaces. The stacked shirts play at once with museum display, geometric forms, and mere appearances.
Also in monochrome, Rudolf Stingel, the same man who carpeted Grand Central Station, hangs one of his large photorealist portraits. After Sam shows the artist on his bed, in a severe state of grief—presumably for yet other transgressions against the established order. More quietly still but on video, the projected silhouettes of Paul Chan resolve into dark objects slowly rising past utility poles and into the sky. First Light supposedly refers to a popular cycle of Christian fiction portending the Second Coming, although surely the falling bodies on 9/11 cast their own shadow over the work, and perhaps its skewed angle across the gallery floor demands a contrary, secular vision of salvation. Like the lynching in Chan's video last year in "Greater New York," it seems desperate for a still moment of understanding after so much confrontation.
At the very start of the top floor, Urs Fischer suggests art as a ceremony of light and air. Candles swing at the ends of horizontal beams, and two intersecting circles of wax mark their path on the floor. One enters the ritual through gaping holes in the sheetrock, and all sorts of debris lie between the exposed studs. For once the promise of transgressing museum walls comes true. And another European gets the first-floor gallery for perhaps the Biennial's one true transcontinental journey.
While waiting for an elevator, one can follow Pierre Huyghe to Antarctica on A Journey That Wasn't, in search of a lost island and an albino penguin. Back in Central Park, a mist rises over the Wollman Rink. Lights blink off and on, in befuddled synchrony with a small orchestra viewed in close up. Huyghe had invited anyone to come play extra, and the music, by Joshua Cody with Elliott Sharp, has one foot in the avant-garde and one in a horror flick. The video's glamour nods to everything from the polar sublime and New York at night to The March of the Penguins, comic opera, and one big party. You and I should have attended.

The 2006 Whitney Biennial ran at The Whitney Museum of American Art through May 28, 2006. You might wish to look ahead to the 2008 Biennial, 2010 Biennial, 2012 Biennial, 2014 Biennial, and 2017 Whitney Biennial—or back to the 1993 Biennial, 1997 Biennial, 2000 Biennial, 2002 Biennial, and 2004 Biennial.