Artists with Their Hair Down
John Haber
in New York City
John Singer Sargent: Artists and Friends
Henry James and American Painting
Did John Singer Sargent ever let his hair down? Maybe not, with an artist for whom painting was all about style and a portrait was always a pose. Or maybe always, for too much finish was always a betrayal of his art. The Met looks for answers to the artist at ease, among fellow travelers in the arts. It shows him at work on portraits of nearly one hundred of his nearest and dearest friends.
Sargent could have been the first hipster, without ever setting foot in Brooklyn. He practically dares one to look behind the scenes—only to find that nothing is there. He makes one feel that one has caught his sitters in the act, but then they have anticipated one's look long before.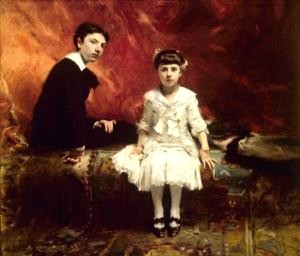 A lifelong European and, for more than twenty years, London's most sought after portrait painter, he was also perhaps the first true American modernist. When he reduces a sitter's wife to an empty coat, like the husband's bad conscience, or the father at a birthday party to shadow, he almost looks forward to Surrealism. A sketch of William Butler Yeats has its face divided, like the Irishman's poetry, between darkness and light.
He was a successful portrait painter who tired of painting. After a while in London, he lost patience for it, preferring charcoal, as in that portrait of Yeats. He spent his last years with some of his most daring work, in pastels. Is there a way to untangle the contradictions and to locate the passage to modernity? The Morgan Library asks again, with another never quite at ease with Modernism. Henry James thrived on the company of American artists, at home and abroad.
"My task which I am trying to achieve is, by the power of the written word to make you hear, to make you feel—it is, before all, to make you see." Does that make Joseph Conrad a painter, and what of a near contemporary from across the Atlantic? With "Henry James and American Painting," the Morgan Library would like you, too, to see. James sat for Sargent and many others as well. So where does fiction end and portraiture begin? It may not matter among friends.
With friends like these
The Met claims the "real" John Singer Sargent, but intimacy for this artist has its limits. Born in Florence in 1856, to a prominent American surgeon and his neurotic wife, he studied in Paris with its most fashionable portraitist, who went by the handle Carolus-Duran. A portrait of his teacher serves as a tribute, a challenge, and an entry into the arts. Early work runs to drab colors against dark backgrounds, much as for another American in Europe, James McNeill Whistler. He retained American citizenship, and when he did come to the United States, which was often after 1887, he lit up Boston's high society. Only after 1899, starting in Venice, did he truly embrace Edouard Manet and Impressionism, just when other artists had moved on.
Yet his grasp of light and color was impeccable even from the first, and for him skill entailed the ability to shock. The sitter in another early portrait complained of "mere dabs and blurs." London ridiculed the perspective in his Mrs. Carl Meyer and Her Children—and enough of Paris took umbrage at perhaps his most famous portrait, known as Madame X, that he moved a support for her dress from her arm to its proper place on her shoulder. The show is a riot of brushwork. Sargent could heighten the red of a robe, as for his Doctor Pozzi, and then let it collide with an equally intense red background. The shallow surrounding space surges forward almost as fast as the sitter. Others slink off the scene, like Robert Louis Stevenson, or flatten and tumble into it, like Claude Monet at work at his easel.
Just to paint Monet out of doors makes a statement. So does Sargent's choice of acquaintances. "Portraits of Artists and Friends" includes such progressive artists as Monet, Paul Helleu, and William Merritt Chase and Dennis Miller Bunker in Boston. It includes the founder of a museum, Isabella Stewart Gardner, the wallpaper behind her like the mandorla for a goddess. It includes dancers, actors, and writers—among them a translator, a Sinologist, and an open lesbian. The curators, Richard Ormond with Elizabeth Kornhauser and Stephanie L. Herdrich, invite one to see them all as Sargent's most intimate circle—the circle in which he could be from first to last himself.
Yet the contradictions keep coming, much as with purported personal rather than fashion work by Irving Penn. He portrays Carolus-Duran as a well-dressed man with a cane and cravat, which then flies out in another smear of paint. He paints the wife of a friend at the piano, behind an astonishing blue flower, but with perfect crispness, for he intended the portrait for the official Salon. Auguste Rodin called him "the Van Dyck of our times," after Anthony Van Dyck—the Baroque artist whose relaxed elegance similarly required an exact but seemingly cavalier brush. Others do let their hair down with their beards to the wind, because that, too, is a matter of style. Yet a self-portrait with a slightly receding hairline does not.
In this circle, a diplomat could be a writer and artist, and a dealer chomping at his cigar could be a celebrity. If Carolus-Duran from his portrait seems only incidentally an artist, he may have seen himself that way as well. This intimate circle also happens to include Madame X, a professional beauty, and any number of patrons—and why not? If you cannot call someone bearing armloads of cash a friend, who can you? One young sitter did insist on his integrity, complaining that Sargent buried his intelligence in a warm coat, but the artist had other ideas: "but the coat is the picture."
The coat amounts to a costume, much like a glorious array of robes and peacock eyes for Ellen Terry, the actress, as Lady Macbeth. Yet Sargent sees everyone as an actor, with the very semblance of an inner life part of the role. He gives both Doctor Pozzi and a pianist long, delicate, and incessantly active fingers, because their sexuality demands no less, but so, too, does their profession. He is at his wildest with portraits of children, who seem to float amid paper flowers or an ill-made bed, because they are still finding their way from their imagination to their role in life. Does the show upset the whole picture of Modernism as going beyond fashion to an avant-garde? Perhaps, or maybe Sargent knew how to go beyond the avant-garde with appearances and fashion.
To make you see
Joseph Conrad wrote his words in 1897, on the verge of his greatest works. From the preface to "The Nigger of the Narcissus," they attest all by themselves to the urgency of the written word. Could they apply to a somewhat older novelist, then also in England and soon to enter his major period as well? It may sound unlikely, if Henry James makes you think of a disdain for appearances. He hated Impressionism and took only the faintest interest in what came after. He seems more determined to make you confused, to make you mired in his syntax, and before all to make you think.
Yet James did write The Portrait of a Lady, and he sure knew portraits. He sat for John Singer Sargent, and he knew Sargent's New England, London, and Italy by heart. He knew another American expatriate in James McNeill Whistler as well.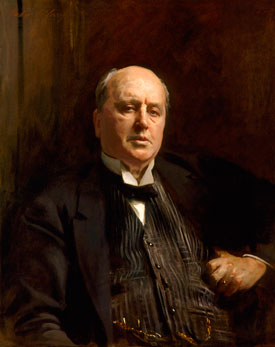 He took art lessons when young, compared writing well to artistry, created an aspiring sculptor in Roderick Hudson, and lived and worked among artists. He paid a studio visit to William Morris Hunt, advised a sculptor on how to find a market, and shared impressions of Europe with John La Farge. He wrote "The Aspern Papers" while paying frequent visits to Frank Duveneck—a portrait painter whom James called "the unsuspected genius."
Duveneck married a student, Elizabeth Boott, and James encouraged her, too. According to the curators, Colm Tóibín and Declan Kiely, she also served as a model for the vulnerable heroine of Washington Square, the illegitimate daughter of a treacherous husband in The Portrait of a Lady, and the increasingly suspicious heroine of The Golden Bowl. She may or may not have recognized herself—or felt halfway flattered. The exhibition has portraits by all these artists, with several of James. It has scenes of Florence and Venice by Sargent, London fog by Whistler, photographs, and documents. To underscore its theme, Tóibín is a novelist and critic.
It is less than convincing all the same, as either the key to the novels or as art. James moved among wealth, and much of the show reflects the conservatism of American art entering the twentieth century. Many of the artists on view are half-remembered and conventional—including the sole American Impressionist, Lilla Cabot Perry. Boott's gilded funeral effigy, by her husband, is downright embarrassing. The sole hint of Modernism comes in a photo, with James inspecting a painting by Arthur B. Davies. Try to convince yourself that he was learning rather than judging.
Nor should it should come as a revelation that writers mingle with artists. Michelangelo as a poet, anyone, or the expansive circles of Gertrude Stein, Florine Stettheimer, Robert Rauschenberg, and Andy Warhol? It deserves more attention, too, that those relationships change with the times—from shared patronage by the powerful to the shared alienation of the avant-garde. James lies somewhere in between, and it shows in the anxiety and betrayals of his novels. But then Conrad had his greatest success in the murk of characters, morals, and language as well. Think of that verbose and badly punctuated run-on sentence.
Still, the parallels between literature and art extend beyond the slow emergence of the American modern. Whistler could almost have been speaking of James when he titled a portrait Arrangement in Black and Brown. The sudden glimpses of light amid theater and darkness in Sargent suggest the later fiction as well. His portrait of James in 1913, three years before the writer's death, is the most penetrating in the show. Then again, a sentence or two further into his preface, Conrad could have been describing them all. He may seek appearances, but for "encouragement, consolation, fear, charm—all you demand—and, perhaps, also that glimpse of truth for which you have forgotten to ask."

"John Singer Sargent: Portraits of Artists and Friends" ran at The Metropolitan Museum of Art through October 4, 2015, "Henry James and American Painting" at The Morgan Library through September 10, 2017.