Idle Hands
John Haber
in New York City
The Arcades: Art and Walter Benjamin
Louise Lawler
If you have time on your hands, you can idle away as much as you like at "The Arcades: Contemporary Art and Walter Benjamin." Benjamin himself began The Arcades in 1927 as a short meditation on Paris, but it consumed the rest of his life.
The Jewish Museum starts modestly, too. It pairs just one artist with each chapter of Benjamin's unfinished project, most with a single work. And then it invites you to linger over the three dozen selections, as a busy biennial or an evening in the galleries never will. It does not hold together, but then neither did Paris. It seems at times to belong more to the curators than to either the artists or the German writer, but you can claim it for yourself. Meanwhile the Modern raises its own challenge to the authority of museums, collectors, and the avant-garde with Louise Lawler.
Benjamin is best known for asking whether the work of art retains its authority in the age of mechanical reproduction. (Today he might say digital.) This show brings art and ideas together to put them both to the test. You can imagine yourself meandering at leisure, much like him in the vaulted shopping centers of the last century. You can wonder at what it means then or now to embrace the present. And then, like the arcades for him, it gets totally out of hand, in a frustrating but intriguing jumble of past and present.
The flâneur in flight
Walter Benjamin did not coin the term flâneur for the archetypical urban stroller, although he gave it a chapter. He did not even popularize it, for his book did not see the light of day until 1982, more than forty years after his death. It appeared in English only in 1999—fittingly enough, at the dawn of a millennium. Still, he has come to typify the ideal. It fits with his fascination with half-hidden passageways and consumer society. It fits as well with his aphoristic style and his love of literature and history.
The arcades, too, exist between past and present, with their cathedral ceilings and construction in iron and glass. Those thoroughly modern materials have since become the embodiment of nostalgia for a great European city. Chris Burden uses them like an Erector set to construct London Bridge. They also accord with an already outdated ideal of the artist as the proper bourgeois and the consummate observer. The arcades have mostly vanished, but they still summon up the image of a well-dressed shopper who could afford them. Jesper Just evokes them with a preposterous recreation of the Champs-Elysée by new wealth in contemporary China—and Walead Beshty with a slideshow of sleepy or abandoned malls in America today.
For all that, Benjamin was no idler. He came to Paris not for shopping, but in flight from the Nazis, and he left the book unfinished when he fled yet again. He committed suicide when denied passage to Spain in 1940, on his way to the United States. A Marxist, he is associated with the Frankfurt School, although he never managed to teach at its Institute for Social Research—or, for that matter, anywhere else. Still, he shares with such theorists there as Max Horkheimer, Theodor Adorno, Herbert Marcuse, Erich Fromm, and Jürgen Habermas a belief in both reason and subjectivity. For Benjamin, philosophy had room for Karl Marx and social movements, but also Charles Baudelaire, the railroads, the Seine, the catacombs of ancient Paris, and the city as the site of prostitution and gambling along with the stock exchange.
He gave each of them a chapter or convolute, after the Latin for bundle. And the project grew to encompass literary history, theories of knowledge, and the failed revolution of the Paris Commune in 1871. He really did have time on his hands, and you had better, too. You will need it to get lost along with Harris Epaminonda and Daniel Gustav Cramer in their Infinite Library of gutted and reordered books. You will need it to find your way with Taryn Simon through the image archives of the New York Public Library, sorted into such categories as women, wallpaper, and buildings. Benjamin might have understood.
You will need it just to make the connections. They may be clear enough with Cindy Sherman, whose self-portrait as an aging socialite stands here for "the collector." Tim Lee's photos of his Leica stand for photography, along with the apparatus that he used to make them possible, like the camera's very own mirrored selfie stick. Pairings may also update Benjamin's experience for the global present—like the crowded floor of the Singapore stock exchange, in a large photograph by Andreas Gursky. Utopian communities in America stand in for Charles Fourier, the French social reformer. The lone person posed in front of each, in photos by Joel Sternfeld, looks anything but in arcadia.
They are less clear with Lee Friedlander, whose New York shop windows stand for the flâneur himself. Is Benjamin looking in along with you, caught in the dizzying reflections off the glass, or trapped within, as one of the mannequins? The artists may well bury the connections. With Martín Ramírez, the railroads become a near abstract weave of tunnels. With Erica Baum, literary history becomes folded pages never to be read. And here you thought that dog-eared meant marked for reference.
Convoluted convolutes
Not that Benjamin made things easy, maybe especially for himself. One chapter title includes the dream city, but also anthropological nihilism. Another links boredom to Friedrich Nietzsche's concept of the eternal return. For the first, Mike Kelley hangs his dream house as a chandelier from the ceiling. Who would guess that it represents his suburban childhood? For the latter, Guido van der Werve spends twelve hours circling his home in Finland. If you wait awhile, his slow-motion presence will come into view.
The museum makes things harder still. Perhaps it must, faced with such a disordered record of a city on the move and a life in exile. From the start, it immerses visitors in covered passages. It interrupts wall-sized photos of Benjamin, the arcades, and a map of Paris with his German passport, Hebrew lessons, and library card. When it comes to the book, chapters fall in no particular order, assuming they ever had one. The writer used the letters of the alphabet in place of chapter numbers—and when he ran out, he just started over in lowercase.
Each chapter gets a complex layering of art and text. Some art comes with its own, like a mandala of encircling words by Simon Evans, as The Voice. Wall labels add more—and then Kenneth Goldsmith contributes a poem of found text to each, out of anything from the social sciences to fiction.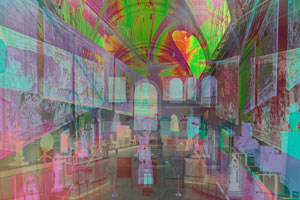 Bret Easton Ellis and his hard-driving 1980s accompany the stock market. Goldsmith in turn shapes his text into images, such as a smile or meandering curves for the streets of Paris. Does it matter that passages may also refer to text?
This is one convoluted convolute. Benjamin's text looms over all, too, by its very absence—unspoken and, surely by most visitors, unread. That makes the arcades still harder to decipher or to escape, much as in the art. For Adam Pendleton, social movements become an illegible scrawl of passages from W. E. B. DuBois. The great hall of a museum becomes a ghostly color negative by James Welling, while a flickering chandelier from Cerith Wyn Evans communicates in Morse code. Timm Ulrichs celebrates the author of "The Work of Art in the Age of Mechanical Reproduction" with photocopies of photocopies to the point of abstraction.
A theme show like this threatens to become little more than a concept or a mess. The curators, Jens Hoffman with Shira Backer, tend to overshadow the artists, and the artists tend to overshadow Benjamin. They do not even stick entirely to contemporary art. What is Walker Evans doing here with his subway photos? (They somehow stand for Honoré Daumier.) Others mix up the very idea of art now—like Sanya Kantarovsky, whose mother and child evoke Art Nouveau but also the graphic novel, or Pierre Huyghe, who adds the voice of a poet to film of a deathly sleeper by Andy Warhol. Voluspa Jarpa, for another, hides excerpts from Chile's intelligence services under the junta in steel boxes that could pass for the work of Donald Judd.
For all that, this history has many cunning passages. And the art works best when it turns on the collision between past and present. A visitor becomes a flâneur in both space and time—right along with Bill Rauhauser, the self-styled "flâneur of Detroit." As idlers go, he does not shy away from precision with his photograph of a compass for drawing, but then the whole show has its circles upon circles. It is part of Benjamin called "a waking world . . . to which that dream we name the past refers." A pity that he did not live to put this past behind him.
A proper burial
More than thirty years ago, painting was dead, and a woman in her thirties was determined to give it a decent burial. Louise Lawler photographed a painting by Jackson Pollock at his peak, but hanging above fine porcelain in the home of Connecticut collectors. A soup tureen's delicacy all but subsumes Pollock's drips in its pattern. Is this the proper decor for a funeral parlor or what? Also in 1984, Lawler photographed a flag painting by Jasper Johns above monogrammed bedding—both as white as a sheet. May it rest in peace.
Not that painting had ever died, although all the right people declared it dead, and I had to pursue abstract art to Staten Island in the 1990s for the first hints of its resurgence. Lawler and others, though, were prepared to bring the death blow as well as the funeral. The "Pictures generation," named for an exhibition curated by Douglas Crimp, saw painting as one more great white male institution in crisis—and who better to rise up against it than a woman with a camera like Cindy Sherman, Laurie Simmons, Sherrie Levine, or Lawler. She did the deed well, too, for her image of Connecticut is instantly recognizable today. It is recognizable even traced on vinyl, in a retrospective at the Museum of Modern Art, curated by Roxana Marcoci with Kelly Sidley.
Just the year before, in 1983, Crimp wrote "The Museum in Ruins" for a book edited by Hal Foster. And no wonder, for postmodern art and critical theory were then learning from and encouraging one another. So why does the museum look very much intact, even when Lawler takes one behind the scenes for, ambiguously, a taking down or an installation? Her photographs from the 1980s and 1990s occupy the show's first room—some more recently enlarged to the scale of walls. Some are distorted in the process, which she deems a response to distortions of another kind, in fact-free politics after Donald J. Trump. A second room has the tracery and "ephemera," such as announcements of past exhibitions.
Lawler takes down the "originality of the avant-garde"—not just with her photographs, but also in the spirit of collaboration. She casts leaf shapes in bronze with Alan McCollum and engages Jon Buller, a children's book illustrator, to do the tracing. She photographs a painting by Robert Rauschenberg that already appropriates Peter Paul Rubens. She also packs a mean spirit when she cares to do so, as with the white globes of an art handler—or in pairing Jackie Kennedy with a Nazi. Titles ask whether Marilyn Monroe and Andy Warhol make you cry, and the obvious answer is no. How, then, did painting and sculpture escape death?
For one thing, no one ever doubted that art depends on patronage. Pollock made do with far less than the bounty of Renaissance princes before him—or of art fairs, art advisors, and museum blockbusters today, when The New York Times interviews celebrities each week about what hangs on their walls. In contrast to her obviousness, Lawler can also come off as more insular than a private dealer. Wall labels follow the money trail, naming the owners of all her prints from editions of five. They do not, though, offer the least help in identifying the art on camera. If you have to ask. . . .
To her credit, she freely admits her complicity in the game. When she makes a glass paperweight from a photo of Dan Flavin, his lights shimmer. She picks co-conspirators like Sherman as subjects, transforms the name of male competitors into bird calls for the museum's sculpture garden (in a recreation of sound art from 1972 and 1981), and includes stationery and custom matchbooks for her gallery. One matchbook even gives the retrospective its title, "Why Pictures Now." So why return to "Pictures" now, and did Lawler's generation kill art only with kindness? May it rest on museum walls in peace.

"The Arcades: Contemporary Art and Walter Benjamin" ran at the Jewish Museum through August 6, 2017, Louise Lawler at The Museum of Modern Art through July 30.