Letting Go
John Haber
in New York City
The Future of the Gallery and Museum Expansions
This model just isn't working. I had never expected to hear those words from one of New York's finest dealers. I would hear something like them often again.
She had worked at the leading auction houses. She had started her own gallery and pursued it through three neighborhoods, from an elegant West Village brownstone to an airy split-level space on the Lower East Side—and now it, too, was closing. I hurried to its final show to say how sorry I was to see it go. But no, she assured me, she was not giving up on art. She was just taking stock and looking for alternatives to a "brick and mortar" gallery. There has to be a better model.
A panel at Christie's Education insisted on just that. "Letting Go of Brick and Mortar: The Future of the Gallery" was all about letting go. Three of its panelists already have. They have all had influential galleries or alternative spaces—and they have all given these up for a "hybrid model," of exhibiting from time to time while working behind the scenes with artists, estates, and collectors. Is that model, though, also available to emerging dealers, and what does it bode for art? As a postscript, I pick up gallery closings a year later, while more questions about growth arise in a critique of museum expansions and the direction of museums everywhere by Ben Davis.
The dealer as hybrid
Nicole Klagsbrun, Jay Gorney, and Josh Baer all came of age in the 1980s, what Gorney called a "magic time." Collectively, they have had success in the East Village art scene, Soho, and Chelsea. All have had galleries of their own. Gorney also worked with what later became BravinLee Programs and with Mitchell-Innes & Nash, while Baer made his name with White Columns. The fourth speaker, Richard M. Lehun of New York Stropheus Art Law, has spoken before on the challenges to midlevel galleries from art fairs and art advisors. Together, they all but embody the transition from Modernism and its avant-garde to the chaos and disappointments of today.
The panel came with a further rubric, "Challenges and Opportunities"—but with the emphasis on opportunities. For Klagsbrun, it is the opportunity to use her office as "a place to grow at a pace that I dictate." For Gorney, it is the opportunity to sustain his long commitment to at least one artist, Sarah Charlesworth, and her estate. For all three, it is the chance to exhibit with established galleries, art fairs, or pop-ups, but without the obligation, as Klagsbrun put it, to feed the machine. Rather than the process of taking artists from studios to sales, she lamented, the art scene has become all about the product. By 2013 it was time to think instead about what is best for artists or, in Baer's words, "what is best for me."
Plenty of others will know the feeling. I began by quoting Tracy Williams, who introduced me over the years to such artists as Barbara Bloom (whom Gorney can take credit for exhibiting in 1989). I hate to mention her by name, so as not to intrude on her privacy, but she is hardly alone. A slide at the panel listed galleries that have vanished this past year alone, and the shock came not just with their number, but also with their familiarity. Could a hybrid model offer them a better future? Is the crisis even real, much less the opportunities?
At first glance, the answer is no. Anyone who has just made it through the mass of openings that first week after Labor Day will want to call a time out. They will have other things in mind than the death of galleries. Despite clear signs of a retrenchment, they will have seen the obvious—more galleries, more crowds, and more money. The Lower East Side seems no longer an alternative, but a monster sprawling in every direction. And if it dies, surely Brooklyn is dying to snap up the remains.
At first glance, too, it seems preposterous to single out a crisis in art. New York memories extend to closed bookstores, hardware stores, and more. Even visitors to Chelsea galleries can no longer end the day at the Empire Diner, a favorite French restaurant, or a wine tasting at the neighborhood liquor store. Then again, those closings only underscore the pressures on galleries, and they are real. Even the spiraling growth brings spiraling pressures, in competition and rents. As Baer put it, "Of those six hundred galleries out there, how many will be flourishing twenty-five years from now?"
Galleries always come and go, because this is capitalism, and where there are winners, there must also be losers. Even prominent galleries can succumb to a dealer's personal foibles or death. Now, though, everyone is on the line, including the seeming winners. I have reviewed Lisa Cooley more than any other downtown gallery, and now it is gone along with Laurel Gitlen across the street. An entire block of galleries has left Chelsea, and not all of them have turned up elsewhere. The author of How to Start and Run a Commercial Art Gallery, Edward Winkleman, no longer has one.
Mr. Big
Once again one can object. They have made their choices, but so what? Others, as the director of Central Booking insisted to me, will keep going because that is what they do. She has to exhibit, because she in the game not for money and independence, but as a curator and in support of others. Do the art fairs just add to the pressures, with enormous costs of their own? No one is obliging attendance.
No doubt, but not everyone has a choice of people over profits, short of trust-fund babies. Still another dealer lost first her gallery and then a prime pop-up space—and this time I really shall omit a name, because she stayed in bed and cried for two days. We sat down soon after to discuss exactly the topic at hand: does she even need a gallery? A proper answer takes looking beyond successful hybrids or other mutant life forms. Not everyone has the same opportunities, but is a hybrid the solution all the same?
The panelists left the scene with formidable lists, formidable connections, and formidable reputations. They had neither stormed off in anger nor slunk off in despair, although a recession had left one of them little choice. They could afford to use the panel to cite their achievements in exhibitions and partnerships. They could afford, too, to imagine a scene with many fewer galleries—just enough, Baer said, "to change everyone's view of the world." They could afford to give up the hope, he added, that "Mr. Big is going to walk in the door and save your ass." What, though, if they each have Mr. Bigs to spare?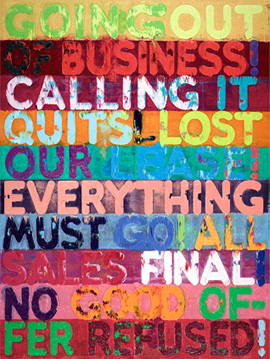 Working behind the scenes, too, has its costs. Art requires storage, shipping, and insurance. As Lehun explained, a private dealer also still has legal obligations. A dealer in new work or an art advisor has a "fiduciary responsibility" to clients, whether artists or collectors—which entails loyalty, prudence, and no undisclosed profits. A dealer on the secondary market is still subject to the Uniform Commercial Code and to tort laws, which protect against fraud and negligence. Either hybrid, he concluded, had better get good contracts.
Other costs are harder to quantify but no less real. Artists want exhibitions and reviews, because they want people to see their work, and collectors want to see exhibitions and reviews, as a sign that the artist matters. Without them, private dealers may find themselves losing their buyers and their lists. The panelists have the clout to sustain both, even without a gallery, but how many others can say the same? Big-name galleries rely on them as curators as well, but only because their names add real value. Then, too, such partnerships affirm the importance of brick and mortar after all.
The problem of art and money boils down not just to costs and benefits, but to who pays and who benefits. Yes, artist collectives will survive, because their members support one another—even though they may never break through. Yes, the most elite galleries with the most established artists will survive, because people pay attention. And yes, a hybrid can survive, too, although it may find itself representing wealthy collectors as often as artists, with the potential for conflicts of interest along the way. Yet that still leaves plenty of others, including the midlevel galleries that do most to nurture a future for art. If young artists and dealers can no longer hit the city with every hope of changing awareness, that leaves not a more democratic art world, but one more closed than ever before.
A postscript: victims of success
Only a year later, The New York Times makes it official: galleries are closing. At the very least, they are under pressure from wary collectors, rising rents, perpetual art fairs, and ever increasing competition. That should come as no surprise. Galleries are a business, a bigger and bigger business, and anyone can see the turnover. The ominous opening of that 2016 panel discussion listed just some that have called it a day.
No, the surprise is not that galleries die, and others hurry to fill their spaces—in real estate, if not always in one's heart. The surprise is who. That panel included three of the most successful dealers over decades now, and now Andrea Rosen has shut its doors as well. Even The Times has to take notice. And the toll extends to more recent successes on the once gritty Lower East Side. As the Times headline put it, "Art Gallery Closures Grow for Small and Midsize Dealers."
Are there lessons? I think I got this right the first time, but consider the points again. First, the closings really do come less from artist collectives and others on the margins, who serve a smaller community, or from the very largest dealers with money to burn. That leaves midlevel dealers with every sign of growth and every fear of a market shake-up.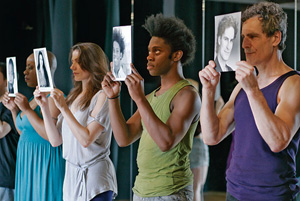 I never cared for the splashy displays at Mike Weiss, but they had started to get reviews, even as the gallery aggressively expanded its roster. Cooley, Gitlen, and now On Stellar Rays had all moved into bigger and more prominent spaces—in the case of On Stellar Rays, a space that a still more upscale dealer, Sue Post, had abandoned as well.
Second, they may grow sick of the struggle, but often as not they are not going away. Of course, the panelists touted a "hybrid model" of working behind the scenes, art fairs, and exhibitions in conjunction with surviving institutions. One of the three had cut back to handling an estate, and Rosen will do the same on behalf of Félix González-Torres, who died in 1996. The Times cites one dealer who will work with Paula Cooper, no spring chicken either. Lori Bookstein and Molly Krom are working the fairs. Others, like Hionas or Rooster, are taking stock, casing out other neighborhoods, and just plain wondering what comes next.
Third, the first two points are connected. Success breeds alternatives. That panel could afford to look ahead because it had the connections to do so—including clients, artists, estates, museums, and (yes) "brick and mortar galleries." Others soldier along because they have no choice. Without exhibitions and reviews, artists and collectors alike may quickly defect. I have already mentioned a dealer who cried for days after losing first a lease and then a prominent pop-up.
Last, the closings come at a cost—and not just to the dealers. Their former artists may now have a healthy CV and a deserved reputation, but others to come will go unnoticed. Rosen's last exhibition introduced me to video, performance, and sculpture by Martha Friedman, but it will introduce me to living artists no more. Older dealers cannot serve the living forever anyway, not if they want to stay loyal to their artists, as they should. And that is why smaller midlevel dealers have an irreplaceable role, even in a ridiculously bloated art scene. Have they survived Hurricane Sandy only to become the victims of their success?
The museum listicle
Does the Met need the Met Breuer? Does New York's largest museum need a second home on the scale of a major museum itself? Is it coincidence that the Met announced serious financial losses and further layoffs, despite soaring revenues? A headline in one popular webzine promised to name the year's six best new museum buildings. Granted that webzines love listicles, but think about it—six best? Could there be that many more new museum buildings in a single year, so many that still others are losers?
Has growth grown out of control? The same question looms over soaring auction prices and gallery districts. Success may empower a handful of artists and dealers at the cost of decent art, while failure drives many more out of business. It happened after Hurricane Sandy, and it is already happening on the Lower East Side. No wonder some are questioning the very need for brick-and-mortar galleries. A growing audience for art sure sounds positive, but could museums like the Met be making the mess worse?
It may seem churlish to ask. The Met has done well so far by the Met Breuer, restoring a landmark building and opening with a blockbuster, "Unfinished," soon followed by an insightful look at early Diane Arbus. And I, for one, breathed a sigh of relief that the former Whitney Museum, after the Whitney's move to the Meatpacking District, would not lie empty. Other museums could stand to learn something, with their architectural follies, empty atriums, and private collections as glorified tax shelters—not to mention MoMA's real estate empire and the sorry tale of LA MOCA under Jeffrey Deitch, the celebrity dealer. And yet the questions will not go away. They appeared again in an essay by Ben Davis in The New York Times.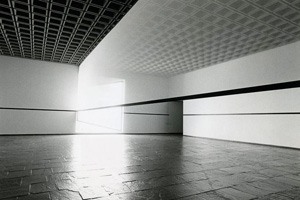 Most new museum buildings and renovations address real needs, even as costs are mounting and attendance is slipping nationwide. The Whitney wanted at least a floor for its permanent collection, the Morgan Library sought to connect its existing buildings, the New Museum and the International Center of Photography found themselves homeless, and Berkeley's art museum proved structurally unsound. The Met has also articulated its needs, including displays of modern and contemporary art that its Lila Acheson Wallace wing could never hold—and the need to shut that wing entirely for renovation. Davis, though, sees another factor entirely. Collectors want to acquire and to exhibit recent art, and museums want them as donors. That puts pressure on a museum to welcome them to its board, to build, and to show off.
Davis is onto something. Even the Morgan Library and the Frick Collection have now stumbled onto living artists. Still, he may not have all the answers. When the pursuit of profits leads to losses, and the pursuit of art becomes the pursuit of attention, something does not add up. Boards can demand only so much, and museums do not have to listen. The Met needs an endowment, but it also has a museum to manage.
I hesitate to blame the Met's director, Thomas P. Campbell (who, be it duly noted, stepped down in 2017, the year after this essay), who inherited his share of other architectural follies, such as the Lehman wing and the modern wing itself, completed in 1987. Under his leadership, displays have grown more adventurous and less self-serving, including "focus exhibitions" of selections from the permanent collection. Could the Met have stayed put, perhaps renovating its modern wing in pieces while mounting temporary displays elsewhere in its vast halls? It managed a new American wing and a superb new Islamic wing just by shutting the old ones for a while. Maybe one should ask not whether the Met needs the Met Breuer, but rather whether the rest of us do—and not just now, but for a sustainable future. When the Met's lease runs out after eight years, I should hate to remember it as just one more item in a listicle.

"Letting Go of Brick and Mortar: The Future of the Gallery" took place on September 21, 2016, introduced by Véronique Chagnon-Burke of Christie's Education. The article on closings in The New York Times appeared June 25, 2017. Ben Davis wrote in The Times for July 24, 2016, and Campbell announced on February 28, 2017, that he would be stepping down.