Art as a Living
John Haber
in New York City
Gilbert & George and Jesper Just
Gilbert & George call themselves living sculpture. Does it sound like a rather arch term for performance? The idea of two entire lives as performance sounds more than arch enough for me.
One might question the term's accuracy as well. Just how far they have altered their habits for their art, other than the minor detail of having to make it? Their only formal record of performance, the very occasional video, looks more like killing time between work. Their public knows them mostly through the bad old medium of photography.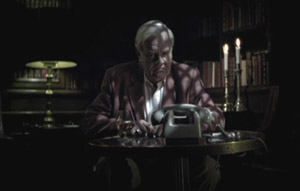 They mean something ever so serious by it, though. Performance alone will never do. Downstairs, trapped in their "Romantic Delusions," the lonely protagonists on video from Jesper Just would surely understand.
Underneath the arch art
One can see it in their titles, from The Nature of Our Looking among their very first photographs, through such clunkers as Hope Life Death Fear in the 1980s. One can see it in the wistful eyes of the two men nearing thirty, in their first collaborations in 1969. As Gilbert & George pose amid the trees, in charcoal, they seem to see greatness in the air and already slipping away. One can see it in the idealism with which they title one such sketch, Art for the People. They had just settled in East London, determined to take beauty to the common man—provided they could embody it in person.
True, they began back then with actual performance. They took to the streets to sing a hymn to another kind of archness and solidity, Underneath the Arches, motionless except for their lips. They were interpreting an old music-hall number as a tribute—to the East End, to the homeless, to the glories of old England, to the artfulness of a good pose, and above all to themselves. They stood nearly as stiffly in their first gallery exhibitions, but with their skin sprayed bronze. One could call it art's recovery of form, life, and the male body after that nasty incident in Goldfinger. A nude woman may not survive with her skin suffocated by metallic paint, but no doubt Bond's audience never truly understood art.
In no time, they had shifted to their signature medium, photographs the height of a museum wall. They had already called their large charcoal self-portraits two-dimensional sculpture. Performance no doubt suggests something far too transient, as challenging to the artist's very survival as an act of endurance by Chris Burden. It suggests something as open ended and as receptive to viewer participation as a ladder to the ceiling by Yoko Ono. As with the reference to the music hall, living sculpture looks back to grander and creakier stages. Clearly one has to appreciate its permanence—and theirs.
Gilbert & George shy away from performance art's earnestness and irony as well. Carolee Schneemann demanded shock and laughter as she drew text from her vagina. Lynda Benglis with her dildo did much the same. The Brits, in contrast, plead for what matters in art—as one work puts it, "the head," "the soul," and, yes, "the sex." Faced with a drawn bow and arrow, Marina Abramovic immerses one in the present moment. They prefer the dry, unsmiling eye of camp.
Others, too, were pushing fringe neighborhoods and expressions of homosexual desire. Yet here, too, Gilbert & George stood well apart from photography's cutting edge. Like Robert Mapplethorpe, they pursued beauty, lust, and Mannerism through the ravages of AIDS. Like him, too, they placed black men in the picture as objects of desire, back when that broke a serious taboo. And they did it all dressed neatly and unfashionably in light-colored suits.
They saw photography, in other words, as just slightly out of touch with its time. To create such large work within the limits of a darkroom, they printed a negative a bit at a time, on ordinary sheets set in cheap black frames. They assembled the charcoals, enough to cover the four walls of the Brooklyn Museum rotunda, in much the same way, although with glue rather than frames. The black of the frame retains the grid of formalist dogma, and its display also echoes the printing of contact sheets to make a medium itself both subject and art object. Like the frontal poses, it also adds a noticeable tantric symmetry. Yes, "the sex."
Old British Artists
One might think that living sculpture would be growing a bit green around the edges after forty years, but theirs has had a long shelf life. Gilbert Proesch, born in Italy, met George Passmore in 1967 at a London art school. Along with those first charcoals, they began with another form of indirect self-presentation—postcard collections. Postcards of the Royals already assert their mockery and their love. Alighiero e Boetti had adopted the e (meaning and), to turn a single artist into a fragmented public persona or a corporate body. Gilbert & George turned their twosome into a monumental work of art.
Echoes of the swinging 1960s keep their photography campy through the present. They soon added dyes of primary color, at first by hand and after 2003 by digital processes, like an LSD trip long after the summer of love. These unsmiling men with receding hairlines are hardly tripping anyway. Sometimes they pose naked rather than in suit and tie, or they interrupt the frontal poses to gesture and gape at the sky. They entered their thirties, though, before they so much as bothered. Again they insist on both sexual desire and its inappropriateness to the occasion.
Things get sordid quickly anyhow. Early on, they pose amid human-size turds. Penises and insects duly make an appearance. Handsome young men surround them through at least the 1980s, as both white sports teams and single black men. One such hero leads to the embarrassing title Black God. Graffiti-covered brick further alludes to penises and their many uses.
Do the artists evoke sex and death after AIDS, like Charles LeDray, or do they add yet more tantric details? Have they documented a changing East London or their own desires? Need one ask? The retrospective, in a two-story installation by Gilbert & George themselves, does not readily document anything. It departs from chronology after the museum rotunda. I looked instead for thematic groupings, but their art hardly varies enough for themes.
A dogged observer might nonetheless discover signs of changes. The virile young athletes give way to black silhouettes of flowers and insects as AIDS and age takes their toll. Some signs of gentrification may appear if one looks hard enough. Mostly, though, the retrospective dares one to spend more than half an hour in search of meaning—despite forty years and more than eighty gigantic works. It dares one to accept shallowness and camp as gay sensibility, long after Mapplethorpe and others had moved on and got beneath the skin.
The two middle-aged men with a hopeless sense of style do neither, and they prefer it that way. Yet they anticipated the Young British Artists and then some. Turds have entered the picture from Chris Ofili to Andres Serrano this September. Frontal nudity could serve as a template for the Chapman Brothers. In the end, Gilbert & George attest to a transatlantic cultural divide that just will not go away. For all the reality of globalization, with the triumph of American Modernism a thing of the past, they could make anyone want it back.
Address unknown
Where Gilbert & George present homosexual desire as camp, Jesper Just is having an existential crisis. Both strategies can make eroticism smart and funny—or stale, self-involved, and unflattering. From graffiti to "Global Feminisms," from "Open House" to the Victorian nude, the Brooklyn Museum has celebrated diversity while making it as hackneyed as possible. A little of this brand of community outreach goes a long way.
In all fairness, Just treats everything as an existential crisis, with musical accompaniment. In his two New York shows to date, middle-aged men have suffered the verdict of youth and time, as delivered by a bank of ringing telephones, in the jury box, and to the lyrics of the standards. The Danish video artist has the fondness for dark interiors of someone who knows old movies and long winters. One object of desire in Brooklyn, a dancer with the moves of an ice skater, circulates in slow motion in the chill. Even in broad daylight, beneath towers devoted to alternative energy, another young man hides cautiously in the tall grass, before entering the harsh contrasts and vast spaces of an indoor rock arena. He has followed an older man, who shrieks Olivia Newton-John's "Please Don't Keep Me Waiting" with the anger, fatalism, and flat intonation of punk rockers entering late middle age.
This once, the older man gets his say, fiercely. Yet here, too, judgment belongs to youth. Alone in the audience, the singer having already departed, the young man ends the video with slow, deliberate applause. He appears desperate to have performed well—and perhaps passes judgment on himself as well. Another couple searches for love and communication by telephone, the old rotary kind, in what Just calls The Lonely Villa. The lyrics here come from the Inkspots, but youth and age cannot agree on a song.
It is tough being manly. Just ask voters for John McCain, and it only gets tougher in film noir and slow motion. Just names the show after his latest video, Romantic Delusions, but he clings to his own romance and delusions at least as much as do his protagonists. What else could reduce a man to tears before the dancer? What else could sustain the gray-haired cross dresser in the title video? What else could revive Olivia Newton-John?
Although the four videos go back as far 2002, none have played before in New York. While his gallery outings fixated on Just's older alter egos, neither concerned itself for distant longings. All, though, look at men and see isolation, loss, and a disconnection from mundane matters of life and death. As the Ink Spots put it for him, "I don't want to set the world on fire. I just want to start a flame in your heart."
Just could almost do exactly that. Anyone so in love with the movies could move others to tears, were the movies not serving up a warmed-over plot from Death in Venice. Anyone so slyly able to turn pop music into prophecy could move others to laughter, were the tone not so fiercely humorless. Just leaves his crises in an existential void. As the pop lyrics put it for him, "Addressee Unknown."

Gilbert & George ran at The Brooklyn Museum through January 11, 2009, Jesper Just's "Romantic Delusions" through January 4.