Reaching for You
John Haber
in New York City
Ellen Berkenblit and Ayn Choi
Painting and Real Estate
Now that painting is back from the dead, will New Yorkers go anywhere to see it thrive—even tourist country? Ellen Berkenblit helps introduce a gallery's move to midtown. She brings her defiance to women, horses, and color fields. If you are reaching out to art, she is reaching out to you. Meanwhile Ayn Choi explores the promise of abstraction and real estate further west.
Horses or women?
Ellen Berkenblit makes you step back, only to wonder what you missed. You step back from big canvases, big colors, and plenty of black. You step back from a horse rearing in profile in the darkness, lest it trample you, or an umbrella in a cage, lest it poke you in the face. You step back from a bulbous foot and ankle with a single toe, lest it kick you somewhere even more vulnerable.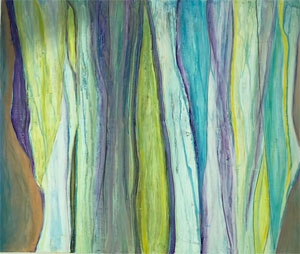 You step back from a hand plucking a flower, as Tincture of Musk, to avoid the smell. Besides, those archly curved fingers with their red nail polish could instead be reaching for you.
Berkenblit is always in your face, and the greater part of you might like it that way. You might even wish that she were reaching for you. She paints pleasures and temptations, with a small cast that boils down to just that horse and just that woman, as obvious projections of the artist. She means them to project a long way. You do not step back as you would for the majestic symmetry of an abstraction by Jackson Pollock, say, or the busy narrative of Paolo Veronese in the Renaissance, but rather for the comic energy of a pointy nose out a graphic novel. Just bear in mind that she may be laughing at you.
You may not find it so easy to laugh along with her. More often, the horse looks slightly down and slightly sad, but still larger the life. The woman appears at her most confident striding across and into the canvas, past still more flowers, wearing only a velvet ribbon around her neck. The horse faces an American flag with colors wildly at odds with reality, and the woman's skin is a peculiar shade of violet. The colors could be unsettling the painting or you. Berkenblit works in layers and gestures, with a brush or palette knife. Those blacks may combine colors, bright colors may have warmer underpainting, and hard edges may dissolve halfway into shadow.
The comic-strip outlines and surfeit of flesh are heirs to Carroll Dunham, although with more attention to painting. They have just as much to do with the characters bordering on abstraction common to art right now, although never quite as slippery. They do not inhabit the anxious allegories of Dana Schutz or the enigmatic interiors of Patricia Treib. They may look to Henri Matisse for their large fields of color, but without the classicism. They are just too concerned for sensuality. Berkenblit may paint over charcoal or over calico, ever mindful of what she exposes or effaces.
When it comes to sex, you may miss the irony of Eric Fischl, the sheer madness of Carol Rama before him, or a more self-conscious feminism. Berkenblit can seem by comparison way too obvious and a little too self-involved. She is, though, always a painter and never quite what she seems. A title like I Don't Object If You Call Collect could be rapping or indulgent. A title for the striding woman, V, could announce victory or just plain drawing. She really could be reaching for you.
Just upstairs, Nicole Eisenman puts flesh on the line as well—and with much the same comic crudity. Eisenman has made brutal free-standing sculpture, but she has a greater reputation for mask-like faces in paint. Here she works between the two, in wall reliefs and related works on paper. They run the gamut of expressions and assemblages. Yet their roots in pop culture and found imagery are hard to pin down. They exist for that tempting space in-between.
The walk to wealth
New Yorkers have every right to say that they will go anywhere for art, including a healthy schlepp from the nearest subway. Fort Tilden, past Rockaway Beach? I made it last summer for a house built on sand, drenched in paint by Katharina Grosse—and even more for the walk and the view. Ridgewood past the edge of Bushwick, Red Hook by the Brooklyn waterfront, Wave Hill in the Bronx, or the Queens Museum in Flushing Meadow Park? Well, every so often, and the last of those has a scale model of the rest of the city to make me feel at home. But far west 42nd Street?
It is only Manhattan, not quite within view of Times Square or the High Line, but not exactly beyond reach of the guide books. It takes longer to reach the piers for the Armory Show or the May art fairs. The walk has me wishing for the station dropped from the subway extension to the Javits convention center and Hudson Yards, but then that whole project serves mostly the wealthy. I made my way last summer for a sculpture by Yayoi Kasama, on a tour of "privately owned public spaces." Now, though, she has neighbors to either side. Sky Art to one side joins a city-wide celebration of John Giorno, while the Atelier to the west gives over its lobby to Ayn Choi.
Is this the next new neighborhood for ambitious art? It still has more to do with real estate. Sky Art has temporary space in a luxury high rise ("just blocks from world-class theater"), Kusama's not so great bronze pumpkin anchors a private driveway, and that lobby belongs condo apartments as well. Still, the confluence of art and money extends dangerously to galleries and museums as well. Here at least the grand spaces had me remembering the up side of patronage. Besides, the concentration had me thinking about models for art.
Kusama is always a crowd pleaser masquerading as profundity, while "I ♥ John Giorno" (after the inescapable "I ♥ New York" by Milton Glazer) sounds more like a marketing campaign than a retrospective but recalls a riskier avant-garde. You may know Giorno for sleeping through a film by Andy Warhol. You may know him as a poet, a reader of poetry, the center of a social scene, the partner of Ugo Rondinone, or not at all. Rondinone organized the show, spread among Artists Space, Hunter College, and other nonprofits. Sky Art wraps the walls from floor to ceiling with Giorno's posters, for an overwhelming spectacle of color. They lose interest close enough to read them, except perhaps to his large and jealous circle, but enjoy.
Choi may have one questioning the art scene from quite another angle. She has a fancy lobby, and I mention her at all with some guilt, as a friend. Yet she is hardly an insider, and even as part of the rebirth of painting. Abstraction today has critics talking of "zombie formalism." It can have anyone thinking, I saw that one before—and not in the postmodern sense of defying originality. Choi herself can seem all over the map, while enjoying every corner.
The largest work adopts all-over painting, with big splashes of red, yellow, and black framed by a black border that lifts the unstretched canvas off the wall. Others titled Bruised have the fluid stains of color-field painting, in curves running down the canvas amid more slender verticals. Still others resemble what is becoming a dominant style, as with Amy Sillman or Patricia Treib, of irregular shapes in a single color set against softer fields (here in rubbed charcoal) and plenty of white. In my favorite, the top splotches are simply red, yellow, and blue. They refuse premeditation or geometry, share a love of poured paint and layering, and stick resolutely to abstraction. Time will tell if she has left her signature.

Ellen Berkenblit and Nicole Eisenman ran at Anton Kern through July 6, 2017, John Giorno at Sky Art through December 31, and Ayn Choi at the Atelier through October 19.