Marching on Harlem
John Haber
in New York City
Uptown and the Wallach Art Gallery
We Wanted a Revolution: Black Radical Women
Columbia University is marching on Harlem. It could be a display of raw power, a case study in gentrification, or a step toward a brighter future. One thing for sure, though: it has produced an impressive center for the arts and sciences—and a new home for the Wallach Art Gallery.
With "Uptown," it opens with an acknowledgment at last of its place in the community. The show's twenty-five artists, all working north of 99th Street, can offer a warm welcome. It makes a terrific complement to a far more politicized show of black radical women at the Brooklyn Museum.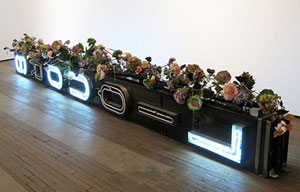 Checking out the neighborhood
Morningside Heights has long felt like a privileged enclave, separated by Morningside Park and the physical chasm of 125th Street from the realities of Upper Manhattan. These days, though, the Upper West Side has reached up to it, all of the city is safer, and the Studio Museum in Harlem has brought sculpture to the parks. These days, too, Columbia is growing, much as New York University seems out to consume Greenwich Village and beyond. The Jerome L. Greene Science Center opened last fall on West 129th Street, on what Columbia calls its Manhattanville campus, while construction continues apace by Barnard College. Now the Lenfest Center for the Arts nestles behind the science center, west of Broadway. You may find yourself walking through one to locate the other.
Renzo Piano designed both. He has become a go-to architect for museums, and you can see why. For one thing, he is a team player. His buildings project less a signature style than the needs of an institution. They are big, bright, and anything but sleek, much as the new Whitney Museum in the Meatpacking District looks from the outside like a hospital or a prison. The Morgan Library wanted a decent café, an atrium, and a connection from its public areas to its conservation department and offices, with barely a nod to its galleries, and Piano delivered. Columbia, too, gets big lobbies and bulky exteriors.
For another thing, he cares about the movement of people and the display of art. His buildings are airy and well lit, outside and in. The new gallery has the sixth floor of the arts center, with big windows on three sides. They turn mostly away from the heavy traffic and near empty yards by the Hudson River—and toward their neighbors. Where MoMA's 2004 expansion gave it a diminished emphasis on the collection, the Wallach Gallery has grown. (You will just have to wait and see how MoMA does with further enhancements by Diller Scofidio + Renfro.) And where MoMA or the New Museum architecture by SANAA has its closed boxes, the Wallach Gallery welcomes natural light.
For all that, it is no less a compromise and an institution. Drab corridors lie to either side of the elevators, once again as in a hospital. Within, forget what you have read about whatever numbers of square feet. The gallery amounts to a single broad room—comparable to smaller floors at the new Whitney. Still, sometimes compromises are very much in order. The display is spacious and flexible, with open space for installations, plus alcoves to either side for more direct encounters with painting, photography, and video.
"Uptown" takes its time and tests the space. Julie Mehretu and Jessica Rankin use the outside corridor for works on paper between fluid squiggles and landscape photography, while most others have just a work or two apiece, not all of it recent. Nari Ward plops a big assemblage down in the main area, while Marta Chilindron suspends translucent acrylic from above. Reza Farkhondeh uses the front of the entrance partition for floral painting, while Shani Peters places a rug and cushions around the back for a place to meditate or simply to sit. Virginia Inés Vergara and Balleté Ross Smith have new media alcoves, while Renee Cox and Elizabeth Colomba share an alcove for photography. They add up to a healthy variety of scales and media.
Diversity is all part of the game. Their origins and family histories range from the Bronx to the Middle East, Africa, Europe, South America, the Caribbean, and Southeast Asia. Some have quite a geographical history all to themselves. Many are black, and they look around them—as with Harlem portraits in photography by John Pinderhughes. Others look to the past, like a Willa Cather poem set amid period wallpaper by Elaine Reichek, or within. And yet they, too, are part of a compromise between business as usual and reaching out, from a gallery dying to enter the big leagues.
Uptown boys and girls
"Uptown" is not just an opening exhibition, you see, but a triennial. Consider it less a promise than a threat. Who needs yet another roundup after the Whitney Biennial, New Museum triennials, and "Greater New York" at MoMA PS1? Who needs another focus on upper Manhattan after the periodic displays of emerging artists at the Studio Museum? That museum will be expanding, too, and what if it looks to Columbia for temporary space while renovating? Will anyone notice the difference?
Yet this installment works—because it is as focused and open as the architecture. The curator, Deborah Cullen, cultivates encounters, in the hanging but also in collaborations like that between Mehretu and Ranking (a couple in real life as well). When their typewritten fragments speak of "a history of life on rocks that change," they could almost mean New York as an island in the mouth of the Hudson. Farkhondeh, too, is a collaborator, with found poetry culled from emails and with imagery in thread from Ghada Amer. Encounters extend as well to the roughly equal numbers of established artists and newcomers. They serve as a useful reminder that not all the first have abandoned the city, and not all the second live in Brooklyn.
Encounters include those between artist and subject, as with interviews with seniors in Cuba by Alica Grullón. They include private and cultural histories as well. Paintings in mortar by Duhirwe Rushemeza allude to native materials in Rwanda, while collage and impasto by Ademola Olugebefola draw on the colors of St. Thomas. David Shrobe brings together "old and new portraits" with chair caning. Besides her rug and cushions, Peters has group portraits, but also words burned into wood panels as if still aflame. They speak of "black life eternal," "fire every time," and "settle rise again."
Much of the art is political, but not polemical. Paintings by Vladimir Cybil Charlier attest only indirectly to the price in Haiti of dissent, while José Morales identifies the faces in police lineups as only discards—because lives and identities alike have been thrown away. Generally the more the artists celebrate identity, like Cox's Yo Mamadonna or Smith's video of hip-hop in a park, the less convincing they become. Miguel Luciano's Puerto Rican flag in Pan-African colors rehashes an American flag by David Hammons without the biting humor. Colomba makes ingenious use of art history in her photographic appropriations. Now if only her women preened a little less.
Sometimes the higher the work aims, the more enigmatic it becomes. You may not recognize the materials on vinyl barriers from Leeza Meksin as purse strings and body bags—or the breaks in acrylic by Tomas Vu as Vietnamese texts. Maren Hassinger embeds Fight the Power in newsprint, but not legibly. Her power lies more in the torn and twisted paper overhead. Sanford Biggers connects small black sculpture to tall black silhouettes on the wall, as the shadows of racial violence. Audio and optical disks by Michael Kelly Williams allows a culture to speak out or to shine in silence.
Ward makes the most of the central space—to return to what Columbia might have wanted to leave behind. Out in Socrates Sculpture Park in Queens, he recreates the marquee of Harlem's Apollo Theater, lights and all. Here he settles for the burned-out sign on a liquor store. Lying on its side, it becomes a giant window box, but for artificial flowers and nowhere near a window. Like Harlem for Kahlil Joseph, it might have suffered from vandalism, gentrification, or a hard night's drinking. Either way, the remaining lights spell out SOUL, and its comedy makes the Wallach's presence in the neighborhood that much more real.
You say you want . . .
"We Wanted a Revolution." It sounds like an expression of failure or despair. It sounds, too, after John Lennon's "Revolution" (or on the centennial of the Russian revolution), like a declaration of what no one should have wanted at all. Instead, the exhibition celebrates twenty years of black women artists in context of their radicalism.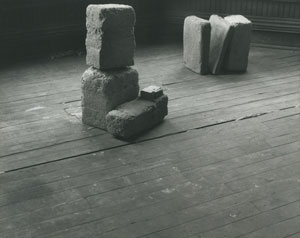 It opens in 1965, when revolution was in the air, and ends with political art as the mainstream. In between, it hints at uncertainty as to where art or politics begins or ends.
The Brooklyn Museum displays just forty artists, few of them household names. Yet the show stretches in all directions from just outside The Dinner Party, by Judy Chicago, where a history of women seems all encompassing and all affirming, to the point of sentimental. It can because the names keep coming, including the names of collectives in art, in performance, and in protest. Spiral, AfriCOBRA, the Art Worker's Collective, the Black Art Movement—it gets hard to remember them all. The first began with black males, but Romare Bearden, Normal Lewis, and Charles Alston invited Emma Amos to join them, and women assumed a greater and greater role. Ana Mendieta curated "an exhibition of Third World women artists of the United States" at A.I.R. in 1980, including broken columns by Beverly Buchanan, and Linda Goode Bryant founded her gallery, Just Above Midtown (or JAM).
At the center of the room outside The Dinner Party, Elizabeth Catlett combines curves and hollows out of Constantin Brancusi, an arm raised in a salute to black power, and the cedar of folk art and craft. Modern art, it says, can get along just fine with politics and community. Betye Saar says much the same with an assemblage akin to a Joseph Cornell box but mirrored, as Black Girl's Window. So do Jae Jarrell's fashion designs, paintings by Faith Ringgold that recall quilting, and Ringgold's mural destined for the prison on Riker's Island. So more obliquely does the show's largest work—including a cloak of black bronze and wool by Barbara Chase-Riboud, black wire sheaves by Maren Hassinger, or (in a photo) hosiery sagging down from an open window as Rapunzel by Senga Nengudi. More often, though, artists seemed way too busy protesting to think of art.
They had a lot to protest, including the paucity of women in museums. Posters have the psychedelic colors of the 1960s and harsh edges closer to woodcuts. Jarrell's husband depicts Angela Davis in the style of an album cover by Jimi Hendrix. A torrent of documents appears throughout. Whatever is near monochrome by Howardena Pindell doing here at all, for all the density of color and cut paper like crushed eggshells? Well, she did lead a protest against "The Nigger Paintings" by a white male at Artists Space in 1979.
Like "WACK! Art and the Feminist Revolution" before it, the show works better as history than as art. It is also a narrow history. One might never know that a black male, Tony Whitfield, joined Pindell's protest—as did Lucy Lippard, the white critic, and Ingrid Sischy, entering her term as the white editor of Artforum. One might never know, too, that art addressed poverty, apart from etchings by Kay Brown, or that Mendieta was Latino. Still, it is a lively history of race and gender. Catlett's Target zeroes in on an African American male head, while a woman with her breasts swing open to reveal a red light, thanks to Alison Saar.
The curators, Catherine Morris and Rujeko Hockley, gain from the mix of media. Blondell Cummings treats the drudgery of housework as modern dance, before it induces a seizure. They also gain from the politics of the "Pictures generation"—although "Pictures," the 1977 exhibition at Artists Space, had no black women at all. Three years later, Lorraine O'Grady subverts standards of beauty as Mlle Bourgeoise Noire, while Coreen Simpson brings the glamour of fashion shoots to a Harlem church. Lorna Simpson and Carrie Mae Weems have their caustic encounters between photography and text. There is a lot to remember and, as Weems concludes, "Don't you forget it!!!"

"Uptown" ran at the Wallach Art Gallery of Columbia University through August 20, 2017, "We Wanted a Revolution: Black Radical Women" at The Brooklyn Museum through September 17. The Lenfest Center for the Arts opened April 22, the Wallach Gallery on June 2.