Friend or Faux
John Haber
in New York City
Florine Stettheimer and Rosson Crow
Florine Stettheimer had spectacular views from her living room. She did from her studio, too, overlooking the New York Public Library and Bryant Park, but nothing like the view in a painting from 1933 of her family at home. It opens a retrospective that presents her as always cosmopolitan and always at home—in New York, in Europe, and in modern art.
If you know her at all, you may think of her as halfway primitive and more than halfway mad, and frankly so do I. Not the Jewish Museum. It shows a woman in command of her art and her place among artists. It shows her as not just a painter, but also a poet, a designer, and a choreographer, with stage sets to her credit on Broadway. In that family portrait alone, she commands an entire city. As a postscript, Rosson Crow updates Stettheimer's soirées for the cathedrals of art today, with a still life set in a cross between a party and a madhouse.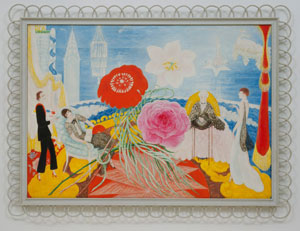 The view from her living room
As so often for Stettheimer, the view goes beyond anything that she could ever see. It has her mother and sisters in the most elegant of furnishings and fashion. Yet it opens onto the Hudson River and Lady Liberty, adding untold square feet to their West 58th Street apartment. Flowers bloom in the foreground, large enough to eat them and their surroundings alive. And, wait, is that a second crystalline chandelier next to the first one? No, it is the Chrysler Building, bringing its Art Deco touches indoors.
It is funny and exultant, but also pure theater. (Does one sister pose next to a stage curtain or a domestic one?) It is also a woman's world. Her father, a German Jewish banker, had deserted them long since, and they seem none the worse for it, whether emotionally or financially. It is also thoroughly up to date. The Chrysler Building had begun as recently as 1928, and it reigned as the world's tallest building for eleven months, until the completion of the Empire State Building in 1931.
Stettheimer loved New York for its dry wit and sophisticated pleasures, with echoes today in Andrea Joyce Heimer, and she says as much in poetry. "I like slippers gold," she writes, and "oysters cold," beneath a "sky full of towers." She will be sending you out to tour the city as well. Family Portrait, II draws on the Museum of Modern Art, an earlier interior from the Brooklyn Museum, and costume designs from Columbia University, although not another floral river view in the Whitney. The show also includes an elaborate dollhouse with tiny paintings after artists she knew, a collaboration with a sister now based at the Museum of the City of New York. You will have to continue to the American wing of the Met for her The Cathedrals—the cathedrals of art, Broadway, Fifth Avenue, and Wall Street.
The show, then, comes as less a comprehensive survey than a correction. Stettheimer exhibited just once in her lifetime, at Knoedler, one of the city's most elite and progressive galleries, and it bombed. She has gained new prominence from the recovery of women artists, the elevation of craft and design as art, and the dissolution of boundaries between outsider art and, well, everything else. And her most notorious paintings resemble folk art in their busy compositions, flattened perspective, and reduction of people to willowy wisps of paint. Their style made a sensation in a booth devoted to her at the 2017 Armory Show—and they have invited responses from such contemporary artists as Crow. This exhibition, though, has quite another story to tell, of a worldly woman and a world-class education.
"Painting Poetry" supplements just fifty paintings and drawings with photographs, ephemera, and poetry on the museum walls. The layout, by Galia Solomonoff and Alejandro Stein, feels less like a cathedral than a maze—or, for those into Manhattan real estate, walk-in closets. They start with a personal and family history. Born in 1871, Stettheimer displayed her talents as a teenager, with more than credible pencil studies of a woman's head and a nude. She also attended the Art Students League, then a fairly conservative institution. In no time, though, the women were on their own and, together, off to Europe.
They ranged widely and made friends easily. Stettheimer's included Georgia O'Keeffe, Elie Nadelman, and Amedeo Modigliani (not yet "Modigliani Unmasked"), and Alfred Stieglitz begged her to exhibit with him, but she had a particular companion in Marcel Duchamp. Her eye, though, was never altogether on the avant-garde. It was still a new century, and she also looked back to Symbolism, Art Nouveau in Austria, and Vincent van Gogh—whom she mined for yellow-orange flesh tones and palpable brushwork. She paints her sister Carrie as a woman in white out of John Singer Sargent or William Merritt Chase, and she delights in heavy frames patterned like lace. Well into her forties, she stood awkwardly between the comforting realism of the past and the Cubism of the future. No wonder her solo show bombed.
Quite a party
By then the family had returned to America with the end of World War I, bringing once more the shock of the new. She was expanding her commitment to Modernism as early as 1912, with plans for Orphée of the Quat-z-Arts (or "Orpheus of the Four Arts Ball"), a ballet named for an annual night of costumed revelry in Paris and inspired by Claude Debussy's Afternoon of a Faun. She hoped for a performance with Vaslav Nijinsky and the Ballets Russes, but it never came to be. Still, the failure of her exhibition in 1916 and the energy of New York must have hit home, and she quickly settled on a mature style. It has the lightness and electricity of bright colors atop and mixed into broad areas of chalky white. The curators, Stephen Brown of the Jewish Museum and Georgia Uhlyarik of the Art Gallery of Ontario, describe it as faux naïve.
Friend or faux, it expands to two aspects of The Cathedrals of Art. The next room has portraits of figures from the art world as dandies and intimates. An art critic holds the latest tennis scores. She paints herself as well, posed like a more fashionably slim version of Olympia for Edouard Manet—or Manet's source in Titian. Where Titian has his Venus and Manet a brazen hooker, Stettheimer has only her nude body and flaming red hair. And where a servant brings Olympia a bouquet of flowers, she literally and figuratively holds her own.
Another room takes her, like The Cathedrals, in and around the metropolis—and to the crux of the matter: is this outsider or insider art, and is it loving or satirical? One can hardly speak of an insider with anyone working so entirely on her own terms, and one can hardly speak of an outsider with anyone so at home. One can look for satire in a beauty pageant dedicated to the memory of P. T. Barnum or, for that matter, in The Cathedrals of Wall Street as a temple dedicated to America and FDR. Still, she had her own love of beauty and her family fortune, not to mention Roosevelt's progressive politics. In her Asbury Park as a bourgeois idyll, blacks and whites appear on equal terms.
One can look for satire in Bendel's, the department store, where shoppers primp and preen. Then again, so do her sisters in another interior. Even as they laze or wilt in the heat, they let their arms rise or fall like divas. One might call it all simply theater—or an eternal holiday. Other paintings present a birthday bouquet and skaters in Central Park for Christmas. One might call it all, too, complicity, whether as joyful cooperation or near criminal conduct.
Hers is a world of family, friends, and contributors. Does it seem biting or complacent to present Duchamp, the founder of Dada, as a dandy? So most often did he, posing in a suit and tie or as his female alter ego, Rrose Sélavy. The show ends with Stettheimer's greatest contribution to theater and most notable collaboration, Four Saints in Three Acts. She was responsible for the designs for the 1934 opera by Virgil Thompson and Gertrude Stein. She did so, much as in a doll house, not with paintings or drawings but figurines.
Collaboration changes everyone. The rapid-fire comedy of Stein's "Pigeons on the grass alas" takes on the slower grace of an African American cast in sultry white robes. I hesitate to call anything to do with Stettheimer mass culture, although her poetic ode to New York includes Disney cartoons and colored balloons, but the performance took place not in an opera house, but right on Broadway. Who knew that one would ever see Stein's name on a marquee? For the artist, too, complicity meant both self-interest and reaching out. She may have welcomed so many into her home as a strategic alternative to public exhibitions, but it was still quite a party.
Cathedrals of the LES
What would Stettheimer have made of the Lower East Side today? Would she have counted it among her Cathedrals of Art? Not that it looks all that much like her painting by that name from 1942. New Yorkers know it well from the Met, with not a craft beer or hipster in sight. Set in a mansion-like interior with a red-carpeted stairwell that would have put Gertrude Vanderbilt Whitney and her museum to shame, it includes highlights of the city's major museums. Women after Pablo Picasso run riot amid an impeccably dressed cast of museum directors, critics, dealers, and the artist herself in white, idling ever so gracefully to the right.
Still, the critics and dealers have moved on by now, and so indeed had Stettheimer. She never exhibited in her lifetime anywhere near the Met's central stairs (the painting's real subject), although she did show that once at Knoedler in its prime. She preferred the company of Duchamp, O'Keeffe, and the Society of Independent Artists downtown. She was mocking Modernism's pretensions well before the "Pictures generation," in a style akin to outsider art well before it, too, came into fashion. She also designed sets for an opera's all-black cast that would not have found a welcome at a proper soiree. Besides, her paintings are way over the top.
So is Rosson Crow. She considers herself in "spatial conversations" with Stettheimer, although hardly a quiet or intimate conversation. It comes with exclamation points, like that in a tabloid confession in a large, unruly canvas: "I want to be a slave to some man!" Other Xerox transfers layered with paint include Mae West as Diamond Lil and "JFK's Brain Found in Cuba." Paintings like these are knowing if not exactly leading with their brain.
If that sounds hysterical, Crow calls the work "Hysteria." Sigmund Freud outgrew Studies in Hysteria, his early collaboration with Josef Breuer, but the term still carries historical baggage. It announced the discovery of the unconscious and the primacy of sexuality—like that intruding into the cathedrals of art. Yet it also pigeonholed women, much as critics soon enough pigeonholed Stettheimer. She, like her collaborators and supporters, were feminists before their time. Crow also evokes "the feminine" in her affinity to Pattern and Decoration, much like Miriam Schapiro. The nearly abstract images mix carpeting and wallpaper with floral arrangements and still life.
Stettheimer in conversation might have enjoyed the conversation. Thanks to her German Jewish family, she might have known actual denizens of Orchard Street back then. Yet she knew her way around Broadway, Fifth Avenue, and Wall Street. She meant her paintings critically, but they also had their touchstones in American Modernism and fine art. Crow is more at home in pop culture, like much of art now—or, for that matter, like the Lower East Side. Not that she out to provide an allegory, like her predecessor, of either one.
Still, she packs a lot in, starting with the layers of primary color. Red predominates, because this is hot stuff. Mostly she is having fun, and Stettheimer could go along with that. The Whitney opened its own mammoth cathedral of art, at the foot of the High Line, with Stettheimer's painting of lower Manhattan and the Statue of Liberty on display. She believed in liberty, especially if that meant pushing things over the top. A found carved eagle presides on top of the frame.

"Florine Stettheimer: Painting Poetry" ran at the Jewish Museum through September 24, 2017. Rosson Crow ran at Sargent's Daughters through May 17, 2015.