A Woman's Bodies
John Haber
in New York City
Aneta Grzeszykowska, Joan Semmel, and Marilyn Minter
In one important version of feminist art, a woman must reclaim her body and her autonomy from the male gaze. For Aneta Grzeszykowska and Joan Semmel, the next step is to reclaim it from her own. Semmel's paintings double it, on the way to a more unified vision in the face of age, while Grzeszykowska's photographs and video take it apart, only to find its parts turning on themselves. So which is the realist? And what about Marilyn Minter, in painting and video that start with photographs?
Not every museum retrospective comes with multiple warning labels about adult content, but then not every retrospective includes a commission for Playboy. Marilyn Minter welcomes comparisons of art to pornography, but on her own terms. The opening wall text at the Brooklyn Museum says that she plays on "our deepest impulses, compulsions, and fantasies." Really, I wanted to reply, speak for yourself. And so she does, emphatically. Like the warning labels, she is out to lure you in and to turn you away.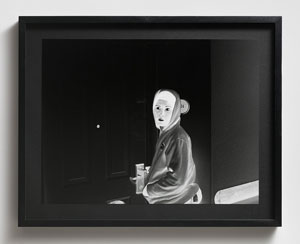 No/body home
Everyone has those embarrassing moments when the body takes on a life of its own. For a man, they may come in the pain of aging joints or the inexplicable rising between his legs in the middle of the night. For Aneta Grzeszykowska, the uprising verges on mental as well as physical abuse. Her four limbs, separated from each other, take her face out of hiding, assault it from all sides, lead it on, and then punish it again. Their torments continue in photographs, where again the body parts refuse to add up. This is not all in her head.
Or is it? Grzeszykowska created that video, head and hands together, to reclaim her mind and body as her own, from what a French theorist might call "the abject." In bringing her head and her feelings out in the open, it also serves as a revelation—and the ritual continues in a second video, where sparks fly from her mouth. She becomes her own creation in the photos in another way as well. What looks like her amounts to a paper doll in progress, but molded in parchment and pigskin from her flesh. It is also, often as not, a mask.
It is, she asserts, the body in "No/Body," a two-gallery exhibition. The other gallery contains the defiant no. There she blackens her entire body on video, except for her lips, tits, and crotch. And then she recovers it again in photographic negatives that turn her ghostly presence into white. Nude black and white sculptures, nearly life size, further challenge which version came first. One looks more self-contained, the other more vulnerable, but both could have stepped right out of the negatives and fallen to the floor.
For a woman, who commands her body is a feminist question. And the act of reclamation targets the viewer, not least when male. Grzeszykowska links her work to Cindy Sherman, Ana Mendieta, and a fellow Polish artist, Alina Szapocznikow—and she could well have mentioned Laurie Simmons playing with dolls or Barbara Probst. She inserts her torso in photographs by another, too, much as Sherman places herself in film noir. She has roots in Surrealism as well, as in the choreography of naked and prosthetic limbs for Hans Bellmer or Pierre Molinier. There, too, heads get lost.
Surrealism or domestic habits may account for still another alter ego, a black cat. One contented feline overlooks her naked body stretched out on a sofa, in one of the borrowed photos. Another sculpture, this time in leather, makes her into a cat woman, with pointy ears to show for it. And Grzeszykowska is at her most domestic at her most surreal, in the negatives. They show her with family and at leisure, at home and at the beach. Even there she is applying makeup.
They have their own threats to her body as well. Knee deep in a turbulent black ocean, beneath a black sky, she looks anything but secure. At home, she shares space with what might be children or dolls stiff on the ground. She is still searching in the mirror for her reflection and herself. Yet she shows no sign of terror. No/body is at home.
Two views of aging
If you are like me, you have trouble approaching Joan Semmel. You think you know her by now, and you know all too well what to expect. You expect a display of skill, from an artist on intimate terms with portraiture, anatomy, and her own flesh. You expect an unblinking frankness, from a woman in her eighties willing to confront the harsh toll of age. You expect a certain self-obsession, because she takes that as her subject. You know her filling a canvas and then some.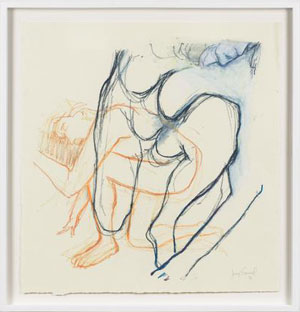 Once again she rewards those expectations. She is literally baring herself. And once again she accepts the limits of realism, long after art began to link honesty not to the truth in painting, but to skepticism. She portrays herself as vividly three dimensional, but also up against the picture plane and at alarming angles. You know by now to associate that defiance of convention with Mannerism or expressionism—further markers of physical and emotional pain. You expect it to earn extra credit for defying sexism and ageism as well.
Still, you might have to look again. She is not striving for photorealism, whether in the atomization of its subject for Chuck Close or the Neo-Mannerism of Philip Pearlstein. Nor is she at the opposite extreme, with twisted features as an obvious emblem of revulsion for Lucien Freud or Francis Bacon. She does not spend much time on her crotch and public hair, unlike Betty Tompkins. She has even less in common with what has become a kind of official style for American realism, after Alice Neel—with breezy gestures and colors skating over an apparent concern for the individual. She is just going about her business, she seems to say, with pleasure.
I admit to finding all these versions of realism a little too easy, including much of her own past work. (Perhaps I can accept detail and gesture more easily in landscape, where they correspond to the limits of sight.) They can look even less relevant now that abstraction and realism so often blend together. Semmel, though, is also defying expectations. She may throw an arm across her face, as if in shame. She may cut off her face, as if in agony, but her features, when they appear, look calm and measured.
They also leave much of the action to her breasts and lower body. They come off not as disfigured, as for Grzeszykowska, but proud, monumental, and even sexy. If that sounds like still another version of politically correct, there, too, she plays against stereotype. More than before, she seems to be searching for herself rather than sending a message. How can someone in those poses simultaneously observe herself? And where exactly is she?
Most of her latest paintings or works on paper combine two images, one in bare outline and one in full. They play off against one another, as two views of the self, or combine into a single elusive body. They also bring out the display of painting for its own sake, in the translucency of oil and oil crayon. Colors run from flesh tones to exaggerated yellow, pink, and blue. She still sees self-portraiture as feminist, much as for Mira Schor—and the aging naked body as a means "to fully experience our common humanity." At her best, that common humanity will always lie first and foremost in paint.
Obscure objects of desire
Marilyn Minter has invited outrage since long before that Playboy series of women shaving their pubic hair, Plush from 2014. At first, she did so less wittingly, much like Cathy Wilkes. Photographs in black and white from 1969 show her mother at her make-up mirror and in bed, smoking. They evoke a southern belle out of Tennessee Williams and, more subtly, a real woman's descent into alcohol and addiction. They scandalized fellow students with, no doubt, a very different ideal of femininity, mothering, and the old South.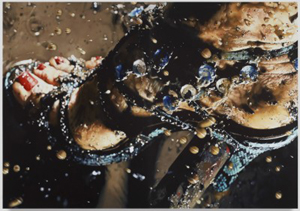 They look ahead to Cindy Sherman as well, but this is not a pose.
Not yet, at least. By 1989 Minter is painting after images of food torn from commercial art and, soon after, images of women torn from porn magazines. Both series have their share of stand-ins for an erect penis, and both allow women to use their tongue. By the mid-1990s, though, she is staging scenes herself. She is also teasing an audience more likely to be watching adult content than reading art criticism—with a commercial for late-night TV, showing her at work. An ad for a proper art magazine, she observes, would have cost about as much.
Since then, she has taken naked flesh to a larger and larger scale, temptations and blemishes intact. Food porn gives way to the disgust and allure of caviar, vodka, and liquid candy dripping in and from a woman's mouth. As one title has it, she is having a Meltdown. In her latest on the Lower East Side, women appear ever so close to the picture plane but behind glass. Drops of water on the glass have the sparkle of photorealism. They assert both immediacy and distance, and both are alluring but also unnerving.
Minter's technique asserts much the same. Her first paintings already push at once toward photorealism and abstraction. They also introduce tactile sensation, liquids, food, and disgust—with splashes on linoleum or frozen peas in a sink. These days, she photographs models, creates a montage, blurs or heightens it in Photoshop, and renders it in enamel on metal, with ample help from studio assistants. She may draw over the top with her finger, like graffiti as finger food. One can hardly get more engagement or more distance.
Born in 1948, she grew up in Louisiana and then Florida, but she is playing with a very urban sophistication. The Brooklyn Museum has shocked defenders of moral values before, with the Madonna in elephant poop by Chris Ofili and with work in its collection by Robert Mapplethorpe. Minter made the show's final slow-motion video for the museum's 2014 exhibition of "Killer Heels," although the motif also appeared in the 2006 Whitney Biennial. She is in a line of women artists exposing themselves or others—including Sherman, Semmel, Betty Tompkins, Carolee Schneemann, and Marina Abramovic. When she asks why women cannot "own our bodies," she is speaking the language of feminism. The result, as the title of her retrospective has it, is "Pretty/Dirty."
Is that enough to respond to outrage—including the outrage of those who see only glossy, demeaning, and painfully obvious images of women? Does it change anything that these fragmented images are from a woman's hand? Maybe not, not even when Minter's chilly, silvery heels splash in water as if taking a hammer to the male gaze. One can, though, start to appreciate the layers of temptation and distance. She calls a painting Private Eye, with a play on a woman's point of view and private parts. It is one proudly obscure object of desire.

Aneta Grzeszykowska ran at 11R and Lyles & King through October 16, 2016, Joan Semmel at Alexander Gray through October 15. Marilyn Minter ran The Brooklyn Museum through May 7, 2017, and at Salon 94 Bowery through December 22, 2016. A related review looks at Minter in 2005.