Looking Backward
John Haber
in New York City
Charles Burchfield
Some people refuse to grow up. You may know them by the tantrums they pull. On some weekends, Chelsea looks like an enormous playpen, in which the artists refused to clean up and to put away their toys.
Charles Burchfield must seem the antithesis of all that. Born in 1893, the Midwesterner settled in upstate New York and out of the public eye. In photographs, he looks like a small-town accountant, hair partly neatly in the middle and collar neatly stayed. A textbook of Modernism is likely to skip past him, but then he was not a textbook modernist. He painted landscapes, the kind that, much to his annoyance, made him known as an American regionalist. If he encountered Cubism or Surrealism, he shows little sign of it.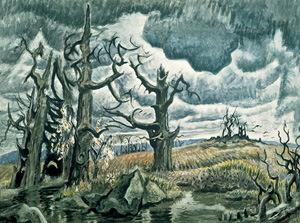 Burchfield never did, however, outgrow a child's encounter with nature. He kept hearing Church Bells Ringing, Rainy Winter Night and The Insect Chorus before dawn, to quote just two of his early titles. He seems never to have gotten over childhood fears of chasms in the woods. His late watercolors mingle elation, Gothic fantasy, and a serious touch of Disney. He doodled obsessively, and he collected and catalogued his doodles. His retrospective includes two whole rooms of them.
Many artists thrive on the collision between adulthood and the innocent eye, and probably most find a groove before too long. They discover art happening around them, and they come alive. Burchfield did, before his twenty-fourth birthday, in what the Whitney calls "a golden year." He had his sole stay in New York, before retreating again to Buffalo, and work from that year later became the Museum of Modern Art's very first solo show. As it turned out, annotating them for MoMA was only the first act in a long career of revisiting his watercolors, remounting them, and reimagining them. It makes him perhaps the ultimate prewar American artist and a reluctant modernist, even in old age, but his best color was still black.
Fears, memories, and wallpaper
Burchfield worked almost solely in watercolor, not counting the doodles. It makes his work fragile, and his retrospective (which began at the Hammer in LA) will not travel further. Much lies in private collections or upstate museums—the Albright-Knox in Buffalo, the Munson-Williams-Proctor in Utica, or the Burchfield archives at the Burchfield Penney Arts Center also in Buffalo. And one could do worse than to start with that one long year, between 1916 and 1918. The show's second room recreates as much as possible his MoMA show of April 1930. Wall labels quote the artist looking back.
The subjects themselves sound like paradigms of lost time—Afternoon in the Grove, Garden of Memories, The Song of Katydids on an August Morning. They also sound idyllic, but this is not the New England utopia of Looking Backward, published five years before Burchfield was born. Where Edward Bellamy's vision was socialist, Burchfield is always isolated. He has one far-away city, more or less unreachable, in black silhouettes spotted by eerie white reflections of clouds or attic windows, a little like a bombing run. He has a grand total of two people, including a woman in "crabbed old age" framed by the blackness of an open doorway and her garden of memories. The other, the artist's mother, is also dark and blurry, like a haunting.
Nature has a way of hovering ominously, like a huge cloud over a dead-vertical storm. A bare tree gnarled like a Gothic tower looms in the distance, and The Night Wind stirs cloud shapes into ghosts. Humanity, though, is worse. Mostly it, too, does a lot of looming, like eaves peeking out above dense trees arching the insect chorus. A Romanesque tower rises behind wheat fields and bare clearing, crossed by rigid streaks of sun and shadow. A mine pit ruins a willow grove.
Burchfield's notes do not sound all that worried—or at least they take childhood fears in stride. They know that "the fear of the black, rainy night is overpowering." Yet they take delight in "a rogues' gallery of sunflowers in the brilliant, dry sunshine of August." Rogues, brilliance, and dryness can get along, as can all sorts of sources. Staccato leaves have the precision of a disciplined observer, but also an abstract designer. A blizzard has the black-on-white tracery of Asian art.
He could not have seen Surrealism, although the Whitney has placed him with American Surrealism, because it did not exist yet. Georgia O'Keeffe was finding her way between nature and abstraction at the very same time, though in a very different circle. Burchfield grew up in Ohio, studied art in Cleveland, and even in New York attended the conservative National Academy of Design. It was just enough of the big city to loosen him up. Back upstate, he took a job as a wallpaper designer—again eclectic enough to mix art and design, like such paper hangers as Dawn Clements today. He sketched the factory during lunch breaks.
The curator, Robert Gober, includes not just documentation and doodles. He also decorates a room with floral "camouflage wallpaper." (It looks brighter and crisper than tastes and reproduction techniques back then probably allowed, but Burchfield did design camouflage for the army shortly after World War I.) Anyone who knows Gober's sculpture would be disappointed without the nod to kitsch. Andy Warhol, too, started in commercial design and, in Warhol's last decade, used his self-portrait for wallpaper. The conservatism and wildness of Burchfield's career makes for a revealing retrospective.
Welcoming the Depression
The show actually opens with sketches, in graphite and grease pencil, from about the same time as the early watercolors. They make clear the artist's eclecticism and his fears. One sheet has the tall swirl of an ocean wave out of Japanese art, to represent Fear. A gaping mouth with comic upper teeth stands for Dangerous Brooding, while a grin topped by a delicate smudge stands for the Fascination of Evil. Quite a few forms resemble nuts or genitals. What good are childhood fears if they cannot see sex lurking everywhere?
As usual, Burchfield's sense of humor reveled in ambiguity. The series looks like casual jottings, and he called one sheet Aimless Abstraction, but, he wrote, "most evolved from visual experience." The third room, with the wallpaper, represents a retreat, but also a time of learning. He was paring back the brooding and abstraction, while working on his craft as a realist. He kept his interest in abstraction, but he never flirted with American Cubism. This is, I think, his weakest decade—and it surely earned him the regionalist label.
What saves it is the discovery of color. His best and favorite color is always black, touched at first by pale yellow. Contrasts deepen in the 1920s, as in the gleaming copper hull of a boat, white snow on mountains and rooftops, or the red of fire. It speaks to his limits that the fire is not a sunset but a literal house fire. It also speaks to his growing confidence that firemen arrive to put it out—and to his distrust of humanity that people gather to watch it burn. That glorious boat is icebound.
He truly is gaining confidence. In the doodles, he at last allows a "free exercise in abstraction." The stacked curves and symmetry also further his interest in organic growth—although they could pass, too, for another interest of Warhol's, Rorschach tests. Clearly Burchfield is not free of psychological self-examination. MoMA's show further cemented his confidence, and he quit his day job. For my money, he peaks in the 1930s.
An artist this depressive must have welcomed the Depression. A bright 1929 watercolor renders a dump of scrap iron, and designs after that become hulkier, but also interrupted and emptier. A deserted factory trestle brings out his new concern for structure and his love of black. He had learned from his friend Edward Hopper, judging by the city street in Winter Twilight. Artificial light silhouettes figures outside the cold storefront, and buildings end abruptly in menacing empty space. In this and a vivid abandoned factory, both from the Whitney's permanent collection, he works for once in oil on board.
The Depression brought him, unlike those he pictured, his greatest success. He never quite belongs with "the American scene." Something about him refused its Modernism and its empathy. He does not have the documentary impulse, the decorative flatness or meticulous depth, or the political urgency. If people have lost their job, they have also departed—leaving a cramped, empty interior or a dark ravine. They appear once, not as angry workers but as builders.
Watercolor, Freud, and Disney
For many artists, the economy is counter-cyclical. Some who feel excluded by auction prices, Chelsea hype, and cable TV have welcomed the Great Recession, hoping that it will clear the air. (I wish them luck.) The Depression came with not just new urgency, but also government funding. In contrast, World War II all but cut off Burchfield's sales. It also brought back his demons.
At first, he was not sure that he could work at all. In time, he made his tendency to catastrophic self-examination into an art form. In that lonely Buffalo suburb with the preposterous name Gardenville, he got himself back to the garden. Factories and even houses practically disappear. So does the very act of creation from scratch. He returns to his early watercolors—with a vengeance.
The dates of his late work take on epic or comic proportions, in spans like 1917–1955. He chooses a watercolor from his golden year and attaches additional sheets to make a larger work. He typically works over it so that one cannot see the seams from the front, although as usual he keeps records of everything he does. Where earlier he fixated on childhood, now he fixated on his breakthrough moment—which itself came over a dozen years after he had executed the work. He expands on the earliest themes of watching and listening, with close-ups of tree trunks, butterflies, and, yes, nuts. He proudly tells a friend to take note of the acorns in the right foreground of one big watercolor, beside a tree.
Out of fashion, he found himself trapped in the past just as postwar American art was taking center stage. In turn, his embrace of the past led him into a vicious circle. He became known as a watercolorist, itself supposedly a minor medium after the triumph of American painting. At the same time, he did evolve past Freudian doodles, just as did Jackson Pollock. He altered his technique to include chalk and gouache with watercolor, and his insistence on a larger scale in fact parallels the mainstream. I wonder if he consciously struggled against it.
His style also evolved, in part because the large format gave him more space around the foreground object. Compositions become lighter and more vertical. Perhaps the brightest of all takes place at three in the morning. The retrospective borrows its title from one watercolor, Heat Waves in a Swamp, and he says that he enjoyed drawing while wading knee-deep. I, for one, associate Buffalo more with barren earth, a depressed economy, and nearby Niagara Falls than with swampland. Burchfield did, however, paint light and heat.
He turns from winter almost exclusively to spring, summer, and autumn. Right up to till his death in 1967, he wants nature shaped by the imagination and charged with personal meaning, but the fears are more latent now. He lets trees and trellises climb into decorative romance and hints of Fantasia. He still works in a Romantic tradition of paysage moralisé, but with Freud and Disney competing for the moral. But which was he—sidelined in the past, the last holdout before "the American century," a visionary, an apostle of self-quotation and appropriation, or an anticipation of Postmodern kitsch? If Pollock painted "apocalyptic wallpaper," as Harold Rosenberg joked, Burchfield began as an actual wallpaper designer and ended with his own private apocalypse.

Charles Burchfield ran at The Whitney Museum of American Art through October 17, 2010.