A Stone's Throw Away
John Haber
in New York City
Lee Ufan, Stefana McClure, and Idris Khan
Lee Ufan makes a critic's job look easy. Starting in 1964, he set large white stones on the floor, just apart from a sheet of dark steels sometimes poised on edge. They might be facing off once and for all.
Ufan, though, does not accept a once and for all. His sculpture defined a movement in Japan called Mono-ha, or "school of things" (and the subject of a related review), but it was more a process art that left things behind in is wake. His paintings of the 1970s descend into white only when the pigment runs out, and over time his ideas can run out as well. At the Guggenheim Museum, "Marking Infinity" grows more and more repetitive and forcibly serene. The ideas are more complex than they appear all the same.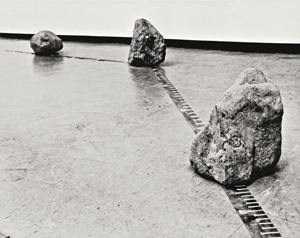 Ufan plays his roles as Asian artist and modernist all too well, and the European market has rewarded him for it. He draws knowledgeably on East and West all the same. So does a pairing of exhibitions by Stefana McClure and Idris Khan, whose polished stone and paper hold indecipherable text.
Being in exile
Interpretation comes so easily—nature and culture, eternity and modernity, meditation and industry, East and West. A Times review, by Ken Johnson, wrapped it all up neatly in just that way. For Ufan, Kishio Suga, and Mono-ha, though, the terms refuse to line up or, for that matter, to apply. A boulder does not wander in on its own, not even just across Fifth Avenue from Central Park. Another boulder lands on the center of glass sheet, cracking it and refusing to budge. Elsewhere a light bulb stands in for the white sphere, but the cast shadow is an illusion, from acrylic on canvas.
The series, Relatum, sounds like an axiom of formal logic, akin to "datum" or the proverbial "thing in itself." Actually Ufan chose a Latin past participle, and one can decide how the parts relate to one another or to the viewer. Either way, as the saying goes, everything is relative—just as the rocks in one version distort the scale on a rubber tape measure. A Japanese garden is as much a human product as a factory, and both stone and steel have a noticeably human scale. Both are tactile and irregular, whether from erosion and accident or from rust and machine production. In the museum lobby, one can walk around to the back of a sheet, where (surprise) a second stone disturbs the fearful asymmetry.
The real contrast may come when one turns one's head to the lobby fountain. Frank Lloyd Wright meant something contemplative and in touch with nature, but tourists lounge along its edge, hiding the water. This is America, where drainage takes over from landscape, and tourism is half the point. Ufan is breaking one last wall between East and West, with his first retrospective in this country. It shows him at once too cagey and too serene. Still, he might teach one to take a deep breath before speaking up.
Ufan has his own fondness for words, the kind that frustrate interpretation like pop culture koans. I want to gag when the Guggenheim calls anyone an "artist-philosopher," but he relishes the part. He throws around being and becoming, along with pronouncements like "infinity begins with the self." He claims to show "the world exactly as it is," which is true by definition—or, given art's shaping of the world and illusion, just plain false. Either way, it marks him as well aware of both Western art and of his time. The parallels to the expressive act of Action Painting and to the thing itself of Minimalism are real, and his career does much to bridge the two.
It starts slowly enough, thanks in part to war. Born in 1936, in Korea under Japanese occupation, he moved to what MoMA labels "Tokyo: The New Avant-Garde" to study philosophy. He spoke up for negotiation with North Korea, but his work skirts safely past politics, as indeed past so much else. He shares the rolled steel with Joseph Beuys, but not Beuys's self-involved history of World War II. Still, one can see his detachment as a consciousness of exile, not unlike what befell Marc Chagall or what another summer show calls "Ostalgie." It allows him to see past geographic boundaries.
Terms like being and becoming belong as much to postwar fashions in Europe, in phenomenology and existentialism, as to Zen. The steel wall may make one think of Richard Serra, and later trapezoidal paint smears look a little like Serra's black drawings. A cotton cube lines the edges of more steel in the 1980s, waist high and like the faces of a die. Tony Smith called his larger black cube just that, Die. Ufan, though, keeps his calm and his distance. Unlike a Serra prop piece, his welded steel sheets rest stably on the ground, neither enveloping nor threatening, and forget about Smith's directive.
Back to the garden
Ufan starts right off as something of a westerner, even apart from the steel. As a 1969 gesture toward Arte Povera in Italy, he set out three huge sheets of paper in a public plaza—in a line and also blown to the wind. He was already bridging geometry and anarchy. I wonder if he knew the expression "three sheets to the wind." Soon enough, however, he has Relatum and a movement. He is, for now, a Japanese artist with little visibility abroad and political distrust at home.
For much of the 1970s, he takes to paint. "Expressive action," he says, "begins with a rupture in existence. The desire to eliminate this act and become fused with existence itself becomes the will to make art." He may be denying the self and the gesture, while reaffirming them at a higher level. Or whatever. Regardless, he is aware of Jackson Pollock and drip painting as formal, automatic, and egoistic all at the same time. Joan Mitchell might have painted his 1973 gouache on paper in overlapping strokes of blue, orange, and red.
And then the gestures start literally to run out. Minimalism comes laden with more profundity: "existence is a point and life is a line." The conceptual geometry is clear all the same, just like the point and line that Sol LeWitt left to assistants. So is another Minimalist credo, the picture plane as art object. A brush pushed against paper allows thick spots of ink to bleed through.
On canvas he works in a medium that further stresses art as object—pigment embedded in glue or, later, oil. In From Point, red daubs march from left to right, until the paint wears out in each row. In From Line, a brush laden with a rich blue descends in single streaks fading to white. Again the "will to make art" reasserts itself. The red charts resemble fingerprint records, and the blue pigment seems to rise out of nothing to its thicker and deeper top edge, like a reed or a wave. Nothing afterward matches these, because nothing is so content to let painting and sculpture do their own work.
The 1980s grow increasingly less systematic in process or geometry, just as for Nasreen Mohamedi in India. Paint wiggles, and so do stubbly steel rods embedded in cotton. By the 1990s things become still calmer and grander, as past motifs aim squarely for the museum. The acrylic in Dialogue (from 2006) becomes more like hand prints in ivory, placed one to a canvas. Some form a diptych or triptych, while a site-specific work for the occasion lands smack on museum walls. Smaller stones safely prop up arbitrary bends of steel.
With the grandeur comes acclaim—and no doubt more pronouncements. Ufan appears at last at the Biennale, in Paris (where he served as visiting professor), and at last in a New York retrospective. I want to remember him, though, as the exile at the center of things. Well before him, Isamu Noguchi combined the sophisticated arts of Modernism and Japan, content to build his garden museum in a corner of Queens. Unlike Noguchi, Ufan never smooths out the irregularities, and he never lets the tools of his craft touch the same place more than once or twice. That lack of engagement rarely confronts the viewer, but at least he knows why.
Hard to read
One puzzling thing about text art: it may be hard to read. And one more puzzling thing: the words may be harder still to understand. It takes time, good will, and maybe plastic gloves to turn the pages of artist books, and anyway literature is supposed to take on new meanings in the hands of readers. It takes hope to follow the oil stick and gesso of Glenn Ligon as it wraps down lines of canvas and into darkness or light.
In a sense, conceptual art just sustains a long tradition, only in words. The Northern Renaissance has its symbols hidden amid signs of life, an iconography all but invisible to the eye, and the avant-garde welcomed misunderstanding. And yet for the Renaissance the miracle of meaning in the visible world was the whole point, and Modernism was insisting on the thing itself. Words from Barbara Kruger, Ed Ruscha, Lawrence Weiner, or Jenny Holzer may be cryptic, but they withhold nothing. It is not Ligon who effaced an African American's identity. He is a man of few words, and he means their repetition and effacement as acts of recovery.
That still leaves a puzzle, when words and the work seem to have nothing in common at all. Stefana McClure weaves text into small tapestries, like crocheted loops of shredded paper. Idris Khan creates small explosions on paper, like fireworks or a stone cast into water, with radiating stenciled words in black and deep blue. Other work enters Holzer territory, incised into black surfaces like her polished granite, only in aluminum. These words radiate inward, as the round sculpture dips toward its center. Both sets of work insist on their craft, for aspirations to visual repose or permanence.
McClure's process makes the text illegible, but Noriko Ambe and others have carved pages before (including Guy Laramée in a fine show in Dumbo miming geology). Khan, who appeared in "Haunted" at the Guggenheim, again wears his emotions on his sleeve, with the same sad words over and over: We lost our baby. Why did this happen? I want to hear your voice. When he quotes God is great, in both English and the original, and calls the show "The Devil's Wall," it sounds like part of a sinister chorus.
And then one picks up the press release, and Khan takes comfort in the ritual of a pilgrimage to Mecca. The dips and explosions reflect the impact of "stoning"—not the horrible execution of women, but rather stones flung against a wall to cast out the devil. The work's elegance comports with an act of both meditation and community. As for McClure, her text comes from public documents of Bush administration torture, with the same anger as in Jill Magid, and she calls the show "Secrets and Lies." One can see the shredding as an official cover-up or a metaphor for brutality. Look again, and she has shaped more text into white stones, and they are casting out only the devil you know.
I could argue for the disconnect as the brute imposition of meaning or as welcome surprise. I could argue for it as misplaced seriousness or thoughtful ambiguity. McClure of course takes her title from a film by Mike Leigh, which has a little of all of the above, and on canvas she smears the text of entire movies onto a single line. Born in Northern Ireland, she may naturally inherit an Anglo-Irish tradition of artistic earnestness or literalness. Khan may get away metaphorically with murder. I prefer, though, to relish the open question—and two opportunities for beauty and reflection.

"Lee Ufan: Marking Infinity" ran at The Solomon R. Guggenheim Museum through September 28, 2011, Stefana McClure at Josée Bienvenu through May 7, and Idris Khan at Yvon Lambert through May 14. Related reviews look at "The Art of Mono-Ha" and "Tokyo, 1955–1970: A New Avant-Garde."