Real Machines, Imaginary Gardens
John Haber
in New York City
Justine Kurland, Erin Shirreff, and David Brooks
More than thirty-five years ago, Leo Marx described the machine in the garden. Today he might have found a camera—or a steam shovel preparing earthworks.
When Marx wrote The Machine in the Garden in 1964, he tapped into an anxiety within the American dream. The dream involves a uniquely American landscape—and a people with the uniquely American character to possess it. And by doing so, by planting the machine in the garden, they make both unsustainable. Artists have been trying to get back to the garden ever since, even before Woodstock. They include staged and real photographs, but also slide shows and miniature land art. They play with eternity, but they are strongly colored by the edge between nature and community in the American West.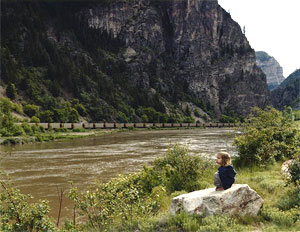 A wry, skeptical version underlies photographs by Justine Kurland, who stages parables of innocence and experience in the great outdoors. Erin Shirreff revises land art from the 1960s within the space of a gallery. "Point to one end, which is always present" uses perceptual changes as echoes of ruins indoors and out. For lovers of ash (and Ash Wednesday), the title even quotes T. S. Eliot's "Burnt Norton." But then, when Marx wrote of "the machine in the garden," he never dreamed of what he might find buried in his backyard. He had not been to one of art's most luxuriant backyards, where David Brooks has buried an entire Dynahoe tractor.
The camera in the garden
For all his criticism, Marx still sounds downright nostalgic, simply by identifying modern America with a spoiled paradise almost like, perhaps, a natural history museum. Of course, the garden of Eden has another notorious spoiler. Artists are mostly more into sex than machines anyway—unless, like Max Ernst, Leonardo Silaghi, or Cyprien Gaillard, they conflate them. Justine Kurland's photos have the virtue of including both. She all but says as much in the show's title, "This Train Is Bound for Glory." Kurland gained attention by plunking down nudes in the woods. This time, though, Marx's "landscape of the psyche" opens up a bit, people scavenge for clothes, and sex simmers well beneath the surface.
The troubled communal ideal lingers in a fiddler on rocky ground or a couple resting beneath a fallen tree. It lingers in the tawdry sheds and trailers, one decorated with a castoff bar sign: "no cover over twenty-one." Innocence has shifted from nudity to childhood, as William Blake never imagined, but children do not look at all safe. One hides naked on the back porch, while a hobo lures another into water—or something worse. He or another scruffy man has tattoos for two female names, and I had to wonder about their fate.
If Kurland's story line seems awfully familiar, so will the way she creates it. Jeff Wall remade street photography years ago, as deliberately staged and meticulously casual, while Richard Misrach merely makes the American landscape look staged. They might both have searched high and low for the beer cartons and old clothes that line Kurland's deserted railroad tunnel. And she studied at Yale with Gregory Crewdson, whose suburbia lingers like dreams. Along with Cindy Sherman and Deborah Mesa-Pelly, Crewdson has made it hard to picture an American scene without artifice and raw sex. With Hannah Liden and Naomi Fisher, too, every forest becomes a cross between a nudist colony, a frat party, and a fashion shoot.
For all that, Kurland truly believes in both the machine and the garden, as in the designs of Robert Burle Marx or a proper Romantic landscape. She has merely transposed them from Crewdson's automobiles to freight rail—and from manicured lawns to hardscrabble country. She has also spent a long time looking for scenes to stage and scenes to accept. She has also found people other than her friends to act out her dramas. Her perspective makes everything look like collage, but she saw it all. I doubt she added more to the long tunnel than her camera angle.
Kurland shuns Crewdson's magic and Liden's fashion sense. Yet she is as much in love with the land as with the trash. Her deep focus gives the near ground an unnatural crispness, but leaves a hazy light in the distance. A far-away valley seems to restage the Hudson River School with a toy train set. She often comes across as too obvious or too ragged around the edges, but that, too, has a point. The camera itself is now a machine in the garden.
It is not alone. Artists like Tacita Dean or Babs Reingold have done more than probe the border between nature and culture. They have recreated both in their own image. Earthworks reacted against the geometric rigor of Minimalism, like Mierle Laderman Ukeles with her "maintenance art." At the same time, they planted the spare forms of a gallery's white cube in the earth, on a scale that art had not seen even in Baroque churches. Were earthworks the ultimate in outsider art or the first taste of a global art world? Maybe something as modest, comic, and perceptive as Kurland's longings was there all along.
Ash Wednesday
Land art had many beginnings, some of them indoors and in New York City. A single work could have many beginnings and ending, too. In 1968 Robert Smithson displayed a corner piece of gravel and mirrors. And that same year an exhibition called "Earthworks" declared a movement. Outdoors, artists left New York to escape a museum's strictures—including the demand for great art. All they seemed to want was America. Smithson embraced entropy, and his Spiral Jetty has vanished and risen again from the Great Salt Lake.
For all that, land art reaches for eternity. That comes with the surrender to nature's rhythms. In escaping the city, an artist is staking out territory, just like suburbia, and such artists as Richard Long and Andy Goldsworthy in England have mimed ancient monuments. Michael Heizer has threatened to shoot intruders on his unfinished City, and transforming the Nevada desert does not come cheap. James Turrell has been working on Roden Crater in Arizona—and raising money for it—since 1979. Entropy is a law of large numbers anyway, even in a handful of dust.
So which is it, modesty or overreach? Most art movements run a course from one to the other, just like conceptual art and installations since 1990. Erin Shirreff reverses course. She brings earthworks into the gallery, on a human scale. In fact, they take the old-fashioned form of sculpture, still images, or a slide projection. Yet they glimpse at something beyond.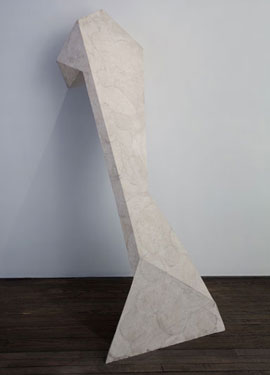 "Landscapes, Heads, Drapery, and Devils" even sounds haunted, but it stays down to earth, much like the geologic and photographic creations of Letha Wilson. Angled planes have the awkwardly human poses of public sculpture by Joel Shapiro. And Shirreff has made them of compressed ash, like human remains. Photos of what look like fossil relics capture models of wax and clay, not unlike the studio constructions of Sara VanDerBeek. On video, phases of some planet's moon slowly brighten, darken, or turn. These, too, start with studio objects.
The slide show tackles Roden Crater itself. Turrell planned the two-mile impact crater as a nexus of chambers, tunnels, and natural light. Shirreff's images stick to an exterior profile and the play of light. Like the videos and photographs, it feels a little too familiar, like public television. However, the changes in light and color tell a story, and Turrell has been trying to tell it for thirty years. Maybe he should settle for the off-white textures of ash and clay.
Like Shirreff, Shana Lutka in "Point to one end, which is always present" photographs models, but of perspective flooring that pauses abruptly on the edge of infinity. Will Rogan and Lauren McKeon evoke urban clock towers, with cyanotypes made by the light of sunset. Dan Attoe's mapping of Old Faithful gives nature a mathematical structure that Smithson would envy, though it looks more like a cover for Boy's Life. A column fragment between mirrors by Allyson Vieira combines Smithson's floor pieces and deconstructive architecture with echoes of an actual ancient monument, the Parthenon, while other plaster evokes its weathered entablature in another way. Bob Linder simply screws a steel cane into the gallery floor, though the gallery insists that it is Eliot's "still point of the turning world." But could another still point lie in the present—and on the edge of the American continent?
The ground beneath his feet
With David Brooks, I mean buried. For all its mass, one will not see A Proverbial Machine in the Garden right away, not even in those gloriously long vistas from the visitor's center on Museum Hill, across five hundred rolling acres and well over a hundred outdoor sculptures. It takes a comfortable but not negligible walk, to five slightly staggered metal grates, as if for a drainage project just coming to be. Look down, and the word tractor hardly prepares one for the hidden mass. This 1970s model Dynahoe came complete with a backhoe and front-end loader, the kind that might once have helped to shape the site, including Wave Field by Maya Lin further away.
Marx created a lasting metaphor for the tensions, as his 1964 book's subtitle put it, between "technology and the pastoral ideal in America." Those tensions gained force from American Romanticism, and indeed Storm King lies an hour or two north of New York City, where the Hudson River School set to work on its "visionary landscape." I first visited on the drive home from Olanna, the house that Frederic Edwin Church built. Nor have the tensions gone away, between earthworks and environmental degradation, for what one recent exhibition called "Ghosts in the Machine." And that does not count 2010, when Brooks poured concrete on nature, until the very sidewalk rose up into a skylight. He is still pursuing and undermining the ground beneath his feets.
Brooks starts with a literal history and a lesson in environmental awareness and environmental art. A plaque with a grainy photograph in black and white, while copying the format of signs in national parks, says little about the work, other than its place between the museum building and I-87. Earth and gravel from here, he notes, served a purpose in constructing the Thruway, and a tractor like this could have helped. Without its front and back end, it could instead have tended to agriculture, as in the former farmland that became an estate and then the sculpture garden. He and a curator, Nora Lawrence, repurposed the machine from an industrial graveyard, which frankly itemized its flawed condition. A year or two down the line, they will dig it up and recycle the metal.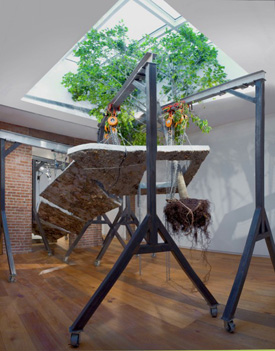 Meanwhile, one has the drama and the metaphor—the proverbial. The bright yellow rears up from five pits twelve feet deep, corresponding to the gratings and separated by poured concrete walls. One can imagine them slicing the tractor apart and entombing its remains. One can also imagine the artist as stumbling on the tractor on site. Stones from the actual excavation line the floors, although larger ones were removed. No sculls or arrowheads were found.
Not coincidentally, Brooks gained early support from Marc Dion, the artist whose work is an ongoing project in Rescue Archaeology. Dion included him in a group show, also in 2010, the same year that Brooks appeared as an emerging artist in "Greater New York" at MoMA PS1. (They appear together at Storm King for an event during the work's run.) Still, the installation is and is not an act of suburban archaeology. It is both an excavation and a burial. It also comes with drainage, so the work will not become five ponds of stagnant water.
It is also the site at once of nature, art, and culture. Brooks has never argued simply for preservation and environmental protection. This is an earthwork as much as Lin's, and earthworks do and do not conform to the earth. His 2010 gallery project was a construction, with the slightly ominous name Naturae vulgaris, and it reached for the gallery's architecture along with the sky. As I left, toward a field of sculpture by Mark di Suvero, I had to deal with knee-high stalks of some kind of dried grass or grain. I wondered for a moment if Storm King had a wheat field by Agnes Denes, like the one that she planted in Battery Park landfill in 1982—but no, it was just the ground beneath my feet.

Justine Kurland ran at Mitchell-Innes & Nash through November 14, 2009, Erin Shirreff at Lisa Cooley through December 20. "Point to one end, which is always present" ran at Small A Projects through February 14, 2010. David Brooks ran at Storm King Art Center through November 2013, sharing the summer sculpture honors there with Thomas Houseago. A related room looks more closely at a more recent solo show by Erin Shirreff.