The Circus Is in Town
John Haber
in New York City
Alexander Calder: Paris and Storm King
Alexander Calder had hardly reached Paris before he was back on the boat for New York. He had several more voyages home, too, during just seven years in the City of Lights. That first round trip did not take long, give or take the transatlantic crossing, and it makes perfect sense. He was giving up work to come to Paris in 1926, just short of his twenty-eighth birthday. And what young artist could refuse a commission?
Soon enough he thrived in the French capital, in all its art, activity, and sensuality. Like much of the city, he found a muse in Josephine Baker, the actress and sex symbol. He also found his true medium, sculpture, and he had his first show there in 1929. I do not know whether he ran into Ernest Hemingway, but he did not share the alienation of the Lost Generation. He left in 1933 with a love of abstract art and a keen sense of his place in it. He left with a reputation, too, including encomiums from friends like Marcel Duchamp, who coined the term mobile for his most novel art.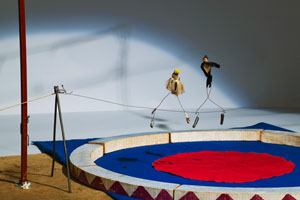 For all that, that first trip home could stand for his foot in each continent. As seen in an exhibition of just those years at the Whitney, he liked playing the American in Paris. He spoke of it as "the place to go," he had family ties there, and he returned often in later years. Yet he never gave up playing the crude but ingenious Yankee, the guy who could take whatever lay at hand and whip together a show. If the Barnum & Bailey could out-do the one-ring French circus, why not he?
The dichotomy goes a long way, too, toward explaining his stature in postwar art. Love them or hate them, those ubiquitous works in public squares and office plazas today still have the scale and brashness of America, the safer elegance of the School of Paris, and the obvious charm of a circus. One can see it again in another kind of escape from New York City, without so much as crossing the Atlantic. On a summer day at Storm King, Calder's art and influence still have pride of place.
The noble savage
Alexander Calder grew up in central Pennsylvania, near Harrisburg. He came to New York to study not art but engineering—at Stevens Institute of Technology, across the river in Hoboken—and worked briefly in a logging camp. Even when he declared himself an artist, he remained a man of action. He studied at the Arts Student League, where he took up the dull, somber colors and gritty night subjects of the Ashcan School. For every New Yorker drawing, he had plenty more in the National Police Gazette. If they had met, I trust that Ernest Hemingway would known better than to pick a fight.
The French could not so easily sneer at him either. His parents and one grandfather had all made a career in art, and all had studied in Paris. His older sister was born there. He could play the savage sophisticate or the noble savage, and the French had no trouble looking to America for both. They had imagined them both already in Baker, a black American expatriate. Calder had it all, and he milked it for all that it was worth.
He did so on film at that. The Whitney includes several examples, and they illuminate the man, as well as enliven some often minor work. Even as a sculptor, he plays the showman. With a coil of thick wire around one arm, he quickly and deftly spins off the material into a portrait head. His model, a figure of art and society who styled herself Kiki de Montparnasse, looks on happily. In this encounter of the artist and his muse, American bravura and Parisian style, Calder wins hands down.
The display, curated by Joan Simon of the Whitney and Brigitte Leal of the Pompidou Center, helps one see Calder's Circus in much the same light. Normally the work has its own alcove platform upstairs, like the children's section in a bookstore. Unchanging and unmoving, it looks more than half abandoned, as if the circus audience has left town, leaving the performers behind. For now, one can see it instead as the artist intended, as a traveling circus. Calder eagerly showed off his changing cast of characters in new locations, setting them in motion as he pulled them out of his suitcases. One can also see it as a performance with him at the center.
The circus performers and related drawings spread through several rooms. On film, one can see them manipulated by the artist's hands. The wire strongman convincingly bends and flexes to lift his wire weight. In a sense, the Circus extends the obsession of a lifetime. Calder started making his own toys as a child. In a sense, too, it continues his determination to put American subjects on the stage of modern Paris.
The wire portraits already did much the same. Besides Kiki, they include Calvin Coolidge and John D. Rockefeller golfing. Along with a room for his early paintings and magazine work, the portraits and the Circus show Calder as quick, dexterous, and winsome. They also show him as still the graphic illustrator, still too resistant to Modernism, and still way too childish. Before he left Paris, something had to change, and it did.
The savage sophisticate
Change had already come from America itself. As a symbol of modernity, Lindbergh's plane The Spirit of Saint Louis landed on the continent while Calder was at Le Bourget airport. However, change had also begun from within. While performing, he was watching. His performance was winning over such artists as Duchamp, Fernand Léger, Joan Miró, Jean Arp, and Piet Mondrian, but he had first to seek them out. Change was coming, too, from his chosen medium.
An entire wall of wire portraits faces the elevator, and one may see them as static and frontal. It took a photograph just around the corner before I noticed something—the shadow that each casts on the wall. Suspended from above, each sculpture moves with the vibrations of the room, and as it moves the shadow changes. The shadow serves as a second, livelier caricature in two dimensions. Remarkably enough, it retains its likeness through all its twists and turning, heightening one's sense of sculpture and image in space. Without knowing it, Calder had made his first mobiles.
With his Circus, he reverts to a clown theme that he had introduced in 1925, before leaving New York. For all their liveliness, the acrobats, tightrope walkers, knife thrower, and chariot racers amount to something of a setback. The drawings of animals grow particularly insipid. Still, he is keeping up with Modernism when he appropriates materials like wire and cloth. In a twenty-foot wire Romulus and Remus, wooden dowels serve as teats. Now he just has to learn to see punning, motion, and multiple sensory perspectives in modern art.
The sudden conversion came in Mondrian's studio, where he felt an affinity with the painter's imbalanced geometries. He actually told Mondrian to set his work in motion, but the painter replied that it had quite enough motion of its own. Perhaps Calder had the last word after all, when Mondrian came to New York and unleashed Broadway Boogie-Woogie. For now, though, Paris had changed him—into an abstract sculptor. Calder starts in open assemblies of wire and painted metal, some of which still move of themselves or by motor. By the end of his stay abroad, they fill out into volumes and planes.
Like the earlier work, some of the abstractions look much less inert on film. However, Mondrian had a point: the most modern do not have to move. The cone and tapered wood horizontal of Requin et Baleine (or "Shark and Whale"), point to the precarious sparseness of Arp or Constantin Brancusi. Back in America and for the rest of his life, Calder cannot stop playing the crowd pleaser. One can see why he has fans today like Paul McCarthy. Still, he is playing to the crowds with Modernism, quite an achievement in itself.
With his practical background and avant-garde influences, Calder has obvious parallels with another American sculptor. Not surprisingly, David Smith, too, hit his stride with "drawing in space," notably after World War II. Smith, too, became just a little too solid and ubiquitous over time. Calder found his way from mobiles back to stabiles, as Arp called his traditional, unmoving use of the medium. He became hard to see apart from the oppressive cutesiness of the Circus and the oppressive weight of his large black or red public sculpture, and both have influenced far too much American art. After the films at the Whitney, however, one can briefly imagine them both as alive and in motion.
A weekend away
I first saw Storm King Arts Center at sunset. We were on our way home from a weekend in the Hudson Valley with a visit to Olana—Frederic Edwin Church's Persian fantasy of a studio, home, and castle overlooking the river. Now I came upon a very different Hudson River School. Storm King had given over its five hundred acres all to David Smith. As deep red shadows spread over hills, fields, and sculpture, I witnessed a landscape that Church would have recognized, but with an immediacy that took my breath away. Something had changed irrevocably since his art in the very notion of American stories, between American realism and the sublime.
This summer I paid only my second visit after so many years. Friends and I came in broad daylight, with time to linger and to explore. And it takes time, with so vast an estate and so many choices of direction. One can stick to the paved road along with the bus tour or cut across open space, left in parts to thicker grass and wildflowers. One can follow looped dirt paths past the art and, at times, away into woods. With the numbered map identifying almost a hundred works, a visit starts as a treasure hunt and ends as a nature hike.
One can seek out and approach each work, as in a museum, or take in the sightlines that Storm King had in mind all along. Perhaps the sculptor did as well. High on a hill, a small circle by Richard Stankiewicz frames perfectly the sunlight and his own jagged detail.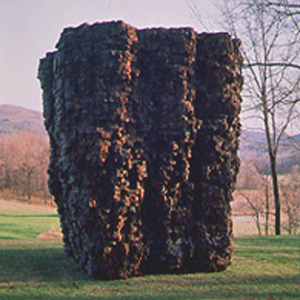 At one moment an inverted pyramid in hacked wood by Ursula Von Rydingsvard towered above me. At another it formed an urn, crypt, or pyre below. Mark di Suvero might seem determined to work as large and as fully in three dimensions as the great outdoors—until one sees the same di Suvero sculpture outdoors from far away, like a beautifully crafted toy.
This summer the center held a group show, but with a cluster near the visitor's center for Smith, a field for Calder, and practically a family farm for di Suvero. It has a nod to modernist traditions in Henry Moore, Isamu Noguchi, or Louise Nevelson. Dark steel planes by Richard Serra rise out of the hills like their shadows, and a concentration of Sol LeWitt continues Minimalism indoors, as with his private collection. Also in the visitor's center, a sea of black and white marble cylinders by Louise Bourgeois bubbles up from the floor—as if a Surrealist's imagination inhabited Minimalism. Storm King also has a taste of earthworks in Charles Simonds's Dwellings, an arena by Alice Aycock, and Andrew Goldsworthy's low stone wall right out of England's countryside, but pierced by the road and trailing off in a flurry of curves. Nam June Paik, who died in 2006, honors himself with a TV graveyard.
In a sense, this art never does escape the city, much as Calder never could even for Paris. It will look familiar from any number of public plazas, only larger. Is it worlds away from summer sculpture in New York parks, not to mention (unlike Dia:Beacon) inaccessible by mass transit? City boys are having their weekend in the country to play, just like me. Maybe that explains why I lingered over women's sculpture, such as fiberglass boulders by Grace Knowlton and Magdalena Abakanowicz's black sarcophagi sealed in glass, like greenhouses. Church might have relished the connections between mortality, eternity, and the seasons, even if they do look like masks for Darth Vader.
Mostly, however, the show seems frozen in time, as if I had never left. It is about the heirs and compatriots of Calder and Smith, the noble savage and the savage sophisticate—what the next generation would sometimes call "sculpture sculpture." After the presiding deities, it has most space for Isaac Witkin, Anthony Caro, and Alexander Liberman, whose bright red tubes add a not quite contemporary veneer. Surely Serra sticks up again for Minimalism, with one rectangle propped against another? But no, Menashe Kadishman, an Israeli sculptor, has suspended one from the other some six feet above ground. He demonstrates once more the center's care with siting, its acceptance of illusion, and its eye on American sculpture's past.

"Alexander Calder: The Paris Years, 1926–1933" ran at The Whitney Museum of American Art through February 15, 2009. I visited Storm King Art Center the weekend before Labor Day 2008. It remained open until mid-November. A related review looks at Calder mobiles.