Dwelling on Speed
John Haber
in New York City
Home Delivery and Paul McCarthy's Madhouse
Imagine midtown Manhattan as the world's most upscale trailer park. Within weeks, five new but prefabricated homes sprang up in the alley west of the Museum of Modern Art. On the scale of building in New York City, that represents just moments, and that very urgency is the point. In the sixth floor galleries, the exhibition of prefabs continues with models, plans, and photographs—some homes never realized and some long since destroyed. Ironically, it opens with a silent movie about a failed construction and a successful destruction.
"Home Delivery: Fabricating the Modern Dwelling" relives Modernism's urge to make it new, but with readymade parts. One can see the urge and the urgency in the exhibition subtitle—beyond the dwelling as prefabricated, to the fabric and creation of modern living. The exhibition never really teases out that story, and neither can most of the architects. Still, with five prefabricated homes outside and a history dating to the 1830s inside, it adds up to a shadow history of modern architecture. A little further uptown at the Whitney, housing by Paul McCarthy moves at a more frightening pace yet. He stages three eerily hollow cabins, fabricated long ago and with the accent definitely on destruction.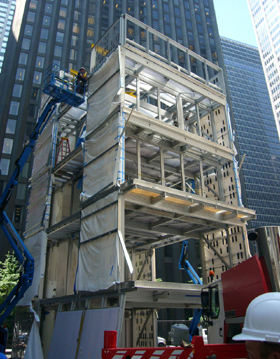 From comedy to community
Actually, "Home Delivery" starts as a comedy about better homes. In a short from 1920, Buster Keaton builds and destroys a home in exactly seven days. Newlyweds receive a home kit, which arrives with a thud in a single wood box. Because the bride's spurned admirer has mislabeled the parts, the structure comes out as monument more to Cubism than to domesticity. Always graceful and methodical under pressure, Keaton duly follows instructions anyway. Finally a train barrels right through his misshapen dreams.
Keaton laughs at the idealism not just of lovers or modern life, but of the movies as well. A rival may have set a trap, but the filmmaker chooses to spring it on the path of a moving train. The days of the week supply the film's structure, with a hand ripping off pages from a calendar. When the woman rises from her first bath in a model household, another hand blocks the camera and preserves production codes. Keaton also deserves some credit for the house's expressive shape, not unlike the film's. Its mismatched proportions could hide a secret chamber or a passage to another universe.
Keaton also helps clarify a point of terminology. An unseen hand may have wickedly labeled the parts, but prefabricated need not mean anonymous. One may never see the likes of this home again, any more than of the prefabricated but custom designed Wagon Stations by Andrea Zittel—or the interior of many a trashy gallery installation. The houses downstairs in the alley, too, may take the same shape later for others, but architects created them for this very exhibition. Conversely, ancient and modern communities built the hard way have suffered from faceless, repetitive, or mass-produced housing. I live one of those red apartment buildings that hit New York like a literal pile of bricks back in the 1960s, and one might not think of the bricks as prefabricated units, but one could.
The Modern never does explore the concept at the show's heart. It excludes artists like Zittel, with her sharp eye for all this prefabricated luxury. It never acknowledges how the paradox of novelty and the readymade has haunted modern art since the first collage. Even its architecture skirts suburban subdivisions, old shanties like that of Thomas Hirschhorn, and new luxury knockoffs. It includes boxlike, prefabricated communities, but not the stacked, staggered boxes of SANAA's New Museum or those that Santiago Calatrava has proposed for a downtown high rise. It settles instead for an ode to cheapness and speed. If these values sound suspiciously like consumerism, they accord just fine with five inordinately prestigious mobile homes.
Not that Barry Bergdoll, the new chief curator for architecture, lacks for ingenuity, even as he refuses the whimsy of Exit Art's "The Building Show." Not only has he pulled off the full-scale construction site outside, in a city that takes a lifetime to pull off public toilets. The eighty-four projects displayed upstairs amount to an awesome display of knowledge. They include Le Corbusier, Frank Lloyd Wright, Wright in the city, Walter Gropius, and Marcel Breuer—who erected his 1949 model home in MoMA's garden. They run through the twentieth-century interests in geometric and organic form, democratic access and personal creativity. They also run through more depressing recent buildings, with full awareness of the down side of "Fordism."
The sketches, photos, and architectural models touch briefly on the sadder implications of prefabrication within Modernism. Jean Prouvé meant his tropical habitations for French colonials in Africa. They imply connections between Modernism and after. Greg Lynn's "embryonic form" links back to Buckminster Fuller, who envisioned identical homes but with a mushroom's outlines. Wes Jones's Primitive Hut echoes houses built hurriedly in the 1940s, in the face of wartime shortages. The result, however, is far too little first-rate architecture—and too much celebration of compromises in the back alley.
Compromises in the back alley
Outside, one first notices the exclusive access, in the shadow of the glitzy Yoshio Taniguchi museum and the even glitzier Museum Tower condos. Crowds cannot snake through the alley on their way into the museum. They cannot freely take in the art, as they did a year ago with video by Doug Aitken. Rirkrit Tiravanija is not welcoming one into his studio or offering free food. Instead, guards block the 53rd Street side and take tickets on 54th Street. Lawrence Sass may mean his Housing for New Orleans as a response to those left homeless by a hurricane, as in photos by Mary Ellen Mark, but MoMA is not exactly opening its doors to New York's homeless.
One notices next the compromises. They start with obvious compromises on space, and the designs only make things worse. Richard Horden's Micro Compact Home is too small even to allow free passage by visitors. A connecting corridor on each floor of Cellophane House, by Kieran Timberlake Architects, eats up much of that project, even as the stairs entail a heck of a lot of climbing between rooms. Perhaps New York real estate can never boast too many baths, but I would trade the extra toilet in BURST*008, by Douglas Gauthier and Jeremy Edmiston, for more living or closet space. They also build bleachers on the exterior, as if to accommodate an adoring public that cannot fit inside.
The compromises obviously include materials. Gauthier and Edmiston stretch dull fabric on hard surfaces for furniture. Oskar Leo Kaufmann and Albert Rüf build in variable dimensions from shipping containers, BURST*008 and Sass from plywood, and of course Cellophane House from cellophane. Sass actually leaves the plywood unpainted, to emphasize the numbered snap-together pieces—a marvelous jigsaw puzzle requiring only a rubber mallet for assembly. Both Horden and Kieran Timberlake take care for solar panels, in the latter case to power Internet access. Will any of these homes last long enough for power users to appreciate them?
Sass adds decorative touches to his plywood puzzle, for New Orleans context, at the risk of making both sillier. They also already date the style to Michael Graves's Postmodernism. Horden creates an enviable stainless-steel kitchen. Yet for all the choices, good and bad, I kept thinking of the larger puzzle of uniqueness and mass production. That puzzle helped modern art and society to flourish, but here homes built for speed cater to those who can afford the latest.
Modernism and Postmodernism have always struggled with much the same utopias and dystopias. Historians still argue whether to blame Le Corbusier's towers for design disconnected from life—or, conversely, design so lusciously elite that people still envy them. He also still offers a model for elevated structures and parks like the High Line, as well as for mass housing that works. Does sticking to prefabricated homes solve the puzzle or make it worse? Would including some artists, Levittown, and one of those new Manhattan public toilets?
I could imagine sharing the alley with a real trailer park. I could imagine inviting a performance artist, perhaps Marina Abramovic, to live in one of the five homes for the length of the show. Instead, one must settle for scattered hints of more delicious prefabricated materials. In fact, two gorgeous metal wall fragments—one by Ali Rahim and Hina Jamelle, the other by Jesse Reiser and Nanako Umemoto—share the exhibition entrance with Buster Keaton. Keaton gets the last word as well. After the train does its work, he posts a For Sale sign by the debris, takes his bride by the hand, and walks off into the sunset.
A better spin on it
Born in 1945, Paul McCarthy has been playing art's bad boy for a long time now. In his thoroughly American way, he does not so much reinvent himself as reinvent the brand. "Central Symmetrical Rotation Movement" spans thirty-seven years—including a work conceived in 1971 but executed only now. An assertive mix of sound, video, mirrors, bright lights, and mechanical devices, the installation might politely pass for new media. No one, however, would accuse this artist of playing polite.
McCarthy starts things off as a painter and with an assault on painting: he flings paint against the wall with his own clothing and with all his might. In "Full House," the museum's anniversary celebration of its permanent collection, the video served as an epitaph to Action Painting. Still, one cannot overlook the bare-chested actor in the foreground, any more than one can overlook Matthew Barney when he rappels up the Guggenheim. Although very much a part of the performance scene, McCarthy's video also prefigures a passing from one myth to another. The heroic male artist has become the celebrity artist as antihero, in a work that moves literally from rags to riches.
The stages of his career show the bad boy reveling in the transition, with increasing sex and better luxury goods. He has staged a Punch and Judy show as another kind of assault, and later his black Pinocchio on the banks of the Thames and in Central Park suggested a Macy's parade float with a hard-on. His dark-chocolate Santa last Christmas carried a "butt plug." The mix of child comforts and teen sex echoes Mike Kelley, Michael Smith, and Charles Ray, but without their adult lectures on politics and the philosophy of art. It resembles a public spectacle by Jeff Koons, who will curate a private collection for the New Museum, but with none of Koons's eagerness to please. McCarthy means to entice and then to threaten, but never too great an enticement or too great a threat.
Each time, he offers less than meets the eye and a lot to see. The Whitney does him a huge favor by amping up the enticements and the threats, while cutting down the innuendo. That old Action Painting video turns up, but not the sex toys. McCarthy also makes that "less than meets the eye" disconcertingly literal. What looks like a much larger installation ends with a mirrored wall, and that is just the viewer's first displacement in time and space. A windowed hut has no entrance, but an equally dangerous platform has no ropes keeping one off. Watch your step.
Not that McCarthy has attained maturity or, goodness, profundity. The three main titles pretty much tell the story, and never mind trying to remember which is which—Bang Bang Room, Mad House, Spinning Room. However, two older works in multimedia already shift the enticements and threats to opened and confined spaces. One grainy shot rambles around a room near floor level, promising a male-female encounter that never quite appears. A slide show repeats over and over the same shot of a city street. It is not the homage to stasis in underground film by Michael Snow or Hollis Frampton, but rather the transformation of a specific somewhere into a museum's nowhere.
The largest house or room amounts to four screens, set as a square angled to the gallery. One slowly recognizes the flickering projections as the gallery, including oneself. In time, the entire floor and its mirrored wall come to seem an extension of the square's dispersed interior. A wood cabin of a second work seems quaint enough, until it starts spinning. Then the black chair within, glimpsed periodically through its windows, looks deceptively like a real person at risk. McCarthy is finally up to something less than obvious, and his usual ambivalence between real and unreal risks carries more meaning.
When the cabin finally comes to a halt, the real action begins. Perhaps in the meantime one has climbed onto the wooden stage nearby—the remains of a wallpapered room with its walls torn off at right angles like a giant swastika. First the doors slam open and shut. Then the walls close in and out as well. Finally one dares to pass through the doors, to safety or not. For once McCarthy's adolescent horror film has a truly adult setting, and he may have truly prefabricated the modern dwelling.

"Home Delivery: Fabricating the Modern Dwelling" ran at The Museum of Modern Art through October 20, 2008, Paul McCarthy's "Central Symmetrical Rotation Movement" at The Whitney Museum of American Art through October 12.