Video Artist Dies: Details at Eleven
John Haber
in New York City
Nam June Paik: 1932–2006
For a man who invented an entire art form, Nam June Paik can easily pass instead for a lovable eccentric. His form of video art indeed plays that role with abandon. It shows off his passion for junked TV sets, maddeningly unstructured images, and seriously funny performances.
At his death in January 2006, one lost a remarkable innovator and a fitting icon of the 1960s, but can one still recall his influence? One had better. One can see his mark not just in new media. One can call works of his single- or multiple-channel video, performance or Pop Art assemblage, Minimalist or excessive, installation art or just playing around. Whatever one chooses, one finds it in the madness of contemporary art as well. It can lack depth, coherence, or even feeling, but one finds that everywhere today, too.
Experiments and pratfalls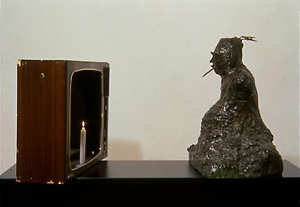 Then again, video art alone has diverse and complex histories. In 2002, successive shows of video installations and single-channel video had me wondering about a medium's split personalities. Instead of a single progenitor, one found instead a family tree, not unlike what Michel Foucault called a genealogy. And wherever one looks to locate an origin, Paik was there. He latched from the start onto a medium as illusory as a peep show and as interactive as a video game.
Way back in 1963, he created the first music video, without even a band. Exposition of Music-Electronic Television, his first solo show, filled a German gallery with doubly altered television sets. Set at almost any angle but upright, they turned a viewer's space all but upside down. And the distorted reception reflected music, performance, and still-emerging technologies. This work multiplies and displaces both the image and the viewer.
Call that video art—or art of the machine? Two years later, Paik invented it again. He bought a new invention, a Sony Portapak, just in time to catch the Pope's visit to New York. Now here comes video, with the new child all but blessed by the proper authorities. Now he could use an ordinary TV display for his art. One gets agonizingly slow-paced, personal narratives, like Andy Warhol with his innovative mix of home movies and underground film.
Paik's experiments suggest video's many roots among his many friends, influences, and collaborations in the art world of the 1960s. Along with a relaxed sense of humor out of Fluxus, the art movement organized in 1962, Paik takes the group's wild intrusion into a viewer's world. From the music of John Cage, he knew about tinkering with instruments and his environment, part of an openness to changing, even random experience. From Minimalism, Paik takes lights and box-like objects in brazenly familiar surroundings. In a legendary critique, Michael Fried compares Minimalism to theater. What could combine the two better than television?
Paik's studies in Japan enter in too. They gave him technical skills to match his childlike fascination with the boob tube. Soon after his debut, as part of a long career, he used magnets to displace an electron beam. He piled monitors into humanoid sculpture. He gutted a box's innards altogether. It all gives literal meaning to "the tube."
Above all, perhaps, his life suggests a series of calculated pratfalls. At his retrospective in 2000, one could miss the art behind the sense of play. If real life has now itself become a mere succession of images, perhaps only an artist so fascinated with television could have embraced its spirit so soon. Then, too, he worked in a time when the follies of youth definitely meant an act of rebellion. Remember then?
Media junky
Ah, the 1960s, tie-dyed and hallucinogenic, before David Crosby did cut his hair and resemble an overweight little-league coach. If that is one's picture of an age, the "summer of love," then Paik could stand as the least-annoying moment in the terminal good cheer. The Latinate name Fluxus captures perfectly the fugitive moment, pretension, and self-mockery of its performance art. Yet unlike its gurus, Cage or Merce Cunningham, he never focused one's perceptions on oneself or the environment. Paik went for sensual overload.
Video art these days, for all its roots, takes after the movies. Bill Viola creates romantic theater, Gary Hill writes philosophy texts, and Matthew Barney churns out epic cycles of male initiation and the great white whale. Shirin Neshat practices her feminist photojournalism and coming-of-age fables. By comparison, Paik carried a TV set around like a pet, and he treated video art as one long performance. He never stopped performing. I think of an experienced stand-up comic who tries that much harder when the audience no longer laughs.
Does nothing last longer than Warhol's proverbial fifteen minutes? Those TV monitors built into garden environments, a fish-tank Buddha, three-quarter moons, and robot figures—they flash whatever comes to Paik's mind. At his retrospective I caught network programming, videos of dance, and other museum-goers, all just as meaningless and just as inattentive. In their very simplicity, his technological tricks quaintly evoke a past generation, too. Two sine waves add up to lissajous figures, just as back in high-school lab. Power to the teens, if not the people.
Paik's retrospective pushed to the top of the Guggenheim's rotunda, and it left many bays along the ramp empty. Without consciously trying, it made me fall in love with the museum I love to hate. Frank Lloyd Wright exerts a nasty superiority over artists. The ramp always makes one move past art as if on an assembly line, the tilt makes one see it all askew, and the upraised floors keep one from getting close enough to see it as it deserves. Empty, however, and halfway dark, it looked gorgeous. The view over a busy Central Park, itself wrapped in a late-afternoon light, was a treasure.
If Paik gives so much pleasure, he hated lingering on the darkness that he created. No wonder my favorite work feels the most like Cage. A lone candle burns within the shell of a television set, far from the piles of TVs used by such hyperactive artists today as Jon Kessler. For once, Paik settles for the obvious. For once, he enjoys the quietest, yet most perceptive pun. Buddha aside, for once he really does evoke meditation.
How then could one not recall his influence? Consider that another risk of the medium: how soon they forget. By uncanny coincidence, on the very month of his death the Korean Cultural Service places him alongside some thirty contemporary artists, roughly ten in each of three successive installations. One enters the efficient chill of a midtown office building, passes a visa service, and steps behind a black curtain, more often than not alone. Paik's anarchy may seem left over from another era altogether.
Because he could not
I myself saw him that way six years before at his retrospective, as just one more part of the postmodern carnival, and I often still have trouble taking him as seriously as he deserves. Unlike many in early performance video, such as Marina Abramovic or Rebecca Horn , he would not subordinate his materials to the artist's presence. Unlike Viola or Eve Sussman more recently, he had no intention of evoking the Old Masters. He did not aspire to the cinematic perfection of so many today. He could not have imagined another kind of sophistication, in computer algorithms and data-driven landscapes.
However, the story of originary force and minimal influence may well have it backward. In practice, new media did not simply spring from Paik's head. By 2006, they have acquired untold genealogies, over decades of modern and postmodern art—and Paik had a hand in them all. One can still see him as the single-channel video artist with the camcorder or the Minimalist appropriating industrial parts to transform a gallery. One can see him as the early feminist artist allowing a half-naked woman to dominate on camera, the technician allowing off-the-shelf technology and old bar magnets to collide, or the collaborator in performance art's crucial years.
One can certainly see him behind today's endlessly haphazard, cluttered installations. Now that no one knows how to dispose of old computers and other solid-state devices without environmental catastrophe, Paik's environmental art can seem not so much found as perversely recycled. However, here, too, one may have to think twice. Tim Hawkinson may evoke something of his makeshift contraptions, but Hawkinson shows off his skill as a tinkerer and his nostalgia for an era of player pianos and manual typewriters. Hawkinson's work, at once exhibitionist and curiously private in its associations, plays down any specific context in mass culture. If Paik, in contrast, seems only an artist of his time, he never lost his heightened awareness of what an era brings.
Paik worked amid an avant-garde comfortable with classical music, modern dance, small audiences, and meditation on a single candle. At the same time, he had a Pop sensibility, back when the TV had entered the living room but not the gallery. He also loved to collaborate, as with Amy Greenfield on a tribute to a favorite performer of his, Charlotte Moorman. By yet another coincidence, on the month of his death one gets to see the origins of Robert Rauschenberg's combines, starting with a stage set for Cunningham. Who says the most extended artistic interchange in the wake of Black Mountain came between Rauschenberg and Jasper Johns?
At the Korean Cultural Service, one cannot say for sure whether the world has left Paik behind or everyone else instead. Aside from his two works, one finds oneself amid projected images notable for their slow, patient temperament. Their skyscrapers at night and open country roads could supply the backdrop for late-night movies. Their main actors address the viewer or dance, but always on center screen. They seem contemporary, but also like a planned escape. They could appreciate but never encompass his displacements—his ability to make single-channel video live apart from its monitor or the monitor apart from what it shows.
Paik's contributions may look as tacky as an old album cover, but he made the image itself dance or speak—and always in the present tense. Ironically, he made the first videos soon after his thirtieth birthday, in a decade that did not trust anyone over thirty. For all his easy laughter, I have learned to trust him more now. Now it often seems that everyone does a video, because anyone can. He did it because, then, one could not.

Nam June Paik's retrospective ran at The Solomon R. Guggenheim Museum through April 26, 2000, "Moving Time" through February 23, 2006, at the Korean Cultural Service, 460 Park Avenue. He died January 29, 2006. I found the date of Paik's Sony Portapak in Michael Rush's New Media in Late 20th-Century Art (Thames & Hudson, 1999).