New Serious Painters
John Haber
in New York City
Gertrude and Leo Stein as Collectors
"Buy the people of your own age. There are always good new serious painters."
Ernest Hemingway received that advice from Gertrude Stein, who had learned it the hard way. She had followed her brother to Paris in 1903, and a show of the Stein collections opens with what they found there. Leo admired what he could see as contemporary but classical in spirit. Gertrude admired what she could see as frank, direct, radical, pragmatic, and charming. And they found them all, in a city teeming with older artists and young. They saw the Impressionism and Post-Impressionism that had already become classics, at those mind-boggling affairs called the Salons d'Autumne. As she put it later about the artists that she came to know intimately, it is hard in retrospect to imagine how much modern art shocked.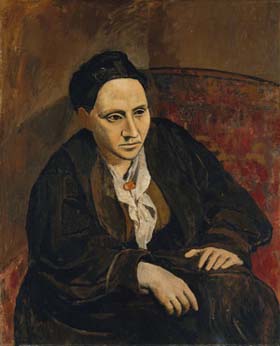 They moved in together on the Left Bank, in a single high-ceilinged room, all but tailor-made for art on the walls and the Saturday salons that she loved to keep. Their older brother, Michael, came to Paris the next year with his wife, Sarah, for a short stay. They remained until 1935, Gertrude until her death in 1946. They went shopping, too, almost immediately—and returned with what they could afford, meaning mostly disappointment and mostly prints. As Leo put it, "A limited budget is an excuse to be creative." And so they were.
Call collect
The Met calls the show "The Steins Collect," and it has a dual focus on the collection and the collecting. It has large photographs, one projected on an alcove to simulate the room that Leo and Gertrude shared, paintings and all. The show has books, letters, and even a postcard from Henri Matisse, with a Matisse sketch of what he was wrapping up. Michael and Sarah were then back in the States briefly for family matters, and Matisse cared enough to show them. Pablo Picasso sent photographs of his progress to Leo and Gertrude, in between constant visits back and forth. If Picasso took so many sittings to complete his seated portrait of her, maybe they just relished the company.
That portrait came as a breakthrough, for the artist finally got it right only when alone—by wiping out the face and painting something closer to a mask. Gertrude would have preferred a likeness, just as she would have liked to sit for Matisse if only he had asked her. Still, she believed in difficulty, and she believed in breakthroughs. The show's subtitle is "Matisse, Picasso, and the Parisian Avant-Garde," and it is also a brief history of the avant-garde. It runs from Edgar Degas, a favorite of Leo's, to Florine Stettheimer with her costumes for Four Saints in Three Acts, Gertrude Stein's 1928 opera with music by Virgil Thomson and choreography by Frederick Ashton. Where Postmodernism might ask who calls the shots, artist or patron, here it takes ingenuity to tell them apart.
A proper history begins in Allegheny, outside of Pittsburgh, with Gertrude as the youngest of five surviving children. They had a background appropriate both to steel fortunes and to hardscrabble steel country—money, but not too much money. They had an independent streak, intellectual and artistic ambitions, and a stubborn habit of drifting. Leo tried his hand at law and zoology, traveled the world, and decided to take up painting. Gertrude studied psychology and medicine, and I mention her pragmatism because she studied in Baltimore with William James. Neither sibling finished a degree.
Michael, the relatively responsible one, first went to San Francisco and managed finances, but his wife, too, had aspirations. She painted, and thanks to Leo's travels she fell in love with nineteenth-century Japanese prints. They all had a gift for making friends and treating them as extended family. Gertrude met Etta and Claribel Cone, whose modern art collection is the heart of the Baltimore Museum of Art and whose soirées served her as a model. Leo grew close to another eccentric painter and collector, but also a richer one, Albert Barnes. The Steins bought studies for an ambitious painting later in the Barnes Collection, Matisse's The Joy of Life.
Brother and sister started with the strengths and weaknesses of Barnes's as well. Edouard Manet and Paul Cézanne blew them away, especially Cézanne's apples, portraits of Cézanne's wife, and his Man with the Crossed Arms—but so did classical poses, soft edges, and naked flesh. They admired the lushness of a pastel by Odilon Redon and nudes by Auguste Renoir. They received another useful lesson at the 1904 Salon d'Autumne, with its posthumous retrospective of Henri de Toulouse-Lautrec. They went right away to Cézanne's dealer, Ambroise Vollard, and made off with what they could. They had found that excuse to be creative, as in the creative trading soon after of a Pierre Bonnard interior (perhaps skipping Edouard Vuillard altogether) for a Paul Gauguin.
Then they started meeting people, and the story really gets going. They made a point of getting to know the artists they collected, which gave them that much more incentive to collect younger artists. They could see their own sense of classicism and radicalism in early Picasso, like the 1905 Woman with Fan in profile with arms gesturing as unto Caesar. They bought Matisse's Woman with a Hat, with a green streak down her nose, which displayed in the 1905 Salon. If I used the word charming with Gertrude, she riffs on it in her 1912 Three Portraits of Painters for Picasso, who "was not ever completely working." She describes Matisse in terms of clarity, certainty, "expressing himself" to the "very many not listening," greatness, "suffering," and "struggling."
Salon painting
They introduced Matisse and Picasso, and the rest is history. On Picasso's side, one sees slow, cautious advances and wild, abrupt changes. One sees the wan classicism, the African masks, a return to Cézanne for the landscape outside Paris, and finally a glimpse of Cubism. On Matisse's side, one sees confidence, color, and daring. He draws back from the shocking green stripe to find open spaces between the colors. Then he brings a black weave to the woods by Collioure, no doubt with a prod from Picasso's line.
It is a personal story, for them and for the Steins. I can only imagine the visits, postcards, letters, and photographs back and forth. Sarah and Michael collected mostly Matisse—and their son, Allan, played with Matisse's daughter, Marguerite. Matisse painted the boy with a butterfly net, in effect bringing clashing color to Picasso's pale Boy Leading a Horse. He also painted exactly one pair of portraits of a couple, them. Leo and Gertrude collected anything and everything, including Matisse's 1907 Blue Nude, but more and more Picasso.
As a painter, Sarah styles herself as a follower of Matisse, who was setting up his academy, while Leo took after a lesser Fauvist, Henri Manguin. Not coincidentally, three paintings of La Coiffeur hang side by side—by Picasso, Manguin, and Matisse. Sarah lived the floor below Gabrielle Münter, the closest and finest associate of Wassily Kandinsky, although she had no interest in either one. She and Michael also hired Le Corbusier to design their home. Leo and Gertrude somehow lasted together for ten years at 27, Rue de Fleurus, one painting and one writing.
Marie Laurencin includes them in an eerie group portrait, almost like a frieze. It only hints at all the people truly interacting and passing through. Elie Nadelman and Jacques Lipchitz suggest the interaction between sculpture and painting in the development of Cubism. Americans naturally pay their respects, like Morgan Russell, with his abstractions like color wheels. While it goes unmentioned, Thomas Hart Benton tried his best to encounter Modernism, but Gertrude Stein failed to flatter his ego sufficiently. Benton did, though, come away with a brief exposure to abstraction, through a lifelong friend, Stanton Macdonald-Wright.
Alice B. Toklas enters the story and, abruptly, Leo leaves—dividing the collection between them. After 1913, it becomes his sister's story, although Albert C. Barnes of the Barnes Foundation sided with Leo. Man Ray photographs the room as hers alone, with Toklas in the background. Visitors keep coming, like André Masson, Francis Picabia, and Balthus, but for Gertrude Stein's blessing. Surrealism appears only when she poses for it. Jo Davidson, an American, sculpts her as a Buddha.
If the story sounds familiar, one has heard it before. So many of the pictures look familiar, because they helped to define the modern art museum—but also because the public never grows tired of them. MoMA already paired Picasso and Matisse as rivals, more with joy than with anger. One exhibition after another recaps their development. The one-sided relationship between Stein and Toklas comes through in a photo by Berenice Abbott in "Hide/Seek," which found gay and lesbian currents everywhere in modern portraiture. "The Steins Collect" differs only in what it adds and in what it leaves out, even apart, remarkably, from its heroine's homosexuality and the family's Judaism.
The making of Americans
Of course, it adds a family collecting. After too many museum shows of potential donors, this one says more about both the players and the art. Instead of sucking up in hope of cashing in, the Met, SFMOMA, and France's national museum did the work of rounding things up from among at least four hundred works now scattered to the winds. Instead of a wealthy collector, one has multiple not quite wealthy art collectors. One discovers the arc of a relationship, and one discovers Michael and Sarah. One discovers once more when Modernism was a tense community—and when patrons were critics, collaborators, and brilliant dilettantes.
As for what it leaves out, the story comes to a screeching halt in 1913—except for the enlightened but inner-directed Buddha. Even within those years, it skips most of Picasso's Blue Period, the work closest to Les Demoiselles d'Avignon, and Cubism. It leaps almost straight from the fragmentary masks to his Student with a Pipe in a crumpled paper beret. Juan Gris dominates even for Synthetic Cubism, and forget about art movements unable to make it to tea on the Left Bank. Michael and Sarah may have lasted until 1935 and Gertrude until 1946, but the show really runs from 1905 to 1909. Why?
One answer is easy, taste. Gertrude liked charm, but she and her brother had no interest in Pink Period clowns or Blue Period sentimentalism, much Picasso's last years and many loves. They may also have felt at sea with Picasso's growing complexity or Matisse's growing ability to make art about art. Gris brought to Cubism a hard-edged clarity, not unlike her own writing. Another answer is money. As Matisse or Picasso grew famous, she could no longer afford him, except by trading or selling paintings. She needed the money, too, to finance her writings.
A final answer is their division. Some attribute it to the presence of Toklas and some to Leo's lover, but their vision of art was diverging as well. Leo, who also gave up painting to try his hand at journalism, was backing off from Modernism. Could a single work of Analytic Cubism—The Architect's Table, purchased from Daniel-Henry Kahnweiler in 1912—have sent him over the edge? He kept Renoir and gave back all of Picasso, but he sold off almost everything in the end. So did Sarah, although World War I had separated her and Michael from much of their collection already.
Gertrude Stein saw it all in her advice to Hemingway. It attests to the sheer existence of two periods in her life. People remember her as Picasso's sitter and as witness to the Lost Generation, but rarely as both. The show corresponds to much of her creative years. As she told Hemingway, she collected people her own age, but in 1914 she turned forty. She had become a woman of letters.
The advice also addresses the last person one expects to care about painting, but he envied her with good reason. He must have realized that she had used art to modernize herself, and she used herself to modernize art. It attests to her seriousness, and her need for serious people. After Leo left, she gave up the old-style hanging all over the walls for rows, while taking the art out of its frames. Last, her advice attests to her belief in artists as people, and "The Steins Collect" is about lives. As one of her titles puts it, it is about the making of Americans.

"The Steins Collect: Matisse, Picasso, and the Parisian Avant-Garde" ran at The Metropolitan Museum of Art through June 3, 2012.