Formalism and Fallen Angels
John Haber
in New York City
Doreen McCarthy, Lisa Hoke, and Notes on Camp
Every time I head for Exit Art, I panic. I could at any moment enter the Lincoln Tunnel by mistake, turn up in the Meadowlands, assume the name Xanadu, and be rescued by the governor of New Jersey. Walking to one gallery past oncoming traffic, I wondered if it had actually happened. Fortunately, I reached the tenement space, where Doreen McCarthy has just one word for you—just one word. Are you listening? Plastics.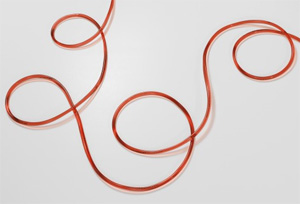 It sounds like a joke, and obviously it is. Still, this long after Pop Art, not to mention environmental awareness, one has to expect some recycling. Sure enough, both Lisa Hoke and Tony Feher fill the bill as well. This long after Minimalism collided with formalism, one has to expect a little theater. Sure enough, Postmodernism may put even Susan Sontag in quotation marks, while interpreting Against Interpretation.
Clearly Chelsea lacks for a paradigm, but that does not mean it lacks for diversity or seriousness. These artists range all the way from austere geometry to matters of life and death. They would probably hate my speaking of them in the same breath, lest that mean one is mere display or another mere circles and squares. A show on the theme of "Notes on 'Notes on Camp' " in fact mistakenly places the quotes around Camp. Care for an edit, so that one has quotes within quotes within quotes in the title alone? Sometimes one needs the quotes, if only so that the art object and visual experience will keep slipping out.
Plastics
Like the alienating adult voice in The Graduate, Doreen McCarthy speaks in the plural, for the very notion of plastics is plastic. One piece stacks hard translucent sheets into overlapping triangular pyramids of a single color. These in turn shape a fragile column of red, yellow, and blue. Similar material forms interlocking rectangular prisms, like those puzzle cubes on paper that can at a given moment project either way. Green tubes interpenetrate a seemingly softer white blob, suspended from the ceiling and casting its colored shadow on the wall. A dense array of lenticular plastic, lit from behind, expands outward while literally glowing from within.
Of course, plenty of artists lean to glitz and cheap materials, including plastic. Way too many installations have collected plastic water bottles, like a funeral elegy for recycling. Only a month before, Laurie Simmons identified so far with male urges that she adopted a life-size doll, while Tara Donovan has sculpted in drinking cups and Mylar. Lenticular plastic is convex on both sides at once, so that, like Mylar, it concentrates reflected or refracted light into varying patches of light and dark as one moves or turns one's head. The small ground-floor gallery, too, is isolated but by no means alone, as Manhattan real estate pushes galleries in all directions. Exit Art's recent "Geometric Days" included Driss Ouadahi, on the overcrowded roster of Hosfelt nearby.
On the one hand, McCarthy is truer to Minimalism. She does not share Donovan's excess and illusion, and the materials do not depend on the culture of mass consumption. The best pieces build on simple shapes and primaries, like demonstrations of color and drawing. On the other hand, she is more open to puzzles—or what the show's title calls "Deliberate Deviations." One never knows when the color of an upper or lower surface will dominate. (They do not as often merge into the rest of the color chart.) One can think of their geometries and shadows as challenging the corner of the room.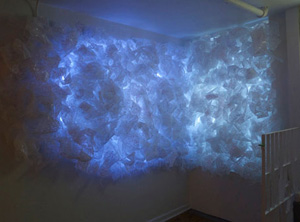 Tony Feher, too, hangs plastic instead of painting, but in sinuous color. In the past he has made sculpture from water bottles and other empties, like a cluttered studio waiting for recycling day—and just a little too in line with the clutter of big-ticket installations. In "Next on Line," he is finally learning how to draw. He fills sinuous vinyl tubes with up to three hundred feet of distilled water, which both maintains their shape and gives each work its intense industrial color. The tubes start high on the wall, then descend to the floor, where they spill into the space of the viewer and back again. Their gravity-driven spirals hide nothing, but they are airy and sensual all the same.
For those dying for recyclables, Lisa Hoke might fill the bill. Come to think of it, she might pick up the bill—along with matchbooks, six-packs, and whatever else you were thinking of consuming this week. Her colors spiral across brightly painted walls. Color guides the assemblages as subject matter, too, as when logos for grape drink lead to purple paper plates. They could pass for model cities seen from the air. It adds up to a double or triple assault on the gallery's white cube.
Hoke calls it "Love, American Style," but call it a love-hate relationship. Only a neat freak could align the parts, and the swelling outlines do lean toward cleaning supplies, with a decided pun on Tide. The artist speaks of turning to her super for scrap—rather than, say, finding that she had one too many the night before. Hers would hardly be the first highly ambivalent assault on consumer society. Yet she also mentions Jacques Tati, who stumbled through assembly-line uniformity with balletic lightness. Fortunately, comedy mostly wins out over sobriety, but the real drama comes next.
Quote me
Critics have been hard on Modernism. What if the avant-garde became an institution, like an aging Picasso, and what if the "originality of the avant-garde" was a myth all along? Then again, what if whole idea of the avant-garde was to put itself out of business? Its job was to transform the world, like Russian revolutionary art, and its necessary fate was to succeed by failing. It persists long after its movements died, in perpetual revisions like "Abstract Expressionist New York." It shapes its critics even as the target of criticism, what I called the Postmodern paradox.
Much the same happened to a decided assault on the canon. When Susan Sontag wrote "Notes on Camp" in 1964, she could call her subject "esoteric" and "something of a private code." Now installations have become so campy that some critics positively cry out for the raw, the genuine, and the handmade. "Many things in the world have not been named," she wrote, "and many things, even if they have been named, have never been described." Now these things struggle to stay afloat in a surfeit of description. The essay appears in Sontag's 1966 Against Interpretation, itself an idea long since swamped by postmodern interpretation.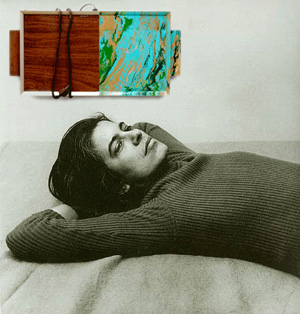 Welcome, then, to a thoroughly guilty pleasure. In "Notes on 'Notes on Camp,' " camp comes across as sober, mainstream, and anything but kitsch, and Sontag would have wanted it that way. Sure, I may think of camp more like David Altmejd, with his angels bursting right through gallery walls. Yet as she wrote, "the essential element is seriousness, a seriousness that fails." Robert Melee may fail, in decorating his decorative Disco Tray with pulsating color. Yet it remains small enough to serve just one, especially one in need of a stiff drink and serious abstraction.
Of course, John Waters turns up, with a gigantic polyurethane tube spilling its PVC pretend premixed incense onto the floor. Sontag could have called it "love of the unnatural: of artifice and exaggeration." However, Waters also stages and photographs a book burning, and the show opens the week of a Florida preacher's burning of the Koran. Bob Mizer's photos may come closer still to classic Waters and to Sontag's "epicene" with an able-bodied seaman giving an officer an eye massage and then, promoted to higher rank, dropping his pants. Sure enough, The Times reports that "don't ask, don't tell" is proceeding without a hitch. Mike Bouchet's painting of ribs positively drips with overly sweet BBQ sauce, but it drips, too, with physical sensation.
Is it okay if I hardly know when to laugh, not when Karlheinz Weinberger finds a biker subculture in Zurich in 1962 clinging to America's teen idols of the 1950s? I hope so, since "the whole point of Camp is to dethrone the serious," even as it spurred acceptance of homosexuals as, again quoting Sontag, the "vanguard." She could still have it right, though, that here "camp sensibility is disengaged, depoliticized—or at least apolitical." Take Cary Leibowitz's apparently political buttons announcing "Too Young to Hate Nixon" and, in more than one language, "I Love Andy Warhol's Piss Paintings." Piss surely sounds more esthetic in French. Besides, "one feels that if homosexuals hadn't more or less invented Camp, someone else would."
Some here would agree that "it's good because it's awful," like Vaginal Davis's makeup kit as art supplies, Nicole Cherubini's piled fashion accessories, or Jessica's photograph of trashed furniture. However, by Saatchi, Jeff Koons, or the Joannou collection standards, Brent Owens's log filled with fake Mister Softee looks quite modest and delectable. On video, Duke and Battersby leave their actors downright perplexed. One fails to give himself a high, when he cannot hardly light a joint, much less sustain a plastic bag over his mouth, while a woman cannot explain what she is doing naked. Perhaps "Camp sees everything in quotation marks," but perhaps it can still "do something extraordinary." You can quote me on that.

Doreen McCarthy ran at Heskin Contemporary through May 21, 2011, Tony Feher at Pace through February 12, Lisa Hoke at Elizabeth Harris through June 11, Oskar Dawicki at Postmasters through April 9, Sandra Cinto at Tanya Bonakdar through April 27, and "Notes on 'Notes on Camp' " at Invisible-Exports through May 8.