Remembering Abstraction
John Haber
in New York City
Mariah Robertson, Arturo Herrera, and Geometric Days
Not only is painting not dead. It seems to have forgotten that it was ever ill.
Make that an act of remembering. It is looking back, in search of continuity. It is punning on its own critical condition. Modernism and Postmodernism surely had at least one thing in common, the urge to be critical. They were critical of one another—and of art itself. For Modernism that meant art as an object, process, or medium, and for Postmodernism it meant art as institution, and now artists are happily rediscovering both. They are playing with the competing urges toward purity and impurity, in work that crosses between media or between abstraction and figuration.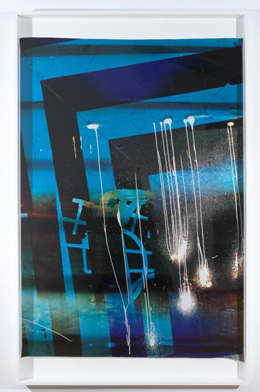 When a critic like Roberta Smith calls for the handmade, she is calling attention to figurative art. And to her that means art inspired by expressionism, primitivism, outsider art, and the graphic novel. There is no shortage of it either—only that overlooks the still greater flood of abstraction. I am having trouble keeping up with it myself. Recent reviews have felt like all but arbitrary selections. Did I mention Jennifer Bartlett and Suzan Frecon, who recite the vocabulary of hard edges and the grid?
Yes, but I could have singled out instead Pat Steir's pours or Iva Gueorguieva, in ink and paint on muslin on paper on canvas. Her sweeping compositions, soft but bright colors, and bare hints of landscape that never emerge, recall the soaked canvas and long memories of late Gorky or early Kandinsky. I could have covered Caetano de Almeida and his carnival of stripes and curves. Or I could have covered Amy Granat. Her photograms helped turn me onto ways to hide human presences and photography in abstraction. Now the presences become "Cars, Trees, Houses, Beaches"—with a somber three-channel projection to match.
This time, take a few shows that are all remembering abstraction. They stick to what looks like painting, even when it is not. They depart from the obvious display of other media by Jacob Kassay or the obvious traces of illusion by Amy Sillman. Photograms by Mariah Robertson and paint-spattered fabric by Angel Otero slip dramatically into three dimensions, but in a clear tribute to models in two dimensions. Arturo Herrera and others use collage, but as a tribute to Modernism's old impulse to make those two dimensions real. Last, "Geometric Days" looks back to the point of a survey of abstraction from its origins to the present, but in the present and with plenty of quotation marks.
Pomo-grams
Photograms began for László Moholy-Nagy by stripping away photography's shades of gray. With Mariah Robertson, they become part of a surfeit of color. When Man Ray placed objects against film and exposed it to light, he replaced photography's illusion with the thing itself, but the thing itself became ghostly and immaterial. No doubt he had seen X-rays, which had so fascinated their discoverer, Wilhelm Röntgen, in 1899 that the physicist had first to apply them to the being closest to him, his wife. "Rayograms," too, pierced mere appearances, at a time in modern art when appearances were definitely under question. Figuratively and chronologically, they come between Dada's anxious object and Surrealism's delight in dreams.
Robertson has much else in her tool kit, especially scale and color. She combines and manipulates negatives more often than not by hand, although the results still belong to a digital age. The imagery, when it exists at all, often suggests crystalline or living things under a microscope blown up to poster size, from microchips to cells. Like an increasing number of artists, including many women in postwar abstraction, she crosses between painting and photography, abstraction and realism, or art and science. More than most, however, she plays down the conceptual underpinnings to let geometry and color fall where they may. She insists on the spontaneity of her experiments.
If that sounds like performance, her latest show makes the stage set explicit. Prints may drape down singly, in works just larger than life—or at least just larger than human beings. In back, they extend to a mural running across several walls, immersing one in a space of translucent primary color. A still longer print drapes down from the center of that room, unfolding off a large roll overhead and onto the floor. One might think of the curtain behind a throne, but more likely of a news source in real time. The news just happens to record explosions at some indefinite moment in the recent past.
Reworkings of abstraction necessarily present both theater in the present and a sense of art's recent history. Robertson's handwork alone borders on nostalgia along with reflection, and so does the sense that anything goes. I prefer to see a healthy update of the anxious object. Formalism already updated the notion of art's objecthood. Now the object turns out to be a document after all, and it documents a specter. Even more than in her previous show, she presents an overflow of visual sensation without playing to the cheap seats.
Obviously variations on old media are alive and well, to the point that it gets hard to single anyone out. Some fall flat for me because they are just plain too concerned for reviving or killing off painting. Maybe the old term derivative has lost its bite after Postmodernism, or maybe not. Angel Otero is a particularly tough test case. He works within the bounds of material media, the grid, and conceptual art, all at once. That makes him rich in associations, but I am not so sure that any of them stick to the wall.
Otero soaks, stains, and paints fabric, which he then crumples and flattens onto the supporting rectangle. It sure looks reasonably flat and reasonably mocking of flatness. It offers art as object in the space of the gallery, but with a hint that the gallery is framing, not to mention condescending to, the scraps and rags of the homeless and the street—and I cannot swear whether it adds complexity or makes things worse that he peels these layers off paint-smeared glass. Maybe to establish street cred, he also props and flattens a grungy sculpted human being onto a piece of furniture as sculpture. It adds up to a pile of formulas elevating some formulaic monochrome, although no doubt the sickly yellows derive in their own way from urban decay. Still, it helps to remember how many competing formulas there are left to go around.
Collage as just painting
Arturo Herrera's works on paper accentuate the paper. In each, he displays a book cover, in German and in the geometries of early Modernism. At most an additional geometry intrudes, but it is hard to know the difference. Below, in precisely the same format, an abstract sketch or collage takes its own course. He could be in school, at the Bauhaus, learning the high modernist ropes. Or he could be the bored and restless student, sitting through a lecture with no sketch pad but his textbook.
Works on paper often come as an exhibition afterthought, a scaled-down version of the show for buyers on a budget, though traditionally they offer insight into an artist's beginnings. Herrera instead still slips easily between media, just as others work between painting and sculpture, including a video based on Stravinsky. Yet he comes into his own in painting—and there, too, he adopts Modernism and commercial media for his own purposes, while moving past the Bauhaus and into the turmoil of the mainstream. He could be tackling Jasper Johns, in dense splashes of blue, red, black, and white right down to Johns's Regrets. Up close the weave grows looser as collage far outnumbers the brushwork, and Johns could set a standard for how many references remain hidden. These are both expressionists, both borrowers, both formalists, and both inscrutable.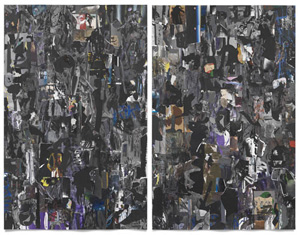 Herrera's borrowings are especially inscrutable. Johns brought a painterly geometry to the most public of imagery, like the flags and targets that, almost by definition, keep their distance. No one could take credit for them, not even in one's face and in his own shades of gray. Herrera reverses the scheme, building his abstractions out of paint, reproductions of paint, and clippings from anything else as well. They mix high and low culture, but the few recognizable ones borrow from fine art, and the rest blend into the brush. Johns undermined modern art by agreeing with it that painting is just part of a common language. Herrera personalizes popular culture.
Anyone can duplicate appropriation, by definition, but no one can duplicate Johns. Herrera does not incline to detachment, confrontation, painterly control, or philosophical paradoxes, and after half a century common imagery is harder to come by. Born in Venezuela, he works in Germany, where Gerhard Richter already demonstrated that found images and mechanical procedures can convey beauty. In the back room, David Schutter, too, keeps a respectful distance from late Modernism. He paints in shades of black and gray, to the point that one wants to come up close as with Ad Reinhardt and watch the black cross appear. It never does.
Maybe they just come too long after arguments with metaphysics. Lots of artists are simulating or cataloguing abstraction with other media or other imagery, like Jennifer Bartlett in the garden and the hospital before them. Lots of critics and curators are rediscovering South Americans like Gego for the history of abstraction. Herrera is really painting, lushly, without the glib imagery and egotism that have propelled Josh Smith to stardom. His one wall painting has blue curves over a red ground, interrupted by more horizontals in red, as if Sol LeWitt could not keep track of figure and ground, much less his own conceptual formula. Herrera could again be eating away at Modernism or celebrating it, but I have a feeling he is just painting.
Painting is all over the place, as Lily Wei predicted almost twenty years ago, to the point that it almost sounds quaint to complain about conceptual art. Sometimes I wish I could complain more, just to make painting a branch of conceptual art. Herb Jackson never once complains, and he almost pulls it off, simply by working hard. He mixes volcanic ash, silica, and goodness knows what else into oil and acrylic. It sounds trite, so long after Pablo Picasso threw in marble dust—not to mention pretentious, like art for the ages, especially when combined with jagged all-over abstract compositions. And it is, but it is also appealingly firm and appealingly transient, like fresco under microscopic scrutiny by a restorer. If one ever thought of video art as watching paint peel, here one truly can.
A postmodern history of Modernism
For a moment, I could imagine that I was seeing a brief history of geometric abstraction, although it all unfolds in the present. Exit Art calls it "Geometric Days," and what days they were, although they turn out to be just the last few years. They also turn out to be just eight artists with just a few works apiece, all of them quirky and individual. Too many shows run to dozens, like a yard sale, or else hype the next big thing—to the point that I want to flee in fear from yet another group show or another big space in (or at least near) Chelsea. This one stays modest enough that one can actually look at the work. And then one can try to figure out what could make geometry contemporary.
A proper history begins before nostalgia and "zombie formalism" sets in, with Peter Hildebrand. His empty factories recall the 1920s and 1930s, when Charles Demuth and Charles Sheeler adapted Cubism to the harsh realities of America. Precisionism could share the optimism of the industrial era, the sadness of the Depression, the intensity of clear skies, or a nearly surreal fantasy—and so does Hildebrand, only in a space somewhere between a present-day environmental disaster and science fiction. Pink tubes much like PVC twist in implausible directions amid still messier twists of black paint, and nothing at all rests on the ground. Titles suspiciously label the vision as Liar or Portrait of Buckminster Fuller as Saint Sebastian. In one an actual buckyball floats on black in front of a threatening burst of acrylic and resin.
Also after Cubism, the collage of Kurt Schwitters was preserving Europe's past in the desolation of the Great War. Charles Koegel's muted vertical fields simulate cracked wood with oil on canvas, but up close the wood belongs to the one- or two-family houses of the outer boroughs. The Brooklyn artist even includes real or artificial grass. Back in America under the WPA, muralists like Ilya Bolotowsky were spinning geometric fragments into flat or deep space, not unlike Dannielle Tegeder now. Tegeder, however, inserts her paintings firmly in the space of the gallery, with panels leaning against the wall—or on top of one another. A title like Black Nocturnal Mechanic System also shows how much the prospects of rebuilding cities have changed in seventy years.
Continuing past World War II, one might encounter more intuitive or biomorphic fields of color, like those of Nathlie Provosty. Her collage-like overlays of ochre, black, and white have just a hint of geometry in the edge of the canvas or intersecting lines. Think of viewing the metal frame through a fashion designer's dummy. By the 1960s and 1970s, one might have the minimalist geometry of Paul Pagk or the thick circles of Geoffrey Owen Miller, reminiscent of Op Art. Pagk's geometry, however, is more arbitrary and a bit like mathematical solids with a disdain for perspective, while Miller reflects the revival of pattern and decoration. While my least favorite, they keep me guessing and wanting to see more.
The conscious reflection on Modernism should be as familiar as these diverse styles. It basically defines Postmodernism, and it also defines a moment in the present. Painting and abstraction are back from the dead, but sharp distinctions between painting and other media, realism and abstraction, esthetics and politics, or fine art and graphic novels are not. Rico Gatson, for that matter, extends the moment to a reflection on Postmodernism. Strips of black felt resemble the Celotex bumps and microchip or prison imagery of Peter Halley, but with a bodily sensation remote from Halley's refusal of expression. Gaston claims themes of race and identity, although I cannot swear that I see them, even with an echo in one work of Jean-Michel Basquiat. Someone, though, truly is exposed on his Auction Block of stacked wood and electric lights.
One might as well end, then, in the present, with another kind of street art—or representations of its surroundings. Driss Ouadahi paints a chain-link fence and a tiled subway passage, both devoid of people and both clear dead ends. The tiling's spare use of red, yellow, and blue among the white could again take up the history from Piet Mondrian to Neo-Geo. Is it quotation, found art, realism, or horror story? Are the red stains crossing between the subway floor and walls spilled blood or just painting? Either way, Modernism has become living history.

Pat Steir ran at Cheim & Read through March 26, 2011, Iva Gueorguieva at Ameringer | McEnery | Yohe and BravinLee Programs through May 27, Caetano de Almeida at Eleven Rivington through May 15, Amy Granat at Nicole Klagsbrun through May 28, Mariah Robertson at Museum 52 through March 26, Angel Otero at the Lower East Side branch of Lehmann Maupin through April 17, Arturo Herrera and David Schutter at Sikkema Jenkins through March 5, Josh Smith at Luhring Augustine through April 28, Herb Jackson at Claire Oliver through March 26, and "Geometric Days" at Exit Art through April 30.