To Shock and to Please
John Haber
in New York City
Jeff Koons and James Lee Byars
Jeff Koons has five floors of the Whitney all to himself, not to mention lines snaking around the block, and no wonder. Surely the artist who has now installed a giant flowered poodle twice over in Rockefeller Center can fill every nook and cranny.
With his retrospective, the museum bids good-bye to Madison Avenue, on its way to shiny new quarters in the Meatpacking District. The cafeteria has already left the basement and the bookshelves the lobby. (This is not an artist for close readers.) At a preview, the press could still paw after shiny wrapped chocolate hearts and admire the fresh flowers. Was it a coincidence that the first mirrors Koons in Mylar, the second his ceramics, only smaller? No other artist takes such pains to rub in the obvious, to shock, and to please.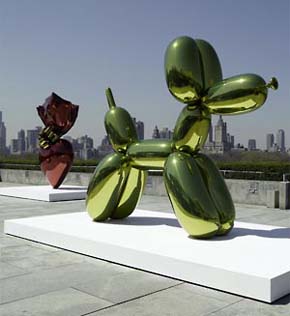 Koons is not the only one mixing business and pleasure. A generation older, James Lee Byars developed a love for big work in largely empty rooms. He loved gilding and high style, too, and they become a part of his role as well on an international scale. Yet he also had less interest in objects, kitschy or not. Byars would have had a quite different retrospective had he lived to see it, at MoMA PS1 in Queens, if only because one would keep running into him. As it is, he is never far away.
Your bad taste and mine
Sure, artists have wanted to have their cake and eat it, too, or maybe their chocolate. Pop Art had a profound ambivalence about consumer culture. For James Rosenquist, it had made the privileges of fine art a lifeless platitude, but without losing its menace. For Robert Indiana, art now had a straightforward message: eat, love, and die. By Richard Prince and the "Pictures generation," ambivalence had given way to certainty—the certainty that the artist could wallow in bad jokes while deriding the audience for getting them. Jeff Koons is different.
For no one else are the obvious, the shock, and the pleasure so inextricable. Andy Warhol played the innocent in a disaster area, the scene of car crashes, assassinations, and electric chairs. His innocence also opened him up to the relative democracy of his Screen Tests and to restless experiment. Koons is the sophisticate in the candy store, ready with whatever it takes to keep a basketball submerged in a fishtank or pretend Play-Doh from falling apart. He is also a perpetual brand name, the owner of art's most upscale toy store, and the brand is strictly himself. As sponsor for the retrospective, H&M announces a new Fifth Avenue store and a limited-edition Balloon Dog (Yellow) handbag—and Koons has posed for ads for himself as well, a model of self-promotion appropriated by Araya Rasdjarmrearnsook.
The Whitney's lobby also holds a statue of a peddler out of German folk art, and no one, too, is more the salesman and the hustler. Maybe everyone is caught up in art fairs and markets, but Koons takes them in stride. And yet there is not an ironic bone in his body. People write him off as a cynic, and they are wrong. He wants everyone to laugh at his dull jokes along with him, even when things get nasty. And he wants ever so much to please, starting with pleasing himself.
This is not a formula for deep thought or feeling, in perhaps the shallowest artist alive. If you build it bigger, they will come. Koons hit New York in 1977, after studying at the Art Institute of Chicago, and he had his breakthrough at the New Museum in 1980. For "The New," he placed upright vacuum cleaners in transparent display cases, topped by a neon sign. One sees them again on entering the retrospective, surrounded by billboard ads. Vacuum it up.
As readymades, they have a pristine clarity far from Marcel Duchamp or Meret Oppenheim. They also have little menace or subtext. They belong to their time, much as David Salle shocked in painting because his juxtapositions resist teasing apart. What can one expect from a vacuum cleaner salesman? At the same time, a vacuum with its switch off seems airless. And nearby lie a snorkel and an aqualung, in bronze.
Koons gained more attention in 1985 at International with Monument, the East Village art gallery, with his basketballs floating just below the surface. They are still unsettling in their simplicity. Ben Davis, the critic of museum expansions, sees a reference to race, and they do share space with NBA posters, a room before whiskey ads targeting African Americans. The artist also made tacky decanters in polished steel, which he had no compunction filling at the distiller. What, though, is he saying about blackness? This is first and foremost his bad taste, along with yours and mine.
No way to say good-bye
The curator, Scott Rothkopf, gives him ample room to hang or to celebrate himself. Between the shallowness and the repetition, so large an exhibition goes by all too quickly. Five full floors allow one series to unfold at a time. It also has space off to the side for still earlier work, vinyl flowers nestled among mirrors.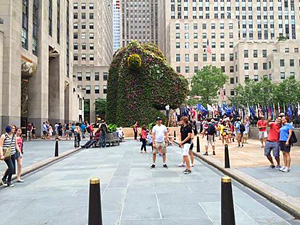 It is all here—the bright colors, the shiny surfaces, and the illusion of inflatable toys pretending to the illusion of nature, as for Koons at the IBM building in Astor Place. Chocolates and balloon dogs were never far away.
Next Koons abandoned readymades with polychromed wood and porcelain, here set in a row as if to stare the viewer down. The "Banality" series includes Michael Jackson in that awful gold suit, cuddling his pet chimp. Again, though, be wary of assigning a meaning, political or otherwise, not even to white face. Jackson is just one banality among others—along with Buster Keaton on an ass, angels leading a pig, a London policeman communing with a bear, aging flower children holding an entire blue litter of pups, a headless nude in her bath, and the Pink Panther. Jackson may derive from a Pietà, but a dead Jesus never sat so upright. And no one called him Bubbles.
Koons, by then showing with Ileana Sonnabend, makes a point of pleasing himself, and it cost him friends. For "Made in Heaven" in 1994, he posed with the Italian porn star known as La Cicciolina, in lurid poses and huge paintings in colored ink. They also introduce the handmade surfaces of later paintings, the "Easyfun" series from 1999, such as bologna sandwiches adorned with smiley faces. With Koons, photorealism loses both its detachment and its virtuosity, for who knows what the artist contributed, beyond the toned body and the sex? Once again, he is making art about pleasure, not politics, and he embraces the pleasure as his own. He and his co-star married.
He must have enjoyed more the idea of being married to a porn star than the actuality, for the marriage soon ran its course. So for the most part had his art. He returns to childhood, with large mirrored glass in the shapes of animals and the imitation balloon sculpture. Later he throws in Hulk Elvis, as if to infantilize Warhol once and for all, but little more. Sex makes a last appearance with Gretchen Mol posed as Bettie Page, but it has trouble competing with the cuteness of Popeye, the Liberty Bell, or a kitten stuffed in a sock. It also cannot keep up with Koons's final hope of meaning more.
He goes all the way back to the Venus of Willendorf for another balloon sculpture, and he hauls out the Belvedere torso and the Farnese Hercules, interrupted by blue suburban lawn ornaments. He puts in a plea for great art with a brand new work as well, that Play-Doh. The sculpture shows off his clout, requiring removing the museum's doors for the first time ever just to get it inside, and it follows Claes Oldenburg by representing the everyday while alluding to tradition—here the tight weave of Lynda Benglis and the abstract volumes of early Modernism. And of course those volumes are crumbling into a gross-out. Like Oldenburg in actual soft sculpture, they suggest deflation, where before Koons mimed only inflation. And yet even now he goes first and foremost for adolescent pleasure and for scale.
The permanent collection may be gone, but Koons cannot truly empty the museum, because he is too full of himself. This is not a tribute to the Marcel Breuer architecture. Yet it is never cynical, and neither is the Whitney. The curators could have reopened downtown with Koons, reserving the museum atrium for his puppy. Instead, they will devote the entire new building to the collection, followed by solo shows of an African American, Archibald Motley, and a living classic, Frank Stella. They are still turning their back on a great Madison Avenue institution, but there is no happy way to say good-bye.
The big questions
One spots James Lee Byars briefly, in video and in photographs, in his ever-present top hat, cape, wide eyes, and long hair. One sees his traces in the gilding of entire rooms, the dripping gold lamé of a "world flag," and no end of silk. Their blood-red and pink form a dress for five people to share—and, he dreamed, for five hundred. They stiffen into the hat and collar of a dunce, a clown, or the votary of an arcane religion, not unlike his art. For William Butler Yeats, "The intellect of man is forced to choose / Perfection of the life, or of the work." For Byars, the perfecting of a life was the work, and besides who was he to choose?
The same red saturates dried roses, for a Table of Perfection, and the same gold a crystalline bell jar, an empty throne, the artist's suit suspended from an otherwise empty wall, and a cube with rounded edges like a die that leaves nothing to chance. It gilds The Figure of an Interrogative Philosophy, a tall plinth inscribed I.P. Interrogate and philosophize, but do not rest, not even to rest in peace. And then there is the blackness—the rumpled tissue paper of unwrapped gifts, the lava sphere that Byars rolled down Amsterdam streets for The Perfect Epitaph, and The Ghost of James Lee Byars from 1969. Enter through one black curtain, have faith that an exit lies in store through another, and try to believe that you are not alone.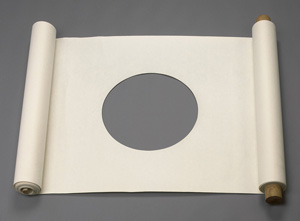 Had Byars lived, he would be everywhere. One can hardly separate his work from his person on the move, stopping now and then to take a question or to pose one. For his single most extended performance, again from 1969, he sat for a "Question Center" at the Hudson Institute, where he solicited cues from lawyers, scientists, and others who might think they know something. He did much of the talking. "1/2 an Autobiography," his retrospective, takes its name from a project of Byars that same year, at age thirty-seven—half the span, he presumed, of a human life. It took the form of more rambling thoughts and questions, in what he later called The Big Sample of Byars.
In reality, he died in 1997 of cancer, in Cairo, leaving not that big a sample. His retrospective comes off as mostly empty rooms, blank books, and gilding—less a career than a travelogue. Born in 1932, he studied art in his native Detroit and taught English in Kyoto, starting in 1958. He met Morris Graves, the west-coast artist, who influenced his early ink-stained abstractions and helped him fall in love with Noh theater and Shinto rituals. He also wrote to Joseph Beuys, an obvious role model for a lifelong shaman. For the curators, Peter Eleey with Magalí Arriola of the Fundación Jumex Arte Contemporáneo, Byars was "obsessed by the idea of perfection," including big words like beauty and truth. For the rest of us, he was obsessed by the idea of himself.
A wall label tells of his showing up at the Museum of Modern in 1958, in search of an introduction to Mark Rothko. Dorothy C. Miller, the museum's first curator of painting and sculpture, came out personally to deal with him, and he talked her into a solo exhibition. The museum here is boasting of a more innocent age, when a curator might do something like that, but it is still boasting. One might say the same about Byars. The artist so naive as to stop in unannounced in search of Rothko was also a hustler. In fact, he is still not above hustling, not even in death. In photos, he writes words of love in the air, but backward, so that museum-goers can read them.
He also breathed out words of death, for performance for him involved not risk and endurance, as for Chris Burden, but love and death. By the 1970s, he was mostly just documenting himself. A telegram instructs whoever might be reading "to burn everything." Postcards to an architect friend, of museums and ruins, have banal messages in curly red letters decorated with hearts. Maybe Byars never lost his innocence, even with a wife and two kids. Or maybe, like Yeats, he wanted "a heavenly mansion, raging in the dark."

Jeff Koons ran at The Whitney Museum of American Art through October 19, 2014, James Lee Byars at MoMA PS1 through September 7. Portions of this review of Koons first appeared in Artillery magazine. Koons has pleased so well with his retrospective that the museum is extending its hours for the course of the show.