Scale Matters
John Haber
in New York City
David Altmejd and Robert Therrien
"Size matters"—at least in determining when a cliché, like an art installation, has reached critical mass. In a review of Sex and the City, somehow The Times could not resist that particular cliché, in a punning putdown of the movie's inordinate length.
Just a few pages away, one might turn to a review of the annual group exhibition at the National Academy. And, sure enough, one learns that the exhibition coordinator has called her catalog essay "Size Does Matter." Have the arts grown a little out of hand?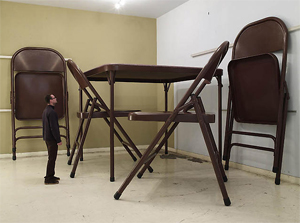 This site has stumbled through so many overblown, adolescent exhibitions in the new century that it gets harder and harder to keep them straight. For once, however, an overblown, adolescent metaphor can help. Along with shows by David Altmejd and Robert Therrien, it can illuminate a distinction once important in modern painting, between size and scale.
Clichés matter
One does not need a reminder that sex sells—or that pack journalism looks for shortcuts. When it comes to art, however, The Times was onto something big. The National Academy can afford to talk about size. It is seventeen years short of its two hundredth annual, and the 2008 National Academy Annual packs more works than the Whitney Biennial into a narrow mansion. Still, its idea of size speaks solely to painting, and that only underscores how much is bursting out beyond the safety and scale of a juried show. Sculpture has become almost a quaint synonym for installation.
Art has acquired a habit of filling a gallery to its limits or, like Urs Fischer, bursting through the gallery walls and floors and onto the Lower East Side. And I mean big time. It gives literal force to a museum blockbuster. The impulse to trash the gallery goes back at least to the participatory landscapes of Robert Smithson and Gordon Matta-Clark. Land art by women, too, was mapping nature and culture. It was exploring found and socially created landscapes, artistic expression and institutional forces.
One could name any number of other recent exhibitions of fatiguing breadth. Piotr Uklanski, much as with his banner at the Met, makes visitors circumnavigate a red wall just to find a huge raised fist in praise or mockery of Solidarity, an equally large emblem of Poland, and a sickeningly elaborate Christmas crèche. Zhang Huan's soft-focus tableau of peasant labor has grown so large and that his gallery offers pedicab rides to take it all in. Ai Weiwei, too, reduces political and cultural conflicts to self-assertion, with an immense Chinese lantern fallen like a limp prick to the gallery floor. A single work by Carsten Höller punches right through two museum floors. But let me stop there. Lists, too, can grow supersized.
A tad less foolishly, David Ellis gained attention at the spring art fairs and "Greater New York." His heap expands on a personal mythology—or maybe lifestyle—of alcohol containers and loud music to match. It also rises right to the ceiling, pressing out from a corner of the gallery to fill perhaps a quarter of the back room. The remnants of an artist's studio also expand audibly, with three separate mechanisms in as many rooms. All of them pound out rhythms that I had hoped never to hear, but one can always bring earplugs and smile at the visuals. Plastic lids made for paint or spackle wobble up and down like organ stops, but the alcohol bottles definitely have the last word.
All that has continued relevance today, as artists attempt to find media capable of describing global networks. A 2005 group show at the Whitney, called "Remote Viewing," took painting, drawing, and sculpture on the scale of a room—often directly on museum walls. This, too, is a way of breaking through. With Tara Donovan, piling on simple Mylar or drinking cups can produce dazzling landscapes or illusions. For all that, however, the ruckus of installations today has less to do with ideology or illusion and more with the market.
It reflects pressures on museums to supply mass entertainment. It reflects pressures on artists to assume the status of celebrity icons. Finally, it reflects pressures on galleries to gain immediate attention in a crowded market. As I put it at the very start of the decade, one could define Postmodernism as Modernism pressed for time. And few exploit the pressure as blatantly as David Altmejd.
Angels in America
At the climax of Millennium Approaches, the first half of Tony Kushner's Angels in America, an angel crashes through the ceiling. Of course, she solves nothing. AIDS ravages on, while characters still wrestle with their lives. One enters heaven but must return to earth, and heaven looks like San Francisco after the 1906 earthquake. God himself left the scene that year and never looked back. Still, the angel insists, "the great work continues."
I would not swear to great work, but Altmejd brings his share of devastation to Chelsea—along with his own ostentatious promise of redemption. Like Kushner's, his angel picks an awfully clumsy means of entry for a seraphic being, although a dramatic one. It appears to have broke through a gallery wall or, perhaps, to have stumbled into the wall by mistake from within. Those at the opening after a glass of wine must have taken heed. A few blocks away Oskar Dawicki left his outline in a hole in the wall onto the street, an Homage to Bruce Lee. However, where Dawicki only rubs it in further, by pretending contrition on video, Altmejd really does imagine presences beyond his conscious control.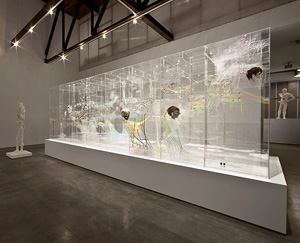 And that is saying a lot, for this artist is a creepy and consummate control freak. For the 2004 Whitney Biennial, he had me hunting a hilly corner of Central Park all the way to 106th Street for his giant werewolf. Now the displays have taken on epic proportions, and every item seems connected by shelves, colored thread, and onrushing spirits. One set of wings ushers one into the gallery, looking not unlike a spread-open Biblical volume from Anselm Kiefer. Still more crumbling plaster angels lurk within. I could swear that one thin white body in the distance echoed a rather different David, that of Michelangelo, but its contrapposto vanished up close.
The walls, cabinets, and statues all share Altmejd's working methods, of obsessive destruction and accumulation. Other dents in the wall recycle the particle board into a mold-like growth. They also share his themes—of the corruptible border between bestial and human, primitive and futuristic, gallery and science museum. Hands point up from one case, as both a rising wave and a plea for life from beyond the grave. Dead butterflies take flight, and more of those crystals turn out to be oddly colored noses (and indeed one organ of a butterfly, as it happens, is called its proboscis). The only certainty is the equation of the uncanny with artifice and theater.
The millennium has come and gone, along with the art boom and at least some of the pop-culture fad for zombies. God may have departed heaven, but pockets of the godlike installations remain here and there. Altmejd delights in ambiguity, but he also deals very much in the obvious. One could complain, and complaints about last year's fashions abound. For all that, the artist is putting on his entertaining show yet. It is only a show, but at least a macho display gets tied up in threads, and the werewolves have given way to angels.
The label theatrical entered criticism thanks to Michael Fried—through art at the opposite extreme of spareness, hard edges, and materials utterly remote from nostalgia or mythmaking. Hints of Minimalism linger on even in the more over-the-top theater of Bill Viola. Sandra Cinto, in a show of Brazilian art, adapts them all in making abstraction into a theater set. From outside the room, one can glimpse blue diagonals out of Ellsworth Kelley, but thin parallel strokes of silver like Donovan's metal pins cascade into something like Viola's shower of rain, before narrowing back to geometry. Work on canvas adds more direct allusions, including Asian calligraphy, while a plain blue painting provides a point of repose or of afterimages. Still, neither more nor less necessarily means more, and the wall surrounding an empty room has the more compelling narrative.
Supersize me
On a gallery tour's path from disappointment to felt pleasure, exhibition after exhibition makes it hard to know where to place them. On another occasion, I saw a glittering lattice on the darkened floor, like an outsize architectural model for the disco revival. It transforms Modernism's ideal city into a pleasure palace or hall of mirrors. Already challenged, I turned to a still larger work, a kind of central table covered with a maze of artifacts, like a natural history museum of modern art.
And then I noticed it: the shaggy creatures, the excess upon excess, the real or pretend quartz crystals. And that too was Altmejd, the same guy who dragged me to that hill half hidden in Central Park. He calls the same motifs in a display case werewolves—and I mean cases filled to the limit with a weave of Plexiglas, quartz crystals, and artificial life. Damien Hirst comes close to mindless consumerism when he feels himself most serious about a museum's preservation of moral remains. Here an artist revels in the kitsch without giving up his pretensions. How campy can things get, even in New York?
I still consider Altmejd kitsch, but a self-aware presentation matters even with camp. A use of scale and a gallery installation to evoke wonder matter even more. They make this work truly belong to the visual arts. Then again, he had dragged me out of the museum and up to a monument in the park that even I had never seen. Perhaps only Christo's Gates could do as much.
Altmejd makes his adolescents stand erect, limited in stature only by the gallery. He hid that werewolf in Central Park as if it had run free. In the gallery, he again uses nudity, rough hair, quartz crystals, and violently abraded surfaces to suggest a convergence of human and inhuman, organic and inorganic, the primitive and the future. Altmejd's shaggy men, and I do mean males, show what a little Plexiglas and testosterone can do. One monster also holds a hollow globe of metal strands like the old spinning symbol of atomic energy. Kids really do get to take over the science museum after hours.
Robert Therrien's tables and folding chairs insist on their size without the melodrama. Altmejd can fall back on goth and sci fi, and why not? Cave men and nukes sound scary, but they amount merely to alternative gimmicks for a stock disaster movie. A Hollywood director has in fact followed up future catastrophe with a spectacle set in 10,000 B.C.E. Therrien, in contrast, draws on the movies for a family comedy. He puts one in the role of Tom Hanks in Big.
The casual furniture has some of the pleasures of Pop Art, the charm of simplicity, and Modernism's appreciation for industrial design. It succeeds best, however, as child-friendly entertainment. The mix of visual and physical sensation becomes most obvious with gigantic bowls, the kind that stack with their rims anything but horizontal. As one circulates, the sculpture seems to spin before one's eyes. One's head and gut might as well.
After all that, can an Academy Annual compete for sex appeal? Perhaps it helps to remember why painting, too, once grew in size. Abstract Expressionism certainly included dense work on a modest scale, such as the pioneering drips by Janet Sobel or Shimmering Substance by Jackson Pollock. Even these, however, played out against a larger field, as when one imagines Janet Sobel as outsider. A generation had borrowed the scale of public art—such as history painting, Guernica, a WPA mural, or the Romantic sublime—for personal gestures. Henri Matisse had suggested the possibility, with Red Studio, but even he sought the impersonal calm of eighteenth-century palaces. Now painters had changed the relationship of the artist's gesture or the viewer's perception to the painted object, until neither could be fully public or private again.
Art in the mass market has all but lost that power of self-reflection, but it is acting in the same sexy space. Is it still capable of adult sex as well? With his 1993 Family Romance, Charles Ray had brought the ideal American family naked, down to the scale of its two children. Ron Mueck has veered between a tiny couple and an infant roughly the size of a corporate yacht. Artists can still try to keep Altmejd and Therrien from having the last word. In today's scene, however, children have assumed mythic proportions.

Piotr Uklanski ran at Gagosian through May 31, 2008, Ai Weiwei at Mary Boone through April 26, Zhang Huan at Pace through July 25, and David Ellis at Roebling Hall through June 28. David Altmejd ran at Andrea Rosen through November 27, 2004, through June 14, 2008, and through April 23, 2011. Robert Therrien ran at Gagosian through June 14, 2008.