The Space Between One's Ears
John Haber
in New York City
Janet Cardiff and George Bures Miller
Janet Cardiff and George Bures Miller have created the ultimate three-dimensional art form, in sound. So why does their work often seem so one-dimensional?
With The Murder of Crows, maybe make that zero dimensional. Alas, the work has all too firm a point, even if the Park Avenue Armory looks so much finer undivided and in the dark. It is also so much richer in sound. You just may not like what you hear, and you may not like feeling ordered about. Cardiff and Miller often thrive on and suffer from that same trade-off. From their early work to Central Park, to a stunning recreation of a Renaissance motet, and now on Park Avenue, you are invited to perform, only to find yourself a listener.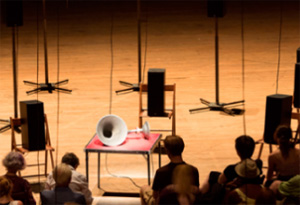 Crows feet
Janet Cardiff, most often in collaboration with Miller, has given new meaning to surround sound. She has taken me down corridors and stairwells, guided by long tracking shots and headphones. She has led me through Central Park, past the faces of strangers and familiar landmarks, in search of a love story. And she loves stories—or at least melodramas, at their best as hauntingly familiar as their settings. Maybe that is why the park invited the artists back for a second summer, a rare case of art by popular demand. Maybe that, too, is why Cardiff's finest work returned last year to New York, in a group tribute to "September 11," but its music stayed for almost twelve months.
A decade ago, an audio work took one through MoMA PS1, like a long, painful treasure hunt for the artist's imagined recollections. Two years later in Chelsea, one put on the headphones again, to peek into a mystery theater almost out of Ilya Kabakov. Another work had one play air guitar, step on the wah-wah peddle, and distort Jimi Hendrix's already manic Star Spangled Banner. I liked it better the first time. She was most herself, though, in a larger video, an unexplained genre film with the viewer as culprit or victim. Like Alfred Hitchcock and Patricia Highsmith, Cardiff wants to entangle you in a narrative that you can neither control nor define—and it is not for you to proclaim your innocence.
The Forty Part Motet, as at MoMA in 2005, recreates the voices and echoes of Salisbury Cathedral in a performance of Thomas Tallis. Tallis employs eight choirs of five voices, to honor a queen's fortieth birthday. And Cardiff's tidy circle of speakers transforms a room many times over—into the space of bare gallery, the space of a favorite cathedral for John Constable, the space of Elizabethan England, the space between a Catholic's beliefs and a Protestant's celebration, the space of the performers, and the critical space of installations now. One rarely expects to find oneself within the space of a performance, rather than facing the music. And one rarely expects to find a museum so full of voices and so empty of art. This once, Cardiff allows the participatory space of a visitor's free movements and a shared ritual.
More often, her narratives run ever so linearly, and her voice has a way of displacing others. Both happen again at the Armory, where she recounts a thirty-minute nightmare, and one has no choice but to listen. She practically proclaims her seriousness, from a loudspeaker on a bare table, surrounded by a crescendo of unseen others. Michael Fried dismissed Minimalism's near empty space with room for the viewer as "theater." Cardiff and Miller embrace the charge. Indeed, one goes for the ambient space and sound.
With The Murder of Crows, created for the 2008 Sydney Biennale, Cardiff sounds as breathy and breathless as ever, like Patti Smith with a bad cold. The narrative starts with a factory feeding on human parts and spouting human blood. It takes her terrors from a country of soldiers brutalizing children to a beach, smothered by crows eating garbage. The body beneath a blanket is only a leg, blown off by a bomb. Between the three segments comes a rush of sounds from fifty-five speakers. It resounds from electronics to Romanticism, from the slamming of machines to marching armies (crow's feet, perhaps), and from a Soviet war anthem to a final lyric (with music by Miller) pleading for sleep.
The artists have given each and every speaker a unique sound, and they weave faultlessly together those distinct echoes in time and space. It works best between narrative segments, when the voice leaves off and the cacophony begins. For those moments, one has to guess at what is happening and what comes next. Even then, though, heavy-handed voices intrude: "She needs her leg, bring back her leg." While the polyphony builds on The Forty Part Motet, it recalls their storytelling at its most literal, in Central Park.
Drill sergeant and demon lover
There, too, Cardiff and Miller staged a metaphysical thriller and invited viewers to audition for the star or the corpse. Her voice took one into lovely tourist country that, so often, natives overlook. One walked along the pond off Central Park South, through the zoo, and past Balto the dog, ending beside the lake. There were no advance reservations for its thirty-five minutes. So one put one's name down, started a stroll all one's own, and returned to pick up a headset at Sixth Avenue. That preliminary made me feel less ordered about by a neurotic relative—for a while.
Her Long Black Hair used its stereo well to place one within an illusion. From the first moment, the sounds of a marching band had me turning my head to look for what had passed decades ago. Perhaps it never happened at all outside Cardiff's imagination. She and Miller had cased out the joint well. Descending stairs in the first minutes, I saw a woman on a cell phone, just as her voice was saying. I was startled, and the description of darker, damper hours over the pond altered the sky for me.
I had taken to the great outdoors, but had I seen it, and was it really there? Art had vanished to a space between one's ears, along with summer itself. Its evocation of memory, loss, the park's changing light seemed so fitting for cooler weather, changing seasons, and the return of New Yorkers that I hated to see it go away with the advent of fall. Then again, the heat of summer made it even more impressive as sheer illusion. It felt especially satisfying before the narrative took over and the preliminaries faded into memory. It offered intimacy in a crowd.
Of course, the speaker, Cardiff herself, was never in sight. I had only the dark-haired woman that she, or the man who took the three photos in one's hands, will never recover. The narrative voice claims to have based the work on photos that she found quite by accident. As ever, it sounds at once too feverish for its own good and on Quaaludes. Maybe that, too, belongs to another time. Many a figure on drugs or alcohol, like the nineteenth-century poets and philosophers she quotes, would understand.
I started to find the commands and learned digressions tiring. I found that I was forcing myself not to run ahead of the story and, often, failing. I tried to understand why the woman would be lost to Cardiff, her lover, or to me if she turned around. I wanted to explain that it was Orpheus who risked losing Eurydice if he turned toward her, not the other way around. Did the gender reversal add to the work's relevance after all? In getting out from film noir and into the light of day, had Cardiff and Miller at last discovered artifice?
Even now, I have trouble sorting out their art from its painful sincerity. All this worked best for me in those first few minutes. Not every guess was right, by any means. As the misses started to dispel the illusion, I had to take Cardiff's story and her leadership role more seriously. It ran the risk of slipping back into her usual mix of drill sergeant, demon lover, and hopeless romantic. And that takes one to the actual drill hall of the Park Avenue Armory.
"The mind has no color"
Obviously Cardiff and Miller did not discover three dimensions in art—or four if one counts time. Sculpture has always offered relief, in more ways than one, and Clement Greenberg made a point of painting as object. Yet their sound art ditches the art object, leaving only time and space. Like performance for Tino Sehgal, relational esthetics, an empty room from Martin Creed, a Park Avenue Voice Tunnel for Rafael Lozano-Hemmer, or the whispers of Susan Philipsz, it builds on Minimalism, which placed the viewer and art object in the same space. Another source lies in breakthrough staging of the 1950s and 1960s, like that for Arthur Miller's The Fall, which required little more then a chair and the protagonist's "mind, thought, and memory." Oh, and the watchtower of a concentration camp.
Peter Greenaway, Tom Sachs, and Sue de Beer have all used the Armory for guided tours—of The Last Supper, a mission to Mars, and teenage anxiety. And all left its vast interior more convoluted than when they began. The Murder of Crows has the virtues and vices of simplicity. One could almost replace it with a single slow chant: I . . . am . . . so . . . serious. It can neither give up control nor spell out the threat.
I doubt that many will take the work's nightmares for their own. Its title refers to an actual gathering of crows around a dead bird, as if in mourning, and to a murder of crows—a collective noun, like a pride of lions or a pod of whales. (Who gets to make those things up anyway?) The artists illustrate the theme with an etching by Francisco de Goya, The Sleep of Reason Breeds Monsters. A man slumps at his desk, while bats with their baby-bane faces (to borrow from Patti Smith again) hover and swoop. I almost hate to point out that sleep has bred bats, not crows, with faces more like owls.
Just as important, the audience has lost its mobility in time and space, and sitting through the results can be murder. A semicircle of chairs faces a mathematician's zero dimensions, a point, as if waiting for a lecture from Godot, and the drama to all sides does not change that much if one dares to wander. Only the voice dies away. By removing even the narrative, The Forty Part Motet completed the reduction of art to sound and space. Now the story line is back, with a vengeance, while much of the immersion in a changing experience has fallen away. Its dimensions are subservient to a harsh lesson.
Jon Routson, too, loves dark rooms and mysterious murmurs. Yet he invites one in on the joke, and he makes one a true partner in creating the work, only to leave it divided and unfinished. Cardiff makes viewer participation mandatory, and, I fear, she never, ever jokes around. In fact, she has played another authority figure, a docent, in "The Museum as Muse." Did I say she came from Canada and now lives in Germany? She must not have found the land of depressing singer-songwriters earnest enough.
Michelle Jaffé runs the same risks with the sources of electronic music behind iron masks fit for Darth Vader or perhaps Ralph Eugene Meatyard, although the music and image have stuck with me. Still, in their medley for fifty-five speakers, Cardiff and Miller display a greater virtuosity than ever, and maybe soon they can stop counting crows. They know when avant-garde dreams collide with old movies, old music, and old memories, and they want to take good advantage. One can never recover one's innocence, they seem to say, because one has long since lost the innocent eye. "The mind," from a stage direction in After the Fall, "has no color but its memories are brilliant against the grayness of its landscape." For now, one has too few memories for all the brilliance and the gray.

"The Murder of Crows" ran at the Park Avenue Armory through September 9, 2012. Janet Cardiff's "The Forty Part Motet" ran at MoMA PS1 through September 4, 2011, and her earlier survey there, with contributions from George Bures Miller, through January 20, 2002. Cardiff and Miller also ran at Luhring Augustine through March 20, 2004. Cardiff's summer walk began at Sixth Avenue and Central Park South through September 13, 2004, and again through September 11, 2005, sponsored by the Public Art Fund. Michelle Jaffé ran at Bosi Contemporary through August 5, 2012.