A Tunnel to the Stars
John Haber
in New York City
Rafael Lozano-Hemmer and T. J. Wilcox
There may be no finer place for public art than New York, a city of public spaces and a city of art. But can art fully respond to the city if it does not also have star quality?
It can easily seem that way, alas, amid crushing inequality. It could seem that way, too, with Rafael Lozano-Hemmer and his Voice Tunnel this past summer—and now with T. J. Wilcox. Together, they point to two sides of New York, the first beneath one's feet and the other In the Air.
So what if the Park Avenue tunnel serves not the subways but cars, while Wilcox has an entire skyline to himself? They can still claim two infrastructure marvels that set the city apart. With luck, they should also have people talking about the real New York that big-money art risks leaving behind.
New Yawk, New Yawk
I still get a rush from the Park Avenue tunnel. A car seems to pick up speed as it slips into darkness at the very foot of the avenue, and then comes a second rush as it rises into the light. One circumnavigates Grand Central Station, passing beneath the majestic arch of the 1929 New York Central Building, before a viaduct deposits one on familiar ground in midtown Manhattan. And for three summer Saturdays, the experience was open to those not of the taxi-hailing class, thanks to public art. One could also see how installations have become exercises in spectacle, crowd control, and brand-name architecture. Rafael Lozano-Hemmer turns even New Yorkers into tourists.
Other artists have found a hidden New York of real tunnels and imagined infrastructure, even in abstract art. Voice Tunnel, in contrast, depends on familiar ground, right down to the sound of one's voice. Shouting into an intercom at the tunnel's center produces a momentary cascade of light, from spotlights lining the base of the walls to either side, regularly spaced a few feet apart. A pair produces a thin arch of light along the wall and ceiling, and the nature of the sound determines which pairs light up, in a formula known only to the artist and maybe to God. It also produces a garbled roar from speakers set beside the pairs closest to the center. At one point, I clearly made out a cry of "New York City," but that was that.
Interactive art has a way of challenging people to look or sound cleverer than the person before them, and they rarely succeed. But then that, too, is part of what people show up to experience, just as in any number of high-school rituals. The experience would not be complete either if one did not upload a picture to the Internet. So much of the view consists of others with their cell phones that Apple or Samsung should have sponsored the event. Is it an accident that the pattern of arched lights looks like a bar code, ready for scanning and a purchase? And of course part of the experience, too, is waiting on line.
Mornings began at 7:00 sharp for the truly determined, and by 9:00 the line wove around roughly five city blocks. It moved quickly enough, at least compared to that for Rain Room at MoMA a month or two before, and within half an hour I had another familiar experience, signing a waiver, and headed in. A second (and much slower) line inside for the intercom ran only about a block, but there I passed. By 10:30, the line outside had snaked back to its starting point, where a man with a megaphone was announcing that it was "temporarily" full and one should "check back later." At 11:30 the line officially closed, but as late as 12:30 one could join it—only, he warned, one might not make it in. The lanes reverted to cars at 1:00.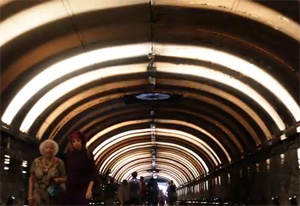 Others experienced the work without the art, for Park Avenue South and Park Avenue closed to traffic for the duration, as part of New York's "Summer Streets." Joggers, pedestrians, and cyclists could bypass the tunnel, catch some rays, and pick up the action along the viaduct. Inside, the seething mob of the lucky few first saw the lights, reaching speakers only later. The sound grows from nothing, rarely if ever becoming language. Then the lights, too, give out as the tunnel briefly takes on a flat roof, and the interior competes with the proverbial light at the end of the tunnel. One may or may not look back.
The very lack of articulate speech suits a work with no special relation to the normal uses of its environment. This is site-specific art without site specificity. Lozano-Hemmer has in fact staged a similar event in both Vancouver in 2010 and Philadelphia in 2012, where sound translated into beams of light overhead, indistinguishable from public displays for national holidays or an Olympics ceremony—and in turn Mayor Bloomberg used images of New York in the movies as part of his bid for the Olympics in 2005. Is this, then, sound art or street theater? Think of it as tourism, like a visit to the Empire State Building, with the same relation to a public image of New York. Hal Foster speaks of a global style in architecture, as with Renzo Piano, as a kind of branding. At least this brand name holds up, but I had to wonder about my own remembered comfort in the tunnel and the city.
Before sunset
Thankfully, New York still holds more than glamour now and then, and so does site-specific art. James Turrell and Robert Irwin in nearly bare museums, Janet Cardiff and her Forty Part Motet at the Cloisters, Christo and The Gates in Central Park, and summer sculpture along the waterfront—they all bring altered perceptions and a sense of place. When Agnes Denes turned a landfill into a wheat field and when Thomas Hirschhorn built a community center in the Bronx, they took on a whole other side of the city, one concerned for poverty and a sustainable future. Lozano-Hemmer and T. J. Wilcox are above all that, in the realm of pure spectacle, and even there Wilcox occupies a world apart. Instead of long lines to join a program of "Summer Streets," he offers a stylish view from high above Union Square. He leaves no doubt that it is his view and his sense of style.
Spectacle or not, it is spectacular. Wilcox filmed the panorama from eighteen stories above, from before sunrise to after sunset. Hey, some artists can afford things like that. It makes illegal Soho lofts of the 1960s seem like grit and small potatoes, and it does not need Ethan Hawke and Julie Delpy to supply romance and a sequel. Then he digitized the film, sped it up, and projected it onto a cylinder thirty-five feet across. He also adds six shorts, which appear successively on different parts of the screen.
They may not unlock the doors of perception, but they do let one into his penthouse studio. From outside the cylinder, the city rises above one's head with all its skyscrapers and water towers. It unfolds in space as one walks around—Madison Square and midtown to the north, condos and Con Ed's clock tower to the east, New Jersey to the west, and Ground Zero far to the south. From inside, the view is exactly the same, but one commands it all as it spreads out below. Where Douglas Gordon in 24-Hour Psycho slows time to build a sense of dread, Wilcox insists on the passage of time. Clouds, shadows, birds, and planes move noticeably over the course of thirty-five minutes.
Wilcox skips the dark night of Empire for Andy Warhol. Still, both Warhol and the Empire State Building play starring roles. One short recalls plans for New York's tallest building as a dock for dirigibles to and from Europe, while another recalls a pope's first trip to New York, when Warhol took a "huge silver phallus" of balloons to his rooftop. "I thought of making a painting that floats," the artist said, but he released instead a "whirlwind." The other four films remember Gloria Vanderbilt as socialite, a pillar of light at sunset as "Manhattanhenge," the penthouse building's super on 9/11, and Antonio Lopez—a fashion illustrator who died of AIDS in 1987. Footage from old newsreels and running titles in place of a soundtrack look back to a golden age.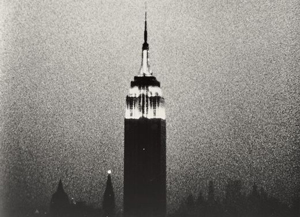 This is about the coolest kids in town, and for Wilcox that means his town. Warhol had the Factory nearby for a time, although he released the balloons from its original location on 47th Street. Wilcox discovered both the city and its history on a first visit to the Empire State Building's observation deck. Lopez, whose studio sat across Union Square, caught the "elegance bursting from city streets," and that elegance became the younger man's art. And then there is the "glorified super" to super residents, who shows little embarrassment in remembering the thrill of planes passing low overhead, men tumbling to their death as if dancing in the air, and the fall of the World Trade Center as "a confetti parade." A solo show for Wilcox in Chelsea papers the walls with all six shorts as movie posters.
Wilcox fills out the Whitney with selections from the permanent collection, and they become his story, too. They have titles like Sky, Sun, and Celestial Navigation—and they depict a surreal roof garden (in a painting by Florine Stettheimer), a gleaming Chrysler Building (in a photo by Hiroshi Sugimoto), the light on a building's face (in a video by Morgan Fisher), and lightning striking a skyscraper (in a photo by Weegee). The second floor's theater has room for the greater realism of Helen Levitt, but there is no escaping the spectacle. Vanderbilt's aunt also founded the Whitney Museum, which adds more claustrophobia than complexity. In a still image of the exhibition, the city takes the shape of an enormous eye. There may be art for more than the elite, even in an art scene obsessed with big spaces, big audiences, and stardom, but for now all that is up in the air.

Rafael Lozano-Hemmer staged his installation for three Saturdays ending August 17, 2013. T. J. Wilcox ran at the Whitney Museum through February 9, 2014, and at Metro Pictures through October 12, 2013.