Crash Landing
John Haber
in New York City
John Chamberlain
Any artist knows what it is like to live with failure—the failure to be recognized, the choices that never quite pan out, and the risks that make it all worthwhile. John Chamberlain had to live with something else, his singular achievement. Oh, yeah, Chamberlain, the guy with crushed automobiles. So colorful, so raw, and so him.
No wonder, at the Guggenheim, I lingered in front of a huge sculpture in the lobby. Its silvery strands twist together, like the pipe cleaners that a lot of kids used to call their first work of art. The tall, narrow, impassible arc rests on six clumsy feet, like a cartoon elephant. I appreciated the breather before tackling those auto parts. I knew I had seen this sculpture somewhere before, from the late Ken Price or someone still more tacky and contemporary, maybe one summer on the Park Avenue median. Its title, Sphinxgrin Two, deserves an accent on grin.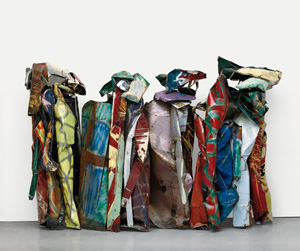 The work is Chamberlain's. He died in December 2011, four days before Christmas, four months short of his eighty-fifth birthday, and just weeks before his retrospective, "Choices." He missed quite an event, but that still gave him time to plan encounters like this one. It gave him and the curator, Susan Davidson, time to fill most of the big space off the first ramp with long, slim, staggered black parallels on the floor. He called them Gondolas, but they look more powerful and more ancient, like a swift Athenian fleet.
Living it down
Write them off to an aging artist tinkering with his reputation. The show's chronology along the ramp more or less ends with a foam sofa, sprawling every which way and covered only loosely in fabric. It could belong in a dorm, if one only had the space, and it could not look cheesier. Chamberlain wrapped up Sphinxgrin Two about a year before his death, too. Still, he based it on small models from twenty-five years before, also around the time of the Gondolas. On film and in photographs, he is almost always smiling and always the kid playing around, sometimes hacking away at foam with a butcher's knife.
He was also restless, in his art and with his reputation. He liked to deny associations with a car wreck. Maybe he was trying too hard for legitimacy, but he had his reasons. After the Navy, he had studied at the University of Chicago, where he picked up on David Smith. An early work of welded steel looks like Smith's early "drawing in space," only it spins out from its base in unfinished circles, more like doodling than formal clarity or a Hudson River landscape. Unlike Smith, too, he never actually worked as an auto welder, and he came to New York City via the artier community of Black Mountain College—like Robert Creeley, Merce Cunningham, Robert Rauschenberg, Cy Twombly, and Dorothea Rockburne.
The Beat impulse nurtured his improvisations in metal. So did his encounter in New York with his other greatest influence, Willem de Kooning. A decade ago, Pace gallery paired Chamberlain and de Kooning, and I suspected cheating in favor of "fine art," like the sculptor's own denials. Still, one starts to see the painter's colors everywhere, along with the looseness of his Long Island landscapes and the slashing, bulging verticals of his women. The other work in that first room hangs high on the wall, like a painting but more massive. Conversely, one starts to see de Kooning's turn to color in the 1950s as a response not only to nature and to abstract art, but also to the commercial and industrial landscape of America.
Others back then had to live up to their reputation, too—or to live it down. Jackson Pollock was Jack the Dripper, and Roy Lichtenstein had his Ben-Day dots. Minimalism practically demanded one-liners, like Dan Flavin with fluorescent lights. And yet they stuck with it, and their methods enabled them to move fluidly within both art and popular culture. Crushed automobiles may not fit so well with either, but Chamberlain took pride in the handmade and his skills as a welder. He was also having too much fun for a strict narrative.
He even gave up entirely on car metal in the late 1960s, only a few years after his breakthrough shows at Martha Jackson in 1960 and at Leo Castelli in 1962. He cut, piled, twisted, and tied foam, in one case to look like ripe but hardly appetizing fruit. He found color in refractions off Plexiglas, and he ordered prefabricated steel—which he then subjected to much the same crushing, shaping, and welding as ever. When he returned to disused cars in the 1970s, he found new variety, to the point that critics often prefer the earlier impact. About a year ago, successive shows at Paula Cooper, Gagosian, and Pace managed to make him look in turn a master of composition, a risk taker, and a man who played it safe. The retrospective does wonders by accepting them all.
Chamberlain stays so varied and so contemporary that I blew it in the lobby. Maybe the Guggenheim has too much foam, but it gains a complete chronology. Maybe the sofa looks like trash, but one can sit in it. (Aw, go ahead.) And the retrospective brings another revelation as well. Those two words, crushed automobiles, have a breadth all his own.
Unpacking the crush
Just try to unpack them. First, they place him with Abstract Expressionist New York. They do derive from Smith, and their violence makes him a sculptural parallel to "action painting." Second, they place him with collage and appropriation, right after Black Mountain and Rauschenberg's "combine painting." Third, they continue the thread past Rauschenberg and into Pop Art. How did other Pop artists miss out on automobiles?
Well, not all did. George Segal at least has people waiting to cross the street, and the moment of impact in a crash connects Chamberlain to fighter planes by Lichtenstein and James Rosenquist. Regardless, automobiles exemplified American culture in the era of suburbia and the Beach Boys. They also enter a fourth trend, in photorealism by Robert Bechtle, Richard Estes, Rackstraw Downes, and John Baeder—or actual photography, like Lee Friedlander touring America by car. Finally, the reduction to abstract shapes and industrial materials characterizes Minimalism, and in fact the turn away from cars to Plexiglas comes just when The Graduate reduces the future to one word, plastic. Even apart from associations with Neo-Expressionism in the 1980s and Neo-Pop of the 1990s, one has pretty much the entirety of the American century, and it takes quite an artist to span them all.
That breadth excuses any number of ups and downs. The early 1960s has the densest work, often small in scale. One piece balances not at all precariously on a spice tin, for mace, and I dare you to overlook the puns. Some hangs on the wall, where the bottom billows out like fabric. While some rests on the floor, especially during a brief move out west, the earliest pieces stay at the level of hand and eye. His pedestal already reflects Chamberlain's ambivalence about "anti-art."
At first, color derives entirely from found materials, wear and tear, and deliberate abrasion. Along with de Kooning, they set the palette for the rest of his life. They also leave time for the drama of black, in the very first auto piece on display, Shortstop from 1958, and the elegance of Velvet White from 1962. Out west, with hints from Billy Al Bengston, Chamberlain picks up airbrushing—naturally with the cheap spray paint of an auto-body shop. The year before giving up on cars, he tries tilted squares broken by smaller squares, like Minimalism but gaudier and titled after rock bands. In the 1980s, he splatters paint more freely, not unlike his tie-dyed clothing in some old photographs.
By then the work has grown larger, with more straightforward compositions that play off their size and shape. Kiss #12, from 1979, looks like a crushed industrial drum. The Devil and the Deep Blue Sea, from 1983, leans against the wall in torque verticals like a group portrait or police line-up. Divine Ricochet, from 1991, packs in as much color as possible, while all but exploding outward. In Women's Voices from 2005, silvery ribbons erupt from the top with a surprising lightness. In his most frequent device, Chamberlain lays horizontals across a vertical base, again just exceeding human scale.
As with Ken Price after all, titles say more about his enthusiasm than about the art. Then, too, "Choices" (ouch) could apply to any exhibition ever, short of Surrealist automatism—and even that is a choice. In the end, where Smith or de Kooning speaks for a generation, Chamberlain speaks for himself. Maybe that comes with any artist with a hand in so many schools. Maybe he was right all along in denying talk of car crashes, for he never did care for tragic endings. He wanted art to endure dents and scrapes, like growing up.

"John Chamberlain: Choices" ran at The Solomon R. Guggenheim Museum through May 13, 2012.