On the Surface
John Haber
in New York City
Ken Price and Ellen Gallagher
Some artists beg to be teased apart. Others reduce one to silence. Ken Price inspires effusions.
For Ellen Gallagher, too, a sense of life lurks behind alluring surfaces. She also has something of Price's suggestively wiggly forms, between abstraction and the deep blue sea. It just took her twenty years to find them, after engagements with Minimalism and fashion magazines. How does one get from Ebony to deep-sea diving? "Don't Axe Me." Gallagher may not mean that as an answer, but it does title a show of thirty works.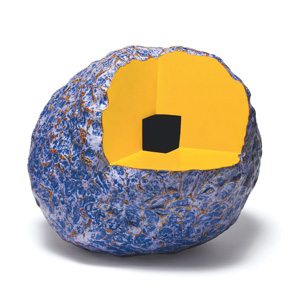 Adjectives and accolades
The arts of interpretation and silence are not so different after all. Books are devoted to the silence of Jan Vermeer and Mark Rothko. When it comes to the meditative purity of his light, James Turrell can get downright chatty. Ken Price, though, prompts something else altogether. Perfectly sensible artists and critics, and I shall leave them unidentified for their own sake, start piling on little more than praise. A retrospective may tempt you as well, provided you can stop giggling.
For a show that spills over two museums, it looks modest enough—and Price planned it that way, before his death in February 2012 at age seventy-seven. The Drawing Center presents a largely unfamiliar side of the sculptor, in works on paper dashed off, it insists, "with no audience in mind." The curator, Douglas Dreishpoon of the Albright-Knox in Buffalo, even dwells on his eccentricity and failure. On a trip to Mexico, Price fell in love with the idea of a curio store south of the border, with his own cups and saucers, and somehow he spent much of the 1970s not getting it together. The more than sixty sculptures at the Met, curated by Stephanie Barron of LACMA, fit neatly into a single room, even with a few more works on paper. But then there is the rapture, only starting with two quotes right up there on the wall in big letters.
Bravura, admirers recall, and bravado. Grandeur, brilliance, pleasure, and love. Seductive, eerie, radiant, and inexhaustibly beautiful, with an aurora of effulgent white gold. "It exudes sexuality," writes another. For still another Californian, Robert Irwin, "You had the feeling that if you cut that thing in half, it would be that color all the way through." I make a point of why art takes words and not just looking, and to me that means something other than adjectives and accolades, but plainly Price is a case apart.
I may not agree with the outbursts, but I find them revealing. For one thing, they point to his role as the outsider awaiting each person's personal discovery. Part of that is the usual clash between America's East and West Coasts. Price had reasonable success from the start, including shows at LA's formidable Ferus Gallery, and he attended what is now Cal Arts (although John Baldessari was then still in San Diego) before a brief stint in New York. He arrives here again much the same time as Turrell to the Guggenheim, Irwin and Jay DeFeo to the Whitney, Jack Goldstein to the Jewish Museum, Llyn Foulkes to the New Museum, Bruce Conner and Paul McCarthy to galleries, black Los Angeles to MoMA PS1, and still more from California to the Bronx Museum. Probably no one else, though, has worked so hard to drop off the map.
Part of the joy of discovery is finding a direct connection to how people live. Price worked in ceramics, like Arlene Shechet and Elizabeth Jaeger, challenging the exclusion of design from fine art. Like Billy Al Bengston, he also studied at the Los Angeles County (now Otis) Art Institute with Peter Voulkos, but where Voulkos subjects urns and statues to the cracks and fissures of ancient totems, Price started making ordinary cups before turning to abstraction. He also used those cups not for high tea but tequila, lots of it. He shifted his base to Taos, New Mexico, because of Hopper—and I mean Dennis, not Edward Hopper.
Maybe most of all, the superficial praise is on to something about his art. Price loved surfaces, to the point that after 1983 he dropped the traditional technique of glazing, which bakes colors into the clay, in favor of painting them. He applies paint with everything from brushes to Q-tips, for the stippling of his last, brightest, and best-known work. He also sands it, spreads it around, or wipes it away with a cloth soaked in alcohol, only to apply more until the surface has its smooth shine. As Irwin implies, the love of surfaces also plays against the medium's solid presence in three dimensions. These surfaces leave one wanting more.
Popsicle toes
The Met opens with a burst of color. While its long room at the back of the wing for modern art opens at either end, most people will first see the last and most aggressive work, in a marvelous installation by Frank Gehry. Price may have worked hard on that stippling, but it seems brushed on in one fell swoop, like polka-dot nail polish for teenage girls. If it looks cheesy, fine with him. The same late work also starts to bulge and to flow, as if out of an active volcano or a toothpaste tube. The blobs may rise up a bit, only to fold back over one another.
Their smooth outlines may hint at life, like Venus as the head of a snake rising up from broader shoulders. More often, though, suggestive titles like Hunchback of Venice or Balls Congo seem added after the fact, when the sculptor had more time to joke around. Henry Moore might have sculpted these, if only Moore was in a mood for party colors and if only his female nudes, rather than pose, had headed off to join the party. Looking for Irwin's color all the way down? Works from 1988 to 1995 take a chunk out of the whole, revealing a hollow center, hard edges, and a single bright color—only not the color of the surface. Those transitional works also show Price's back and forth all along between geometry and goo.
One can think of the two dimensions as art and life—or maybe just playing around. The very first works, from 1959, could have emerged from the same volcano, but their "mounds" also resemble ancient urns turned upside-down. The cups from the 1960s have awkwardly large bases, freestyle, often as not with further puns of their own. Blind Sea Turtle Cup looks just like it sounds, and it crawls across a sandbox as well. Others occupy boxes or picture frames, and one in a drawing rests on a cushion, all ready for therapy. With the 1970s, the cups shatter into pieces, anticipating taller abstraction from the early 1980s right out of Russian Constructivism. And by then Price had already been seeking the origins of life itself, with "eggs" from the early 1960s, more than a few of them hatching.
The emerging larvae look none too promising, but not exactly threatening either. How could anything so small, so wiggly, and so brightly colored threaten anyone? And while the eggs are larger than life, at about six inches, Price's very few large works look the least funky, the least organic, the least colorful, and the least memorable. His impact comes not from beauty and bravado after all, but from modesty and a sense of play. Gehry captures that spirit when it gives the eggs a large, central display case, as if to say that only the best jokes count as art. It seems only right that the artist's father worked for Good Humor, where he designed the first popsicles, and Price's wife was named Happy.
The Drawing Center calls its display "Slow and Steady Wins the Race," a nod to the fable of the tortoise and the hare—and sure enough the turtle cup stars in a work on paper. After the cups, though, the artist rarely used drawing as preparatory for sculpture. He just pursues his imagination wherever it takes him, and he counts quite a few drawings, intended for an audience or not, as finished enough to sign. They include entire cities of empty offices and bedrooms, in crisp outlines and cool colors. The final drawings heat up, with intense hues, unsubtle shading, and natural disasters inspired by the landscape of New Mexico. Still, they are disasters out of a graphic novel, the artist's mind, or both, and he was clearly enjoying them.
Talk all you like about seductions. I simply do not see the sex, although Price did leave a series of erotic drawings not in the show. (He said that he had been "busted" too many times, starting with anatomical studies after a textbook in drawing that a sixth-grade teacher managed to find risqué.) When I first saw a sketch called Happy's Curios, I wanted to take that as a term of his art. These blobs just go with the flow, often with the same cringe-worthy cutes that I find in another highly touted touted veteran of ceramics, Alice Mackler, but what the heck. Sometimes one had better not probe too deeply beneath the surface.
The devil and the deep blue sea
Ellen Gallagher, too, tempts one to decide what matters beneath the surface. Her passage from the bedroom to the ocean floor took her twenty years, some oil, a knife, and a great deal of ink. It also took several stops and starts, for an artist who keeps returning to the motif of eyes and lips, as if in search of an identity or another life form. Spread over two full floors, a thin retrospective looks that much thinner, like the display of a talented newcomer who cannot quite figure out what to do. One might leave wondering if she ever will. Think of it instead as an ongoing experiment, like art itself, and in fact it starts with a black box.
Born in 1965, Gallagher has been a critical favorite with a modest public profile since in the 1990s, including work in the 1995 Whitney Biennial. She had missed the angrier 1993 Whitney Biennial, with its focus on politics and race, and some early work borrows its images of black women from advertising. Yet the Plasticine hair and the ink masking their eyes are her own creation. So are the row upon row of tiny lips and eyes, as less racial stereotype than a gesture and a sign. They suggest an introvert reading and doodling, with her own private Minimalism. Gallagher cites an unlikely pair of influences in Agnes Martin and Gertude Stein, who would have had an interesting conversation.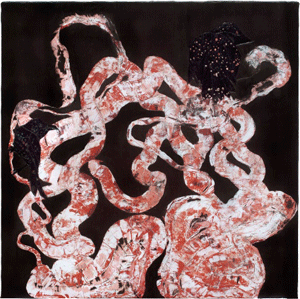 Like Stein in Europe, she lives between at least two worlds. Her father is African American, and the background of her latest work is thoroughly black. So are two large, reflective canvases from 2000 in enamel, rubber, and gum. More often, though, her first decade looks to Martin, with light traces on yellowed paper that, in reproduction, all but fade to blank. More often than not, she pastes the sheets on canvas, for the less than regular grid of larger work. Horizontal lines in pencil make them look torn out of a schoolbook. She does cut all her E's and O's from Ebony, but then those are vowels, like the sound of breathing with words still unheard.
For all that, the New Museum encourages one to start with her latest work, on the fourth floor. One can step into the black box right off the elevator, provided one lowers one's head. The chamber holds Osedax, made in 2011 with Edgar Cleijne as something of a science experiment. A slide show presents abstractions in deep colors and black, in close-ups that emphasize the affinity to stained canvas. To the left, a film cuts among extended shots of an industrial dockyard, a building on fire, fish in the deep blue sea, and a black cutout swimming in and out of place on another canvas. The curator, Gary Carrion-Murayari, speaks of her work as between science, art, and popular culture, but maybe make that political science.
Of course, the paintings are her own, with more outside the box—itself covered with odd geometric reliefs, like an early modern vision of design and the future. In a series from 2013, tendrils of red, yellow, and white snake upward across the black ink. Their scumbled texture recalls bark, although the eyes and smiles linger on. They offer the hope of resurgent life, and black birds peek out from behind the branches. Are they sea creatures, worms, or trees, and does it even matter? Does the film show the work's creation or the artist's fears, and what if anything is its politics?
One can ask much the same about her career to date. Gallagher speaks of the ink in her latest series as threatening to engulf its life, but it looks like a neutral enough background—not unlike the slow guitar track for her film. I kept wanting real challenges to emerge from the darkness, and I had to wonder how much thinner a full retrospective might look. The Tate actually has one concurrent with this show, titled "Axe Me," but don't ask. To fill the long gap from the 1990s to the 2010 Whitney Biennial and the present, the New Museum's stairway alcove holds more ocean life from 2004, on paper accented in watercolor. Still, for once a knife does the drawing, and the strong contrasts in her new paintings, plus the laconic humor in those black birds, offer real hope that the plot thickens.

Ken Price ran at The Metropolitan Museum of Art through September 22, 2013, and at the Drawing Center through August 18, Ellen Gallagher at the New Museum through September 15.