The Still Point
John Haber
in New York City
Rackstraw Downes and Stefan Kürten
Richard Artschwager and Landscape
When Rackstraw Downes paints an outdoor dance floor, the earth falls away on all sides from its bare concrete slab. Trees behind run the gamut from green to brown in the harsh, steady light. Clouds, like the dancers, have departed, and who can say when either sign of life will return?
With Downes, the concrete circle could be an enormous fisheye lens, and so could the painting. It could be what T. S. Eliot called "the still point in a turning world." And that turning world is again a seething, panoramic landscape—at the very opposite extreme from the luxuriant Modernism of Stefan Kürten.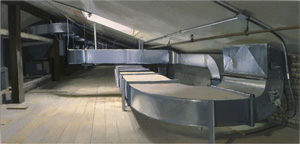 It has affinities, too, with an unlikely candidate for a traditionalist in landscape. Who can imagine Richard Artschwager filling his waning years with pastels of New Mexico? Yet he did, and it adds insight into his quirky takes on Minimalism.
Accidents or infrastructure?
Eliot titled each poem in Four Quartets for a place in America, and Rackstraw Downes is at least as precise. The view in Texas is "from the bandstand looking south," in 2008. A 1983 painting is even more of a mouthful, Demolition and Excavation on the Site of the Equitable Life Assurance Society's New Tower at 7th Avenue and 52nd Street. He is, though, only as precise as the site allows. "Demolition and excavation" insists on a process over time, and Downes works outdoors from first observation to conclusion, giving rise to such broad notations as "spring" or simply "A.M." The dance floor is an oil sketch, one of seventeen canvases in a compact but thorough look at his art.
When a painter takes his time, every exhibition feels like a rediscovery. Yet at least one work here also appeared in a 2004 solo show, one of five at his gallery to date. (A 2010 retrospective, organized by the Parrish Art Museum in Southampton, skipped New York.) He has also just published his selected writings, Nature and Art Are Physical, going back as far as 1967. Few people, much less artists, are equally at home in Presidio, Texas, and midtown Manhattan—or equally not at home. When he returns to the same few places, such as the cultural center at Snug Harbor on Staten Island, it is as if he never left.
Downes is always specific and always in transit. He is drawn to cemeteries and spots along a razor wire fence, but even the busiest places are, as in the title of a 1998 interior, "untenanted space." Now in his seventies, he studied both literature and art at top schools in England and America. Maybe his British side accounts for the work's dryness, from its emphasis on drawing to its muted earth tones. He does not construct light and space from color, in the tradition from Impressionism to Fairfield Porter and Jane Freilicher, whose criticism he has edited. Nor does he meld photorealism and conceptualism like a fellow student at Yale, Neil Welliver.
What he does have is the view, as he puts it, "as far as one can see." One can read it as a boast or a modest admission of subjectivity. Both impulses contribute to his preference for the big picture. It can involve successive views, successive versions, or that fisheye, with shadows like fissures in the Texas landscape. It can be implicit in swerving metal duct work at Snug Harbor or the World Trade Center's Untenanted Space with Four Exposures, which presents neither the open expanse of the Twin Towers nor the closure of their faceless architecture. It avoids an obvious vanishing point, much as a bridge charges out of A Bend in the Hackensack at Jersey City and toward the picture plane, leaving radio towers and factories behind in a sunlit haze.
Downes sees beauty and stability in human wastage and transience. When he paints Remains at the Site of the Old Military Cemetery in the show's two most recent works, every word in the title conveys abandonment but at, of, and the. When he paints farm buildings near the Rio Grande, they look like a gas station serving a highway long since paved over. They also connect him to an entire generation after Modernism. Ed Ruscha painted his own gas stations, and Donald Judd found his way from New York City to Marfa, Texas, as well.
Downes finds stagnant water even in Maine, although the show does not go there. Can I finally accept the dryness? It helps that Downes lives both in the future, around the edges of a panorama, and in a lost industrial past. It helps even more that he does not sacrifice light to drawing. He captures reflections off duct work, their shadows, and sunlight flooding in behind. When utility wires emerge from the sky, it is hard to decide whether spots of paint along them represent accidents or infrastructure, because both have their say.
No place like home
Complain all you like about Modernism—or lament its passing. It is still the public face of the city. The story of Latin American architecture at MoMA is all about public spaces, in universities, stadiums, and a new capital city. It can boast of units of private housing, but one glimpses them mostly in skyscrapers, designer furniture, and car parks.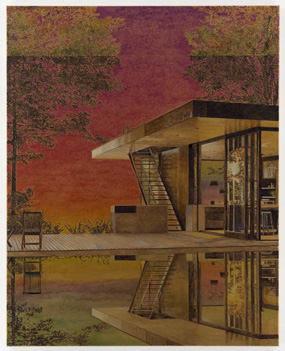 A New Yorker knows that public face even more. Quibble over whether its antenna makes One World Trade Center a duly symbolic height, but draw in your breath for two pits at Ground Zero, while eyes lift to the sky for the Woolworth Building nearby.
Stefan Kürten has in mind another side of Modernism, but then he does not shy away from making it up. He describes his imagined landscapes as a "typography" of twentieth-century homes. They borrow from such iconic residences as Philip Johnson's Glass House and Fallingwater by Frank Lloyd Wright. They have the glass that turns windows into walls. They have the overhanging trees and flat, cantilevered roofing. Most of all, they have room just for one, and it may not be you.
Wright, Le Corbusier, and Eero Saarinen all imagined planned cities rising into the air and insulated from the ground. Yet real skyscraper cities emerged from chaos and competition, with little time for Kürten's gracious vision. They took Raymond Hood from the gilded stone of the American Radiator Building to the polish of the Daily News a short walk away. They allowed the Empire State Building to beat out the Chrysler Building for the tallest—and to leave the Art Deco touches of its spire behind. Thomas Hart Benton still captures that energy in the murals of America Today. By comparison, private mansions earlier in the century from McKim, Mead & White were deliberately sedate.
Kürten insists that people find his landscape familiar all the same, even as they have trouble pinning down where they might have seen it. That comports with the facts, for architects designed homes like these in splendid isolation, apart from you and me. The German artist adds to that as well, with dense shrubbery and a confining point of view. One has to kneel to make a picture converge into depth, and a two-point perspective often separates earth from sky. Reflections in decorative pools multiply walls, as do arbitrary juxtapositions, and it is hard to tell the two apart. The largest canvas presents a grid of a dozen houses, maybe or maybe not the same.
Kürten calls the show's title work Running to Stand Still, and he relishes the stillness. He also relishes the contrast between the isolated, empty scenes and the sheer activity of short strokes in acrylic and ink. His calligraphic touch is even more evident in a large woodcut. It recalls traditional Chinese landscape, as does the defiance of western perspective. While ink dominates, though, acid skies unsettle the stillness in gold, green, and purple. They interrupt the comforting silence with the creepy silence of a horror film.
Still, the creeps extend only up to a point, in the very image of untroubled luxury. Once power sought its public imprint in mansions and palaces meant to impress. Others could see but not enter. Kürten prefers a time of divergence between extravagant single homes and "sprawltown," with little meeting ground between them. For Mies van der Rohe, god was in the details. For Kürten, artists and patrons still play god.
Minimalism in retirement
Richard Artschwager left his mark with images as formidable and as urban as Minimalism. He painted public housing and the Whitney on Madison Avenue, in stark black and white. He painted them on Celotex, a fiberboard used for insulation, its rippled surface stubbornly resisting the hand and eye. He also made furniture more suited for an office than a retirement home, but with no place for one's legs to penetrate—not unlike furniture from another artist with a taste for banality and dysfunction, Robert Gober. Yet he found himself in his eighties in Georgia O'Keeffe territory, returning often until his death in 2013. And he captured its vastness on paper, in the tradition of American Modernism.
Surprised? Adam McEwen has located Artschwager's roots in landscape, including paintings and sketches from his final years along with selections from more than fifty years before. McEwen ought to know something about a renewed commitment to painting, too. He announced the death of irony in the 2006 Whitney Biennial, the very same year that Artschwager landed in New Mexico. He has also made art from LeFrak City, middle-income housing in Queens much like the project that Artschwager rendered on Celotex. Now as curator he discovers the quirky emotions running through an often chilly art.
Did O'Keeffe use landscape to approach abstraction? Artschwager did, too, around 1959, then in his mid-thirties, with little more than three squiggly lines and a sandy cliff broken only by a spot of blue. Yet he also appears very much as a realist. He had his first solo show in 1965 at Leo Castelli, who posed for a charcoal portrait in 1970. Artschwager's last work is more loving and realistic still, in layered horizontals approaching the horizon. He preferred blue skies to sunsets, but with an ever deepening light.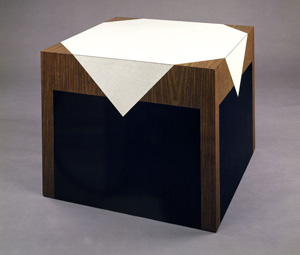 Pastel brings out the texture of paper, to the point that one could mistake it for canvas. One might see the bumps in Celotex differently now. One might see other connections as well, starting with his father's career in agricultural science. One might—or one might see the landscapes in turn as stranger, drier, and more remote. The show coincides with a book of them called The Desert. Maybe the hairy surfaces of his lozenge-shaped sculpture, the blps, anticipate desert sand.
This is at once immersive and discomforting territory. A highway amounts to three distinct strips, as if requiring a mental and physical leap to cross the rolling hills. Another, its median an uncanny yellow, ends abruptly in smeared gray on its way to the sea. Charcoals include an industrial landscape, with two pairs of legs dangling out from its buildings. They are playful, but practically the show's only signs of life. They are also, John Yau writes, "unapologetically weird."
Northern lights curve into the sky, reducing two homes close to the horizon to specks of red dust. Bontecou Crater resembles a creepy sculpture by Lee Bontecou—or maybe an extraterrestrial space craft plopped down in the desert. The acrylic and charcoal cells of a grid entwine at its center, like the branches of a tree, and then an actual tree returns the favor in its twisting trunk. Together, they make a useful complement to Artschwager's 2012 retrospective, which necessarily focused on his prime years, from 1962 to 1968. Perhaps he was overdue for a proper retirement. Yau speaks of an "inexplicable vision." Should one remember that his furniture also included a pedestal for the Bible or the Koran?

Rackstraw Downes ran at Betty Cuningham through May 3, 2014. Stefan Kürten ran at Alexander and Bonin through May 30, 2015, Richard Artschwager at David Nolan through January 31. A related review takes up Artschwager's retrospective at the Whitney.