The Silence of the Pig
John Haber
in New York City
Art and China After 1989
And so a quiet has come to the Guggenheim—and to "Art and China After 1989." The pigs are no longer copulating for the camera. The gibberish stamped on each, in the Western alphabet on one and in pretend Chinese on the other, can no longer reduce Sino-American relations to nonsense or lust. The prurient male viewer will have to settle for himself as a sexist pig.
The pit bulls are no longer charging at each other, again on video, for the chance to maul or to kill. The treadmills that kept them inches apart have stopped, although the metaphorical treadmill of a Chinese factory worker continues, along with confrontation in the Pacific Rim. The monitor that marked the show's conclusion has gone dark. Angry voices on both sides only multiply, decrying the abuse of animals or censorship. And so they should—only now they can start asking which most typifies museum politics or China. In withdrawing the disputed works, the Guggenheim has left the monitors in place and added artist statements that raise much the same issues.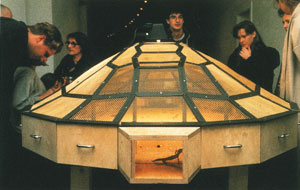 The work that opened the show and gave it its name has gone, too. The insects and lizards of Theater of the World have departed, and so have the live snakes that would have shared a separate cage above with bronze animals out of Chinese myth. Or rather, they never arrived, leaving only a stately metal bridge over an empty wooden theater in the round. Nor will the creatures meant to replace them as they die under the heat of museum lights. The set has taken on an air of meditation more fitting to Chinese art of the past. The entire show should have one asking what that says about the loud, courageous, and often superficial art of the present.
No bull
No bull (or pit bull), but those three works threatened to overshadow the rest of the show, and they may still. To my mind, the Guggenheim made the right call in exhibiting not them but the controversy, and I do intend to weigh in, as you will see in a moment. First, though, one had better get a handle on the show. It covers just twenty years, from the Tiananmen Square massacre to the Beijing Olympics in 2008, but it is about contemporary artists and events all the same. It may overwhelm visitors with a huge back story and unfamiliar names. Yet those same three works help pin down its themes.
First off, they are crying for attention—and getting it. Xu Bing filmed the pigs back in 1993 as A Case Study in Transference, Aun Yuan and Peng Yu the dogs in 2003, but they still drew hundreds of thousands of signatures in protest. Huang Yong Ping knows that his habitat, too, is not for the squeamish. If one thing unites the roughly seventy artists, it is reaching for the big, the brash, and the obvious. Ai Weiwei built an international reputation with spectacle and performance—such as shattering ancient urns, marking others with a Coca-Cola logo, salvaging art from the trash, and now fences around New York landmarks. Cao Fei earned a show only a year ago at MoMA PS1 for animation with the look of anime and the pace of a video game.
New Yorkers may not recognize a single other artist, but they will know the impulse. It appears in a mammoth black dragon in the rotunda overhead by Chen Zhen, with the head of crushed bicycles, the body of a seed case, and a tail of inner tubes and plastic cars. It appears in Mickey Mouse toys, helium balloons, a bathtub, and a Mylar bed by Xu Tan—all, of course, made in China. It appears in the sheer futility of a performance by Cang Xin and others, To Add One Meter to an Anonymous Mountain, or by Song Dong, Stamping the Water. Visitors may respond with wonder or frustration, but one thing is certain: I get the message.
Second, this is political art, and its message sounds a lot less frustrating in light of its politics. The three disputed works concern entrapment and scrutiny by a higher power. Ai's destruction of the past, Cao Fei's RMB City, and Chen's bicycles rather than, say, cars have a context in China's forced modernization. Ai has also devoted himself to investigating the state's response to earthquake victims in 2008. A newscaster reading the definition of water for Zhang Peili makes more sense if you know that she recited the party line on Tiananmen Square. And the tanks that day still roll for Zheng Guogu, if only in deep-fried plastic.
Hardly a work in the show stands apart from politics. Painting is rare, apart from a surge of realism in the early 1990s, virtually all of it colored by German Expressionism—like a meat locker for Zeng Fanzhi and a dreary New Year's Eve for Zhang Xiaogang. Abstraction is rarer still, apart from vertical bands by Liu Wei, perhaps a reference to China as producer of electronics. Still, the message is often oblique, as may befit dreams of fine art or life under censorship. Huang Rui drowns the works of Chairman Mao in ink, but the protest depends on its silence. Other art may shout, but the voices often add up to confusion.
Third, political events parallel artistic ones. The show's time span opens with exhibitions in Beijing and Paris, and it ends with two more. It refers along the way to any number of collectives and even a commune. One movement thought of itself as an extension of East Village art. Ai has made art out of bringing a thousand and one Chinese to a fair in Kassel. Geng Jianyi parodies the forms and certificates that enable travel.
Tunneling east and west
Fourth, by the same token, their art has roots in both east and west. Wang Guangyi digs a tunnel in his living room, as if to bring them together. Huang Yong Ping's creepy-crawly habitat, first exhibited in 1993, refers to the writings of Michel Foucault and Jeremy Bentham, as well as to Taoism. And it is no accident that he calls it a theater not of China but the world. Map of the Theater of the World, by Qiu Zhijie, includes the "capital of the financial crisis" and the "struggle against bourgeois liberalism," in both Chinese and English. Many of the artists have lived abroad, like Ai in New York and now Berlin, and Xu Bing also collected dust after 9/11.
Fifth, that bridge between east and west is a displacement as well. Huang also imagines Towing Away the National Art Gallery in China. Others revisit older Chinese art, like "Tales of Our Time" just months before at the Guggenheim. Liu Dan inflects a Chinese landscape with Romanticism and Cubism. Cai Guo-Qiang renders one in gunpowder. Gu Wenda is still taking stock of traditional pigments.
One may look for lessons from the displaced. Rem Koolhaus, the Dutch architect, worked at Harvard on a redesign for that national museum. He called it, with no apparent irony, the great leap forward. He also incorporated a lavish residential tower, much like MoMA in 2004. Unfortunately, MoMA's has come to be. Zhang Hongtu adds his Warning: You Are Still Traveling in the United States.
In all these ways, from politics to culture, artists still have to wonder what to call home. Rong Rong violently distorts the faces of those around him, and Liu Zhang photographs outsiders, including convicts and a transvestite. Yin Xiuzhan takes the inventory of his clothing, as if about to lose it all, while Zhao Bandi paints a cramped interior. Between the angled point of view, the rumpled sheets, the TV in front of a friend, and the cigarette in his hands, he may never find a way out of bed or to sleep. Other artists see only what Zhang Peili calls Uncertain Pleasure. On more than dozen TVs on the floor, the hand scratching a naked body can hope for little more.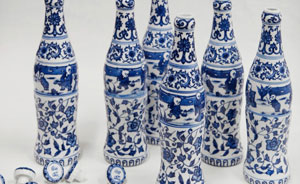 The curators, Alexandra Munroe with Philip Tinari and Hou Hanru, proceed more or less chronologically. They also link each museum level to a theme, more or less like mine. They lay out the torrent of events in politics and art, ending with the Beijing Olympics. It is not the triumphant conclusion that the government would like. Sarah Morris makes a documentary about it with few reassurances. Xijing Men stages his own mock Olympics, with ping-pong tables on three sides of a house plant and a watermelon for a soccer ball.
The last tower gallery provides a "coda," where Dogs That Cannot Touch Each Other lies silent. Yang Jiechang brings painting, calligraphy, and poetry to a fever pitch, with ink that has thickened to the point of Abstract Expressionism. Gu Dxen lines the room with tidier Chinese letters but a grim message. We have killed . . ., beaten . . ., and eaten, it repeats, each time with a different object of the verb.
Silence without censorship
The show has a paucity of women, apart from Cao Fei, Morris (an American), Lin Tianmo, and Ellen Pau, a native of Hong Kong. Her blurred video evokes the city's insecurity after its handover to China. Only Lin and Chen Chieh-jen attest to the labor of women. Lin projects textile workers onto a white sewing machine, while Chen invites displaced workers back to a still more ghostly factory. For all its care, too, the museum may hold politics at a distance after all. It refers to the Tiananmen "incident."
And then there are the silence and the protests. The Whitney kept Dana Schutz in the 2017 Whitney Biennial. Should the Guggenheim have stood its ground as well? Even before Theater of the World, Huang ran histories of Western and Chinese art through a washing machine, and the show displays the results. Surely he and the museum should know censorship when they see it. Maybe so, but then why does the outrage leave me so uncomfortable?
For one thing, everyone deserves a voice, but not everyone deserves a show at the Guggenheim. While bad art can never excuse censorship, each of the works now withdrawn has that obvious message that makes me reluctant to feel sorry for it. It is also a confused message. Huang may speak of "survival of the fittest" as life under capitalism or communism, but how far can science serve as a metaphor for society? And while it is hard to pity cockroaches and tarantulas, he and not Darwin, China, or the global economy were going to put them to an early death. The other two works are still more of a mess.
For another, censorship implies government or institutional power—much as when a senator tried to crush Robert Mapplethorpe or a mayor tried to remove Andres Serrano and Chris Ofili. It also implies fear of a point of view. In the case of Schutz, it turns on a white artist's right to speak to out about racism. Here a public protest objected not to a work's message or its artist, but to cruelty to animals. That is something else entirely, and it does not take treating animals as human (another lame defense) to object. I do not strangle cats and call that museum-quality art either.
Defenders of the art have pointed to football players as victims of abuse much like the dogs. That sounds to me like a child in a playground pleading "he did it first." Then, too, humans, one can hope, have a choice. Defenders also speak of the dogs as using the treadmills for the pleasure of a run, but that hardly accords with their pursuit of each other to the point of exhaustion. And the museum can fairly claim not to have quashed debate, but rather to encourage debate through its compromise. Unlike a censor, it is not trying to forget.
Still, the outcry has a point. Animal cruelty only barely defines display of a video more than twenty years old, one that hardly approves of cruelty, and it does not define the other two works at all. The museum also made a decision to display them, and that decision should not come up for a vote, not even from an informed and passionate public. It speaks of protecting its staff from danger, but the only danger I see comes from scorpions, not PETA terrorists. In the end, I support the outcome but with fears that it, too, like so much of the work, may be repellent. With luck, the debate over contemporary Chinese art can now look beyond the silence of the pigs.

"Art and China After 1989" ran at The Solomon R. Guggenheim Museum through January 7, 2018.