Dancing in the Dark
John Haber
in New York City
The Museum of Modern Art Returns
The new Museum of Modern Art has it all, but is even that enough anymore? It has twice as much space as before its renovation, but how much can it offer its precious collection? It has its old home again, in midtown Manhattan, but has it given up on the city, just when the art world is spiraling outward?
It has ample room to circulate. It has windows to let in the light and to draw the eye. It has spectacular views from the garden, now restored to its original dimensions and surrounded by the museum on three sides. One wants to dance with a lover in the dark, but will one still care to dance with the art? It has become breathtaking, but will the rarefied air support a conversation with the work?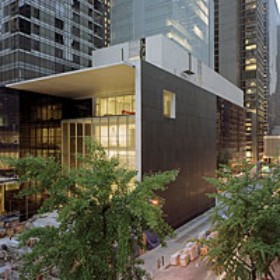 Those are not just rhetorical questions. I am writing on opening day, when only time will tell. Come with me and see.
Modernism inside out
If you and I are on the same planet, and I hesitate to say where that is, you almost certainly know it: the Museum of Modern Art has returned, in soaring new galleries designed by Yoshio Taniguchi. The machinery of an art world event has been gathering inexorably. The machinery is the heart of a museum of celebrity architecture.
The select few had personal tours, even as architecture's magic lay partly exposed in cables and in plaster. Works rushed back from loans as far away as Berlin, falling into places chosen weeks in advance through painstaking, faintly comical scale models. A Wednesday evening exposed the glowing structure to the city night, not to mention to untold numbers of patrons and their guests. Two days later, members had a peek, and at last the official opening, with free admission an entire Saturday until late evening, gave midtown perhaps its grandest block party ever. The Thanksgiving Day Parade up Fifth Avenue had an early start this year.
Broadway lies close as well. The New York Times would not let a day slip by without a story, including an evaluation from Kitty Carlisle Hart. Think Frank Stella or Rachel Whiteread could fool What's My Line? Not any more.
One issue of The New Yorker alone had two reviews, and neither addressed a younger generation—or the art. Paul Goldberger, its eminently sane architecture critic, sang the museum's praises. John Updike provided a critical history. This museum is as much the work of urban design and fiction as a house for art. As two architects who lost the design competition put it, MoMA got exactly what it wanted.
A dance in the garden tells the story. Broken Obelisk by Barnett Newman has moved indoors, leaving the garden as a respectful tribute to the past. But look up and to the west, toward the collection's new six-story home. The galleries create a spectacle—a spectacle of people, light, and structure mediating between the street and the residential tower above.
The sixth-story roof extends into the garden, partly supported by a freestanding wall that also extends outward, to the right. It pays tribute to the cantilevered canopy over the old museum entrance, should anyone care to remember. It pays tribute, too, to the modernist white cube and to the formalist dream of transparency and self-representation. Yet it also suggests a floor placed above one's head, like a gallery eviscerated and transported outdoors. It extends Modernism and the Museum of Modern Art while turning them upside down and inside out.
Modernism's upside-down cake
Upside down, like deconstructive architecture? Yes, not just imaginatively, but literally, too—and far from the art-centered museum renovations by Renzo Piano and Ennead Architects at Yale. Formerly, one entered Modernism like Pablo Picasso, through Post-Impressionism. The Modern had a story to tell, a story that it created under Alfred Barr. All roads led through Cubism, and all began with Paul Cézanne. Art encompassed life, including the art of design, and it culminated in postwar America.
Entering painting and sculpture on the third floor, one now sees not the intimacy of the late nineteenth century, but the likes of Julie Mehretu, Matthew Barney, and Jeff Wall. Entering the photography collection, one sees another Jeff Wall and twenty-five Untitled Film Stills by Cindy Sherman. Has one fallen by mistake into a contemporary art fair? One also passes architecture and design on the way up, before reaching the most familiar collection. The larger culture has the first word, and its speaker is the museum.
The oversized rooms may not show contemporary art to its advantage, but they definitely assert its importance. Expect a larger exhibition space to bring out hidden histories? Much of the new space goes to its atrium alone and to connecting passageways. Almost all the rest goes to the years after Abstract Expressionism, when the old building's display all but ceased. And what it adds continues the stately dance between respect and self-assertion.
The curators do not worry about the old museum's judgments. One will encounter Stella, but only back in his black stripes. However, choices like Whiteread or Andreas Gursky—or a single long alcove for video—do not take chances on new names or stake the museum's relevance on its future, as Barr might have. They do not shock like the neo-Pop of, say, the Chapman Brothers. Even an abstraction by Chris Ofili, with his signature elephant droppings, leans more toward formalism and elephantiasis. This is not modern art in progress, but art in the auction house.
As one continues up, the rooms start to shrink, although they remain too large for any work or movement to take charge. One can still recreate the dialogue between Picasso and Paul Braque or between Picasso and Matisse, but one's eye wanders elsewhere. Conversely, the open arrangement, with multiple doors to a room, does not really disrupt a march in reverse chronological order that Henri Matisse might have made into art. It simply keeps that march at a proper distance from the viewer, as if even contemporary art had become history. The oldest room now focuses on a portrait by Paul Signac, showing an art dealer as a circus magician. The displayer of art has pride of place from the very start.
And inside out? Like the hanging, the architecture has that same dance between belief and suspension of belief. Take it from the outside in.
MoMA Courtyard
I admit it: thanks to a friend in corporate American rather than to my credentials as a critic, I had an advance peek myself, and it was thrilling. One truly can gauge Taniguchi's achievement from the outside, on what was once a blank, back wall. As I came down Fifth Avenue, I just had to turn out of my way, down 54th Street. An hour past sunset, lights from the six floors of galleries, which face east, lay open to view. I did not see a museum exactly. I saw people circulating, and for a moment somehow that seemed enough.
I retraced my steps and headed for 53rd Street. The museum has its old address, but the doors there will not open. The 1939 façade by Philip L. Goodwin and Edward Durrell Stone, its glass grid as somber and combative as a chess board, felt less inviting anyway compared to an opening gala. Even less remains of two nondescript earlier expansions by Philip Johnson, from 1951 and 1964. Rather, I discovered, one has to keep walking—past Cesar Pelli's apartment towers, which after 1984 framed the museum to the west. Some days one may have to continue still further, past the lobby, which now has revolving doors on both 53rd and 54th Street.
The museum speaks of the block-long entryway as a renewed connection to the city (a theme picked up by the expanded Virginia Museum of Fine Arts six years later). But an extra entry to the north, facing the town houses across the street, is not the same as a restoration of the urban grid. Instead, it anticipates crowd control. On busy days, the museum can require one to enter from one side and exit on the other. On still busier days, it can plan for lines snaking west and around the block.
Inside, one may find one's way downstairs—but I doubt it. (If one does, space in the old wing holds temporary exhibitions, such as Rescue Archaeology. Mark Dion explores the intersection between art and science.) For all the talk of expansion, one may well wonder whether the older spaces, all but inaccessible, exist at all any longer. I still have trouble accounting for them.
Their main floor holds the grandest of the museum's several new restaurants, all managed by Danny Meyer, proprietor of the Union Square Café and Gramercy Tavern. After building a hamburger stand in Madison Square Park this summer, he continues slumming. The old second floor now extends the collection of prints, photography, and architecture. For the opening, it displays other projects by Taniguchi Associates. Like MoMA, they allow visitors to meander while subtly guiding them along a predetermined path. As for the old floors above, they hold offices and the education department.
No, one almost surely will ascend, away from the old structure, to an atrium, above the lobby and west of the garden. The main galleries surround it on three sides. They leave three floors to the permanent collection and a big space for temporary exhibitions at the top, soon to make way, naturally enough, for the UBS corporate collection. Like a hotel atrium, the second-floor plaza serves as a gathering place but also as a statement. With its handful of large, very serious pieces from Modernism's great decades—from Claude Monet and his Water Lilies, looking oddly dwarfed, to Broken Obelisk and Jasper Johns—it makes a show of polish, expense, and brute force. If the old Museum of Modern Art defined modern art as an institution, the Grand MoMA Regency, the restoration defines Modernism's franchise period, MoMA Courtyard.
Modernism's parking lot
A corporate presentation like this affects the city even beyond its architecture. In abandoning an exhibition space in Queens, MoMA abandons the chance to promote an arts community in the making. It misses out on a changing, sprawling urban scene, just when its fringes most need nurturing. And with its $20 price of admission, it threatens to abandon the essential connection between a living art, its public, and its creators. Will museums ever cut back?
Art institutions need to serve as more than a backdrop for gala openings. Unlike a Broadway musical, they need to serve, too, for more than that special occasion. In The Times, Alfred Leslie (still working and giving interviews) spoke of the old MoMA as the extension of every artist's studio. Before then, Arshile Gorky used to take his students to the Met to learn to paint—and to learn to see. Would he take them to the Modern now?
I once taught myself about this strange thing called art by visiting the Modern one day a week, taking just a room or two each time. I fell in love with art, with its quirks and challenges that made it a healthy antidote to the cultures of Hollywood and Broadway. For the unemployed college graduate I was then, it was often a lot cheaper than both as well. Do I have to add that, in commercial culture wars, those two facts go together?
Only recently, the $13 admission fee to the Whitney and Guggenheim felt irresponsible. The new fee raises that by more than half. Remember when Joni Mitchell worried that museums would charge a dollar and a half just to see the trees? Mother Nature never knew how easily she got off back then.
So what do you get for the extra money? I could make it a joke—and elsewhere I have.
In reality, I fear instead the end of a museum's role in the culture and city fabric that it helped shape. Paradoxically, a major museum's very power as a cultural institution, so often the subject of postmodern critiques, risks becoming self-limiting.
After the tears
Advance reviews uniformly stressed Taniguchi's conservatism, including his deference to the old museum and to an even older vision of advancing Modernism. And sure, he does not throw a museum's walls to the winds, like Frank Gehry. He says that he wants architecture to disappear. He means to let the art come first and also to let mass give way to a visitor's spiritual experience. He stays far plainer and more structured, in fact, than the warehouse space of MoMA QNS. Imagine that London had outgrown Tate Modern and built Tate Britain in response.
The curators, too, have a conservative side. They do not scramble movements terribly much. They do not pull academic style or other lesser-known artists out of storage, as "Art at the Crossroads" did four years earlier at the Guggenheim. They do not attempt thematic arrangements, as the Modern did in its own millennial exhibition. They have continued during reconstruction with majestic, mainstream acquisitions, including Johns's Diver, its dark arms reaching into the museum's depths and the artist's past. (The museum already owned a smaller, brighter, earlier work with the same name.)
Yet one never felt so much buzz when the Whitney's last expansion gently undermined its Brutalist foundations, as the Whitney's new home in May 2015 will not. One never felt it when the Guggenheim added a toilet tank to Frank Lloyd Wright and Wright's implacable bowl. One never felt it twenty years ago, when Pelli replaced part of the Modern's garden with escalators and crowned it all with luxury apartments. One never felt it when MoMA became temporary neighbors to a Queens diner. Ironically, whereas Dieter Roth at MoMA QNS had to spill over to P.S. 1 (soon to be merely MoMA PS1) for larger works, the new museum may need P.S. 1 for work that requires a close personal encounter.
What has changed in twenty years? Can anyone remember those days, when Soho's few galleries left time to think? Postmodernism was still puzzling, and so were the East Village galleries. Crime and drugs were not news, however, and neither, for the most part, was fine art. Museums did not serve food from Sarabeth's Kitchen or Danny Meyer. Stella's second retrospective at the Modern was still three years away.
This is not all bad, even if it takes Pipilotti Rist to fill the atrium. People now have a personal connection to New York's landmarks—and to art. One now expects art, especially modern art, to draw lines. Art makes news, just as it has for Christo and The Gates. In turn, one expects a publicity machine as formidable as the cash at stake. That includes the $500 million behind the Modern's expansion or the looming admission fee.
The art and the building alike will inspire you, but will they ever again bring you to laughter or to tears? Will they ever again become the center of contemporary art and culture? These are real and not rhetorical questions. Curators and visitors will get used to the space and learn from it. The museum's future lies ahead, with changes to come in the first year alone. You should participate in that future—by asking the tough questions.

The Museum of Modern Art reopened in Manhattan on November 20, 2004, with "Yoshio Taniguchi: Nine Museums" through January 31, 2005. Follow-up reviews consider the admission fee, an opening exhibition by Mark Dion, with reflections on the museum's role in contemporary art, and changes in the installation after one year. Related reviews look at plans for yet another MoMA expansion in 2013 and a critique of museum expansions.