Oceans Apart
John Haber
in New York City
Transmissions: Eastern Europe and Latin America
Zhang Hongtu in China and New York
What do you get when you cross Latin America and Eastern Europe? Spicier potatoes? If it is the peak of the Cold War, competing military dictatorships? Business as usual at the Museum of Modern Art?
With "Transmissions," the museum means anything but. In tracing artistic and political movements for nearly thirty years starting in the 1960s, it means to give them at last their pride of place. In devoting one of its large sixth-floor galleries to the permanent collection, it means to address critics who see everything it does as mass entertainment or a fashion show. In a museum forever associated with Western Europe and American Modernism, maybe it is trying to shake itself up as wel. With nearly three hundred works by dozens of familiar and unfamiliar names, it challenges anyone to draw or to remember connections. Maybe its real point is that no one canl, but the two sides are still oceans apart. Meanwhile Zhang Hongtu sends his own treacherous signals between Communist China and New York.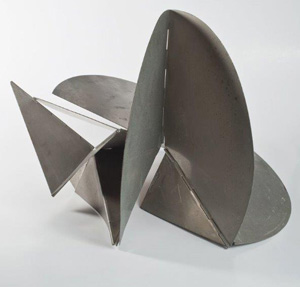 The other Cold War
Anything like the Cold War sure tempts one to locate winners and losers, but then it just happens also to coincide with the end of modern art. Everywhere these days, museums are looking for global alternative histories to Minimalism. The Guggenheim has had Group Zero in Germany and Lee Ufan and Mono-ha in Japan, the Jewish Museum its "Other Primary Structures." MoMA itself had a similarly ungainly exhibition of Japanese art—and an off-putting one. Even a plea to recover history can feed art markets in a time of globalization. With photos of storefronts recently lining the museum atrium, Zoe Leonard had a parable of them all to herself.
In "Transmissions," the gaps and displacements are everywhere, too, starting even before one enters. One might not so much as notice a flag of satin on brass far overhead. Antonio Dias pictures it as The Invented Country. David Lamelas leaves nothing more than a strip on the floor, where performers once lined up to disappear. Eduardo Costa on silent video intones his Poem for the Deaf. He who has ears let him hear.
Inside, too, connections do not come easily. Ana Mendieta in Cuba presses her face to glass, Marina Abramovic from Serbia lies on her back within a five-point star of fire, and Valie Export in Austria markets herself as cigarettes—which she also happily smokes. Their body imprints, as for Keltie Ferris, are at once self-exposure, feminism, beauty, and ego trip. They are also continents apart. Even a more familiar Western art makes an appearance. The very first room includes abstraction by Julije Knifer in Croatia, Gego in Venezuela, and Lygia Clark in Brazil, but also Piero Manzoni and Lucio Fontana in Italy, Victor Vasarely, and Ellsworth Kelly.
They make a point about influences, like Joaquín Torres-García in Europe and South America decades before, while also asking to unsettle western history. Vasarely's French Op Art looks close enough to Kelly's tough New York curves in black and white. Later Dieter Roth and Harold Pinter slip in among posters and paraphernalia, like Milan Knizak's quartered and reassembled LPs. He called it Destroyed Music, but it looks now like a fashionable mash-up. Daniel Buren paid a visit to the Studio for Polish Artists, including Henryk Stazewski, Edward Krasinski, and André Cadere. Buren's striped poles could well bear the blue tape that Stazewski lays horizontally across an entire room of objects.
Migration means personal history as well, in what another show has called "Ostalgie." Vasarely was from Hungary and Cadere on his way to Romania. Léa Lublin, the Argentinian performance artist, was born in Poland, like Goshka Macuga, and died in France. Marta Minujín makes Brazil one point in a three-continent "happening," stopping in New York. Juan Downey, who moved from Chile to New York, concludes the show with Video Trans Americas. His Sony Portapak and vinyl floor map take him from Yanomami healing to Chicago.
Downey's fourteen channels of video also move between culture, myth, and politics—and so does the show. After the room for abstract painting and sculpture, it turns increasingly to politics and performance. Rooms mostly for books and posters make its outsize reach a little easier to digest or, perhaps, to run through without stopping anywhere for long. Take your pick. The museum did not even bother with a press preview. As fine as it is, "Transmissions" still leaves open just who won the war.
Where art left off
As principal curators, Stuart Comer, Roxana Marcoci, and Christian Rattemeyer have every reason to look beyond the first world. They must know that Picasso sculpture was due to take space from the permanent collection only a week after the opening. Only recently, though, MoMA has followed Modernism "From Bauhaus to Buenos Aires"—with Latin American architecture and with photography. An LA-centric show of "WACK! Art and the Feminist Revolution," at MoMA PS1, already featured Lublin, Valie Export, and Mendieta. This new show coincides with selected political art in the contemporary wing, after critics have slammed the museum for pandering and called for MoMA's chief curator to resign.
Conversely, the museum is not forgetting its heritage (and, yeah, Pablo Picasso counts). It devotes still more temporary space to the permanent collection on the second floor, with "Take an Object." The title quotes a note to self by Jasper Johns, who asked to take something, do something to it, do something else to it, and repeat—and so he did along with a generation of others. The show has a Johns flag, a classic combine painting by Robert Rauschenberg, a sinister bundle in a wheelbarrow by Christo, a crushed automobile by John Chamberlain, and a filmic inventory by John Baldessari, but also fresh concern to diversity. That includes Lee Bontecue, Yayoi Kusama, Niki de Saint Phalle, Betye Saar, and David Hammons. Take a museum, and do something else to it.
Can it do so without cruising? "Transmissions" may yet have you doubting. For all its pretence of Atlantic crossings, it is mostly about places and movements. They include Clark, Hélio Oiticica, and Mira Schendel in Venezuela and Lamelas, Oscar Bony, Eduardo Costa, and Marta Minujín in Buenos Aires—at an institution dedicated to a specifically Argentinian culture. They include OHO in Slovenia and Aktual then in Czechoslovakia. And did you know that there was even a Fluxus East?
At the same time, influences move in unexpected ways between past and present. Without a voice, Eastern Europe often turned to a space between media, like the dreamy prints of Luis Camnitzer, Liana Porter, and Geta Bratescu. Yet pockets of abstraction survived Stalinism as acts of rebellion, while Oiticica's Homage to My Father might easily have borne the title "Homage to Russian Revolutionary Art." Nor did repression rally artists to capitalism and America. Marisol sculpts love as mindlessly sucking on a Coke bottle. Lamelas built his own live Office for Information About the Vietnam War, and the tape is still running.
A room for portraits brings unexpected political resonance as well. It also points consistently beyond the Iron Curtain. Marisol's La Familia hangs near La Familia Presidencial, or "the presidential family," by Fernando Botero—as two loving and dysfunctional families. Bony subjects an actual working-class to a full day's pose on a stand like overworked models or Olympic athletes. The glory is great, but victors here are hard to come by. Beatriz González paints her lullaby on a crib, in colors out of tawdry advertising or Tom Wesselman.
Maybe all these nations were desperate to pick up not where Modernism left off in the West, but where their futures left off some time before. Alvaro Barrios is still pursuing his Dreams of Marcel Duchamp Columbia, with text of his own and the face of another. Bony presents a chain-link fence, on the floor and on grainy video, as Sixty Meters and Its Information. Where Lamelas offers, in today's Web terms, too much information (in, he wants you to know, image, text, and sound), Bony offers eloquently little. It no longer fences anyone in, but it still leaves a dangerous and discomforting place to stand.
The Great Wall
Something there is that doesn't love a wall—unless, of course, it is the Great Wall of China. Sightseers have come, and the enemies that the wall was meant to repel have gone. Dynasties and tyrants have come and gone, and Marina Abramovic has walked its length, ego intact. Few, though, have breached it so completely as Zhang Hongtu. A photograph covers an entire long wall of the Queens Museum, but with an opening in the middle to his retrospective. Do not enter too soon.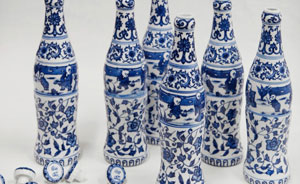 Not before you and an adversary have dealt with another opening—the outline of Chairman Mao, cut from both sides of a ping-pong table in the museum's atrium. Talk about ping-pong diplomacy. Not, too, before you have faced another formidable wall, said to represent red doors studded with nail heads in Beijing's Forbidden City. Instead of nails, it sports bronze penises of varying lengths and degrees of erection. Is yours big enough? Artists since Jackson Pollock get asked that all the time, at least implicitly, in the patriarchal societies of both China and America.
Zhang has faced his share of barriers. Born in 1943, he lived through the birth of the People's Republic as a child and the Cultural Revolution as a young adult. It did not look kindly on artists, who, like certain ping-pong balls, could easily have vanished into its gaps. Against the odds, he made it to New York in 1982, where he resumed studies at the Art Students League. By then it, too, was hardly the progressive school at which Hans Hoffman had taught Lee Krasner. My best friend went just then to get over his wish to be the next Frank Stella.
It sounds like a confining beginning. More physical barriers arise within the exhibition, curated by Luchia Meihua Lee. Mao is dancing behind the crack in an unyielding door—and he stares right back through the peephole in another door, barred with six different locks. Yet Zhang's early works on paper have a surprising freshness, with little concern for an official message, while his first works in New York allow him to experiment with western styles, including abstraction and mixed media. They are also dark and layered, embodying still more barriers—in one case, the back of his head. And the darkness of Zhang's adopted land was not just his difficulty getting over China.
In fact, a breakthrough came when he began looking back, angered by the Tiananmen Square shootings in 1989. Zhang started on his images of Mao, a series that continues to this day. They have appeared on Quaker Oats cartons and in lipstick, soy sauce, and popcorn. They have stood in for an acupuncture diagram, with the revolution's slogans as its pressure points. They have also gone through any number of styles from Western paintings, from Cubism and Surrealism to Robert Ryman, in what came as a second breakthrough. The earlier darkness lifted, and Zhang's encounters between East and West, as at the Museum of Chinese in America in 2014, have never been the same.
They have extended to landscapes out of, at once, Impressionism and New York's water table, Vincent van Gogh and Chinese calligraphy, or ancient scrolls and a global economy dotted with skyscrapers. They have their own richness, their own comedy, and their own terrors, like the sky-blue fur of a golden monkey. They have brought not quite loving detail to Coke bottles, McDonald's wrapping, and Chinatown sweatshop ads. Their secret is a critical eye, but never a surrender to hectoring or to barriers. What must sound in a review like cheap sarcasm akin to Jeff Koons or Richard Prince instead thrives on a traditional virtue of Chinese art and calligraphy—that of inhabiting the voices of others. van Gogh might for once be smiling.

"Transmissions: Art in Eastern Europe and Latin America, 1960–1980" ran at the The Museum of Modern Art through January 3, 2016, "Take an Object" through February 28. Zhang Hongtu ran at the Queens Museum, also through February 28.