Wheeling, Dealing, and Partying
John Haber
in New York City
The UBS Collection and Kindred Spirits
Artforum.com
DEAR DIARY: omigod, help please. . . . here i am this morning, alone again at the computer. i like SO promise U, promise, this time for real. im going to be more confident — and assertive. i AM going to jog and drink less and write — like almost every day — and i just swear im going to catch up on REALLY awesome magazines — not like that silly Artforum — instead of like partying and mooning after those artists night after night.
Such, anyhow, might stand as the gist of Jerry Saltz in his more serious—and indeed devastating—review of artforum.com. The Village Voice critic may be lurking on the Web site for the most influential arts monthly. He could, however, be summing up the transformation of art's insiders from sometimes unintelligible theorists to inapproachable celebrities.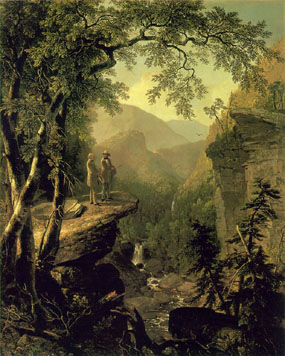 Saltz's timing alone reverberates. The very day his article appeared, the Modern concluded the inaugural show in its top-floor galleries, featuring works from a corporate entity. How fitting that the former PaineWebber collection now belongs to a multinational. Within a month, the New York Public Library sold off a great painting and an emblem of the city's first period as the center of progressive art, more than 150 years ago. And the money came from a symbol of cutthroat capitalism, Wal-Mart.
With art, it seems, money does not just talk. It gossips, and institutions listen. Ready to give up art appreciation and to savor the latest "item"? Say goodbye first to the UBS collection and to Asher B. Durand. Then find some reason to hope and despair when Saltz turns the heat on Artforum. A related article looks at criticism's persistence after bloggers and Twitter.
Gambling going on
Step right up to the Modern's new top floor—and to high-stakes finance in the arts. When it comes to UBS, I must already sound "shocked, shocked" to see the Modern gambling with its future. Seven years ago, the Guggenheim's paean to potential donors seemed suspect to someone conditioned by Modernism's purity or, equally, by Postmodernism's scrutiny of power. Now Captain Renault's irony seems more in order.
The financial-services firm could have made its selections as conceptual art, to create the ultimate corporate collection. Of course, it must have the cool but showy monumentality of such prolific artists as Frank Stella and Chuck Close. Things must generally look good in an office lobby, such as Willem de Kooning after he settled into pleasant cream colors or Thomas Struth at his most symmetrical, with his sly take on the Giovanni Bellini room in London's National Gallery. Another painting even represents the façe of the former PaineWebber headquarters. Where major works are harder to collect, as with Jasper Johns, an innocuous print will do, to show that one recognizes his worth.
A certain trendiness matters, as well as an openness to critical voices, so long as they are not burning down the house. So one has, in Andreas Gursky's magisterial 99 cents store as an endless blaze of color, a bird's-eye view from Europe of American consumerism. No wonder the Swiss had to acquire PaineWebber. One has a lovely Susan Rothenberg, but nothing to show the moment of crisis in painting, whether abstractly or with images, that she, Jennifer Bartlett in Rhapsody, and others brought to light. One has Cindy Sherman and Laurie Simmons without too many naughty bits, Jenny Holzer at her most existential rather than political, and certainly Damien Hirst. Gosh, can he churn out those colored dots for auction at Sotheby's.
At least the new space for temporary exhibitions comes off splendidly. Perhaps the apparent gap between the walls and the floor made me fear to touch by mistake, lest they fall over. Still, the rooms have an intimacy I had not felt in the main galleries. Even better, the contrast with the airplane hanger one saw on opening week testifies to the floor's considerable flexibility. So does the striking juxtaposition with the more wide-open arrangement of a show of urban landscaping next door. Real minds were behind the contrasting exhibition layouts, exploiting possibilities I had not experienced even with the Whitney's famous mobile walls.
The contrasts also returned me again to the museum's complex, institutional engagement with art of the present. MoMA has changed, but the UBS collection can still evoke the old galleries, before the remodeling. The Modern's sense of its past may be changing, but a corporation, it seems to say, is entitled to set the canon. Conversely, an exhibition called "Contemporary Voices" clearly intends to rebut doubts about the Modern's role in the postmodern present, much like the gargantuan new space for contemporary art three floors below. The plural "voices" similarly asserts a fashionable pluralism, and why not? The remodeled galleries for the permanent collection use multiple doors, conflicting sightlines, and wide-open spaces to shake up Alfred Barr's family tree of Modernism.
In the end, featuring selections from the UBS collection still says too much about a major museum today and its institutional power—much like the scale of the remodeling, the tower above, and the hefty admission fee. The exhibition speaks to the museum's future quite literally, too, with over half the seventy works as "promised gifts." Now MoMA, I suppose, can say "thank you, PaineWebber."
Are they friendly spirits?
After welcoming MoMA's top floor, I must offer my own goodbye to Kindred Spirits, Asher Durand's landscape soon on its way to Bentonville, Arkansas. Like so many others who have published their regrets, I long sought it out at the New York Public Library. People go to that building to do research, not to take books away, in something of the way that Durand approached the Catskills. Its relative seclusion in the south hallway, before it entered a busy room in the majestic main branch, seemed only right for a painting that offered such an intimate approach to the deep valley of Kaaterskill Cove.
Painted in 1849, Kindred Spirits has always summed up the first great phase of American painting, before artists moved on from the Hudson Valley, seeking wilder scales and more exotic territory. It shows the movement's pioneer, Thomas Cole, alongside William Cullen Bryant, the author of "To a Waterfowl" and "Forest Hymn." It also further softens and naturalizes Cole's impulse, in its close observation of foreground detail and glowing sunlight over the Kaaterskill Falls. Historians often describe Durand, among his generation, as most resistant to European Romanticism, thanks to the modesty of his rhetoric and the precision of his technique. Then again, he does take his title from Keats, and his work exemplifies the Romantic conception of humanity, with an active imagination fully embedded in the world.
The title refers, of course, to the juxtaposition of artist and poet, each with his own forest hymn, like a tree for Ellen Altfest or Babs Reingold. It also pays tribute to them as, each in his own way, nature's kindred spirits. Cole points with his brush toward the horizon, while Bryant can only bare his head in humility, holding his hat in front with both hands. However, the painting also claims more profound connections between nature and humanity—connections that begin within the natural world. The trees in the foreground intertwine as they shelter the pair, themselves among the rare figures to intrude in Durand's landscapes. Like the topmost tree, their rocky platform reaches out to the opposite cliff, the falling water with its reflected sunlight seems nature's gesture toward the viewer, and in real life they could never be comprehended within one view.
I have always imagined the painting and New York as one final pair of kindred spirits. One does, after all, call this the Hudson River School. As Michael Kimmelman noted in the Times, Bryant, a quintessential New Yorker, helped to inspire Central Park and to found the Met. Besides, his daughter gave the work to a lending library, an emblem of the shared space that a city does so much to sustain. The Lenox Library ultimately became one of three components merged in the public system, with the main branch and its familiar lions erected in 1911. Ironically, the painting went to an heir of the Wal-Mart fortune, just when local communities are protesting the incursion of the chain store.
The sale all but encapsulates the present art world, with cash and institutions as its chief players—and with pressure on the Detroit Institute of Arts when it fails to sell its landmark collection. One could blame the Met, in its joint bid with the National Gallery, for not promising enough money, although that would all but give the museum a duty to bail out the library's funding problems. One could blame Sotheby's for reducing the Met's chances with a silent auction, without the chance for open, competitive bidding, although Kimmelman reminds readers not to expect too much a business. One could blame the library for its deaquisition, especially of a work that celebrates the confluence of the arts and letters, although I realize it is focusing on its mission as a library. I definitely blame it for not putting conditions on the sale. The library is, after all, a city institution.
The buyer promises to make the painting available on loan to New York museums. Then again, the Wal-Mart Family Foundation also promises a museum in Arkansas. (I hope its gift shop will pay the minimum wage, overtime, and health benefits.) Perhaps, one day, someone will see it there and recognize something of the sublimity and humanity in nature—and even in the blue states.
Dear Diary
After all that wheeling and dealing, surely a party is in order, and artforum.com is checking with the caterer now for the guest list. Saltz calls its "gushy" Diary section "the Us magazine of art criticism." With its reports on an "insular group of art worlders," it "makes you feel shallow, irked, envious, or nauseous." Presumably, the operative word is nauseous. While he does not stop to explain the names in the "tidbits" he quotes, feel free to write me if they leave you irked and envious as well. If I am slow in responding, I am out back throwing up—even while I contribute regularly to another blog site myself, ArtBistro.
Saltz acknowledges the print magazine's quality, especially notable when articles in most mainstream publications barely stand out these days from the glossy advertising. But is he fair to its online edition? Probably, although I, too, have trouble resisting a suitably arch headline like Christie's Beats Sotheby's at Game of Rock-Paper-Scissors. No doubt real effort has gone into presenting useful news and a blog, which invites links from readers. The site also allows readers to "talk back," and in just two days they responded with nearly a hundred posts directed at "jerry schmalz."
More important, art-world insularity is hardly the property of that Web site. Saltz knows it, too, which helps make a terrific critic's assault even more essential. In today's overheated market, he argues, artists feel the pressure to offer familiar shocks, familiar excess, and familiar comforts, the kind that can make a Whitney Biennial or "Greater New York" seem a little too eager to please. One could see it the same month, when an exhibition by Rudolf Stingel put a revered gallery's own prestige and glamour on the spot.
Moreover, artists have an obligation to respond. They lead two lives, an "outer one of career and success, and the inner one that we all got into this for in the first place, the one about work, obsession, and discovery." They can insist, Saltz concludes, on their credibility—on not mistaking the outer journey for the inner one.
I suspect that any artist with half a brain or a quarter of a soul is saying amen. However, something in me still protests. I feel as if one were to fight back against Clear Channel and the monopoly power in radio by urging musicians to play in cheaper bars. Rirkrit Tiravanija seemed futile enough with his low-power broadcast within the Guggenheim. I feel much as when Raphael Rubinstein tried to fight a similar "quiet crisis" by asking critics to spend more time on bad artists, in order to swat them away. Grass-roots action is nice, but it may do little more than reinforce the parameters that others have set.
Many artists never attain the privilege of that outer life. Most dealers care about what they represent, and at least one writer I can name does not get invited to dinner with Jeffrey Deitch. Perhaps Saltz goes astray from his own position as simultaneously insider and critic with standards I can only emulate. More likely, he has no more idea than I how to alter a diffuse art scene, driven more by markets, museums, and individual judgment than by movements. My only advice would be for artists, dealers, and writers to continue to highlight those institutional connections—with as much anger, humor, and equanimity as they can muster.

Jerry Saltz's "Dire Diary" on artforum.com appeared in The Village Voice for April 25, 2005. The UBS Collection ran at The Museum of Modern Art, also through April 25. Alice L. Walton purchased Asher B. Durand's "Kindred Spirits" on May 12. Reports put the price at more than $35 million.