The Weight of History
John Haber
in New York City
Diego Rivera: The Murals
Diego Rivera wanted his art to carry weight. He wanted to bear the weight of history, in Mexico from the Spanish conquest through Civil War and Revolution—but not only history. With the frescoes he created for the Museum of Modern Art, one can see just what else.
How much he wanted
Rivera wanted to embody the greatness of art, from pre-Columbians past the Renaissance. And he was determined to rebel against and to compete against them all. He wanted to assume the cutting edge of art, to capture a rising industrial America and a burgeoning skyline. He wanted his murals to become a part of New York's landmarks. He wanted those murals to have serious physical weight, in a classic medium of slaked plaster, lime, and wood. He wanted to remember the laborers who suffered under so much weight, and he wanted to foretell a global communist revolution.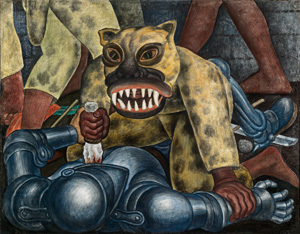 He got all his wishes, too, except of course for the very last. He completed five murals on Mexican history for his opening at MoMA in December 1931. The museum, then two years old, gave Rivera only its second solo show, and the first went to Henri Matisse. Not bad company at all. Rivera set up shop in the museum with assistants six weeks before and worked furiously on the spot. One mural entered the museum's collection, and he added three more a month later, with visions of New York.
At least he got those wishes for a while. If most people remember Rivera at all, they may remember his commission the very next year for Rockefeller Center. Not a bad prize, although he lost it when he refused to remove V. I. Lenin. Some whisper that Nelson Rockefeller (earlier a sponsor of the murals at MoMA) really took offense at his portrait, with a drink, when the patron, teetotaler, and advocate of Prohibition thought that he deserved more. Some whisper, too, that Man at the Crossroads still lies beneath its replacement by José Maria Sert, whose heroic if slightly tacky figures also decorate the Waldorf Astoria, which does serve drinks. But then, whispers and conspiracy theories might have made Rivera even happier. He could feel that much more a historical figure.
Otherwise, many today remember him more as Frida Kahlo's husband. She had no interest in the impersonal span of human history. She painted herself face front, without Cubist fragmentation. With her emphases on gender, ethnicity, folk art, jewelry, pride, and vulnerability, she became in time an emblem for what modern art left out. Its ambitions can seem deluded or arrogant today—or the wrong kind of arrogance. Regardless, one can relate to her, and she can still make one uncomfortable today as Rivera may not.
This show could change that impression. The Modern exhibits five of his murals from 1931 and 1932, along with photographs of the others, an unrelated mural, and insights into their making. Frescoes do not travel easily, and Rivera could not detach the work that had made his name from the walls of Mexico. He disdained the ease of murals on canvas, the medium for Thomas Hart Benton, and sought instead to create a new form, the "portable fresco." He made use of steel frames to support smaller and lighter constructions than whole walls. Here, too, he wanted to be both world historical and modern.
While his 1931 show had well over one hundred objects, he comes close to reproducing an earlier scene just once. He was starting over for a new era, just as he shifted subject midway to encounter a changing city for the first time. The show helps in understanding all of that, with x-rays, diagrams, views of the back of a fresco, sketches, related documents, and artifacts. One can see the turmoil then in political art, and one can see that art does not move in a straight line from oppression to revolution, any more than life. One can see up close the sparkle of, for today, a strange medium. One can appreciate how much he wanted and how much he won.
Revolution and terror
One can also rediscover a work already in MoMA, Agrarian Leader Zapata. It shows Emiliano Zapata in white, standing next to and holding the bridle of a white horse. Rivera has made the Mexican reformer and revolutionary leader a peasant, but pure and in command all the same. His followers press behind him from the left, and large leaves rises behind the horse to the right. The inverted triangle signals depth and motion, but also stability and focus. It takes some time to notice the dead man in a soldier's boots, tan uniform, and yellow gloves at their feet.
Rivera relishes the broad sweep, in composition as well as history. That might have drawn him to "true fresco" (as opposed to just painting on the wall, as with Leonardo's Last Supper), since an artist has to work fast before plaster dries. He finished off Zapata in three sittings—one for the man's stance, one for his head and those behind him, and one for the horse. Renaissance artists often worked from full-scale drawings, so that they could prick them with pins and blow fine dust onto the wall to transfer the composition. I did not spot holes in Rivera's drawings, although I may simply have missed them. Then again, he may just have relished replicating his large freehand black curves on the spot.
Rivera thinks big, and he thinks largely in the muted shades of the tropics. In Sugar Cane, colors belong to workers bringing life along with their forced labor, while two officers loll in the background like something out of Impressionism and Luncheon on the Grass. In The Uprising, a woman's red dress and brown hair, a man's blue overalls, and the flushed face of a crying child press up against a soldier's sword. In Liberation of the Peon, red marks a flayed back. In the most colorful painting, shades of red touch bare limbs, masked lips, blood-red eyes, and blood on the dagger of an Aztec warrior—patterned after a pre-Colombian dagger in Rivera's personal collection. In each case, colors come as highlights and as disruption.
In turn, near monochrome can bring light. It floods a bank vault far beneath New York City. It survives in a black-and-white photo of the lost fresco, as sparks rising from pneumatic drills. It suggests the appeal of raw pigment in wet plaster. Zapata's horse sparkles up close, too, to the point that one wants to touch. A medium looks fresh again that all but died out with oil on canvas.
The color and perspective stand out against the press of crowds in two dimensions. The workers' uprising becomes little more than a mass. An angry fist rises from the throng, as much a threat as a hope. Deaths may pass almost unnoted. The anonymity is not comforting, any more than it is comforting to find that Liberation of the Peon is about a liberation from life itself. That woman, her crying child slung over her shoulder, could be the world's most tormented Madonna.
Perhaps the revolution is not coming any time soon after all even for Rivera—and not without terror. The Aztec masked as a jaguar is terrifying, his coarse ceramic blade like jagged ice, and he could be presiding over a fallen hero. The men behind Zapata appear as a row of swords, tools, and machetes, and one looks to Zapata's blank eyes for warmth and comfort. In Electric Power, three men work in cramped quarters under city streets, isolated in separate chambers and by their safety gear. One industry publication took it as a tribute to modernity and featured it on its cover. Another responded indignantly.
Layers of history
Some of the contradictions simply reflect modern life and modern art. It is hard now to imagine a world in which Forbes featured Rivera on its cover, with an image that included a hammer and sickle. Alfred Barr, the founder of the Modern, met Rivera in Moscow—and Rockefeller's request to delete Lenin for, after all, a public place had a patrician politeness (even as his wife collected Soviet art). Part reflects the problem of describing a worker's revolution, whose heroes must suffer degradation in order to triumph. What one might see as tension or contradiction, a Marxist would call dialectics. And surely part reflects the painter himself (who later recreated his mural of Lenin for a university city in Mexico).
Born in 1886, he spent much of his twenties and thirties in Europe. He loved Renaissance religious fervor and structural solidity—with sculpture as inspiration of drawing and painting. That flayed corpse echoes any number of Renaissance paintings of a dead Christ, perhaps most of all The Lamentation by Giotto in the Arena Chapel in Padua, from around 1305. Many of Rivera's crowded Mexican murals arch over doorways, like Giotto's Last Judgment. The soldier stabbed by the Indian warrior lies head forward. MoMA mentions a dead Jesus by Andrea Mantegna, but a man in full armor has the same virtuoso perspective in a 1445 battle scene by Paolo Uccello, who also loved the geometric fullness of horses.
Rivera visited the Soviet Union in 1927, with the official delegation of the Mexican Communist party, the PCM. He assumed a seat of honor near Josef Stalin for celebrations of the October revolution's tenth anniversary. He taught and created the cover for a Soviet journal in 1928, with the further influence of Socialist Realism. Yet he had already broken once with the PCM, which saw him too wrapped up in art, and he denounced Stalin well before most American communists caught on. When he framed New York's skyline with buildings by Raymond Hood, architect of Rockefeller Center, he could have been angling for Rockefeller's pleasure. Then again, he had seen the future of New York, and for him it worked.
Maybe Rivera and Kahlo are not so far apart after all. They married in 1929 and received a warm welcome in 1930 to California. Rivera had his first North American show there and his first U.S. murals, for the San Francisco Stock Exchange and School of Fine Arts. Both Rivera and Kahlo tried to create a Modernism rooted in native American traditions. Both push their subjects firmly up against the picture plane. Both have an almost preposterous confidence in themselves and an undercurrent of unrelenting suffering.
One mural translates the confidence and suffering as layers of New York City. Frozen Assets starts with the skyline, displaced to connect Wall Street and midtown. Below, dim traces describe a packed commuter platform, and below that translucent glass covers the homeless in its fabulous breadth. Further still, stragglers attend on a bank's real riches. The whole wild construction may make one think more of Piranesi than of modernity. For all that, Rivera chose his architecture well, he had seen the Third Avenue el, he knew the Depression, and he had learned of an actual bank's subterranean vaults.
Rivera would have hated a review in The New York Times that called these small murals "anemic," when he wanted his art to bear so much weight. Rather weighty himself, he had an increasingly huge pot belly and an ego to match. The show belongs to him and to the museum's own history, like recent exhibitions of Abstraction Expressionist New York and German Expressionist drawings from the collection. Is it only a footnote to the Modern or to an upcoming show of Caribbean art uptown, without benefit of the postmodern urge to interchange footnotes with text? A clerk's resemblance to John D. Rockefeller, Sr., could be one more instance of Rivera's biting the hand that feeds him. Yet he had the imagination to describe more than he knew.

Diego Rivera's murals for The Museum of Modern Art ran through May 14, 2012.