The Afterlife
John Haber
in New York City
Gordon Matta-Clark and High Times, Hard Times
Gordon Matta-Clark had a talent for destruction. He blew out windows in the Bronx. He ripped holes in ceilings, and he tore through an abandoned warehouse on the piers like heavy artillery. He sectioned whole buildings with a power saw, until the parts could fit comfortably within a New York kitchen. He split others right down the middle. Each half leans to one side, as if the land had risen up from beneath.
Perhaps no artist had so many ways of taking things apart, and few have had so little interest in putting them back together. He left behind few physical objects, besides a warrant for his arrest. The city took back tiny parcels of land he had bought. Others finished the demolitions that he began. He died in 1978, barely thirty-five years old.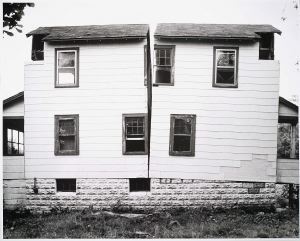 All that presents a challenge for a retrospective. However, the Whitney documents not just a brief career, but also a decade of clearing aside. It suggests a response to Minimalism and urban trauma in creative destruction. Matta-Clark sought to let in the light and to allow for another kind of community.
His relevance depends on whether one believes that that pier, now a part of Hudson River Park, still belongs to New Yorkers. Perhaps it depends, too, on whether Chelsea's spread down the west side still opens up chances for artists. As a postscript, "High Times, Hard Times"—a quirky survey of abstraction from those same years—further explores the conundrum of art after Modernism.
The eve of destruction
Destruction sounds like nasty business, but Matta-Clark seems drawn to decay. He survived his brother's death. He photographed skulls in the Parisian underground. He returned to New York in its most crime-ridden years, and he felt at home. Perhaps Gerald Ford never did tell the city to drop dead in 1975, but the artist might have relished the headline. When Neil Young sung of lying in a burned-out basement with the full moon in his eyes, he could have been describing Matta-Clark.
The scent of death hovers over his career, just as it does for Robert Smithson, who died five years before him. Like Eva Hesse before that, Matta-Clark died of cancer. With big shows of all three in just one year, New York has felt haunted. No doubt museums, too, are now trying to make sense of what remained after Smithson and Hesse. One wants to know how art got in its predicament now.
These figures connect Matta-Clark to art's recent past. Like Smithson, he took a steam shovel to the landscape. Smithson had celebrated the anonymity of northern New Jersey, not far from where Matta-Clark made many of his "building cuts." Like Smithson, too, he accelerated existing processes of disintegration. He used vacant lots and buildings slated for demolition, and his steam shovel added refuse to a landfill. Given his love of dark urban settings, talk of carrying coals to Newcastle does not seem altogether inappropriate.
Like Smithson and Hesse as well, Matta-Clark cleared the space of Minimalism. The Whitney displays some of the house sections that he had relocated from upper New York State. They relate to Minimalism's modular structures, but they could pass for overgrown dollhouses. They relate to Smithson's concept of a nonsite, a remnant of the outdoors within a gallery, but they carry with them more of the exterior. They lower the skyline. In his most lighthearted work, Matta-Clark films himself and others in a Tree Dance—swaying in the branches of a tall tree.
Michael Fried had famously denounced Minimalism as theater rather than art, and Matta-Clark embraced the idea of art as process and performance. "Not the work," he wrote. "The worker." He let his hair grow for a year, and then he cut it and labeled the tresses. This display, too, has acquired overtones of necrophilia, but think of those quaint hairstyles back then.
"No.Thing Works," says another sheet, and he clearly relished doing the work himself. He left few art objects, but he obsessively documented every act. People fondly recall Food, an artist hangout that he founded in Soho. The Whitney can rely on no shortage of films, photographs, and notes. They show that a strong, agile human being died young. Watching him saw through a building, one can share in his enthusiasm.
Between entropy and order
Matta-Clark breaks more sharply with Minimalism, however, than this sounds. He seeks to enhance a sense of community, not unlike important public projects of the time by women, such as Wheatfield by Agnes Denes. The sculls testify to one, and Food became the center of another. Much performance video, from Vito Acconci to Marina Abramovic, fixates on the lone artist's risk taking. Smithson trusted to Nancy Holt behind the camera, but on-screen he treks through weeds or ambles along Spiral Jetty alone. Matta-Clark hangs out in the trees with his friends.
For Matta-Clark, community means something larger as well—with a particular history and moment. The scattered lots belong less to the landscape tradition than to city records. The sites of urban despair belong to the demolition plans of others. They also belong to a region, at a time when the optimism of modernist architecture or the 1960s alike had faded. Robert Moses's bridges had given way to landmark laws and battles over a west-side highway, and the Bronx had gaping windows of its own.
Another form of optimism, in the real-estate or art bubbles these days, lay well in the future. At the end of the 1970s, an artist could still find an illegal loft over a topless bar. One can see why a show of abstract art calls those years "High Times, Hard Times." Matta-Clark struggled with them, too, physically as well as metaphorically—and at times illegally.
No one could accuse Smithson, the author of A Tour of the Monuments of Passaic, of idealizing nature. However, Smithson assimilates suburban alterations to entropy, conceived as something between a natural and metaphysical law. His steam shovel brings earth to a woodshed or to the rhythms of the Great Salt Lake. Matta-Clark brings trash created by civilization to the landfill that, tentatively, sustains it. Yes, he finds images in nature, like the tree or the hints of an earthquake beneath the building cuts. However, his projects represent stages in urban planning.
That stage marks a space somewhere between entropy and order. It has little in common with Chelsea today, but it defines room for growth. If Matta-Clark seems drawn to death, he is also drawn to the tree tops and the light. The hole in the wall on a Lower Manhattan pier lets in plenty. It has the shape and scale of a cathedral window—or the oculus of domed architecture. The scattered parcels of land, called Fake Estates, intercept the possibilities of enclosure.
In a sense, he rejects not just the art object, but objects themselves. The most famous menu at Food, consisting almost entirely of bones, amounts to a starvation diet. In another sense, however, he has a more traditional view of art than many. "The violence," he wrote, "turns to visual order and, hopefully, then to a sense of heightened awareness."
Rescue missions
The Whitney does its best to convey that awareness. It uses its movable walls fittingly and well, creating broad spaces in which one can move freely. I would not wish to spend the day at this show. However, it pins down its subject. I have always recognized the artist's name, but could never say what he did. Now I must remember.
Matta-Clark was born into New York history. His father, Roberto Matta Echaurren, arrived from Chile via France. Matta's fluid, if rather cheesy canvases matched his personality. They also helped the transition to Abstract Expressionism, especially for Arshile Gorky. The son belongs to art history in a different way. His retrospective fills out the puzzle of art after Smithson, and it offers a bridge between Minimalism and the present.
The idea of community has more recent echoes, as when Rirkrit Tiravanija served food to gallery visitors. The sectioned houses resemble Andrea Zittel's trailer park, and they raise much the same questions about an industrial future. Processes of building and unbuilding appear often, too, as in the work of Phoebe Washburn, "Exit Art: The Reconstruction," or site-specific work for the reopening of Smack Mellon. Attempts to build on what New York already has, however decrepit, make me think of plans for the High Line, almost touching Hudson River Park, or Mark Dion's "Rescue Archaeology."
If these rescue missions seem naive, so often enough does Matta-Clark. He works with a real city, but he predates Postmodernism's political critique. His confidence in surviving New York's bad years may reflect an artist family's tone deafness when it comes to race and class. A meal of bones goes down less easily when people really are hungry, and taking an air rifle to the Bronx sounds cruel, although Matta-Clark photographed previously vandalized apartments as well and meant them as rebuke. However, art can get away with idealistic gestures when they point to real-world change.
Destruction does sound nasty, but so these days can urban renewal. It has come to stand for the loss of actual communities. It means Moses's highways, even if the man also built a few public pools that no one I knew growing up ever frequented. It means plans for stadiums and high rises that may or may not deserve local opposition. Matta-Clark anticipates such debate, just as his little parcels of land anticipated pocket gardens of the 1980s. His sneak attacks on public properties anticipate East Village art as well, not to mention graffiti in posh galleries even now.
Postmodernism implies a critical reflection on the past, as with Louise Lawler, Sherrie Levine, and others in "The Pictures Generation." It does wonders to see that as requiring a power saw. I could tell you more about creative destruction in an era of big art markets, but I have to finish renovating my co-op.
A postscript: exquisite corpse
Painting may have died almost from the moment Matta-Clark went to work, but at least the 1960s and 1970s gave it a decent burial. Alan Shields built a pyramid of spattered canvas. Harmony Hammond arranged circles of bright fabric on the floor, like sacrificial sites to the god of acrylic, while Manny Farber and Ron Gorchov supplied the tribal mourners with masks and shields. In performance, Mary Heilmann turned the funerary Book of Night, its large black pages pierced by rough holes and silver foil. Al Loving tore canvas and paper into colored strips, like an exquisite corpse.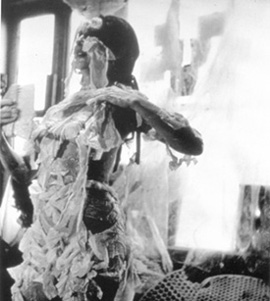 Okay, I exaggerate, but personal gestures in two dimensions really did seem on the brink of death, quite as much as the Bronx. Painting's newest hero, Frank Stella, said so himself in 1964, and a Minimalist like Donald Judd could only agree. Now one can study its afterlife. "High Times, Hard Times" ends in 1975, before expressionism, irony, appropriation, and critical theory did indeed sideline abstraction for a while. As my examples suggest, it may not match what most people remember. It also may not match what happened, but its odd nostalgia says something about how artists approach abstraction now.
One expects a contemporary bias from David Reed, the painter who curated the show with Katy Siegel. The Academy has its own distaste for formalism anyway. Instead, the thirty-seven artists draw on crafts, Op Art, and performance as much as Minimalism, and more often than not one can hardly tell these influences apart. Blinky Palermo's geometry would look just fine at Dia:Beacon, but Jo Baer and Cesar Paternosto wrap theirs around the stretcher's sides. Mary Corse adds glitter to her White Light, while David Diao brings flesh and earth pinks to his near monochrome. Others allow makeshift devices to create the patterns for them, including Lawrence Stafford's rotating drum and Jack Whitten's rake.
The psychedelic era's "high times" loom as large as in the 2006 Whitney Biennial and the Whitney's "Summer of Love." Acid stripes bend and glow for Ralph Humphries and Kenneth Showell, Roy Colmer's video pulsates in black and white, and Dan Christensen anticipates the latest curves darting into space from Brice Marden or Mark Sheinkman. Yayoi Kusama achieves her white points of light the fun way, by riding into them on a horse. Most of all, however, the decade arrives as one huge performance, if not always a burial rite. Dorothea Rockburne unfolds a transparent sheet along the walls and floor, where its central geometry dissolves marvelously into crude oil. Carolee Schneemann offers her naked body as a site for painterly materials, with the approval of her black cat.
Clearly the show's eccentricity does not belong entirely to its artists. It has no use for the past, although many an older artist was surviving just fine, and Jasper Johns was undertaking the most abstract art of his life. It has to skirt around artists closest to Minimalism and color fields, such as Robert Ryman, Agnes Martin, Carmen Herrera, Ellsworth Kelly, or Robert Mangold. It has hardly a care for the very near future either. In American painting alone Jennifer Bartlett, Susan Rothenberg, Julian Schnabel, and Peter Halley were about to cure a lot of artists of abstraction for good, although Jennifer Bartlett kept abstraction alive, too. Even here, Pat Steir, like Elizabeth Murray and Joan Snyder, barely hints at her own burst of imagery still to come—much less younger artists working between realism and abstraction today.
Like the feminist artists in "WACK!" over that same decade, this show restores some strange promises in between, with the hope that they will matter for today. The diverse media look forward to today's installations and their assault on fine-art materials, including Lynda Benglis in poured Latex and as bad girl, Joe Overstreet with kites, Howardena Pindell with rope, and Louise Fishman with string. The place accorded black abstraction and women looks past a generation often derided as white and macho, and I have not yet even mentioned Harriet Kaufman, Harriet Korman, Ree Morton, or Lee Lozano. However, abstract painting had a far more troubled and, by the same token, more interesting history. Perhaps it never died, but its survival in the early 1970s—as students anxiously studied Stella's latest advances and Marden's dark encaustic—does seem like a protracted ritual. When Smithson buried his woodshed, perhaps he had thrown that needful handful of earth onto its grave.

Gordon Matta-Clark ran through June 3, 2007, at The Whitney Museum of American Art, "High Times, Hard Times" at the National Academy Museum through April 22.