Design as Real Estate
John Haber
in New York City
Thomas Heatherwick and Pier 55
Michael Kimmelman on Penn Station
Can a book of matches provide the foundations for architecture? The Cooper Hewitt, the Smithsonian's design museum, is glad you asked. It calls its introduction to Thomas Heatherwick, pointedly, "Provocations."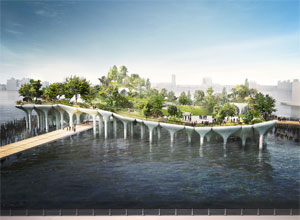 Can a giant sculpture fit through a mail slot? Can a building help change the way we learn? Questions like these introduce each of the British architect's commissions—although maybe not quite the one about a book of matches. The questions extend, too, to the tangle of art, money, and real estate. Should Heatherwick get the go-ahead for a lavish "floating park" on a pier in the Meatpacking District? The answer comes down to one's vision for the west side or the entire city.
On that very question, Michael Kimmelman would be doing New York a favor had he stuck to his headline in The Times, but he does more. In "The Case for New Hudson River Rail Tunnels," he also argues for a substantially new and expanded Penn Station—and for why a new rail tunnel alone would demand it. And then he envisions sweeping changes to the neighborhood and, by implication, the fabric of the city. He is open about the plan's stubborn opponents, although less so about its unequal benefits. It will take heroic leadership to set things in motion and to do better. As Kimmelman concludes, "it's time to start digging."
Any questions?
Questioning can represent a designer's thought processes, in a show filled with questions—a look behind the scenes at a man obsessed with materials and processes. A garden pavilion indeed began with the equivalent of matchsticks, as Thomas Heatherwick inserted rods into a steel framework, inspired by the thought of a "hairy" building. It later blossomed into the massive UK Pavilion for Expo 2010 in Shanghai, radiating acrylic and light. Questioning can also mean dealing in hypotheticals, as with Buckminster Fuller, in a playful or utopian search for what never existed before. Heatherwick has his playful side, as with chairs that spin like tops, only more wobbly. He has his utopian side, too, with a pedestrian bridge designed as a garden crossing the Thames and a city bus that used rounded edges to conserve space and, ultimately, energy.
Questioning can be problem solving as well, with architecture as engineering project. Heatherwick's London drawbridge spirals up on command and folds neatly into an octagon, like a puzzle or an echo of the city's giant Ferris wheel. He is almost never asking why, but rather how. An engineering mind-set also dictates a fondness for modular design—from those thousands of aluminum and acrylic needles to that Rolling Bridge of steel triangles, a "learning hub" of fifty-six stacked classrooms, a gazebo of plywood shuffled like playing cards, and a planned cultural center of forty-two tall concrete tubes. It conforms with mass production, and Heatherwick Studio happily accepts design projects, such as a newsstand, "expanding furniture," Christmas cards, and handbags. All these sides of questioning matter, in work by turns grandiose and humble, imposing and airy, chintzy and businesslike, and driven by both private wealth and public use.
Heatherwick thrives on contradictions, and so does his exhibition, curated by Brooke Hodge. Broad central tables hold the questions, descriptions, and models, while facing walls hold large color photographs of unexpected lightness. As with Post-Minimalism, modularity co-exists with natural form, like the spiraling frameworks of a power plant or the cooling vents for an electric substation, climbing like vines to a height of thirty-six feet. A boat's hull curves back on itself, to enclose passengers. How do you turn a paper mill into a distillery? By all means, with mushrooming glass to display the herbs in gin.
Modular form can follow or bury function—not to mention a building's occupants. What might otherwise stand open to view, like a swimming pool, often hides beneath an imposing canopy. A pavilion is a gathering place, but those acrylic needles are hardly welcoming. From the play of light within, they could pass for bronze. Burial and biomorphism or geomorphism converge in many of Heatherwick's designs, including a Buddhist temple of rubberized foam, a seaside café in the shape of a sand dune, a mosque like windblown earth, and an entire community piled like naturally occurring stones. Cracks appear in the canopy shielding a desert park from the sand and sun.
Maybe the biggest question is when the architect makes it to New York—and on whose terms. Heatherwick is already well on his way to America, with architecture for Google's headquarters, plans for the Hudson Yards, and a December 2015 commission to redesign the home of the New York Philharmonic in Lincoln Center, but debate rages on over pier 55 on the Hudson. Critics have sued to stop what could be world's most expensive pocket park, funded by Barry Diller and Diane von Furstenberg but also by taxes, as misplaced priorities. What other city parks go unfunded, while plans here unfold mostly in private? The project could exemplify all the tensions in Heatherwick's glamour and idealism, on top of the existing tensions between art and spectacle. It would extend out into the river, on stilts at the end of a walkway, as both public park and an object in splendid isolation.
Plans began in 2012, and a lot has happened since then. The High Line has extended, and a new Whitney Museum has landed at its foot, just across the highway from the pier. For its supporters and opponents alike, the park brings to a head gentrification in the Meatpacking District, with yet another celebrity architect. It would be a genuine park all the same, with greenery and performance space, and another blow for "tactical urbanism." No doubt all of Manhattan is a plaything for the rich, but now and again the rest of us can play along. If not, Heatherwick will be once again playing with matches.
Dig in
As architecture critic for The Times, Michael Kimmelman has taken all little interest in architecture, focusing instead on public access and open spaces. For once, though, the two plainly go hand in hand. For many a New Yorker, the destruction of the old Penn Station, beginning in October 1963, meant the loss of an urban treasure and the spark to landmark laws. For commuters, it paved the way to fifty years of misery, in an overcrowded terminal with low ceilings, bleak corridors, overcrowded platforms, inadequate facilities, and not even a decent space to wait for a train. Meanwhile traffic in and out of the city has only increased, while infrastructure here and across the nation has continued to decay. If just one of the existing tunnels built on silt under the Hudson were to come to grief, even for an hour, the entire region would all but shut down.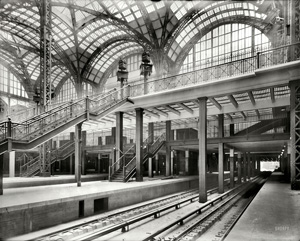 Few seemed to care that Chris Christie as governor of New Jersey derailed plans for an additional tunnel, funded by the federal government through the Port Authority of New York and New Jersey, while directing much of the money to routine roadwork. In fact, it cemented the reputation for tough talk that for a time made him a credible Republican candidate for president. (His state did take notice when official misconduct led to delays at the G. W. Bridge.) Fewer still are aware that President Obama has refused to give up, just as, let it be said, he had with health care. His Gateway project would revive the tunnel and the station. Kimmelman would be doing everyone a favor merely by pointing that out.
He outlines further benefits from new rail lines, too, including the human capital of commuters, a lessening of demand for affordable housing within the city, and an increase in property values on the Jersey side as well. But, he adds, a boon to Amtrak and New Jersey Transit also means a greater bottleneck in Penn Station. In response, Gateway would take over the block south of the station, for a Penn South closer than ever to Chelsea. Meanwhile, he notes, a developer is considering converting the street north of the station, adjacent to the Long Island Rail Road, to a pedestrian mall, adding light and ease of entry. That leaves only the monstrosity in between and, Kimmelman stresses, a formidable obstacle to doing anything about it. Towering above Penn Station is what supplied the motive for demolishing the old station—the ugly cylinder of Madison Square Garden.
The critic gives a competing plan a brief, dismissive mention—although editors duly add a photo with a swooning caption. As senator, the late Patrick Moynihan proposed a new entry point to Amtrak through the grand old Farley central post office, which occupies a full block across Eighth Avenue. Kimmelman simply observes that Amtrak accounts for only a small fraction of riders in and out of Penn Station. If you ask me, Moynihan Station would also be the proverbial lipstick on a pig. Almost everything would remain in place, with a more historic façade, while commuters would face the detour a block west of midtown, plus the walk back east to the tracks. The proposal suited perfectly a senator swept in and out by private car, with adoring journalists in his trail.
What, then, of starting over, and what about Madison Square Garden? The Municipal Arts Society has commissioned a design from SHoP Architects, which would relocate the Garden a few blocks away, close to the luxury residential and office complex of Hudson Yards now on the rise (but, again, do not expect this architecture critic to dwell for long on architecture). With the backing of former Mayor Bloomberg, who never balked at luxury, the subway is extending its reach there as well. The owners of Madison Square Garden would get a new arena for free, the developer of Hudson Yards would pay for it in exchange for air rights, and the site's current occupant, a huge mail-sorting center, would move as well. So far, though, not one of those parties has taken an interest, and neither has New York's senior senator, Charles Schumer.
Notice something else, too, and here Kimmelman, who has had his own investment in celebrities, leaves off. The public would pay, while everyone already with power and the money to back it up would gain—the arena, the developers, and the owners of offices and condos, both in Hudson Yards and along the High Line to the south—much as with the broken promises of publicly funded sports and residential complexes elsewhere. Already struggling Chelsea galleries would pay, too, in ever higher rents. Still, an astonishing plan for change is taking shape, and leadership, starting with Schumer and with vocal support from critics like Kimmelman, could both advance it and reconceive its economics for the people it would serve. The area would gain a fantastic transit hub, new residents, new amenities, a redress to fifty years of wrongs, and a new life. If that still sounds thoroughly unlikely, better start digging.

Thomas Heatherwick ran at the Cooper Hewitt through January 3, 2016. Michael Kimmelman wrote for The New York Times on July 8, 2015.