Where's the Beef?
John Haber
in New York City
The Whitney Contemplates Chelsea
Where's the beef? For the Whitney Museum of American Art, it may not lie on Madison Avenue. The Whitney has decided to abandon expansion plans adjacent to its present landmark site. Instead, it hopes to take at least a part of its business elsewhere, to a new branch in the Meatpacking District. (A postscript, after the Whitney's 2010 vote to proceed, asks what that means for a landmark on Madison Avenue.)
The horizontal footprint
In the process, the museum will spare itself some animosity. Neighbors had fought to save two Upper East Side brownstones. That already obliged the Whitney to settle for demolishing one and working within the air space of the other. It will in turn gain two lots, perhaps twice as much space as in the uptown addition that Renzo Piano had designed. The board's chairman calls this "horizontal footprint" better suited to exhibits and events as well. And he can apply some of the savings to upgrade the original Marcel Breuer building.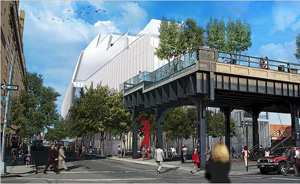 The museum will also gain a decided role in the transformation of a neighborhood. The Whitney's new home will rest at the foot of the High Line, the abandoned freight line that casts its shadows over gallery-goers but may well become winding, narrow, elevated parkland. Think of a decrepit, vernacular, and truly public alternative to Le Corbusier's ideal city.
Any New Yorker might fantasize about a Whitney:Chelsea. Not so very long ago, the triangle at the foot of Tenth Avenue amounted to the shadowy northwest corner of Greenwich Village, anchored by a lone all-night French restaurant. Now it already holds at least two other nonprofit arts institutions, a few galleries, a trendy hotel, a block of expensive clothing stores, plenty of restaurants, and busy late nights indeed.
Indeed, the site has become available only because another established arts institution, Dia:Chelsea, has relinquished it without so much as breaking ground. All I can envision for certain is the once garish shape of Dia's former Chelsea lobby (although the X-Initiative will occupy it for one year, starting in 2009). Meanwhile the Emily Fisher Landau Center never lets go of its origins as a private collection, while the Met under Philippe de Montebello boasts of its debt to donors. No doubt preservationists downtown welcome a new anchor tenant after Dia's departure, the better to keep the High Line project alive.
The Frank Gehry building on West 19th Street, Diller Scofidio + Renfro at work on the High Line and MoMA's westward expansion, old warehouses, West Village brownstones, and Hudson River Park nearby could add up to an amazing architectural context, captured in progress by Yvonne Jacquette. Village gallery neighbors like White Columns, Sperone Westwater, Gavin Brown, and the Bohen Foundation could push the Whitney to display recent art fifty-two weeks a year—or, given typical hours in the Meatpacking District, 24/7.
Regardless, the museum will play a greater role in the community. That includes the perplexing future of an ever-expanding gallery district to the north and an overly fashionable scene to the south. Chelsea has absorbed alternative galleries before, just as East Village art ended up back in Soho a generation ago. Now Chelsea may get the biggest prize of all, a major museum.
Laying the foundations
That had to start rumors, and they began weeks in advance. They, too, showed the Whitney's care in laying the foundations. It broke ground at last in May 2011.
At first its director, Adam Weinberg, tactfully dismissed the question as mere gossip. Then again, the business of the arts now thrives on gossip, and he surely deemed me the wrong person to spread it. Others, however, wasted no time at all. The Times reported on the possibility, and within days its architecture critic and The Village Voice alike had evaluated it—favorably so.
As gossip goes, then, one had to assume fairly high-level sources. Someone was airing spotlessly clean linen in public. Clearly the Whitney was testing the idea informally, after all that NIMBY-inspired conflict and compromise uptown. It still faces a complicated process, from public review to approval by the city council. However, it has already secured the support of the city's Economic Development Corporation.
No doubt the museum had noticed the limits of working around its Breuer architecture, paring away at previous additions, and managing outsize expectations for its landmark home site. No doubt Piano, who has a reputation for playing it awfully safe, would like to spread his wings. In Boston, Diller Scofidio + Renfro have already upped the bar for a celebrity architecture in a museum devoted to contemporary art. And what happens when the Whitney has to abandon Altria?
With the Morgan Library's recent reopening, he proved that he can accommodate a conventional modernist vocabulary, existing structures, traditional galleries, natural and artificial light, and a few ideas of his own, while making them work as public spaces. Yet he kept ahead of simple renovation, the priority for the fine Yale University Art Gallery. If only MoMA's flashy expansion, too, actually added room to encounter art, rather than atria and escalators.
I suspect, however, that the decision came down to economics. On the one hand, the Whitney really can get more bangs for its architectural buck from a largely undeveloped block. It can also cash in on that Madison Avenue brownstone it was set to demolish, and it could look downright trendy.
Dreams of empire
Of course, all this supplies only a starting point. Architecture, city approval, and the more interesting intangibles are still to come. Will so mammoth an institution stimulate or crush the arts around it? Will it turn Chelsea still further into a commercial institution? What about a "floating park" on a pier just across the highway, designed by Thomas Heatherwick?
Moreover, starting over has serious costs, including the design process and lost time. Besides, museums need donors and tourists, often the kind that stray from Fifth Avenue with fear and trembling. Does it cost more to maintain two sites than one larger site? Either way, will enough tourists come? The New Museum on the Bowery has enough New York natives for two museums, but will that suffice?
The Guggenheim had to close its Soho branch years ago, for all the neighborhood's visibility and despite attention-getting shows of important artists as Gary Hill and Bill Viola. The Whitney at Altria, right across from Grand Central Station and more hence accessible than downtown, once had a near-certain a future. Yet I often had it to myself up to its close. Still a branch near a commuter rail was necessarily a way station. And perhaps the Guggenheim Soho failed only because the Guggenheim failed and because Soho failed.
As the Guggenheim makes clear, a museum's dreams of empire one day have to face reality. Still, I love this dream. I especially like the decision not to make this an excuse to show contemporary art downtown, older displays uptown. According to Weinberg, "We are envisioning both sites will show contemporary and historic art."
He should stick to his guns. Do not devote this branch wholly to contemporary art. Think again of those tourists, and, more important, remember what I call the postmodern paradox. If one really wants to keep vital an old building and a new one, Modernism and the present, the permanent collection and room for growth, they have to offer surprise encounters—including perpetual encounters with each other. The alternative would turn the Breuer building from a bunker into a mausoleum, with modern art as the deceased. That could have a consequence of speeding the death of the next generation as well, wherever it chooses to hang out at night.
What kind of museum will the Whitney become, then? Jerry Saltz in The Village Voice has suggested a downtown branch devoted wholly to the present. (He also excoriated P.S. 1 for a show, "Not for Sale," that largely sticks to contemporary artists who have made it into museum collections.) He has another hope, too, that the Whitney Museum of American Art will drop the word "American." The suggestion has some merit, but I cannot accept it. Consider how the Whitney came to exist.
Whitney:Global
Once one needed a museum devoted to American art because of its central role, as exemplified in so many Biennials. Before that, one needed a museum for the opposite reason, because modern American art needed support. The Met rejected the gift of Gertrude Vanderbilt Whitney's collection because the whole subject seemed beneath its notice. Without individuals like her dedicated to its patronage and public display, few could have appreciated its existence—and it could not have appreciated its potential. That impulse gave birth to the Whitney, which recently gave over the Breuer landmark to celebrate a long history.
What, though, could characterize American art now? Does it still have a point in a world of perpetual art fairs well beyond the Armory Show and Biennale, a world that makes it hard to track the nationality of artists in Chelsea? If the Earth is flat, who cares whether flatness characterizes American art or not? If American culture has become part of the global corporate or culture wars, who cares about a specifically American art? If one can no longer call American art a leader or a backwater, can one call it anything at all? If the 2014 Biennial is any indication, is it dying or dead?
The Whitney has already acknowledged the problem. In fact, it has taken America's place as a theme. The 2006 Biennial included Americans working abroad and other artists working in America. Before that, "The American Effect" aspired to "global perspectives on the United States." That meant global artists depicting America, not American artists inspired by Abu Ghraib or global discontent. Soon after, the Whitney traced American art through responses to Pablo Picasso.
True, the exhibitions made a poor case for American or global art. Biennial choices seemed arbitrary at best. The global perspectives squinted a lot, and "Picasso and American Art" had even more trouble placing either Picasso or American art in context. It kept trying to turn a mere fact of life, Modernism itself, into a series of biographies. Still, at least the Whitney has stayed a step ahead of its critics. Since its current director took over, the museum has kept taking chances on its own future, and the effort is paying off.
However, a change in definition from American art makes as little sense as a narrowed definition for the Whitney downtown. It loses the whole point of those recent exhibitions, since only a museum of American art can obsess over its past, present, and future. It also makes a promise that the museum cannot keep: the Whitney can build only on what it has—a vital and capacious collection of American art, not a baby MoMA. Perhaps most of all, it fails to substitute an alternative mission. New York already has a former museum of Modernism foundering without a vision, the Guggenheim, and one is quite enough, thank you.
Still, what will happen to art downtown? At the rate Chelsea is growing, it may swallow Manhattan. At least it may already have nibbled away at the Upper East Side. As for Dia's absence from Manhattan, what Saltz in The Voice properly calls "heartbreaking, if not reprehensible," someone may still wish to probe into its fate.
A postscript: the other uptown museum
In May 2010, the Whitney voted to go ahead with construction of a new branch, for completion in 2015. The site has already had a history of false starts. Dia abandoned hope for a successor there to Dia:Chelsea, and the Whitney's plans have themselves gone through several iterations. They include a safe choice for museum architect, Renzo Piano, who has scaled back costs. More of the galleries will now move to higher floors, as at MoMA. But will it work, and will it ever get built?
I, for one, am crossing my fingers on both counts. Some already see a hulk resembling the hull of a battleship, while others predict a vertical disconnect from the street—in one of New York's most street-savvy neighborhoods. I have not had the privilege to see the plans, beyond a review in The New York Times. Rather than pretend to know more, I want instead to put in a word for another local landmark. I mean the 1966 building on Madison Avenue, still my favorite museum architecture south of the Cloisters. The Whitney promises to maintain the site, but I fear for its future.
Marcel Breuer has his structure expand as it rises, much like the Guggenheim, as striking in its granite mass as the Guggenheim in concrete. Yet it has never become every tourist's destination. Its straight lines break less with their surroundings than the Guggenheim, not to mention impose less on the art, and its entrance steps respectfully back from the street. Yet people see it as forbidding, behind its seeming castle drawbridge, and early reviewers pounced as well. It has already gone through one modest renovation, which opened fifth-floor galleries and adjacent office space. And yet museums today demand more space for exhibitions and community outreach than it will ever deliver.
For all that, its stack of cloud gray have a singular beauty, and the interior deserves more credit as exhibition space. Breuer planned its fixed and moveable walls to allow varied spaces, on scales from uptown galleries to downtown installations. The often mocked ceiling grids and trapezoidal windows provide a singular and flexible mix of natural and recessed artificial light. Even the moat has more potential as a sculpture garden. Like it or not, the Whitney has to move because Upper East Siders have shot down one after another proposed addition—from a monstrous further cantilever by Rem Koolhaus to Michael Graves's cartoon Neoclassicism. Still, the Whitney deserves a piece of the action in the Meatpacking District, and perhaps its old home deserves to be left alone.
Can the Whitney maintain two sites? It sounds like a recipe for pointless financial disaster, and indeed the museum arranged a deal with the Met in 2011 to share the space. And by far the bulk of the temporary exhibitions there will belong to the Met, as the Met Breuer. Already the 2010 Whitney Biennial struggled to fill the uptown building, although it came alive when R. H. Quaytman quoted her surroundings. It can accommodate up to two floors for the permanent collection alone and four more for temporary exhibitions. Only the push for more and more hot-ticket shows has encroached on the former. And the new design promises twice as much room all by itself.
It is still hard to imagine the museum without a presence near Museum Mile. That is, after all, part of making it a tourist destination. The New Museum could afford to surrender to the Lower East Side with its own stacked boxes—but with no permanent collection and at a permanent cost: it has surrendered its curatorial program to the hype and glitz, too. Weinberg is not alone in dreaming of renewed appreciation for the old architecture, once downtown takes off the pressure to pack it as full. Could that start with a show of Breuer and his work that also tests its limits?

News of a tentative agreement between The Whitney Museum of American Art and the New York Economic Development Corporation broke November 27, 2006. The gossip started by the first week of the month. A vote on the move came May 25, 2010, with a groundbreaking a year later. I review separately the opening of the Whitney's new home in May 2015 and the Met Breuer in March 2016. Jerry Saltz's articles appeared in The Village Voice through January 2007.