Public Markets and Private Treasures II
John Haber
in New York City
Vanity Fair Meets the Stavelot Triptych
In the first part of this two-part article, I considered two expressions of dismay at the art market. Jerry Saltz thinks that it makes the public for art dumber, although I suspect that it only invites some shallow enthusiasts with a lot of cash to join the crowd. Jed Perl laments that "anything goes," although I suspect that the standards of judgment have grown more rigid—and insensitive to art—than ever before.
In this part, I shall get down to cases about audiences, patrons, and influence. I start with Perl's own most extended example. The Morgan Library's display of Bob Dylan near a medieval triptych sheds light on both his and Saltz's fears and hopes, as a once privileged enclave reaches out to a mass audience. Also at the Morgan, a collector's "Private Treasures" oblige one to ask whether, once money enters the picture, a museum can emerge more or less intact. A related article looks at the Morgan's recent acquisitions.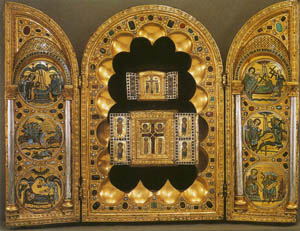 Shell game
The Morgan Library is coming out of its shell. One could have noticed the change with "Private Treasures," in which the Morgan reaches beyond its own drawing collection, like the Frick with loans from the Scottish National Gallery, or with exhibitions for Dylan and Saul Steinberg. One could have noticed it last year in Renzo Piano's addition, with the Whitney downtown in the Meatpacking District the latest in museums as celebrity architecture. His airy central hall facing Madison Avenue redefines a quiet, private library as a very public space. So do computer terminals in the lobby or a café for more than just museum visitors. They go beyond the Morgan's longstanding displays of its own glorious resources, and they reach out to an audience interested in popular music, New Yorker cartoons, and lunch.
That leaves behind a lovely shell indeed, and Perl for one is outraged at the loss. He describes the expanded Renzo Piano museum as "a bunch of art boutiques in a high-modern mini-mall." And one recent mall stop, an exhibition called "Bob Dylan's American Journey," has him "frankly appalled." Here "memorabilia" for "hipsters" can go on exhibition "steps away from the Stavelot Triptych, a masterpiece of the medieval goldsmith's art." I may squirm as I read, but I admit it: I, too, melt at the thought of J. P. Morgan's old library, still preserved for those who can appreciate it, and I, too, want to keep mall rats away.
Perl's anxiety will resonate with anyone tired of museum blockbusters, from Vincent van Gogh and Leonardo at the Met to motorcycles and Spain's "Time, Truth, and History" at the Guggenheim. The example of the Morgan also caps his broader critique of "laissez-faire esthetics," for market value again appears to define quality. Perl invokes horror at the malling of Chelsea—or of Manhattan itself. One can almost forget that the Morgan collects so much more than painting, and even its study contains a grab-bag of Renaissance art, set out more as elegant interior decoration than as a serious painting collection.
The Morgan does not easily fit the picture of a fine-art museum descending to the rabble. Its collections span manuscripts and music as well as European drawings, prints, William Blake watercolors, and just a handful of paintings. Its books and autographs could hardly serve scholars as so valued a resource if they did not include best-sellers alongside arcana. The Morgan is duly working within its areas of competence, just as the Cooper-Hewitt displays silverware a few steps from Winslow Homer, the Met displays Louis Comfort Tiffany, or the Modern displays typewriters and Bauhaus furniture. Maybe it just marks me as a boomer, but at the 2006 reopening I thrilled to see Dylan's aphoristic first thoughts so close to Alexander Pope's. Mozart wrote for all kinds of audiences anyway, with deep ambivalence about them all.
The Morgan could simply recycle selections from its vast holdings, but they also make it a natural partner for loan exhibitions, and a larger building responds to the opportunity. Its very origins suggest the collusion of wealth and privilege in creating modern notions of fine art. In fact, Perl's central example reveals his whole thesis as a shell game. The Stavelot Triptych offers a history in miniature of that creation. Discovered in an abbey near Liège, in present-day Belgium, it predates the lone artistic genius, fine art as distinct from craft or reliquary, or the connoisseur uniquely able to value them. It also appropriates what already seemed a primitive or popular art.
The outer wings date to the twelfth century, when Benedictine monks painted medieval legends on metal and gold. In the center panel, they set two existing enamels against black velvet and gold. These smaller Byzantine objects incorporate awkward standing saints, labels for the unenlightened, and supposed fragments of the true cross. One could call it a kind of folk art or Pop Art. In contemporary terms, its appropriations both precede and deconstruct fine art, and its religious function makes it inseparable from a public, cultural history. If it seems obscure even to most students of art history, Dylan has left some pretty obscure lyrics, too.
Private parts
Finally, let me put in a word for anonymity. Forget artists who may look nice in bed on the cover of New York magazine. Perhaps you already have. Forget the wealthy couple or corporation that demands an oversized show in exchange for an underwhelming gift. Forget the donors who insist that the museum take or leave every last work, rather than build a museum's legacy. Try to forget those who then get their own pointless wing, with their names above the door.
In real life, of course, one can hardly forget the influence of money and institutions—even with an alternative space and art "not for sale." I could almost thank Jack and Belle Linsky if their rooms at the Met held the toilets, while their gift enriched the European painting collection. At the Morgan Library, however, a private collection does something extraordinary. A collector receives an exhibition of ninety drawings, but he, she, or it remains anonymous. "Private Treasures" sounds pompous, but private takes on a richer meaning for a change. Besides, the show does have a few treasures.
A display like this necessarily lacks focus, making individual works that much harder to love. It can hardly represent European drawing from the High Renaissance to German Expressionism and "Degenerate Art," although it covers precisely that range. It can add little insight into an artist, a style, a technique, a habit of seeing, or an art. It could just as well have left a few treasures buried. The curators take particular pride in a Drawing Lesson by François-André Vincent, a slick eighteenth-century artist who makes Jean-Baptiste Greuze seem risqué by comparison. The later works—such as dancers' feet by Edgar Degas, a profile by Käthe Kollwitz, or a head by Odilon Redon—look particularly blunt, accessible, and forgettable, like so many hotshots now.
Instead, one must linger long enough to pick and choose, but I found the choices varied and, often, surprising. While a specialist like Claude Lorrain supplies a typically dense landscape, some early or unexpected compositions get one thinking about the line between observation from nature and fantasy. Fra Bartolommeo's drawing, back when independent landscape had not yet become a genre, could have served as a background study or a private pleasure. Domenico Campagnola adds a rising sun, deepening the space of Giorgione and Titian while preserving their invention of an unruly natural setting for High Renaissance narrative. Jacob Cats, a late Baroque Dutch painter, brings more solid architecture, a wider plaza, and a gleaming light to old northern streets. It could reflect Italianate influences, but it has the charm of old New York as much as the narrow, winding streets he could have known.
Some human forms work well together as studies of life and death—all the better for a celebration of anonymity. A preparatory sketch by by Agnolo Bronzino carefully isolates Jesus from those supporting and lamenting his dead body. As a result, one sees something like a living man sitting or rising in a troubled sleep. By contrast, the slow procession bearing Jesus toward the tomb, by Lorenzo Lotto, carries him both across the paper and toward the viewer. The unusual composition and dark, heavy modeling make death inescapable. Federico Barocci isolates heads, turned ninety degrees, in chalk and pastel against gray-blue paper, so that they seem both tactile and floating.
Barocci came in the last years of Mannerism, when a growing simplification and heightened illumination anticipate the Baroque. Jean Antoine Watteau really initiates something, the Rococo, and he contributes the show's obvious heavy hitter. Watteau held the patent on quick constructions in multiple colors, with his three-chalk technique. One remembers his ordinary soldiers and casual lovers as a kind of bare, elegiac theater. Here the heavy strokes of colored chalk give a guitarist both more movement and more solidity than usual, from the doubled or tripled lines above one arm to the sharp movement of his fingers. He and the artist are, for once, having a wonderful time, and one recognizes the work, like its subject matter, as not fine art alone but a performance.

"Private Treasures" ran at The Morgan Library, through April 7, 2007. Jerry Saltz wrote in The Village Voice for January 18, Jed Perl in The New Republic for February 5. Saltz jumped ship for New York magazine in spring 2007. This is the second part of a two-part article that considers them both.