Returning to Ground Zero
John Haber
in New York City
The Art of 9/11 and A Knock at the Door . . .
Chang-Jin Lee: Homeland Security Garden
It all seemed perfectly normal. As I looked south from my apartment window, it could have passed for just another quiet Sunday morning. Where dark smoke had once billowed across the sky, four years later the blue summer air drew my eye to the buildings beneath. The strong shadows seemed designed to distinguish every structure in a city beyond understanding, to draw them together into a familiar pattern. Every so often a stroller, a pair of joggers, or a taxi passed, another intersection of lives, each with their own specificity and urgency.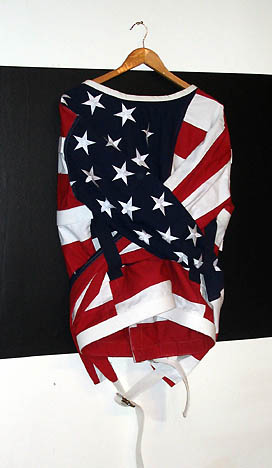 On past anniversaries of 9/11, that same normalcy came as more of a shock and also, perhaps, a reassurance. By the end of September 2005, any hope for that kind of agreement has vanished, and I had to wonder if I could ever sustain that illusion of normality again. Plans for a cultural center at Ground Zero have died, with little hint of what might replace it and the towering losses before. Already, however, artists are bringing politically and personally charged understandings of their own to lower Manhattan. Arthur C. Danto has curated "The Art of 9/11," the Lower Manhattan Cultural Council sponsors "A Knock at the Door . . .," and a "Homeland Security Garden," by Chang-Jin Lee, looks down upon the footprints of the Twin Towers themselves.
An apology for art
Art, a city, a democracy, and a critical anniversary have this much in common: each in its own way belongs to everyone and to no one. Does that suggest how art's most lasting response to politics will most often remain personal, even when it serves as a memorial for the United States? On a walk once again toward Ground Zero, I found that Arthur C. Danto has much the same idea. For once the philosopher and critic acts as curator, and he takes on the role with a modesty that puts unspeakable events in very human perspective.
"The Art of 9/11" feels like a gathering of friends after a terrible loss, all eager to talk about what they themselves are going through—and all hesitant to ask for attention. The show's intimacy begins with its size, a mere fifteen objects, and the gathering includes Danto's wife, Barbara Westman, and Jeffrey Lohn, a former student. Danto has been around long enough to draw on established names, artists old and successful enough to have lived and worked near Ground Zero. Audrey Flack found herself on her way out of town that dreadful day, unable to return. Taking the ferry back south as far as Montauk, she made watercolors of the harbor, as if to cling to the normal or to remind herself of what she could not see. She found her colors taking on a greater intensity, and one can understand why.
A sense of memory as a more delicate fabric may motivate the lace imagery from both Robert Rahway Zakanitch and Ursula von Rydingsvard. Zakanitch, known as a pattern painter, seeks reassurance in incorporating bits of nature as well. All nine artists give a sense of echoing others rather than contributing something new, no doubt as a way of expressing their inability to comprehend the subject's enormity. Several use found or reproducible media, whether Luccio Pozzi's Xeroxed digital photographs and reworking of his own past art, Westman's cut-paper recollection of the twin blue towers of light, Leslie King-Hammond's shrine to fallen "warriors," or Lohn's grainy rephotographs of the missing that covered so many lampposts. Ursula von Rydingsvard in cedar might represent the block for an enormous woodcut.
Danto invited each artist also to contribute a one-page statement to hang near the work, and almost every one reads like an apology. Again and again, they accuse themselves of coming up short. Either they could not speak to the events at all, or they could only try too hard to do so. Cindy Sherman says that her first attempts at her customary self-portraits came off "too consciously sad." She ended up as a clown and society matron. King-Hammond calls her work a "prayer" rather than an assertion, and one could interpret a 2001 proposal for a Moving Perimeter: A Wreath for Ground Zero by Mary Miss as her way of not intruding on the site itself.
One can hardly claim a revelation in art aware of its limits. One cannot claim anything specific to 9/11 either. Pretty much all formalism or modernist self-criticism amounts to exactly that awareness. New-media artists such as Sue de Beer and Christina McPhee continue to puzzle over the relationships between representation, self-expression, and despair, whether facing childhood trauma or the human disaster of an earthquake. Every memorial itself attests to multiple absences.
Unfortunately, an apology can amount to a poor excuse for bland art, and Danto banks on artists who should have stopped making excuses long ago. Flack's harbor does not rise all that much above Sunday painting. Westman's echoes of a past memorial and Lohn's appropriations remind me that others have testified better to the same loss. I left craving something more angry and intemperate. Still, I lingered over the tensions in von Rydingsvard's rough-hewn texture, monumental scale, and quiet patterning, and Sherman achieves perhaps the funniest and saddest version of her recent motif yet. One can always take the show for what it offers, then go home and get angry again on one's own—or walk further south, toward some angrier and, alas, less compelling art.
Knock, knock
When artists turn to 9/11, I have argued, that need not mean that they politicize art or claim Ground Zero solely for themselves. Rather, they have the chance to restore the challenge and immediacy of politics and the city. As the Twin Towers fell, television was already turning the repeated image of disaster into an abstraction, fixed so dangerously in the past, just when everyone around was grasping for how to respond in the present. Artists, who traffic in objects, images, and media, can do better, as in the falling silhouettes of Paul Chan. No wonder Jonathan Safran Foer refuses to "trust Tom Brokaw more than we trust, say, Philip Roth."
Faced with "A Knock at the Door . . .," Foer might have to reconsider. Perhaps it amounts to a natural but unfortunate reaction following the sad attacks on art near Ground Zero, but the sixty artists seem so determined to compete with the former anchorman that one might wish for his return to teach a lesson in communications. The exhibition opened in conjunction with "Cities, Art, and Recovery," a weekend of performance art and panels, all exploring the same theme: living in fear, with many thinking of freedom and security as a zero-sum game, when does art cross the line? Too often, however, the show gives so much attention to threats that it resembles notes toward a master's thesis or student film. Worse, in its cardboard scenario, the artists all get to play determined rebels, the feds that dark knock at the door, and both embarrassing amateurs.
If one feels that one has seen it all before, all too often one has. Remember the black box labeled FEAR, with which Saul Melman and Ani Weinstein once disrupted a subway station? Proponents of George Dickie's institutional theory of art will face the paradox that it looks even less like art in a museum. Remember when Homeland Security raided the home of Steve Kurtz, a Buffalo professor who still awaits trial? So many artists here replay the events, using ABC TV clips as well as seized debris, that one starts to imagine artists rather than the police rummaging through one's home. And here I did not even get to browse Kurtz's copy of Germs and Sex.
Other works ditch the documentation and keep the outrage. With I Knew Him, as in "I Knew Him, Horatio," James Mead asks one to see a fallen firefighter as both Hamlet's court jester and a stiff hero in the mode of Soviet realism. Other artists insist, starting with their works one-dimensional titles, that The World Will Devour You, This Is a Country That Does Not Deserve the Name of a Country, and More Terrible Than an Angry God Is a Man Posing as One. Faced with such stern lectures, I could almost seize a few works myself, but the Council helpfully declares the exhibition free of dangerous weapons. I have not been able to confirm whether Seth Cameron was really starting his sophomore year in September 2001, but his confessional catalog essay sure sounds like teenage angst.
With so many artists, one can still find food for thought, but one has to look hard. The hanging resembles the scattershot arrangement of grade-school art class, as if the artists had to claim a space as quickly as they could. With works listed alphabetically by artist, and with bare numbers on the wall as the only clues, the curator furthers the theme of anonymity—although not, I suspect, the kind of anonymity most artists desire. The guard and desk attendant at the South Street Seaport could offer little help. They seemed unaware that half the show resides further uptown, and the lobby of Cooper Union's Great Hall had no staff at all.
The works protest the suppression of art, but they express a deep-seated discomfort with anything so frivolous as art institutions after 9/11. And they pay a price, in a loss of the toughness and resonance of art or of institutions. When Al Brandtner hangs a flag upside-down and bleached to whiteness, to mourn the whitewashing of a loss of American values, he misses the iconicity of an actual flag—or of the more famous white one by Jasper Johns. As one final irony, the most memorable work really does come closest to crossing the line—but only as one gorgeous gesture toward sanity. Forget the glib title (un)Patriot(ic) Act. Lisa Charde refashions an American flag into a straitjacket, without half the pomposity of similar displays by Hans Haacke, and one feels its constraints all the more for the radiance of the original and the symmetry into which she casts it.
Garden-variety art
I followed the possibilities further, right to the edge of the pit. Amid that weekend of openings and panels, one could overlook that a project had moved into the World Financial Center two weeks earlier. In fact, one may overlook it staring right at it, masked by the work's own artificial greenery. Many pass it with hardly a glance, eager to ascend the stairs that once led, by a covered walkway, to the World Trade Center and now offer a harsh view of the pit. Yet Chang-Jin Lee's Homeland Security Garden stands almost waist high, incorporating two hundred Plexiglas cases with hundreds more carefully arranged objects. It occupies the entire space beneath the Winter Garden's trees, beside the marina—where still more trees were circling on Robert Smithson's Floating Island.
A cynic like me distrusts work so ambitious or so inconspicuous from the start. So close to Ground Zero that it cannot escape issues of remembrance, it nonetheless avoided premature denunciation. Perhaps critics, like so many others, have simply overlooked it, but invisibility does constitute a recommendation for art.
If art so quiet sounds all too soothing, the Korean-born artist does not shy away from a promise of relief. Lee asked people for possessions associated in their mind with safety. She ended up with a large collection of small objects, suggestive of one's most cherished personal possessions, but of her inability to stir up real memories or deliver real safety as well. One senses the promise of relief again in her title, punning on the site and, perhaps, on the victory gardens of wars past. One senses it in the Astroturf, which disguises the maze of tabletops as tree beds. One cannot, however, sense it in the work, and that is a problem—as well as the work's one point of interest.
A community needs art to create its very grounding in a public space. It needs art to help broaden and refine its self-definition and the relationships among polity, culture, and experience. Yet that process introduces the shock of otherness, not to mention serious monetary costs, raising the specter of elitism. To put it another way, democracy may not necessarily produce good art, which is why I do not want tabloids to put museums up for a vote. Lee's democratic process produces an often repetitive, visually unabsorbing assortment. To add lack of insult to lack of injury, those people come from a variety of ethnic backgrounds, and art as private garden or as obsessive, eccentric collection has, no doubt, a politically correct relationship to Lee's Asian heritage.
However, by making garden-variety art her subject, Lee has made it subject to scrutiny, and the more one looks, the more one distrusts its tokens of security. Astroturf is artificial grass, and critics have derided President Bush's staged town-hall meetings to rally support as not "grass roots" but Astroturf. The Plexiglas cases suggest intimacy, but also hospital supply cases, and they help transform the Winter Garden's glass ceiling into a cold, clinical light. More importantly, the objects may suggest a need for safety, but only because they mostly belong in a crisis center.
The many references to medical, fire, and other rescue equipment evoke recuperation, but also disaster. The memorabilia evoke human lives, but also loss. The volume of Shakespeare lies open to the assassination in Julius Caesar, a scene of idealism, but also of betrayal, populism as mob rule, and the death of a republic. I cannot say for sure when the artist has manipulated the objects herself, but I definitely wondered about the American flag turned into an apparent travel invoice. One hardly knows whether its bearer sought a national symbol or the chance to flee. I want Lee's work of art to be a lot more complex and a lot less tedious, but I have to credit art that finds challenges in its very limits.
So normal . . .
Two years ago, a weekday in 2003, I walked downtown, expecting every moment to find it impassible. Yet the crowds had departed hours before, and not a sign of ceremony remained. Even so, I thought, surely someone would stop me, someone would demand what business I had there. I had none, of course, and it made me realize that no one really does, and yet everyone does—and exactly that defines what makes a city special. The private life of a city street belongs to everyone and to no one, and so does the public space of a memorial. Even the first kind of anniversary, the very next day in September 2001, I had to marvel at traffic resuming direction. I had to rub my eyes at my very need to return to work.
In the evening, more people sat at sidewalk tables than I had ever seen before. One could call it selfishness, of a piece with the atomism and consumerism of the metropolis, where strong drink or strong coffee govern each day's rhythms. One could call it a desperate need to see others, to recognize in another human being one's immediate past and present longings. One could call it a desire to understand how wrenching political issues can possible weigh so heavily on each and every day without crushing it, to connect the permanence of a shared loss to the flux and stability of the grid. And all that, too, comes with a city's territory.
No doubt many found it harder to escape commemoration this year, with the date falling on a Sunday. They may also feel less startled by the calm. They must certainly feel less reassured by it. With each passing year, one notices all the more the gaping hole at Ground Zero. People are getting angrier, too, and they should, because they know now that the emptiness is theirs. That feeling of ownership and belonging includes non-New Yorkers as well.
From the start, plans for rebuilding preserved spaces for art and reflection on the context of events. Critics of those plans have compared the site to the Vietnam War Memorial in Washington or to the always empty Field of Chairs in Oklahoma. They demand greater respect for those who lost family members four years ago. Lower Manhattan, however, cannot help remaining a part of New York. One does not need memories of disaster in order to pass through Manhattan, nor can one conceivably relocate its fabric elsewhere.
Sure, artists have responded angrily to "The Presidency" after the invasion of Iraq. Here in New York, everyone is a survivor, and no one can set aside the personal or the political. As indeed in past memorials, art is like that as well, and that is exactly why one needs it now. Controversy and cowardice may have driven the Drawing Center from a home at Ground Zero, but those signs of politics, too, reflect not just memories, but the art and politics of the present.
In the weeks before and after the Twin Towers fell, it seemed that everyone had to weigh in with a definition of New York, because only that could define America as well. The morning of September 11, 2001, will always belong to the many, just like the National September 11 Memorial. However, it takes struggle and reflection to hold onto one's stake in a city or a nation. For now, the struggle over a Freedom Center is over, and reflection may seem to come with too heavy a price. Yet artists keep at it anyway. None of these three shows really succeeds, but, with or without a Freedom Center, there will be others.

"The Art of 9/11,"curated by Arthur C. Danto, ran at apexart through October 15, 2005. "A Knock at the Door . . ." at the South Street Seaport Museum and the Cooper Union through October 1 and Chang-Jin Lee's "Homeland Security Garden" at the World Financial Center through September 15, both sponsored by the Lower Manhattan Cultural Council.