Drawing the Line
John Haber
in New York City
The Drawing Center and Ground Zero
Who owns Ground Zero? It is like asking who owns a piece of America itself.
Somehow artists and a little-known arts institution have come under fire for seeking their own place in lower Manhattan. As I wrote, the Drawing Center was hesitating to commit to a new home there, as the anchor of an International Freedom Center. And on August 12, 2005, a week after this page first appeared, the Drawing Center, reported The New York Times, "was all but shown the door" and "is expected to move elsewhere." It finally shut its still uncreated doors on September 28, when New York Governor George E. Pataki withdrew his support. The arts center proposed a South Street Seaport alternative in January 2006, which gave way to a modest expansion of its existing site, completed in November 2012.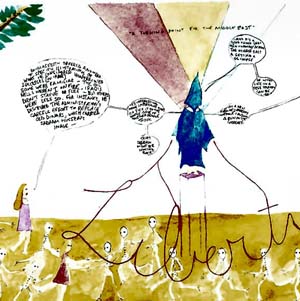 I do not propose a plan for Ground Zero (and I review several years later the National September 11 Memorial that opened there on the tenth anniversary of 9/11). I do not ask you to judge the work from the Drawing Center that helped trigger the dispute. Even in the small, highly unrepresentative detail shown here, it outstrips online reproduction. Rather, I want to ask what went wrong—and what that says about art's place in politics. I want to ask about the very idea of a public space. Both, I shall argue, come down to the intersection between personal expression and the public sphere.
Local places and public spaces
Who owns that piece of America? As with the nation as a whole, many have a vital stake—and not just those who lost family and loved ones. Just for starters, they include an extraordinary neighborhood regaining its stature. In more practical terms, they include a real-estate developer, future tenants, the Port Authority of New York and New Jersey, and other public officials with a voice in funding and land use—and with their political careers on the line. Yet they really include all New Yorkers, anyone anywhere who feels less safe, and all who find their mostly deeply held ideals on the line. Americans have preserved Gettysburg as a battlefield, but Atlanta rebuilt after Sherman's march. And both choices were responses to geography, history, national and local identities, and human needs.
A public space, in other words, is not a physical location alone. It involves shared ideas and competing interests. As with moral decisions in general, its definition arises from wider and wider circles, not always neatly concentric. Traditionally, people find many lessons in times of war. They will come to the National September 11 Memorial to keep the lessons alive, but also to seek common ground and a shared sense of purpose that may never have existed before. Maya Lin achieves that against all odds with her Vietnam War Memorial, but Ground Zero is harder still, for it must recover while a nation is still at war—with Iraq, with terrorism, and within itself.
In a democracy, one turns for resolution to the political process, which itself is part of the definition of a public space. In a not altogether different sense, so is art. Both politics and art ask to accommodate many voices. In art, that can take place within a single work. Both exist against a backdrop of private interests and institutions. As with politics, too, the reception of a work of art leaves both winners and losers.
Both in turn contribute to the images and ideals that shape competing voices. Every plan for Ground Zero and every public memorial includes architecture and urban planning, each subject to changing tastes and styles. Since Lin's achievement, Minimalism has often seemed the official language of grieving, but architectural innovations and the sheer enormity of events may shifting the language to something more monumental, more chaotic, more fantastic, or more commercial.
If all that sounds abstract, it takes on a local habitation and a name when it comes to 9/11 and to New York City. Both get any two people arguing. The first led to the need for new architecture, which quickly became a victim of formal competitions and endless compromise. The latter's economy has much to do with tourism, which in turn does not treat art and architecture apart from the city and its history. New York has other stakes in rebuilding downtown as well, including the health of financial structures centralized on Wall Street after the World Wide Web, physical access to Battery Park City, and ongoing development of Hudson River Park.
Meanwhile, arts institutions just happen, as ever, to be looking for space. City Opera, long an unhappy resident of Lincoln Center, briefly considered a home downtown. The Drawing Center, hanging on in Soho long after gallery-goers have largely departed, is restless with its two modest rooms, its modest endowment, and its even more modest reputation. It quickly announced its commitment to participate in downtown development, as close to the site as possible. So then what? The story starts with the politics of art, but it keeps circling back to the future of the city.
The controversy
Art rarely makes the news, outside the leisure sections of upscale papers. And when it does, you can be sure that the issue is sex or politics. You can be almost certain, too, that the sexual and political opportunism belongs to someone other than the artist—someone with power and plenty to gain by wielding it. At least in this country, the opportunism tends to mean a politician, such as Jesse Helms or Rudy Giuliani, with an eye to electioneering. Most often, that politician is also out to divert public funds from the arts and education.
On June 24, 2005, The Daily News weighed in with a lead editorial, a news article, and a banner headline. It called plans to base the Drawing Center at Ground Zero a "9/11 outrage." As of August, exactly fourteen people had called for a boycott of funding. That is fourteen out of the thousands of relatives of the dead—not to mention the tens of thousands of survivors from that day and the millions of others who live and work in Lower Manhattan. Why the furor, such as it was? The Center has dared on rare occasions to show political art.
The News illustrates its article with Amy Wilson, whose drawings incorporate images from outsider art, texts from mainstream journalism, and quotes from both left and right. One hardly knows whether to call her wonderful art lyrical, spooky, funny, or scathing, but it is surely one more reflection of those ever-widening circles. Others have slammed Charbel Ackermann, a London-born graduate of the San Francisco Art Institute whose work parodies a PowerPoint presentation, and Mark Lombardi's chart of President Bush's personal and financial connections. A column in The New York Press leaped all over Wilson, but the writer seemed less interested in scoring political points than in making fun of art. I enjoy that myself, and so do artists. Things as far ranging in time and purpose as Arthur C. Danto's critique of hypothetical art to Mike Bouchet's takeoff this summer on The New York Earth Room do it quite well.
Mostly, the press had the sense to ignore The News, rather than elevate its crusade. Besides, editors know that the public has better things to think about than art, such as Michael Jackson and steroids. However, the damage was largely done. Governor Pataki extorted a pledge from the sponsors of the International Freedom Center, The News reported, "that the cultural center they're planning for Ground Zero will offer only programs that are 'appropriately celebratory of our nation.' " Added Pataki, "We will not tolerate anything on that site that denigrates America."
By late July, too, the Drawing Center was equivocating, as if art could blacken out or excise its words. "We would never be able to accept censorship," said its president, George Negroponte, but that promise cuts both ways. "What we are looking to do is find a new home . . . as close to the site as possible, because we believe in it. At the same time, obviously we're concerned that we're living in a fishbowl and the pressures we're continuing to feel about our programming might be too much to bear." One can blame the Center for cowardice, but not for turning the Freedom Center's glass tower into a glass bowel. If City Opera ever finds space there, it had better choose its repertory carefully, just in case Scarpia works covertly for the CIA.
The Times came through with a ringing editorial defense of the Center, in the face of "unacceptable conditions that would undermine the very purpose of the arts." No doubt it recalls how recently The Gates created an economic boost for New York, a shared but diverse sense of public purpose, and a marvel. That only displaces the terms of the debate, however. When it comes to Ground Zero, do the arts have a clear purpose? Indeed, what purpose can emerge from so contested a space?
Keeping events alive
For answers, I want to start with the minor matter of the art itself—the Drawing Center and its displays. That raises the question of contested meanings in art and, in turn, the political motives behind a criticism of political art. Iraqi and Iranian artists feel the pressures every day, as they have since what one show has called "Iranian Modern." Finally, it again circles back to the vital place of art in enabling the role of a city and a democracy as public spaces. They are the basis for talking about political art.
One could simply dismiss the entire dispute as preposterous. The Drawing Center? Any museum will display some controversial pieces eventually, from among the sheer volume of exhibitions, if only one waits long enough or, like The News, digs mindlessly enough through its catalogs. That holds especially for an institution like the Center, with a focus on group shows and so over time a greater diversity. As the Center's director, Catherine de Zegher, told TimeOut New York in early August, "Like any cultural institution, we work with artists who question society." However, the controversy will come as a surprise even for fans of the Center, with its preference for spare, formal gestures by established artists. Early in the dispute, The Times noted sensibly that the Center has the opposite image from radicalism—of rather a sedate, low-key formalism.
When it comes to art, looking matters. Wilson's art's detractors had seen only on an unreadable, selective reproduction like the detail above or the blur below. The New York Press even got her media wrong. Criticism of Abu Ghraib, she concedes, might not count as decent art, but that is not what she does. She considers the seven drawings one vast, complex work. Her witty, evocative echoes of a rural innocence, like her babble of voices, should cause anyone to admit confusion and shut up.

Newsday helped carry a response out to the next circle, to any understanding of art. Fred Camper, a writer based in Chicago, denies that art is "defaming 9/11 deaths." He boasts, fairly, that his own city "not been shy about showing work inspired by the horror." If some New Yorkers feign outrage, it amounts to an "utter misrepresentation of what art is and what artists do." An artist slammed for jumping off buildings has been pursuing his project for years, well before the faint, unforgettable images of lone bodies silhouetted against the Twin Towers and sky. Events may have given the artist's embrace of death greater meaning or greater ambivalence, but they cannot claim him for their own.
Camper's take on metaphor does not amount to a profound philosophy of art, but this once I shall settle for common sense. Artists make art, not something reducible to a tabloid editorial or a reproduction. They have to do so, because nothing less could encompass political events. Art cannot escape political or emotional engagement. Maybe I should denounce artists, artists should denounce you, you should denounce me, and we shall all be better off for it. At least we would recover our sense of humor.
Perhaps Wilson concedes too much herself. Keeping images of Abu Ghraib in front of others might have a point, too. After all, Bush supporters take every reminder as the affront to their dogma, while the mainstream press dismisses shocks, like the Downing Street Memo, as old news. Or perhaps Wilson has it right: art must always do better. Every image stands as a locus of memory, with all the conflicts that representation joined with absence entail.
Angry voices
Art, then, may not always address contemporary events, although it has a cherished history of doing so. One could reel off a litany of outrage, from Goya and his followers to Guernica and beyond. One can use contemporary debates to renew one's understanding of past political turmoil. Do not ask which powerful cutthroats employed Leonardo da Vinci.
My point, however, is not art as defender of the faith but art as a necessary engagement with uncertainty. That makes it more controversial now, but also more relevant. By pointing to a range of voices, some prematurely silenced, it also invites one to reconsider the voices screaming at art. No one considers the return downtown of financial firms an affront to the dead. That alone suggests a special place for art, a high degree of hypocrisy in assaults on the arts, and the need to confront them both. If, as the Drawing Center says, artists may "question society," the most effective memorials allow visitors to reflect for themselves in a community of others—precisely what allows them to enable reconciliation as well.
One should ask how the Drawing Center passed for so long without raising a murmur. One should also question the motives in raising concerns now. Somehow, Helms weighed in against Robert Mapplethorpe only after the Mapplethorpe retrospective had reached its third stop. Somehow, too, the media discovered elephant poop in Brooklyn only when Giuliani held the office of mayor, with the power to single it out and a base of supporters among whom The News and The Post battle for sales. More recently, when the Whitney displayed overseas reactions to 9/11, including a photograph of Giuliani flanked by similar turds, the press never batted an eye.
By singling out Wilson's echo of Abu Ghraib, Ackermann's bullet points, or Lombardi's dry outlines, the coverage makes clear that nothing but mindless cheerleading for the powerful would pass muster. Lombardi's schematic approach may have produced schematic art, but it does not descend even to the routine caricatures of political cartoons in The News itself. As for Wilson, if its editorial writers do not consider Abu Ghraib a problem, I can only consider the paper beneath contempt.
The plain fact is that The News is using its mock outrage not to support a decent role for the arts in a divided society, but rather to enforce a narrow and repugnant party line. It does not place art or a memorial above politics: it more starkly politicizes them both. Like Bush and Giuliani themselves, it is trying to reclaim 9/11 for the administration, precisely when the public is turning against the war. It is trying to regain Ground Zero precisely when the real reclamation of lower Manhattan—for New York, for its citizens, and for tourists—is stalling badly, despite a Republican governor who has staked his legacy and political future on the site.
When conservatives complain about the politicization of art, they are dishonestly promoting a single-minded political agenda. Artists have a duty neither to clarify political matters nor to avoid them. They can only make the most emotionally and intellectually honest work they can, knowing that the best fictions are always charged with real-world meaning.
The necessity of beginnings
Some will always perceive such highly charged fictions as a threat. Negroponte has one thing wrong: art exists in a fishbowl, and the Drawing Center will just have to get used to it. Art keeps the meaning of the past alive, when it is in the interest of other parties to inter it. That makes a decent memorial invaluable to Ground Zero, where people travel in order to gain a fresh context for past traumas.
That also makes it hard to judge whether the Drawing Center ever belonged downtown. Is the Center too far from the mark—or even too tame—and, in turn, will the architecture, the memorial, and the location serve the Drawing Center as as it deserves? Should one focus instead on reclaiming the wider public space of downtown, beyond the Freedom Tower, for business and the arts? I know only that art and architecture remain invaluable to New York as a whole, and the voices against them diminish the city as well. Speaking personally, Wilson has said how much art meant to her as a kid, not just in enriching her imagination, but in giving her a future. Assaults on museums, memorials, and other institutions cut off the imaginative and real lives of others.
A wish to do exactly that explains the temporary alliance between some politicians and, I must stress, some families of the dead. A notion of victims' rights comes naturally, as others seek closure along with them. However, it entails private claims and a fixation on the past insufficient to the reality of a public space. In context of trial law, such rights tend to support the demand for revenge rather than justice. In context of Lower Manhattan, with its extended links to America's origins and to an urban present, it converts a history lesson into a sepulcher.
Cities have always responded to disaster by rebuilding, to ensure the survival of commerce and the arts. Vermeer's View of Delft shows a town rebuilt after the great armament explosion that killed Carel Fabritius. The City of London, combining so many Christopher Wren churches with a modern financial center, arose after a great fire. London rebuilt again after the Blitz—time and time again. On a smaller scale, its Elizabethan theater companies worked hard to overcome every setback, from plagues that closed them to a fire that burned down Shakespeare's Globe. Not long before, the company responded to a business failure by quickly dismantling an entire theater, to make off with at least the wood.
What explains the fascination now with entombing the present? What explains the cry for memorials resembling empty space, the chill of commerce without art, or recreations of the old towers? Who could hope to respond to the deaths of innocents with such chilly breaks in the city's sky? Each proposal renders even Smithson's praise for Sixth Avenue's skyscrapers, as monuments to "entropy," appear quaint by comparison. In part, it merely takes time to get past the early stages of grieving, and America's infamous culture wars intensify nostalgia.
Much turns, too, on the idea of American exceptionalism: wars never come here. And when they do, they confront the United States with barbarians at the gate, like Rome in its fading years. I hope that is all a lie. If not, the future sounds bleak indeed. I trust art more than tabloids, because it knows how varied are the lies. If the wood salvaged from a bankrupt theater can make the Globe, surely images swirling around an empty pit can help create a space for public engagement.
A postscript: freedom decentered
So it is gone, without ever having existed. Governor Pataki issued the formal death sentence because "there remains . . . too much controversy." Apparently, "freedom should unify us," but not by bringing us physically together to contemplate it. Pataki offered to help the Center find common ground elsewhere, but it has preferred to shrug its shoulders. Surprise—it had no plan B all along, although within a few months it proposed to move to the South Street Seaport, where it would face even more competition from national retail brands than back in Soho (where it ended up in 2012 with a renovation by WXY architecture).
I added the current state of affairs in my introduction above, but it did not take much. I had not staked this review on any one outcome or recommendation for Ground Zero, so much as a unified vision of art, politics, rebuilding, New York, and the public sphere. I wanted to express dismay, but at what? I had a hard time getting excited about the Drawing Center as a cultural magnet—or for the likely pabulum that a Freedom Center would present without it. I wanted to point fingers, but at who? One hardly knows where to begin.
Not to blame the victim, but how about cultural institutions themselves? No one articulated an urgent relationship between the Drawing Center and Ground Zero, beyond a need to put something there. The Drawing Center has described its vision only in negative terms, as uncontroversial, and other real or potential arts groups in need of a home simply shut up. The Lower Manhattan Cultural Council held three days of workshops on related issues but failed to publicize the results, and its concurrent exhibition of political art, "A Knock on the Door . . .," convinced no one. If it looked desperately scattered between the South Street Seaport, the East Village, and the lobby of a Tribeca college auditorium, LMCC had no interest in putting forth its own needs and how it could contribute in the long term to the arts, freedom, and New York. Perhaps other alternative spaces have too much to do in surviving to speak up, dealers too much in keeping up with Chelsea's commercial madness.
Politicians so easily manipulated deserve blame. All I know is that events leave New York without a center and with less freedom, not to mention one less plan for that seemingly eternal hole in the ground, and Pataki had better start explaining why. Senator Clinton, who seems to find controversy an especially dirty word, had withdrawn her support, too, a few days before. Thus far, only the real-estate developer for the office skyscrapers has asserted a controlling if not compelling interest. On the bright side, Mayor Bloomfield has expressed regret at the outcome. Since he is running for reelection, perhaps that means ordinary New Yorkers have more concern for the public life of lower Manhattan than many of their leaders.
The manipulators themselves must get pride of place in the blame game. Freedom did not divide "us." They did. Despite some initial self-righteous blather from a World Trade Center widow and The News, art or the Drawing Center was hardly mentioned again. Any representation of freedom broader than a tribute to America became the culprit. By this standard, the Gettysburg Address, the Declaration of Independence, and scholarly recreations of the Civil War and the origins of America would have shut down memorials at Gettysburg and in Philadelphia long ago.
Did all parties display so short an attention span when it comes to culture? Did the occasional provocative, empowering drawing serve as a mere pretext for a right-wing hijacking of Ground Zero? Yes, but with a serious qualification. A backlash had to follow, both downtown and in art. The debate shifted seamlessly, because one cannot honestly separate art and culture from the fabric of freedom or of New York City. Who knows where they will next rear their ugly head?

As I wrote and rewrote, during the summer of 2005, the future of the Freedom Tower still remained, well, up in the air. Democracy and the arts have as much to do with process as with product anyway. "Wall to Wall Drawings: Selections Summer 2005" ran at the Drawing Center through July 30, and Amy Wilson's seven-part drawing appeared there in September 2004. I added the postscript on September 30. As of April 2013, the site will contain a center for theater, music, film, and dance guided by the Joyce Theater, but plans continue to mutate. Other potential uses backed off or were scrapped as too costly or controversial.